Feeling like a zesty white from the south of France? This just released Picpoul will hit the spot.

Oyster beds in the Bassin de Thau. Not surprisingly, Picpoul is the perfect shelfish accompaniment.
Picpoul (Piquepoul) is not well known in Australia, but it's one of the oldest domestic varieties in the vast Languedoc region of southwest France. It's been grown there for several hundred years, but like most of Europe's vines, was devastated by phylloxera (an aphid-like pest) in the mid-to-late 1800s. As a late ripening and low yielding variety, it was not replanted with any enthusiasm, but its tolerance of sand made it a good choice for coastal vineyards.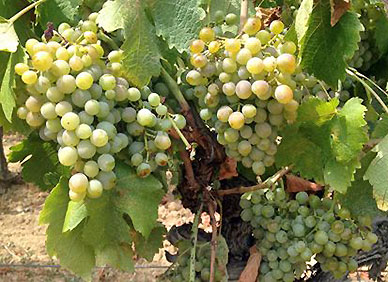 The grapes of Picpoul are small, golden and oval shaped and produce super fresh dry wines. In the old Occitan language the term Picpoul translates to 'pecking hen' or 'lip stinger,' referring to the high acidity of the variety. This colourful description though is long outdated. Appellation rules were put in place many decades ago to prevent the excessive yields that lead to under-ripeness (ie. high acidity) in the variety.
Typical Picpoul descriptors are lemon and lime, floral and mineral characters and clean, zesty acidity. Here's how Jancis Robinson MW describes it in her book Wine Grapes: "Lemon scented, nervy, and dry, occasionally on the floral side."
To me it's somewhere between aromatic Muscadet and Chablis, with a shot of new world Riesling.
These days the most famous expressions of Picpoul are found in a sub-appellation of Languedoc, known as Picpoul de Pinet AOP, a rare instance of French labelling reflecting the variety in the appellation name.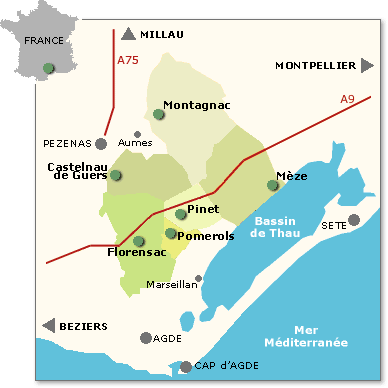 Centred around the town of Pinet, Picpoul de Pinet is a white only appellation based entirely on Picpoul. At 3,000 acres it's a large region and one of the biggest producers of white wines in Languedoc
The appellation lies on Languedoc's eastern edge, southwest of Montpellier. It runs along the Mediterranean coast, separated from the sea by a large lagoon, the Bassin de Thau. To the east is the port of Sète, with its splendid fish market, and to the south, the old Roman town of Agde.
Appellation rules require the use of a tall, slim, green embossed bottle, which a growing number of producers are opting to seal with screwcap, ensuring the wine's freshness - an essential part of the Picpoul experience.
Languedoc is famous for its sunbaked vineyards, so how does a wine as fresh and delicate as Picpoul, usually a cool climate style, emanate from here? The answer lies in the appellation's close proximity to the coast. Here a strong sea breeze moderates high daytime temperatures, while the lagoon prevents steep night-time temperature drops. The locals say that the Picpoul vines aren't happy unless they can see the Mediterranean sea. They're obviously onto something.
Made to be enjoyed young, Picpoul is a great find, and great value.
---

Domaine de la Majone Picpoul de Pinet 2018
The Majone estate is a member of the largest co-operative in Picpoul de Pinet. As major stakeholders in the cop-op, as well as owning the actual winery, the Jeanjean family are entitled to make and name wine made from their own fruit. Importantly, they keep their fruit separate from other growers', which is labelled under the co-op name of Caves l'Ormarine.
The estate has recently achieved Terra Vitis accreditation. Terra Vitis is a French association promoting a holistic approach that includes:
- protection of natural resources
- sustainable development
- corporate social responsibility
Members adhere to wine growing and making procedures that are mid-way between organic and traditional agriculture, which in simple terms mean chemicals are minimised as much as possible.
This wine is 100% Picpoul and like many in the Languedoc, it's made with modern methods to maximise delicacy and freshness. It's fermented with cultured yeasts in temperature-controlled tanks and doesn't see any oak. It only has a short maceration (skin contact) and is not left on lees (dead yeast cells).
In the glass this is a clear light gold. On the highly aromatic nose, pear, peach and honeysuckle mingle with tropical fruit, beeswax and nutty notes. The palate reveals clean lemon, lime and pineapple melding seamlessly with musk, toasty burnt sugar and mineral notes. Crisp, zingy acid completes the beautifully dry finish.
You won't find it around town much, although the Bistro Rex, a sophisticated take on the classic Parisian Bistro in The Cross, has it on for $49 a bottle.
Old world wine realised with modern methods. In Languedoc it's a must with local oysters.
I can offer it for $22 a bottle Click here to order