Like many European wine terms, Savennières is the name of both the appellation and the wine from that appellation. In this case it's also the name of the tiny village around which the appellation sits.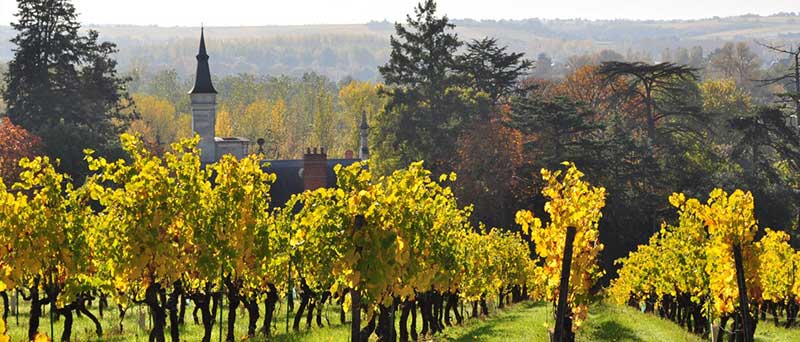 Savennières is minuscule, a mere 150ha of vines (compared to Vouvray at around 2,000ha), located on the northern banks of the magnificent Loire River. It lies about 15km southwest of the town of Angers, in the subregion of Anjou. Some refer to this wider area as the middle Loire.
The Loire Valley is hard not to like. With beautiful countryside and stunning Châteaux, it also makes some wonderful wines; Sancerre, Pouilly-Fumé, Vouvray, Chinon and Muscadet to name a few. The Loire however is not considered one of France's premier wine regions. This honour falls to Bordeaux, Burgundy and Champagne, an accolade reflected in their stratospheric prices.
Good wines from the Loire offer incredible value.
Like many in France, the vineyards of Savennières were first cultivated by monks, in this case as far back as the 12th century. Since then these wines have gained a reputation for their quality. Savennières was established as an official appellation in 1952 with three AOCs - one general and two special 'climats' or officially recognised vineyard plots:
1. Savennières
2. Savennières Roche-aux-Moines (35ha, but vineyard area of only 20ha)
3. Savennières Coulée-de-Serrant (a single 7ha estate run by Nicolas Joly)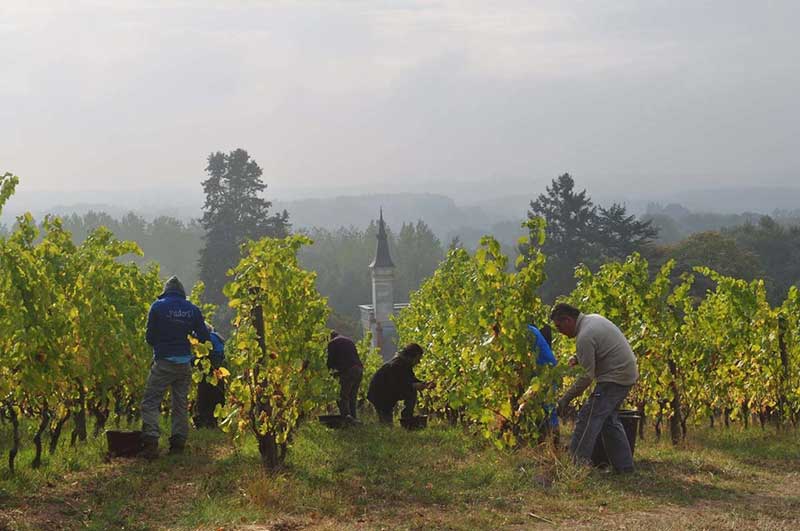 Hand picking grapes during vintage at Chateau Pierre-Bise.
Savennières is an entirely white appellation, renowned for some of the most age-worthy dry chenin blanc in the world. Interestingly, at the time the appellation was established, Savennières was recognised just as much for its sweet chenin, but as this style fell out of favour during the 1960s and 70s, so too did the appellation. But the mid-1980s saw a revival of dry chenin and by the 90s, the appellation laws were reformed to officially recognise the existence of varying sweetness levels. Nowdays dry chenin accounts for around 90% of production and is the style on which this appellation's reputation proudly sits.
Chenin is not well known in Australia but in the Loire it's used to make dry, sweet and even sparkling white wines. Jancis Robinson MW describes it as "probably the world's most versatile grape" and in her book Vines, Grapes and Wines, in which she classifies grapes of the world as classic, major or other, chenin achieves classic status.
Author and critic for the New York Times, Eric Asimov describes Savennières as a "thinking person's wine," and I can see his point. It's not simple to describe. US wine journo Mike Steinberger gives it a good shot with "a heady blend of citrus and white fruits, honey, beeswax, flowers, and minerals." Fresh and minerally, Savennières is usually high in acid which gives it an incredible ability to age. Often described as austere, when made well it is as intense and complex as top Burgundy.
"AOC Savennières (together with its AOC crus Savennières Roche-aux-Moines and the single-property Savennières Coulée-de-Serrant) is the only place in the Loire Valley where dry Chenin can genuinely rival Montrachet and Corton-Charlemagne." Andrew Jefford, The New France.
This is an extraordinary statement from one of the world's most respected authors and critics. He compares Savennières with wines from the two greatest white Burgundy (chardonnay) sites on earth, where wines command several hundred dollars a bottle.
"At its very best there is no doubt that Savennières is one of France's great white wines." Chris Kissack, also known as The Winedoctor, is the best Loire critic and he covers the region in great detail.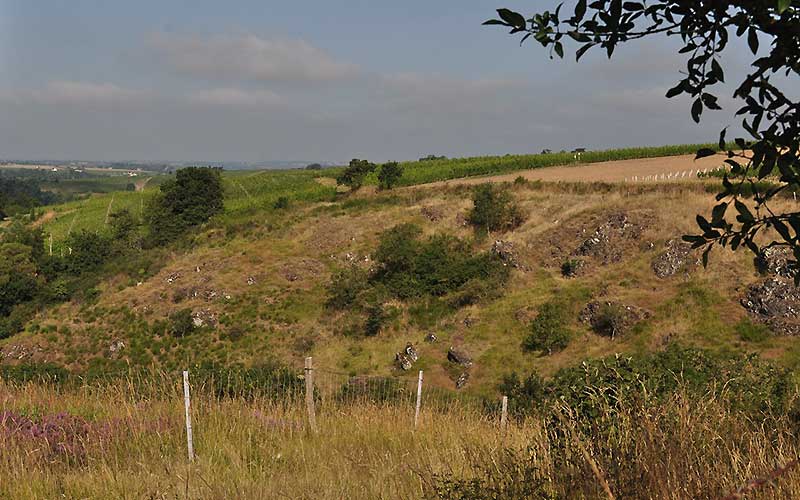 Schist is an ancient metamorphic rock whose value in vineyards comes mainly from its ability to store heat and moisture, which vines can use as needed.
It's interesting to note that the Cistercian monks who so successfully identified Burgundy, also established the vineyard of Coulée-de-Serrant around which the vineyards of Savennières now lie. Coulée-de-Serrant has been regarded as one of the best sites in France for centuries. Indeed, Curnonsky the most celebrated and influential French gastronome of the early 20th century, rated Coulée-de-Serrant among the top 5 white vineyards in France. His other 4 were: Le Montrachet (Burgundy), Château-Chalon (Jura), Château d'Yquem (Sauternes) and Château-Grillet (northern Rhône).
A distinguishing feature of Savennières is its array of rock and soil types, including: rhyolite, phtanite, spilite and of particular note, schist. Schist is an ancient metamorphic rock whose value in vineyards comes mainly from its ability to store heat and moisture, which vines can use as needed. Because schist tends to be flaky, it breaks and splits, and vine roots are able to penetrate it. Schist enables vines to ripen in areas they would otherwise not be able to. Many Savennières winemakers also refer to the minerally effect of schist on their wines.
Among the handful of winemakers in Savennières, two of the best are without doubt Claude Papin and Damien Laureau.
I'm pleased to be able to offer you a wine from each of these highly talented winemakers from the highly desirable Savennières Roche-aux-Moines, renowned for the quality of the wine it produces, which are typically highly concentrated and long-lived.
---

Chateau Pierre-Bise Savennières Roche aux Moines 2018
In 1959 Pierre Papin acquired the 9ha Chateau Pierre-Bise which sits near the small village of Beaulieu-sur-Layon in Anjou. Over subsequent years, the family has acquired more vineyards in Rochefort, Chaume and Quarts de Chaume, as well as Savennières, and most importantly Savennières Roche aux Moines. These days the estate is over 50ha.
Pierre's son Claude Papin and his wife, Joelle Papin-Chevalier, took over the estate in 1990 and have gone on to great acclaim. In top wine critic Andrew Jefford's ground breaking book, The New France, Claude Papin is one of only 3 Loire winemakers featured (the other two being Didier Dagueneau and Guy Bossard).
Jefford describes Papin as a "poet of chenin blanc" and notes that "above all though, he makes wine of shattering singularity… the fact is that Papin has produced some of the greatest modern-day chenin blanc and gamay, not just in Loire, but France." Jefford awards Chateau Bise 3 stars, his highest rating, and one of only two Loire producers on whom he bestows such an accolade.
The Chateau Pierre-Bise Savennières Roche aux Moines 2018 was entered into the 2021 Decanter World Wine Awards (DWWA), which with 18,094 entries was its biggest event to date. From this huge number and across all styles (white, red, rose, sparkling and fortified, as well as dry right through to sweet) just 50 wines were awarded Best in Show, including this one. It was the only wine from Loire (white or red) and the only chenin blanc to be included. Incredible.
Interestingly, Claude says "the chenin is made by botrytisation. If there isn't any, it always makes hard wine. Even my dry wines are made with around 50% botrytisation.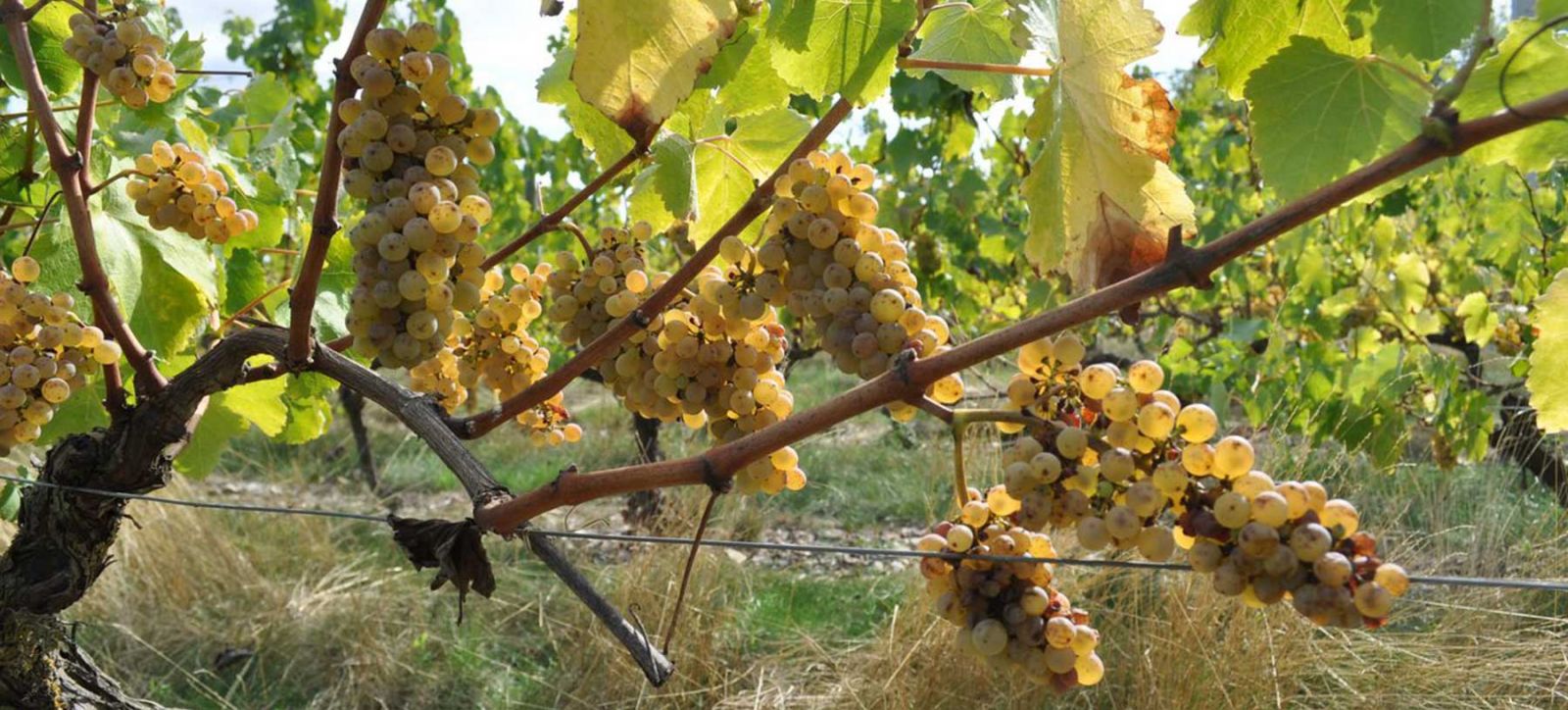 Botrytise affected chenin grapes in the Chateau Pierre-Bise vineyards.
Botrytised wines are affected by the fungus botrytis cinerea, also referred to as noble rot, which dehydrates grapes, concentrating sugars and aromatics, as well as adding complex and unique flavours. So you can still make dry wines from botrytis affected grapes, especially those with naturally high acidity like chenin. This is complex, dry and delicious!
In the winery Claude avoids additions and uses natural yeasts. Fermentation and ageing is carried out on in 400L barrels. The finished wine is 15% alcohol and sealed with cork.
"The word 'chameleon' is often found in close proximity to the name 'Chenin Blanc' - generally alluding to the fact that this polyvalent grape can perform as brilliantly in austerely dry guise as in extravagantly sweet, and with every flavour, hue between, too. Not the least of the fascinations of this Savennieres-Roche Aux Moines, though, is the fact that it manages a chameleon performance in a single glass. It's both fresh, pretty, honeyed and gently amiable - and yet mysteriously smoky. Once in the mouth, and you'll find it doughy, almost pastry-rich… yet insistently stony, dark, bitter-edged and almost troubling in its complexities. Pure, commanding and unique, its elevation to Best In Show was never in doubt." 97 points, DWWA 2021, Platinum and Best in Show.
I can offer it for $85

---
Damien Laureau
Since the 1950s a small group of producers have dominated Savennières, but there's been a recent changing of the guard. Highly regarded Loire specialist Chris Kissack refers to them as the "young guns of Savennières" and he singles out Damien Laureau:
"today he is one of the top names in the appellation. In fact, I would place him at the top."
"… here we have one of the greatest domaines of the appellation, one that is well worth seeking out. I find Laureau's wines adorable, and will certainly be returning to them to taste and drink in the future… "
"To my palate Damien makes some of the most exciting, pure and defined wines I have experienced.
"The purity, the freshness, the depth, the texture, the energy and the minerality, these are superb examples of the appellation."
La Revue du Vin de France (bigwig wine review publication in France) continues this praise for Laureau, describing him as "undoubtedly the future star of Savennières."
In the mid-1990s Laureau was living in Brittany, cultivating pear trees. He was also making wine with his uncle who had an estate in Anjou. It was this experience that lead to him discover the soils of Savennières and finally acquire his own vineyards there in the late 90s. Damien did not move to Savennières until 2006 and is now one of only a handful of winemakers to actually live in the village. He has continued to strategically add to his holdings over time - now 8.5ha of well positioned vineyards. Of particular note was the opportunity in 2004 to rent a small parcel of vines within the cru Roche-aux-Moines
In the vineyard Damien has followed organic principles for many years, although he only sought certification from the 2012 vintage onwards. He picks by hand and unlike many producers makes several passes through the vineyard to achieve what he considers optimal ripeness in each grape. This is important with chenin in Savennières, which if picked too early can be unapproachably acidic. His yields are significantly lower than AOC rules require. Damien uses natural yeasts and a lot less oak than many of the traditional Savennières producers. He was also one of the first in Savennières to allow his wines to go through malolactic fermentation (although not always). He does this not only to give them a little more weight, texture and slightly richer flavours, but also to stabilise the wines, allowing him to use very low levels of sulphur dioxide.
I love Laureau's pure, vibrant and delicious wines and I'm sure you will too.
---

Damien Laureau Savennières Roche-aux-Moines 2015
Damien's vines were planted in the 1970s on soils similar to the adjacent Coulée-de-Serrant (ryolite base with an overlay of schist and sand). His portion is a mere 0.25ha rented from the Baron Brincard holdings in this famous vineyard. The wine was fermented and matured in 400L barrels and was bottled unfined and unfiltered after 18 months aging on fine lees. The wine is 13% alcohol and sealed with cork. Yields are tiny with Damien only making a few barrels of this extraordinary wine.
"This flagship cuvée originates from a 0.25-hectare parcel of vines, aged between eight and sixteen years. It is quite slow to start on the nose, but it is worth the wait, as it slowly unfolds to reveal notes of ripe orchard fruit drizzled with a honeyed sweetness. Don't let this rich description fool you though, there is no sugar lingering here, as this is clearly tense and drily defined, as we see on the mid-palate which shows incredible substance and structure, being both bold and broad, but also taut and energetic. This is all cushioned by a great pithy confidence, which lies comfortably intertwined with a citrus-acid freshness. An incredibly long, tense and direct wine. All in all, superb. I challenge any Savennières-deniers to taste this and not be completely enchanted." 97 points, Chris Kissack, thewinedoctor.com, February 2018.
"A taste of his 2015 Savennières Roche-aux-Moines should be on the bucket list of every fan of the Loire Valley. Indeed, it should be on every wine drinker's bucket list, full stop." Chris Kissack, thewinedoctor.com. October 2020.
I probably needn't say much more…
I can offer it for $145 a bottle.