Brian Croser is one of the best winemakers in Australia, and I think also one of the most underappreciated. While his wines win plenty of praise from critics, I don't reckon they receive broader recognition in the market, or more importantly the prices that they no doubt deserve.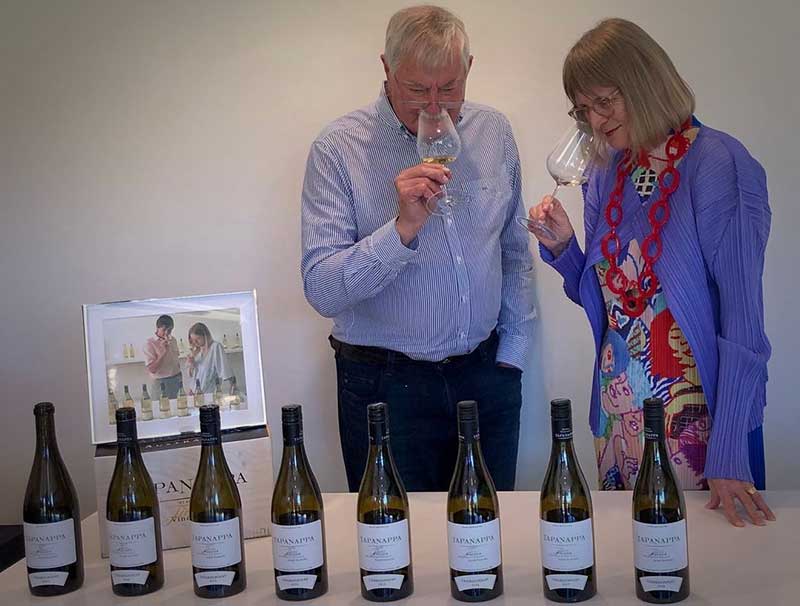 Brian and Jancis Robinson at the "Quadrigesimum" Anniversary, recreating the photograph taken by Milton Wordley at the Tiers Vineyard 39 years ago.
Brian's an extraordinary man about whom so much has already been written. Suffice to say, he's a true visionary and giant of the Australian wine industry. He was the first in Australia to recognise and promote the importance of matching grape varieties to specific regions and in 1979 planted chardonnay in the Tiers Vineyard which sits at between 450-600m elevation in the beautiful Piccadilly Valley in the Adelaide Hills. The vineyard pioneered cool climate viticulture in South Australia. "It is absolutely suited to chardonnay, being an almost perfect homo-clime of Burgundy and especially mirrors the southern end of the Cotes de Beaune, where the great Montrachets are grown." Brian Croser.
This special vineyard celebrated its 40th birthday in 2019 with a day-long bash attended by a who's who of wine critics, including the UK's Jancis Robinson. Aside from a vertical tasting of Brian's own Tapanappa Tiers Chardonnay, the 18 people lucky enough to attend were also treated to some of the world's great chardonnays from Australia, Burgundy and California. By all accounts it was an extraordinary day, all the more so in hindsight given the ensuing effect that Covid had on such events.
Let me tell you a little more about Brian Croser and Tapanappa.
Brian studied horticulture at the Uni of Adelaide and began his career in the wine industry with Thomas Hardy and Sons in 1969. In the early '70s he moved from Hardy's to The University of California at Davis for a masters program, then back to Hardy's and on to establish the Wine Science program at Charles Sturt. I've heard Brian give presentations over the years and he's smart. As Huon Hooke noted back in 2004: "he's in a higher league than most of his contemporaries in Australia."
With wife Ann, Brian started the iconic Petaluma winery in 1976, planting with cabernet and merlot in Coonawarra, riesling in Clare and chardonnay and pinot in the Adelaide Hills. He set up the Petaluma winery in the Piccadilly Valley (Adelaide Hills) and eventually floated the company in 1992. I bought a small parcel of shares based pretty much on my belief in Brian. The shares took off but I was disappointed when Petaluma was the subject of a hostile takeover by Lion Nathan in 2001 and performance waned under the new ownership. Since the takeover Brian has had nothing to do with Petaluma or their sparkling wine that still carries the Croser name.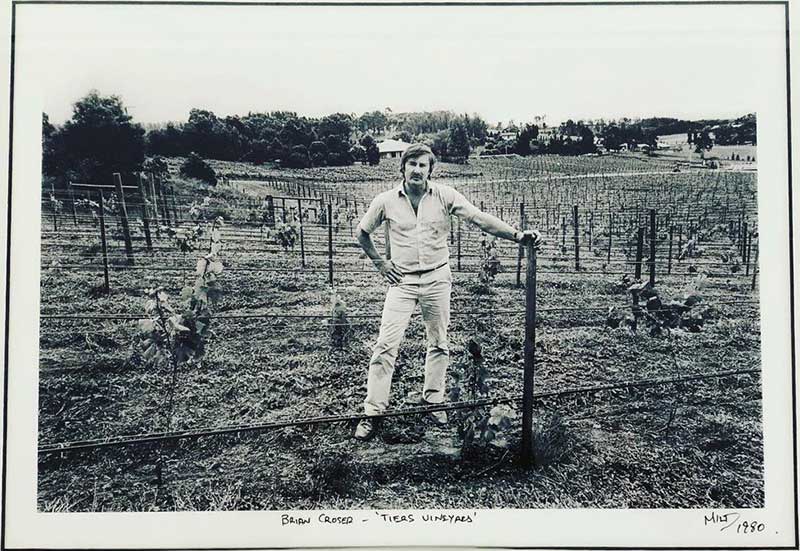 Brian Croser planted The Tiers Vineyard in 1979, the first to be planted in the modern Adelaide Hills Wine Region.
While Executive Chairman of Petaluma, Brian served the wine industry as Chairman of Adelaide, Canberra and Sydney wine shows and as a founder and two-time President of the Winemakers' Federation. After leaving the Winemakers' Federation in 1998, Brian joined the council of the University of Adelaide and became deputy chancellor until 2007. After this he was awarded the Uni's highest award, becoming a Doctor of the University for his service.
But there's more… In 1997 Brian was awarded what is commonly regarded as the highest honour in the Australian wine industry, the Maurice O'Shea Award. In 2000 he was appointed Officer of the Order of Australia for service to the wine industry, and he received a Centenary Medal in 2001. In 2004 he was named Decanter Magazine's 'Man of The Year' and more recently in 2016, he was named Gourmet Traveller WINE Viticulturist of the Year. Surely there aren't many more gongs left? These days Brian is on the board of Wine Australia.
"In the course of a lifetime dedicated to improving the cause of Australian wine, Brian Croser AO has been frequently misunderstood and at times reviled. His daunting intelligence and the rigour of his analysis of any situation means his judgment is never clouded by sentiment or uncertainty. He speaks quietly, even when angry, unless he is watching his beloved Adelaide Crows." James Halliday, The Australian, July 2017.
In 2002 Brian founded Tapanappa Wines in partnership with Bollinger Champagne and the Cazes family of Lynch Bages fame (Pauillac, Bordeaux). The name 'Tapanappa' comes from a 550 million year old geological formation that underlies the Fleurieu Peninsula where the Croser family have a vineyard and a sheep farm.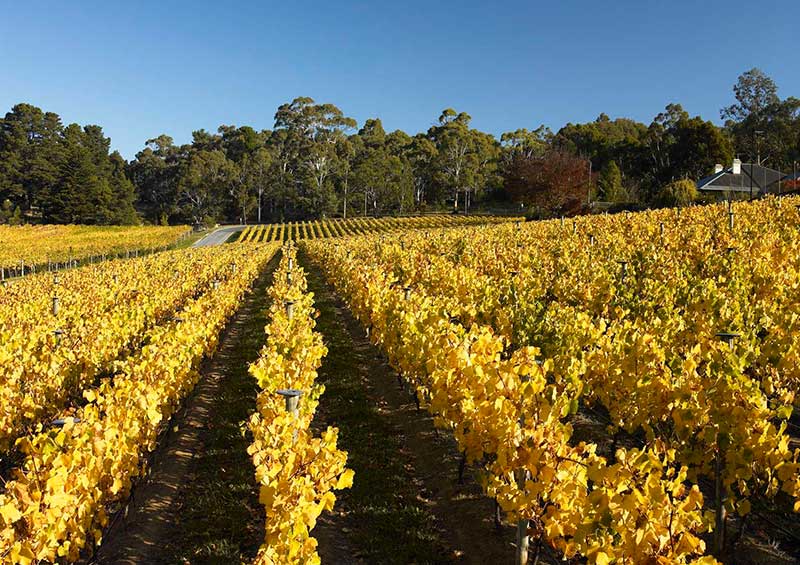 The Tiers Vineyard is in the second coolest and the wettest location in South Australia, the Piccadilly Valley.
Three top sites were acquired:
The Whalebone Vineyard in Wrattonbully (just north of Coonawarra), planted with Cabernet varieties in 1974.
The Foggy Hill Vineyard on the Fleurie Peninsula, planted with pinot noir in 2003.
The Tiers Vineyard in the Piccadilly Valley (Adelaide Hills) planted with chardonnay in 1979.
In 2014 the Croser family bought out their two other partners and in a homecoming twist, reacquired the original Petaluma winery which sits next to the Tiers vineyard. Not only that, Petaluma's former chief winemaker, Con Moshos (who had been at Mt Adam) returned as managing winemaker, assisting Brian in the crafting of Tapanappa wines. These days Brian's daughter Lucy and her husband Xavier Bizot, a dynamic wine couple in their own right, are also involved in the business.
---

Tapanappa Tiers Vineyard 2018 Chardonnay
2018 was a warm year in the Piccadilly Valley, but despite this the hand-harvested fruit was picked on the long-term average date of the 26th of March. The fruit was cooled to 2 degrees before being gently pressed to release the juice. In white wine making, the ferment (in most cases) occurs without the grape skins, whereas red ferments occur with the skins. The juice was allowed to settle before being transferred into French oak for fermentation with 33% new oak and the rest once and twice used. The yeast strain was selected by Brian from the vineyard around 40 years ago. After ferment, the wine was matured for a further 10 months in French oak and as it was a warm year, malolactic fermentation (MLF) was prevented. MLF converts malolactic acid to lactic acid, resulting in lower acidity. In a warm year, the fruit is already riper with lower acidity so 'malo' isn't necessary. Alcohol 13.5% and screwcap.
It's rare to see a wine reviewed by so many critics… and I've even left several out!
"This is a spectacular chardonnay, eschewing malolactic in the name of precision and freshness, while sacrificing nothing in the way of flavour and textural detail in doing so. A reductive riff of gunflint segues to notes of white fig, honeydew melon, nectarine and creamed cashew. A chassis of mineral and bright acidity carry the flavours long and broad, chaperoned by high class oak that is nestled into the fray. This will age beautifully over the coming decade, but oozes class and such poise already that it is difficult to refrain from opening a bottle or, at least in my case, finishing the glass." 97 points, James Halliday, Wine Companion 2021.
"Dramatically concentrated but long and elegant. Essence of the variety. White peach and pear, chalk and honeysuckle, sweet cedarwood, toast. It all gathers and then soars through the finish. Top shelf chardonnay without a doubt. Will be better again in a year or two." 95 points, Campbell Mattinson, The Wine Front.
"A very rich, full-bodied wine, much bigger and more generous than the 2017, a real mouthful. Almost opulent. Very approachable already and possibly the most full-bodied Tiers to date (second-warmest vintage ever)." 95 points, Huon Hooke, The Real Review.
"This is now the third bottle of Tapanappa Tiers Chardonnay 2018 and each time it gets better. Now officially at 'phwoar' level. In my mind, this is the model of restrained power - an acknowledgement that Chardonnay can be both bold and refreshing, which the best white Burgundy does so well. This '18 is a bigger, broader wine than the '17 vintage release but I think I like it even more. It's a full-flavoured Chardonnay, all white peach fruit, the oak intertwined throughout the palate, the finish still sprightly and vital, the acidity briny and almost unexpectedly so after the mid-palate width. It feels powerful, uncompromisingly varietal… a Chardonnay for Chardonnay drinkers. Delicious, mouthfilling wine. Best drinking: now to ten years. Would I buy it? Yes." 95 points, Andrew Graham, Australian Wine Review.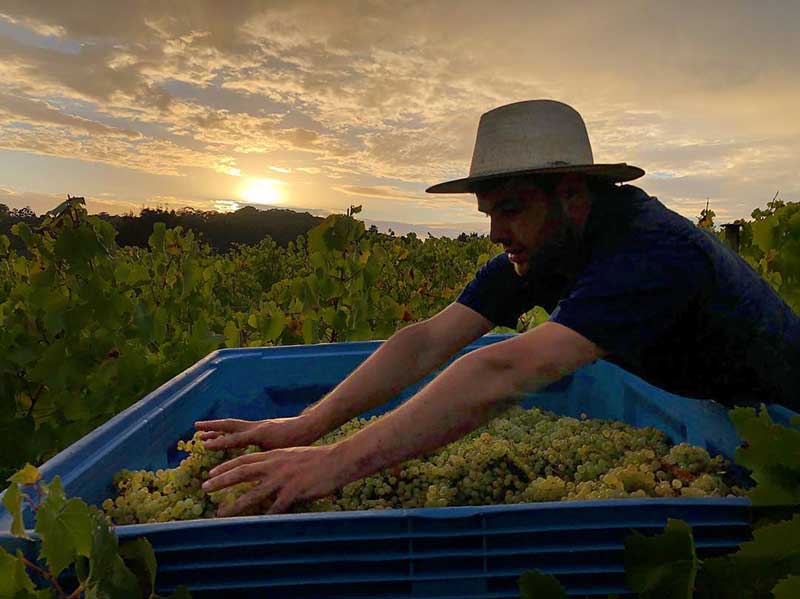 Handpicking chardonnay grapes in the Tiers Vineyard.
"The Tapanappa Tiers Chardonnay has been a leading light for ageworthy South Australian Chardonnay with the best examples drinking best after a decade or more. 2018 was a warm vintage but the wine does not show it with a typical bright acid line, highly complex fruit and immaculate winemaking. The wine is pale gold and immediately displays superb complexity. There is concentrated citrus and melon fruits supported by smoky oak with a struck match flinty edge. The wine is silky on the palate with perfectly balanced fruit and acidity - multiple layers of praline and almond meal are completed by subtle oak. It finishes with fantastic purity of Chardonnay fruit plus great length, poise and balance. Delicious now young but will also hold for close to a decade." 95 points, Angus Hughson, Wine Pilot.
"Rich and smoky on the nose, with hints of gentle spiced citrus fruit, and the palate is graced with white peach, nectarine and a hint of spice." Decanter World Wine Awards 2020 *Gold Medal* 95 points, Gold medal.
You might see it around town at a few top-end restaurants like at Mr Wong (where it's $185 a bottle), but you won't find it in bottle shops.
This is simply a bargain for a wine of such outstanding quality.
I can offer it for $80 a bottle. SOLD OUT