Recently, I went to The Apollo in Potts Point to taste the latest wine offerings from Roda, a modern superstar from Rioja, Spain.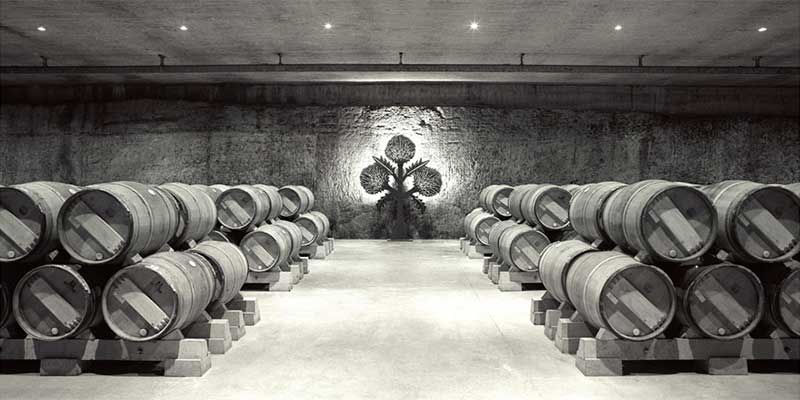 Roda wine is transferred to its temperature controlled barrel hall for ageing.
Regarded as the leading wine region in Spain, Rioja is named after the River (Rio) Oja and is in the northeast of the country, centred on the provincial capital of Logroño. Rioja is divided into 3 zones - Rioja Alta, Rioja Alavesa and Rioja Baja. And while seven grape varieties are allowed in Rioja (4 red & 3 white), the most widely planted and synonymous with the region is Tempranillo. In winemaking terms, red Rioja is all about ageing in oak and their classification system reflects this.
Rioja: spends less than a year in an oak ageing barrel.
Crianza: aged at least 2 years - at least 1 of which is in oak.
Rioja Reserva: aged at least 3 years - at least 1 of which is in oak.
Rioja Gran Reserva: aged at least 2 years in oak and 3 in bottle.
The region has a long viticultural history dating back to Roman times, however it really came to prominence in the late 1860s when phylloxera (an aphid-like insect) hit France, wiping out its vineyards. Wine merchants soon arrived in Spain seeking wine and creating a boom that lasted for nearly 40 years until phylloxera reached Rioja in 1901. By this time Bordeaux was back to full production on resistant rootstock and Rioja then went into decline. The ensuing civil and world wars limited expansion in Rioja and it really only regained prominence again in the 1960s and 70s. By 1991 the region was elevated to DOCa (Denominación de Origen Calificada), the highest category in the Spanish appellation system. The only other region with this classification is Priorat (2003).
Bodegas (the Spanish name for winery) Roda was established near the town of Haro in Rioja Alta in 1987 by Mario Rotllant and Carmen Daurella (married at the time but now divorced). Right from the start this was a project in pursuit of perfection, with no expense spared, as noted in their mission statement: 'There is no hurry to get a return on investment. The constant aim is, with time, to be recognised as producers of one of the greatest wines in the world.' The owners have successful business ventures elsewhere and are committed to their grand vision. Roda is quite simply a mind-boggling study in attention to detail. The 1992 vintage was the first to be released, as Roda considered the previous 5 not up to scratch.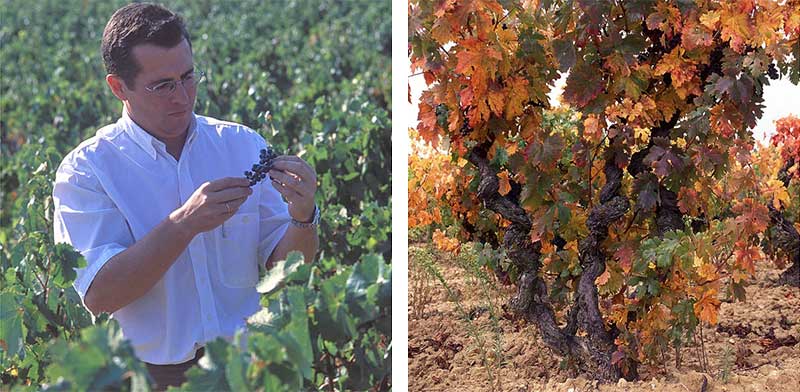 Roda's organically farmed old bush vines are between 35-100 years old.Roda's extensive R&D focuses on producing the best quality fruit.
Roda has 17 meticulously selected vineyard sites with old bush vines, that are managed organically. Fruit is hand picked as it ripens and sorted by hand at the winery, a job carried out by machinery elsewhere. The state-of-the-art winery has been partially carved out of a hillside to allow for gravity-fed production, rather than using pumps. The fruit from each of the vineyards is kept separate in 17 custom-made French oak vats. Natural yeasts are used to initiate the ferment and during fermentation the skins are punched down manually. Post ferment, the wine is transferred to a temperature controlled barrel hall for ageing. The wines are decanted by gravity to bottle, unfiltered and unfined.
While the picture I've painted of the winery may appear old fashioned - don't be fooled. Roda applies old techniques using sophisticated technology. They also run an extensive R&D program with scientific projects under way at all times, especially in the vineyard, in an effort to produce the finest fruit.
Roda doesn't lose sight of its Rioja traditions, but the advantages of deep pockets and cutting edge technology allow it to capture a new Rioja, one without boundaries. With their freshness and minerality, these are some of the best wines coming out of Spain and I recommend them to you.
---

1. Roda 'Sela' 2009
Named after the Scandinavian village where its owners holiday, 'Sela' is a relative newbie for Roda, the 2009 being only the second vintage released. It's made from vines planted in the 80s, which only now have been deemed worthy of a wine in their own right. Prior to this the fruit was sold off.
The wine is a blend of 89% Tempranillo and 11% Graciano and is made to be more approachable (and affordable) than the rest of the Roda range. It sees 12 months in oak, much less than the other Roda wines.
There's a lot to like about this wine. It's much more aromatic and fresh than typical Rioja, with lots of appealing, fresh, clean, cherry-like fruit. It's medium bodied, with soft integrated tannins and you'll find it elegant and delicious.
This is from Wine Spectator: 'This medium-bodied red is polished and firm, with black cherry, leafy and cedar flavours. Shows good balance, with a mocha-tinged finish that brings you back for another sip.' 88 points.
How good to experience Roda for less than $50!
I can offer it for $43 a bottle. SOLD OUT
---

2. Roda Reserva 2008
This wine is a blend of 90% Tempranillo, 4% Garnacha and 6% Graciano, from bush vines which are between 35-100 years old. It was aged for 16 months in French oak (new + 1 year old) and 20 months in bottle.
Like the 'Sela,' it has red fruit and cherry flavours, however this is definitely a more serious wine, with more density, complexity and firmer tannins.
What amazes me is the release age of this wine and its lasting youthful vibrancy. Roda's fastidious R&D in the vineyard, ensuring purity and quality of fruit, coupled with its obsession for minimal handling in the winery, is clearly evident. Here is a 5-year-old wine, with beautiful depth and savouriness, that still shows freshness and, as with all Roda wines, elegance and finesse. This is a great wine.
The winemakers notes: 'Medium bodied with very fine tannin, silky. Very fruity and fresh, hints of cherry. Long, lingering, very elegant and delicate. Superb feeling of freshness'. You'll find the previous vintage, 2007, at Movida Sydney for $145
I can offer it for $95 a bottle. SOLD OUT
---

3. 'Roda 1' Reserva 2007
100% Tempranillo and essentially subject to the same handling techniques as the previous wine, the difference is fanatical fruit selection. The 'Roda 1' gets grapes with dark fruit characteristics, whereas the straight Reserva gets those showing more red fruit characteristics.
What can you say when you've already raved about the previous wine - except this is even better? It's deeper, darker and above all more integrated, with dark, plummy fruit, and an edge of savouriness, herbs, and fine but firm tannins. The wine seems to go on and on - an incredibly long and smooth, smooth finish. Yum.
You'll be amazed that a wine can be so rich, mouth filling, powerful and complex, without appearing heavy. There is a level of structure, elegance and refinement that sets this wine apart.
No notes or scores to woo you with as it's only just been released. One nice thing to note is that this wine has come down in price since the last vintage. The 2006 is still on at Est Restaurant in Establishment for $250.
I can offer it for $110 a bottle. SOLD OUT
---

4. Roda 'Cirsion' 2009
Cirsion is the Latin name for thistle, the Roda logo, and this near-mythical wine (first produced in 1998) is extraordinary.
Roda's research has found that some of their vines produce grapes with 'high levels of polymerised tannins'. In layman's terms this means these grapes produce a full and very supple tannin structure, resulting in incredibly silky wines.
It's no surprise that this wine is produced in limited quantities, given that a team of pickers specially trained to detect these grapes, find them in about one vine per one thousand. This selection of grapes, literally on a bunch by bunch basis, is a level of fastidiousness rarely seen and just blows my mind. It also makes you realise how much more than the sell price, this wine must actually cost to make.
The wine is 100% Tempranillo, sees 100% new oak, which is unusual for Rioja, and is only made in suitable years. 2009 was a cracking vintage and one Roda is very proud of, claiming it as one of the best they've produced.
This is an amazing wine. Straight away you notice the dense, dark colour in the glass and wow – what a mouthful. Plump and inky, it immediately hits you with sweet, smoky oak and deep, delicious flavours of plum, dark chocolate and spice, all balanced beautifully with smooth, firm tannins. It's a contradiction - a big, yet elegant wine - the result of being so well balanced. The tannins are perfectly matched with the power and depth of the fruit. It differs from the other wines with its sheer level of concentration and complexity. There's also much more earthiness and savoury elements than the previous wines, but always that overriding long, long, long and silky, smooth finish. You can get lost in a wine like this. I could go on… but I won't.
It's only recently released, however it's already been given 95-98 points from the ever influential Robert Parker's Wine Advocate and 93 points from Wine Spectator.
I think it needs a few years in the cellar and I'm definitely putting a few bottles down. I hope you will too. Go on…
I can offer it for $380 a bottle (stock is limited). Click here to order