Typical of European wine terms, Valpolicella refers to both the place and the wine. Located in the northeast of Italy, the area known as Valpolicella is within the region of Veneto, the capital of which is Venice. Veneto is also home to Soave and Prosecco, as well as Italy's biggest wine fair, VinItaly, held in Verona, usually each April.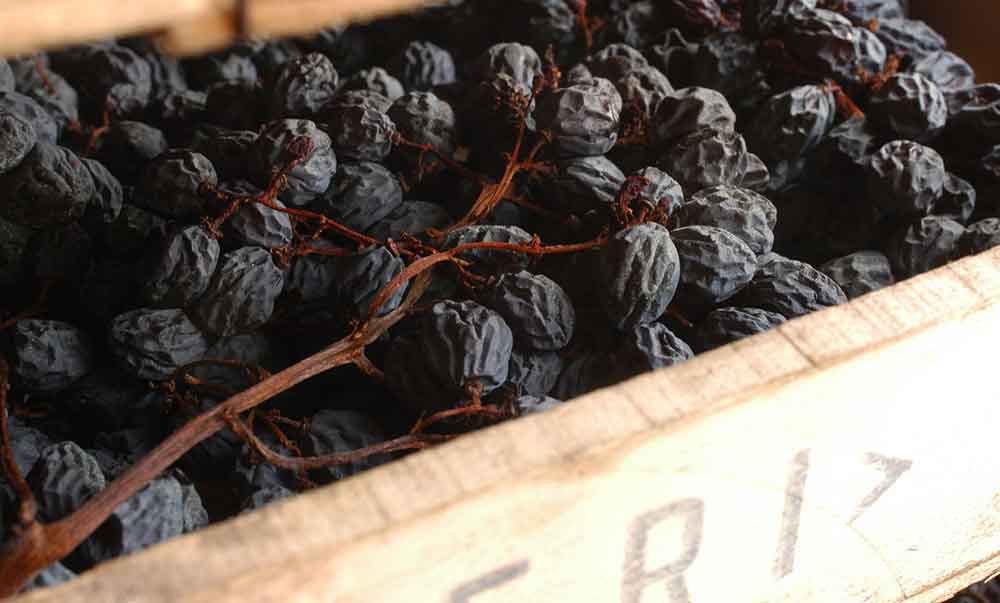 Grapes are dried for 3-4 months for the Speri Amarone della Valpolicella.
The name Valpolicella comes from the Latin 'the valley' (vallis) of the 'many' (polys) 'cellars' (cellae). The term dates back to the 12th century, although wine was already being made here hundreds of years before.
Valpolicella stretches from Lake Garda, up to the border with Austria in the north and across to the Adriatic coast in the east. Historically the region was in an area northwest of Verona, but when it achieved DOC (second highest appellation classification) status in 1968, the boundaries were significantly expanded. The original area, considered to possess better vineyard sites and produce better quality wines, became known as the Classico zone. Wines from this area may be labelled as Valpolicella Classico as opposed to simply Valpolicella.
Valpolicella Classico is very much a wine for everyday drinking. It tends to be mid-weight and fresh, with flavours of black and sour cherry and herbs. It's usually un-oaked, high in acid and low in tannins, making it very approachable. There's nothing like Valpolicella Classico anywhere else in the world and it's definitely a wine you should try.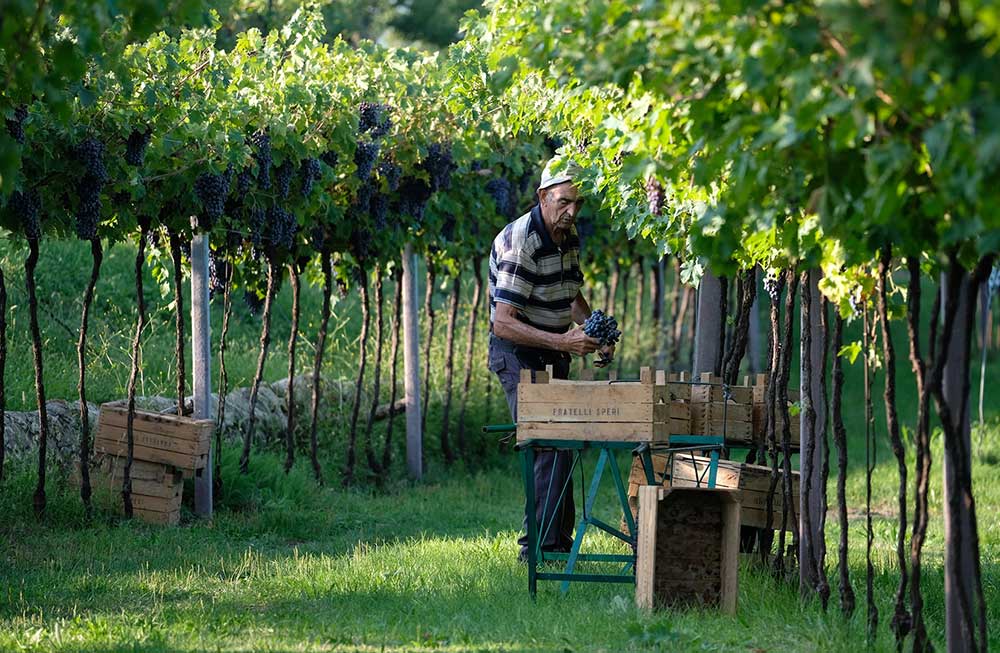 Handpicking grapes on the Speri estate.
There are many varieties grown in Valpolicella but the 3 you need to know are corvina, rondinella and molinara, which are used in varying ways within the region to produce wines of different styles. Aside from the friendly and affordable Valpolicella and Valpolicella Classico, they're also used to make Amarone, a wine traditionally thought of as heroically rich, powerful and alcoholic.
Amarone, or Amarone della Valpolicella (as it's officially known), earned DOCG status (Italy's top wine appellation) in 2009. It's made by drying the grapes, concentrating the sugar, and while these days the resulting wine tends to be fermented to dryness, the rich flavours remain. Importantly, in recent decades, many top producers have moved away from the use of heavy oak and high alcohol, releasing Amarone that's much more approachable. An amazing 40% of the grapes' weight is lost during drying and this, coupled with the incredibly labour-intensive nature of the process, explains why Amarone is also expensive. But considering what you're getting, I'd argue it's still possible to find good value, like the one I'm offering below.
---
Speri Viticoltori
Speri was founded in 1874 and is one of the oldest family-run estates in Valpolicella. These days there are members of the 5th, 6th and 7th generations, 8 members of the family in total, toiling in the winery and vineyards.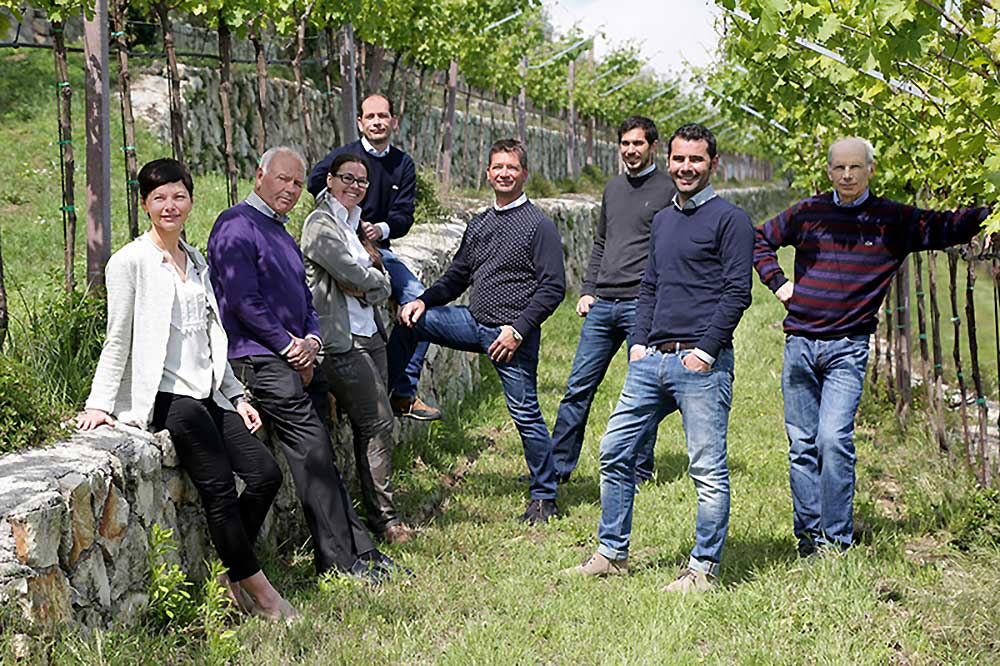 The Speri family in their vineyards.
All of Speri's 60ha of vineyards, spanning five sites, are located within the Classico zone and after a prolonged culture of meticulous care and sustainability, the estate became certified organic in 2015.
Land in Valpolicella is expensive, with 2ha of two-year-old vines, in a good but not great part of the region, setting you back about 1 million euro ($1.6M AUD). Established vineyards of the size, age and impeccable position of Speri's, rarely, if ever, become available and the huge cost advantage the estate enjoys, having acquired their vineyards generations ago, is almost irreplicable. This goes a long way to explain the outstanding price to quality ratio the estate is able to offer.
---

Speri La Roverina Valpolicella Classico Superiore 2020
This wine is a blend of 70% corvina, 20% rondinella and a 10% mixture of molinara and other local varieties. The fruit is sourced from a single vineyard known as 'La Roverina' which is located in the heart of the Classico zone. Being labelled Superiore means that the fruit has been picked a little riper and the wine aged a little longer, than both standard Valpolicella and Valpolicella Classico. Specifically, it has to have a minimum alcohol level of 12% and have been aged for at least a year in wood. These requirements tend to give a wine that's darker in colour and with greater aroma, flavour, structure and complexity than standard Valpolicella.
"Ruby red, with an intense, ample nose recalling grapey and almond notes; dry, flavorful and structured on the palate, with pleasing bitterish nuances." Winemaker's notes.
In the glass this is a clear garnet. On the nose you'll find cherry, marzipan and aniseed notes. While on the palate there's juicy pomegranate, graphite, pepper and a long liquorice finish. Medium bodied with crisp acidity and soft tannins, this opens up beautifully in the glass. It's 12.5% alcohol and is sealed with a screwcap.
You'll find it on the list at local pizzeria Maybe Frank in Randwick for $64 a bottle.
Perfect mid-week drinking.
I can offer it for $35 a bottle.

---

Speri Amarone della Valpolicella DOCG Vigneto Monte Sant'Urbano 2016
Of the Speri's five vineyard sites, its best is the 19ha it holds on the famous Monte Sant'Urbano. This magic peak sits in the middle of the Classico zone, between 280-350 meters elevation and has long been considered one of the best sites in Valpolicella. The Speris have kept the traditional 10-foot drywall terraces, known as "marogne" with the vines trained on pergolas. They obtained organic certification for all their vineyards in 2015.
In only the best years, Speri makes a single vineyard Amarone from this special, elevated site, the result being the estate's top wine. The blend is 70% corvina, 25% rondinella and 5% corvinone.
Grapes are handpicked, with only best bunches selected and dried for 3-4 months on traditional wooden racks. With the potential for rot to ruin everything, the high risk of this process amazes me. But when everything goes right, the results are incredible. After drying, the grapes are macerated in stainless steel tanks for 36 days before fermentation in 500L oak barrels. The wine then spends 2 years ageing in French oak, another year in Slovenian oak, then another year after that in bottle before its release.
Within Italy, the Speri Vigna Sant'Urbano is one of the most awarded wines, along with Ornellaia, Sassicaia, San Leonardo and a few other iconic Italian wines. This vintage, the renowned 2016, is no exception, with the wine receiving a slew of awards from Italian critics:
3 Bicchieri - 3 glasses (highest score) Guida Vini D'Italia 2021 edition. Gambero Rosso. This is Italy's most sought after wine rating and a big deal.
5 Grappoli (highest score) Guida Bibenda 2021. Federazione Italiana Sommelier.
4 Viti (highest score), Guida Vitae 2021. Associazione Italiana Sommelier.
And from international critics:
"The 2016 Amarone della Valpolicella Classico Sant'Urbano takes some time to blossom in the glass, as mineral-tinged blackberry evolves into a display of currants and cherries complemented by hints of sweet mint, lavender and violets. It's velvety in texture and savory to the core, coasting dark red and black fruits across a medium-bodied frame, contrasted by vibrant acids, as grippy tannins form up toward the close. This finishes youthfully structured yet amazingly long, with echoes of licorice and purple inner florals. The 2016 is geared for the cellar, and in need of some time to soften, but my expectations are very high." 95 points, Eric Guido, Vinous 95 Points.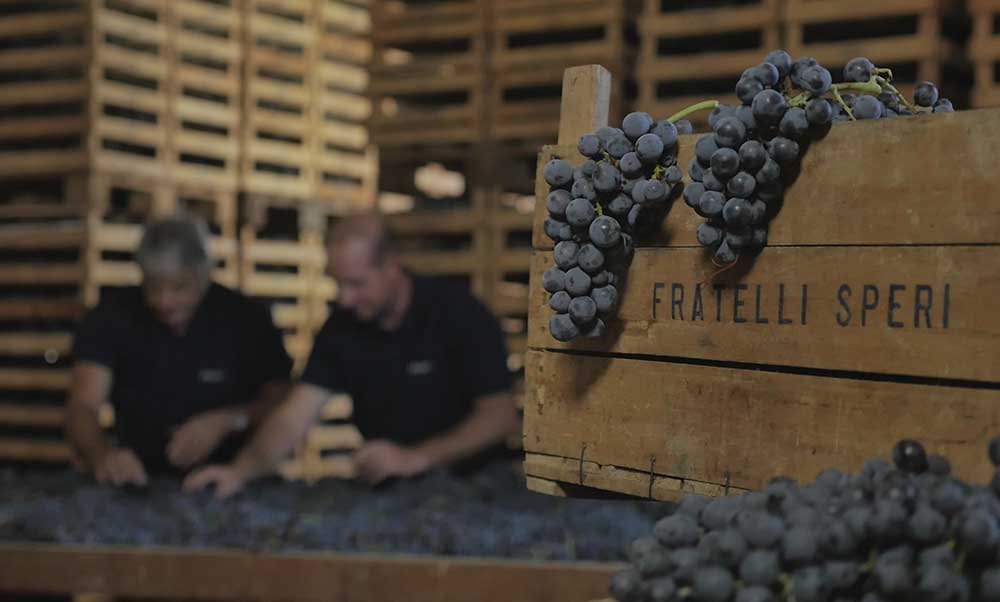 "A light and refined style of Amarone from the warm slopes of Sant'Urbano. A perfumed and vivid wine. It glides on silky tannins and graphite smoothness balanced with bitter chocolate freshness and light snap. There is cocoa powder on pure, persistent finish. Cool, refined and harmonious." 95 points, Sarah Marsh MW.
"Plenty of dried fruit with figs and sultanas, as well as mushrooms. Full-bodied, yet integrated and polished with fine tannins and a fruity finish. From organically grown grapes. Drinkable now, but another year or two will bring it even more together." 95 points, James Suckling.
"From a vineyard site in Fumane… comes this richly concentrated red wine from a terrific vintage. The organic Speri 2016 Amarone della Valpolicella Classico Sant'Urbano is fleshed out and generous, even at this relatively young stage in its evolution. This hearty and open-knit wine offers dark cherry fruit and black plum, with spice, tarry spice and campfire ash. There's nothing not to love about this bright but full-bodied Amarone."
94 points, Monica Larner, The Wine Advocate.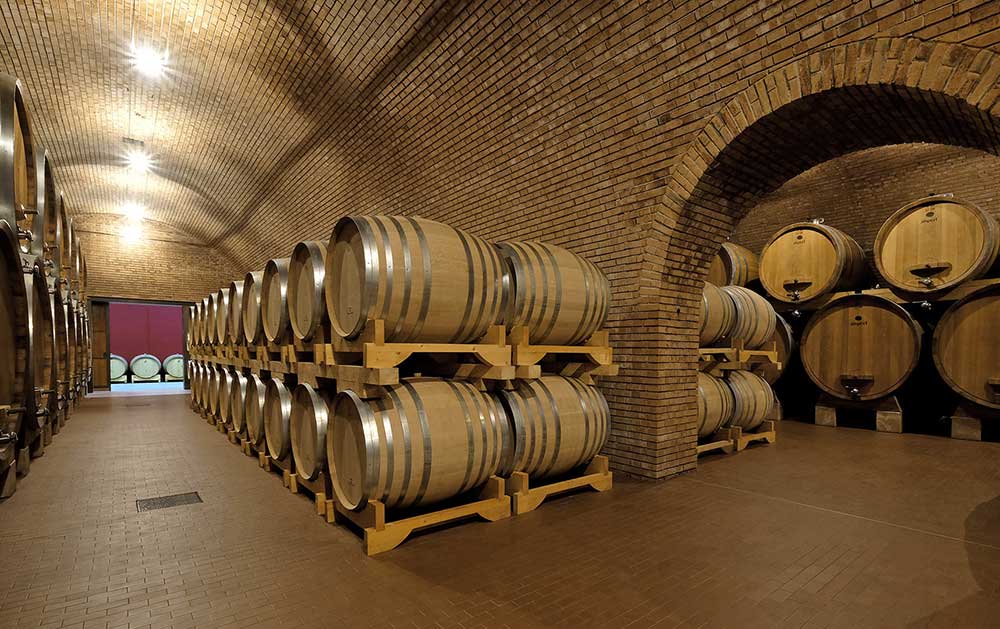 The Speri Amarone spends 2 years ageing in French oak, another year in Slovenian oak, then another year after that in bottle.
Rich, concentrated and powerful, yet strange as it may sound, this wine is almost medium-bodied and elegant by Amarone standards. Velvety and smooth, this is a wine that's hard not to like… a lot.
This really is one of my favourite wines. Absolutely beautiful.
I can offer it for $150 a bottle.