With spring in the air I'm moving away from heavier reds to fresh, mid-weight wines. With this in mind, here are two delicious reds from Spain that I've been enjoying lately.
The northwest corner of Spain is best known for the Galician wine region of Rias Baixas and its highly fashionable white wine made from Albarino. But just a little further inland, centred around the town of Ponferrada, you'll find the region of Bierzo which, while close to Galicia, is just inside Castilla Y Leon.
Bierzo is a beautiful place that sits on the Camino de Santiago (Way of St James) pilgrimage route - more specifically, the most popular of the routes, the Camino Francés (French Way). Another notable feature of the region is Las Médulas, supposedly the largest open-pit gold mine in the Roman Empire. The Romans employed a technique based on hydraulic power that involved undermining mountains with large quantities of water via a complicated system of aqueducts, galleries, lakes and tunnels. After two centuries of working the deposits, the Romans withdrew, leaving a devastated, dramatic and unique landscape that is now a UNESCO World Heritage Site.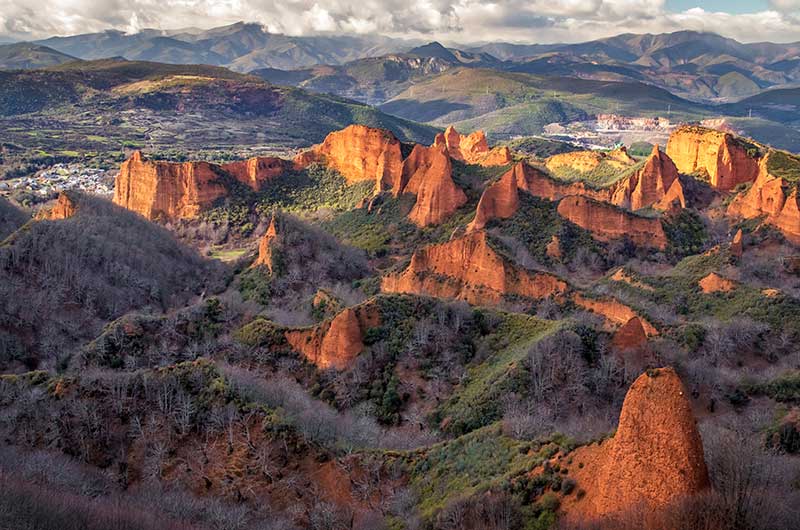 The remote region comprises an elevated plain and a series of valleys, with altitudes between 450-1,000 metres. It's relatively small, with only around 4,500 acres (1,820ha) of vines and 75 registered wineries. The climate is highly continental, with hot summers, and cold snowy winters. While there are alluvial soils lower down in the region, the soil at higher altitudes is slate. The elevation and surrounding mountains protect Bierzo from any Atlantic influence, so it's much dryer than Rias Baixas. Most vines are unirrigated bush vines (ie. free standing, not trellised).
While vines have been grown in Bierzo for thousands of years, by the 1970s the region was pretty much unknown, with co-operatives turning out pretty basic wine. But in the late 90s this distant region was 'discovered' by a group of young growers/winemakers. Of particular note was Alvaro Palacios, who just a decade earlier had gained fame as a pioneer of the resurrection of Priorat (northeast Spain). In a similar story to Priorat, Palacios and his cohorts reclaimed old vineyards on slate in Bierzo, producing wines of "grace and finesse not found in a generation of concentrated, oak-heavy products," The World Atlas of Wine.
Since then, "(Bierzo) has become a magnet for bright stars of Spain's new generation, and the best of Bierzo fully deserves international recognition. They should be ranked alongside Rioja, Ribera del Duero and Priorat with an elegance that's in tune with modern tastes," Decanter 2016.
I'm pleased to offer you wines from two of Bierzo's most exciting winemakers, both of whom rate a mention in the handful of Bierzo producers in the Oxford Companion to Wine. They're at the forefront of the new generation of Spanish winemakers.
Bodegas Mengoba
"Gregory Pérez is one f***ing talented winemaker," the succinct Alice Feiring, New York based wine writer, author of several great books and blog; The Feiring Line. She's won the James Beard, Louis Roederer and Gourmand writing awards.
The elevation of the Mengoba estate is 600m and the soil is a mixture of clay and decomposed slate.
Founder and winemaker of Mengoba, Gregory Pérez is a Bordeaux native, having worked at several top estates, including Chateau Grand-Puy-Lacoste and Chateau Cos d'Estournel (bigwig super 2nd growth). He completed studies at the Bordeaux Blanquefort School of Oenology and Viticulture in 1998.
On the advice of a friend he went to Bierzo where he worked for several years before establishing Mengoba in 2007. Pérez likes to say he has his origins in Bordeaux and his heart in Bierzo.
The estate's vineyards are located in the town of Espanillo, at the head of the River Cua. The elevation here is 600m and the soil is a mixture of clay and decomposed slate. The vineyards are located near a wooded area which provides an abundance of natural diversity.
The vines are grown as bush or goblet vines, which means they are free standing with no trellising. Bush vines are more common in hot climates, and you'll see a small number of them in Australia, eg. old grenache vines in McLaren Vale.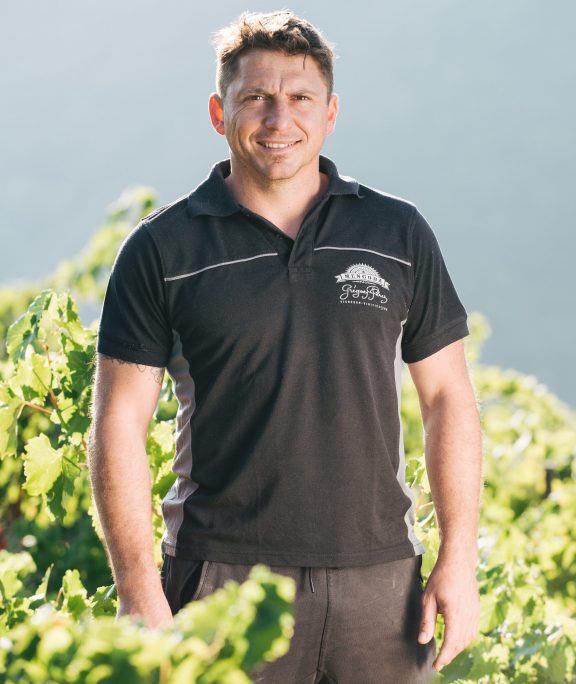 Gregory Pérez follows a sustainable philosophy, which he outlines as: "knowledge of the soil, protect the biodiversity, indigenous varieties, non-aggressive treatments, prohibit the use of herbicides, low yields, vineyard selection and maturation, and traditional winemaking."
The winery is located in San Juan de Carracedo, home to the historic Monastery of Carracedo, one of the most impressive in the region. The winery has all the bells and whistles, with stainless steel, temperature-controlled tanks and high-quality oak.
Over 80% of plantings in Bierzo are of the red grape mencía, and while the variety is grown widely across northwest Spain as well as in Portugal (where it's known as jaen), Bierzo is the region most associated with variety.
With its medium weight, firm structure and floral and red fruit flavours, I find mencía kind of like cabernet franc - another favourite of mine. Having said that, and just to confuse you, it can also seem to combine the aromatic depth of pinot, with the intensity of syrah.
"Mencía contains high levels of a sub-group of aroma compounds called terpenoids which translate into lovely flowery aromas, strawberry, raspberry, black licorice, pomegranate and cherry sauce. When you look at a glass of Mencía, you'll notice its deep red color with subtle hues of violet towards the rim. The color tells us that Mencía has high anthocyanin (the red pigment in wine). On the palate you'll be greeted with peppery flavors of sour cherry, red currant and pomegranate along with a bitter cherry pit flavor which comes from the wine's tannin. In the regions where it grows in Spain and Portugal, you will taste a subtle crushed gravel or granite-like minerality in the texture, which often contributes to its black peppery taste," Wine Folly.
"What was once tragically misused as a workhorse being churned into simple regional table wine is now, with the proper love and handling in both the vineyard and winery, making some of the most unique and exciting wines in Spain. Mencia varies from lighter to medium bodied but almost always with a perfume of wild herbs and florals with flavours of smoky earth, berries and spice," Movida Restaurant, Melbourne.

Mengoba Bierzo Brezo Mencia 2019
This is Pérez's entry-level mencía and comes from multiple remote parcels of vines with an average age of 50 years, around the slate-rich hillsides of Valtuille and Villafranca del Bierzo. While mencía is the hero, there's also a small amount of garnacha tintorera (alicante bouschet - one of a very few red fleshed grapes) added to the blend. To keep the wine pure, refreshing, and juicy, Pérez destemmed 90% of his fruit and fermented it using natural yeasts, in stainless-steel. The wine was bottled early to capture all that fresh, mouth-watering fruit. It's 13.5% alcohol and is sealed with cork.
I loved the pepper and red fruit on this.
"Expect supple plummy fruit with notes of blood orange and cinnamon giving way to sleek and fine-grained tannins and a nip of refreshing Campari-like bitterness on the finish." Bibendum Wine Co.

"The spicy and peppery 2019 Brezo Mencía could make you see why some people compare Mencía with Cabernet Franc (they are completely unrelated), with that herbal twist that gives this wine an Atlantic freshness and a somewhat wild profile. This clearly transcends its price category; it's a sophisticated, unoaked old-vine Mencía from old vineyards where there is always a small percentage of other grapes, such as Alicante Bouschet, Doña Blanca... It's sleek, elegant, and polished, fresh, and easy to drink, nicely crafted. Truly impressive."
92 points, Luis Gutiérrez, The Wine Advocate.
If Cru Beaujolais or Loire cabernet franc are your thing, then this is for you.
I can offer it for $28 a bottle.

---
Bodegas y Viñedos Raúl Pérez
Raúl Pérez (no relation to Gregory Pérez) is not just one of the leading lights of the new generation of Spanish winemakers, he's also universally regarded as one of the world's most talented and visionary winemakers.
'Winemaker of the Year' by German publication Der Feinschmecker in 2014.
'Best Winemaker in the World' by the French publication Bettane+Desseauve in 2015.
"Raúl Pérez is the archetype of the intuitive winemaking genius… Is this the world's best winemaker?" Pedro Ballesteros MW, Decanter Magazine, Feb 2019.
"If there's anything interesting happening in northwest Spain then it's very possible he's involved…" Sarah Jane Evans MW, Decanter Magazine, Sep 2016.
Impressive!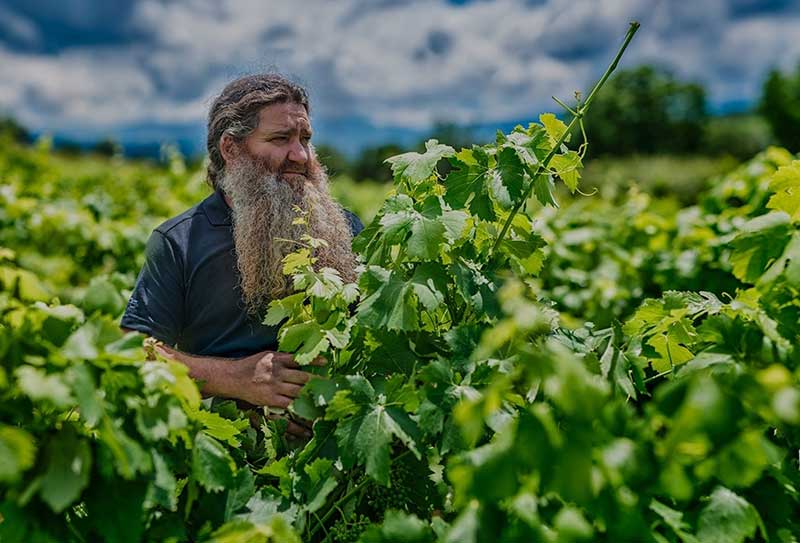 Born in Bierzo, Raúl Pérez took over the family estate, Castro Ventosa, in 1994 at the age of just 22. In 2003 he struck out on this own, quickly becoming a new reference point for Bierzo. Despite the global accolades and fame, by all accounts, he's a humble and generous man. He also has a pretty impressive beard.
Raúl crafts a dizzying range of wines, including many small-batch and one-offs. In addition to his estate wines, he has several collaborations and projects, not just in Bierzo, but in other regions of Spain. By his own count he's had more than 200 labels that've been reviewed by the The Wine Advocate.
Unfortunately very few of his wines get to Australia and the handful that do are expensive, except for one… Venta la Vega.
Venta la Vega is an exciting collaboration between Raúl and oenologist José Ángel Martínez, another leading figure in the Spanish wine scene. The estate is located in the region of Almansa, about 100km inland (southwest) of Valencia, in the wider region of Castilla-La Mancha.
The Venta la Vega estate has 225 ha of organic vineyards, located at an altitude of 1200m.
Conditions on this plateau are pretty harsh, with cold winters (below 0°C) and long, hot, dry summers (above 40°C). Add to this soils that are generally poor and stony, and you have conditions surprisingly well suited to the growing of grapes, especially without the use of chemicals.
The estate has 225 ha of organic vineyards, located at an altitude of 1200m, the majority of which are planted with garnacha tintorera, (not to be confused with garnacha/grenache) making it the largest planting of the variety in Europe. Most red grapes give clear juice, but garnacha tintorera is one of the very few, red-fleshed wine grapes, that gives red juice. The variety used to be widely grown in France, where it was known as alicante bouchet and valued for its deep colour and attractive soft fruit, but these days it's mainly grown in Galicia and Castilla-La Mancha.

Venta La Vega 'Adaras Calizo' 2019
The wine is majority garnacha tintorera, with a small amount of syrah. The fruit was picked mainly by machine at night when it's cool and fermented in stainless tanks using natural yeasts. Post ferment, it spent about 3 months in a combination of stainless steel, large old French oak and concrete vats (with lining). The finished wine is certified organic and is 13% alcohol. It's sealed with cork.
This wine is bright, vibrant, fresh and lighter than most wines of this variety. While it offers plenty of juicy fruit, you'll find it more savoury than new world wines.
"The young red 2019 Adaras Calizo was produced with Garnacha Tintorera grapes grown on the limestone soils where it can express Mediterranean character with good freshness. It's juicy and fresh, relatively light for the variety, fruit-driven and very pleasant, with fine tannins, clean and easy to drink. Very drinkable." 90 points, Wine Advocate.
"A red with lovely purity of fruit, showing plums and blackberries, as well as chocolate and walnuts. Medium body, medium round tannins and a fresh, fruity finish. From organically grown grapes." 92 points, James Suckling.
Delicious, from a great winemaker and great reviews for a wine of this price.
I can offer it for $25 a bottle.