In 2017 Wine Australia, the peak Australian wine industry body, published an article titled 'The Rise (and rise) of Pinot Gris and Grigio,' observing that: "The once relatively unknown Pinot Grigio (or Gris) grape has risen by stealth to become one of Australia's most fashionable whites, adored by the wine-drinking public – much to the surprise of the wine elite. Now it's ready for its next incarnation: a super cool, serious wine style that winemakers love to make and wine critics are beginning to love. In Australia it's one of the fastest growing retail categories, and whilst it is nowhere near the heady heights of Sauvignon Blanc, it is growing rapidly. Wine drinkers simply can't get enough."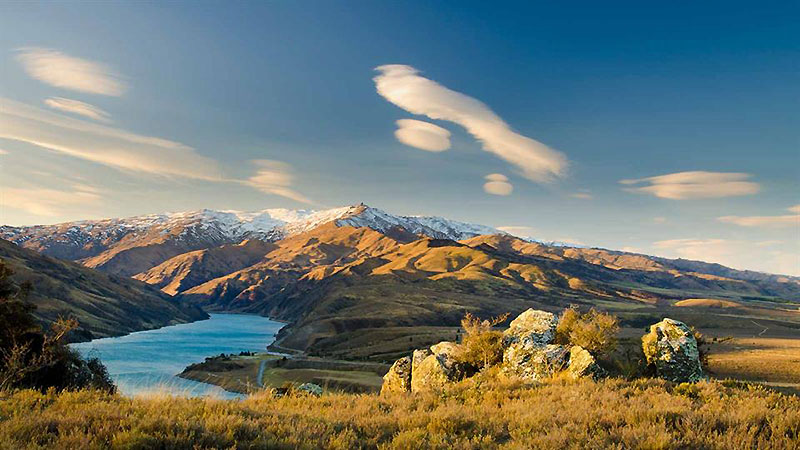 The stunning Central Otago landscape.
Pinot Gris and Pinot Grigio are the same grape variety, but the resulting wine is made in a different style. In Italy, the variety is known as Pinot Grigio and the best examples are found right up in the northeast in the regions of Friuli and Alto Adige, where it's picked early to produce a lighter-bodied, crisp, fresh white. In France where the variety originated, it's known as Pinot Gris, with the vast majority of plantings found in Alsace. Here you'll find Pinot Gris used as both a single varietal and in blends to produce mainly dry whites. These whites are slightly rounder and more textured and spicy. They also have the ability to age.
New world producers label their wines Pinot Gris or Pinot Grigio, depending on which of these two styles they've made.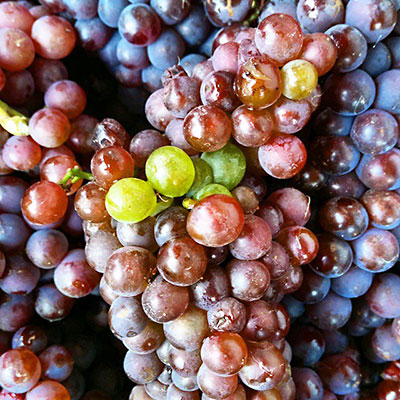 Pinot Gris Grapes at the Prophet's Rock winery.
Pinot Gris in Australia goes right back to James Busby, an amazing Scotsman who's generally regarded as the father of Australian viticulture. In 1833 Busby moved to New Zealand and became not only the first British resident of the country, but also the first recorded winemaker. In 1835 Busby drafted the Declaration of Independence of New Zealand, signing it with 35 chiefs from the northern part of New Zealand. Busby went on to co-author the Treaty of Waitangi, which was signed on the front lawn of his house over the 5th and 6th February 1840.
These days NZ viticulture is dominated by Sauvignon Blanc. In 2018 it accounted for 62% of plantings, followed by Pinot Noir (15%) and Chardonnay (8%). Pinot Gris came in fourth with just 7% of plantings.
But Pinot Gris enjoyed the fastest rate of increase in plantings of any variety from 2004-2014 and is well suited to the New Zealand climate.
"New Zealand's cooler, maritime climate engenders numerous more phenolic, Alsatian-inspired, waxy textured (Pinot Gris) wines imbued with great complexity and nuance." Neal Martin, www.eRobertParker.com
While the majority of New Zealand's Pinot Gris is grown in Marlborough, impressive examples are now emerging in other regions, most notably Central Otago, home to the world's most southerly grapevines. Here Pinot Gris accounts for 10% of plantings, a distant second to Pinot Noir (79%).
Prophet's Rock is a top Central Otago estate that in addition to its stunning Pinots, makes one of New Zealand's best Pinot Gris.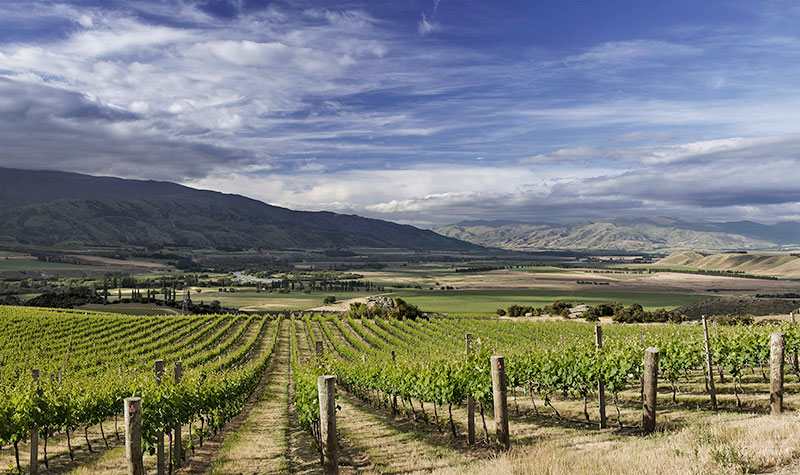 Prophet's Rock
Prophet's Rock was first planted in 1999 in what is a breathtaking part of Bendigo in the Cromwell Basin of Central Otago. Unlike most vineyards in this region, which sit on the valley floor, the vineyards of Prophet's Rock are planted on steep north facing slopes.
This is marginal grape ripening territory, but as winemaker Paul Pujol observes, "the serious gear's always on the fringes." When you think of many of the world's best regions… he's right.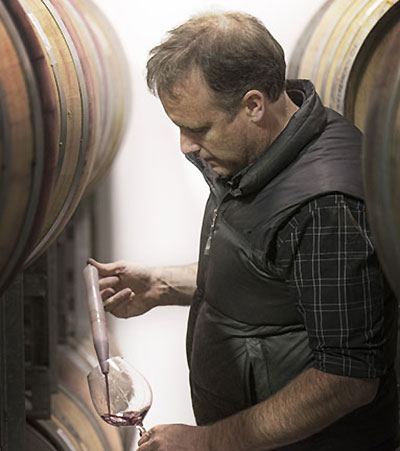 Winemaker Paul Pujol.
Paul Pujol has been winemaker at Prophet's Rock since the first vintage in 2005. For the last 4 years he has also worked the off-season in France at the revered Keuntz Bas in Alsace, where he was the the first non-family winemaker since 1795 and the first non-French chief winemaker in Alsace.
I should mention too that he has worked at Domaine Comte Georges de Vogüé in Burgundy. Wow.
Paul's experience in Alsace and Burgundy has given him a superb grounding in aromatic textured whites (Pinot Gris and Riesling) as well as one of the greatest expressions of Pinot Noir. He is one of the most exciting winemakers in Central Otago.
"I've met Paul and tasted his wines a number of times, and this, my first time in the vineyard, confirmed to me that this is one of Central Otago's top 2 or 3 producers," Jamie Goode. www.wineanorak.com, respected UK wine writer and critic.
"Proprietor-winemaker Paul Pujol has emerged as one of Central Otago's latest stars," The Wine Advocate.
What's unusual and exciting for wine drinkers (and quite expensive for the estate) is that Prophet's Rock holds its wines back, giving them extra time in barrel and/or bottle, or in the case of the Pinot Gris more time on lees. Too many wines are drunk before they've had time to evolve so releasing them with even a little extra age is a real treat. One of the estate's top Pinots ($200) is released with 5 years age on it, while the Pinot Gris is held for an extra year. While this might not sound like much, it makes a real difference.

Prophet's Rock Pinot Gris 2017
I tried the previous vintage of this wine late last year and was blown away. Foolishly I didn't jump on it straight away, so with limited quantities made, it sold out in a flash.
The current vintage (2017) was recently released and I didn't make the same mistake. This is a stunning Pinot Gris - one of New Zealand's finest.
Since its first release in 2007, this wine has received rave reviews. It's been included in Air NZ's "Fine Wines of New Zealand," (the annual list of NZ's top iconic wines) for the last 3 years. Previous vintages have also featured in pre-eminent NZ wine writer Michael Cooper's "The Best 25 Pinot Gris in New Zealand." The wine has even been matched on Heston Blumenthal's degustation menu at The Fat Duck (3 Michelin stars).
The grapes for this wine were sourced from a couple of the estate's vineyards, one of which has warm, free draining, predominantly schist soils, with some of the steepest planted blocks in Central Otago. Both sites are extremely low yielding.
The grapes were handpicked and field sorted, and once at the winery, whole-bunch pressed (done very slowly as specified by Paul) to retain aromatics and freshness. The wine was fermented using only indigenous 'wild' yeast in multiple small lots. Post ferment it was matured on its yeast lees in seasoned barrels for 9 months, which is an unusually long time by new world standards for Pinot Gris. This gives the wine a greater level of both texture and complexity.
I love the intensity, texture and length of this wine. Flavours fill your mouth - pear, honeysuckle and delicious nuttiness.
"Brilliant straw-yellow colour with light golden tints, pale on the rim. The nose is fresh and full with vibrant, up-front and rich aromas of ripe yellow stonefruits and hints of pear and honeysuckle, harmoniously melded with complexing smoke, nutty lees and mineral elements. This has richness, intensity, detail and depth. Medium-dry to taste and medium-full bodied, the palate has bright and lively flavours of yellow stonefruits with hints of pear, honeysuckle and exotic florals entwined with complex wet stone, nutty and minerally lees notes. The flavours are rich and near-succulent, and the palate possesses a degree of opulence. The fruit forms a linear core, and the wine flows with positive drive, and integrated acidity leading to a lingering finish of stonefruit and honeysuckle. This is a rich, up-front, medium-dry Pinot Gris with bold flavours of yellow stonefruits and honeysuckle, with pear notes entwined with complex minerally lees on a positive, linear palate. Match with Middle Eastern and Asian fare over the next 4-5 years. 13.4% alc. and 10.9 g/L RS, the wine aged 10 months on lees. 18.5+/20 Jul 2018." 5 Stars, Raymond Chan.
Have it with lobster and scallop dumplings at Mr Wong, where it's $99 a bottle … or at home with Chinese take away. Yum.
I can't recommend this wine highly enough.
I can offer it for $42 a bottle. Order here
Find our other Pinot Gris here
Click here for Prophet's Rock Cuvee Antipodes Pinot Noir 2017​