A few months ago I had the pleasure of a visit from winemaker Xavier Bizot, whose wines I've admired for years. I like the French aspect Xavier brings to Australian wine, utilising our wonderful sun-filled fruit and giving it a line, delicacy and structure more often associated with French wine. While his whites and reds have great depth and intensity of flavour, they also have a common thread - elegance.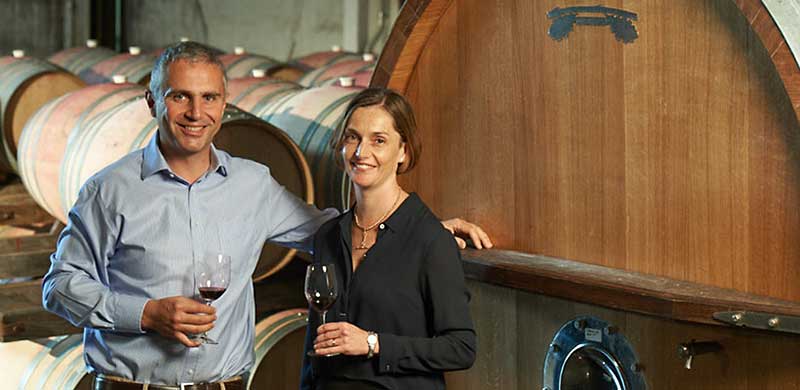 Xavier is married to Lucy Croser. If these two names seem familiar, there's good reason. Xavier's father was Christian Bizot, Bollinger patriarch and chairman from the late 70s to the mid 90s, and his great aunt was the famous Lily Bollinger. When Bollinger looked to expand their interests in the 80s, they invested in Petaluma, the iconic South Australian winery, started in 1976 by Brian Croser. Brian is a leading figure in the Australian wine industry and also Lucy's father.
The two families celebrated their long association when Lucy and Xavier married in 2003 and I reckon you'd be hard pressed to find better winemaking credentials in a couple. In 2005 they moved back to Adelaide from Paris where Xavier worked as a lawyer, to establish a small domaine in Wrattonbully, naming it Terre à Terre, meaning 'down to earth'. The wines they're producing are wooing the critics, with Halliday rating the winery 5 stars in his latest guide.
Wrattonbully's a great region that no one's heard of - amazing given that it directly joins Coonawarra's northeastern boundary. It shares a similar climate to Coonawarra (and Bordeaux), as well as the same prized terra rossa soil over limestone, although the limestone in Wrattonbully is much older than that underneath Coonawarra. In fact, the limestone caves that sit below Wrattonbully are part of the Naracoorte Caves National park, South Australia's only World Heritage site.
The first vineyard was planted in Koppamurra, as the area was originally called, in 1969, and another in the mid 70s, but these were the only two for many years. That changed when the Australian red wine boom took hold in the early 90s, after which all hell broke loose. With Coonawarra full, the rush was on to find suitable sites and Wrattonbully was the obvious choice. It shared the great soil of Coonawarra, was close to existing winemaking facilities and best of all, it was cheaper. A massive expansion ensued and by the mid 90s big names like MiIldara, Hardys and Yalumba had moved in and were using fruit from Wrattonbully for their Coonawarra wines. This might sound a little dodgy, but it was totally legitimate as Australia's Label Integrity Program (LIP) requires only 85% of fruit to come from a stated region. The region was officially recognised with its own Geographical Indication (GI) in 2005 and it was at this time that it officially changed its name from Koppamurra to Wrattonbully. Nowdays Wrattonbully has 2,600ha of mature vines producing exceptional fruit, mainly Cabernet, with Treasury Wine Estates (TWE) using fruit from the region in both its iconic Penfolds Bin 707 and St Henri wines. Unfortunately for Wrattonbully, the majority of its fruit goes into blends and the region doesn't get the recognition for quality it deserves.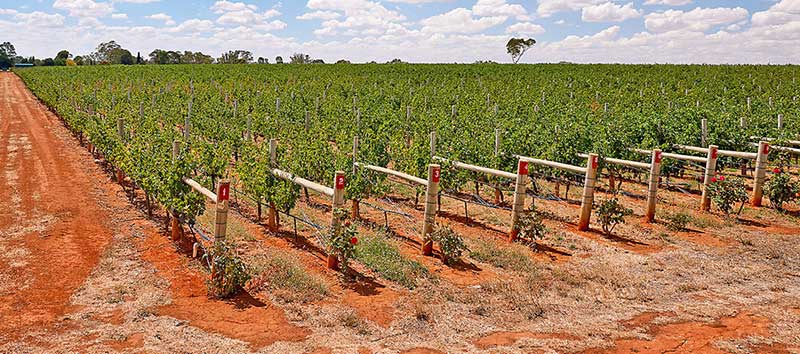 The Crayeres vineyard in Wrattonbully.
Brian Crosser acquired the Koppamurra Vineyard, one of the original two, in 2002, renaming it the Whalebone Vineyard, after the bones of a massive whale were found beneath it. Lucy and Xavier bought a site next door to this in 2004, calling it the Crayers Vineyard, which means limestone in French, after the limestone subsoil. Conditions here are very similar to St Emilion in Bordeaux. In 2008 they planted Cabernet, Shiraz, Cabernet Franc and Sauvignon Blanc. The vineyard is not certified organic but is managed with minimal use of chemicals. When picked, the fruit is transported to the Tapanappa winery in the Adelaide Hills. Aside from Terre à Terre, Xavier and Lucy also have a cheaper range called 'Down to Earth' as well as a top notch Adelaide Hills sparkling wine named Daosa.
I particularly like these two wines.
---

Terre à Terre Cabernet Franc 2015
Many people think Cabernet Franc is weedy and thin, which it can be in the wrong hands or the wrong climate. But this one will help you see the light. The mouthfeel is sumptuous, smooth and the purity of fruit is astounding. Delicious.
You'll find Cab Franc in Bordeaux, especially in the appellation of St Emilion, where it's blended or in the Loire as a stand alone variety, most notably in the appellations of Chinon, Anjou, and Bourgueil. The two regions produce very different styles, with Bordeaux a much more powerful version than the lighter Loire.
"As a wine, Cabernet Franc tends to be rather lighter in colour and tannins, and therefore earlier maturing than Cabernet Sauvignon, although Cheval Blanc (from St Emilion, Bordeaux) the world's grandest Cabernet Franc-dominated wine, proves that majestic durability is also possible." Oxford Companion to Wine. I reckon as tastes move away from Robert-Parker-style blockbuster wines, Cab Franc will enjoy a new appreciation among wine drinkers.
In the movie Sideways (2004) protagonist Miles pooh-poohs both Cab Franc and more famously Merlot, yet at the end of the movie we see Miles alone in a diner, drinking his most treasured wine from a styrofoam cup. The wine is none other than a 1961 Cheval Blanc - the greatest example in the world of a Cab Franc dominant, blended with Merlot. I digress, but my point is that most drinkers assume all Cab Franc to be in the lighter Loire mould, when in fact it's not.
I was pleased to see Tony Love of The Advertiser write: "After all the end of year 'what's hot', 'what's next' and 'best ofs', there's one last favourite mini-trend I've loved and want to see more of. It is … drum roll … Cabernet Franc." He went on to list a few favourites. "A medium to fuller bodied style comes from nearby Wrattonbully, where Xavier Bizot's Terre a Terre 2015 Cabernet Franc leaves you without doubt of its ancestry. Crushed blackberries, blackcurrants, elderberry, with a dash of oak and fine dusty tannins all add up to a deep-set, red wine without heaviness - and it drinks delightfully." (Dec 2017).
This is the second release of this 100% Cabernet Franc from Xavier. It comes off the Crayeres vineyard in Wrattonbully, where the soil, and relatively high density planting (4,444 vines per hectare) are closer to St Emilion style than Australia.
The fruit was handpicked and fermented in small 1 tonne open fermenters. Interestingly, 75% was wild fermented with 20% whole bunches, the other 25% was totally destemmed and partially crushed and fermented using cultured yeasts. Post ferment, the wild yeast lot was aged in old French oak and the cultured yeast lot was aged in new reach oak. Both were aged for 22 months.
"Juicy red and black cherry fruit is framed by persistent fine tannins, oak assisting not interfering. Elegant. Full of fruit." 95 points, James Halliday. Second highest rated Cab Franc from the 2015 vintage.
"Fresh but not herbaceous, very beguiling nose. Sweet fruit on entry and zesty fine tannin on the end. Appetising, dry finish. Very complete. No hurry to drink this." 16.5/20 Jancis Robinson (this is a good mark from her).
"Bright, focused and poised with textbook cherry and cranberry aromas. The supple mid-palate has the perfect amount of weight with fine, framing tannin and balancing acidity. It is a wine with clarity, energy and class. A highly-sophisticated drop that will age beautifully over time. Highly recommended. (Screwcap)." 94/100, Toni Paterson, The Real Review.
You'll find it at a handful of top places around town, including the groovy Fred's in Paddington for $95 a bottle.
Grab a few. I can offer it for $35 a bottle. Order here
---

Terre à Terre Cabernet Sauvignon 2015
Is it just me, or has Cabernet lost its way with Australian drinkers? Yet every time I drink a great Cabernet, I get why the variety is responsible for some of the world's greatest wines - and I wonder why I'm not drinking more of it. This will rekindle your love of Cabernet, it's a wonderful combination of elegance and power. With a wine like this, it's no surprise Huon Hooke noted earlier this year: "Xavier Bizot is bringing Cabernet back."
Cabernet berries are small and thick skinned, which is why they produce such deep coloured and firmly tannic wines. Cabernet is the famous variety of Bordeaux (even though Merlot is the most planted), and is typified by blackcurrant and cassis, as well as a herbaceous character that becomes more pronounced the less ripe the fruit is. Above all, Cabernet is all about firm structure and length. The three best regions in Australia for Cabernet are Coonawarra, Margaret River and the Yarra. But as you know, Wrattonbully offers very similar conditions to Coonawarra.
The fruit came from same Crayeres vineyard as the Cab Franc above, handpicked and transported to the Tapanappa winery in the Adelaide Hills, where it was fermented and then aged for 8 months in 35% new oak. It was then transferred to a one year old 4,000L foudre and aged for another 14 months. The final blend was 95% Cabernet and 5% Cabernet Franc.
"Here the complex vinification has worked well, the wine at the savoury end of the spectrum thanks in part to the lengthy time in oak. The palate is long, the tannins firm but balanced, the oak integrated." 95 points, James Halliday.
"This has a quite leafy nose with reticent blackcurrant and some floral elements. It also shows iodine and nori seaweed nuances, too. The palate is very plush with fine, pillowy tannins, a wealth of plush, ripe sweet cassis and redder cherries and hints of fresh leather. Quite ripe through the finish." 93 points, Nick Stock for James Suckling.
"An exquisite wine, fine and pure, with focused berry fruit. Snappy cranberry and redcurrant flavours. I adore its medium-body, fine tannins and balance. An essential addition to any cellar." 95 points, Toni Patterson, The Real Review.
"A serious Cabernet, elegant and well-structured, with properly ripe fruit flavours," Huon Hooke.
You'll find it at a few great restaurants, including on the multi award wining list at Jonah's Whale Beach where it's $90 a bottle, or at Chairman & Yip in Canberra, for $85 a bottle.
Ripe and powerful, with elegance and finesse. A reminder of how good Cabernet can be.
I can offer it for $35 a bottle. Order here