Bordeaux is arguably the world's premier quality wine region. Located in south west France, close to the Atlantic coast, its vineyards lie on either side of the Gironde estuary, as well as along the banks of the two rivers that feed the estuary, the Garonne and the Dordogne. The waterways divide the region into three areas. The Left Bank, that sits to the west of the Gironde and Garonne, The Right Bank that sits to the east of the Gironde, and the area referred to as Entre-Deux-Mers, that sits between the Garonne and Dordogne Rivers.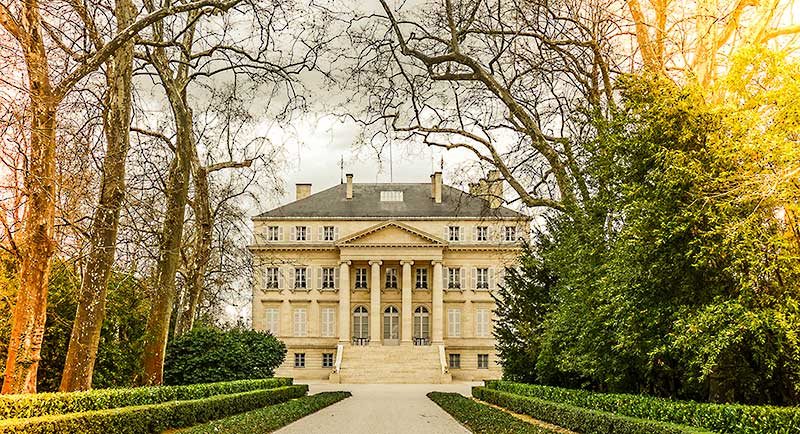 Chateau Margaux - founded in 1500. In 1705, the London Gazette advertised the first auction of great Bordeaux growths: 230 barrels of "Margose" ! The 1771 vintage was the first "claret" to appear in a Christie's catalogue.
Chateau Margaux - founded in Bordeaux is a large region with about 110,000 ha of vines - about four times the size of Burgundy. There are over 60 appellations within Bordeaux and according to Jancis Robinson MW (Feb 2021) there are 8,800 registered wine-producing châteaux! Despite Bordeaux's size and its huge number of estates, or chateaux as they are referred to, most of the wine world's fascination lies with the handful of hallowed Premier Crus or First Growths.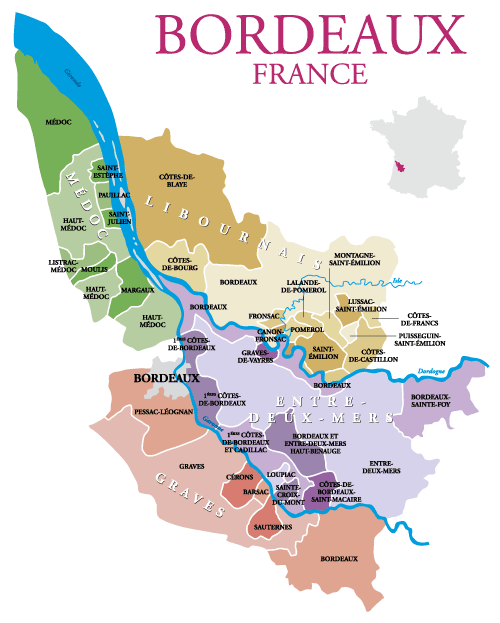 First Growths were officially recognised with the 1855 Classification of Bordeaux. This was not the region's first classification, nor was it the first time that a hierarchy of so-called Growths or Crus had been proposed. It did however become the benchmark after Napoleon III decided to host the 1855 Universal Exposition in Paris, which called for France's best agricultural, industrial and cultural products, including wine, to be displayed to the rest of the world. Bordeaux's 10-member Chamber of Commerce was tasked with creating a classification. Members included Bordeaux's mayor, a shipbuilder, a cabinetmaker, and professors of physics and design, and can you believe only one merchant who had anything to do with wine. After much faffing around, they finally set up a separate four-man committee, with expertise in wine, that in just 2 weeks completed the quality hierarchy, basing it solely on then current selling prices.
The result was 57 red wines divided into 5 growths, ascending in quality from 5th up to 1st. Interestingly, there was also a separate, and these days little known, classification of 21 sweet white wines from Sauternes and Barsac, divided into, in ascending order; Second Growth, First Growth and Superior First Growth. Château d'Yquem was so highly regarded that it was the only wine, white or red, to get a Superior First Growth classification.
The 1885 Classification covered the area known as The Medoc, which is the peninsula that stretches north from the city of Bordeaux (ie. Left Bank) taking in the prestigious communes of St-Estèphe, Pauillac, St Julien and Margaux. Having said that, and there's always an exception, it did include one estate, Château Haut-Brion, from Graves, an area just to the south of the city of Bordeaux.
Chateau Margaux.
In theory the classification was meant to be an evolving hierarchy, however with so many vested interests, this was never going to be the case, and in practice it became set in stone. There have only been two changes to the classification. In 1856 Château Cantermerle was added to the list of 5th Growths and most famously in 1973 when, after decades of lobbying by Baron Philippe de Rothschild, Château Mouton-Rothschild was elevated from 2nd to 1st Growth. It had been achieving prices equal to two of the other 1st growths for close to two centuries.
Since 1885 there has of course been changes to the names and ownership of the original 57 chateaux, as well as divisions and amalgamations of land. These days there are 61 châteaux in the classification, comprising:
First Growth - 5
Second Growth - 14
Third Growth - 14
Fourth Growth - 10
Fifth Growth - 18
Despite the 1855 Classification not taking in the Right Bank (eg Pomerol and St-Émilion) it's still regarded as the Classification of Bordeaux, with the First Growths enjoying global recognition, not just as the best wines of Medoc, but of Bordeaux and the world for that matter.
Chateau Mouton Rothschild.
Today the 5 first growths are - with tasting profiles provided by Bordeaux expert, Jane Anson MW in Decanter Magazine:
Château Haut-Brion (Pessac Léognan) - Aromatic complexity, richness, depth of fruit
Château Lafite (Pauillac) - Complex, elegant, extremely long-living
Château Mouton Rothschild (Pauillac) - Silky texture, caressing tannins, gourmet
Château Latour Pauillac) - Textured, powerful, concentrated
Château Margaux (Margaux) - Graceful, nuanced, perfumed
Acquiring highly coveted wines like these in Australia is not easy. Most are sold En Primeur through La Place de Bordeaux. En Primeur is a system used by the French, most notably the Bordelaise, to sell their wine as futures. This simply means consumers purchase wine at an agreed price now, for delivery at some date in the future.
While forms of en primeur have been used for centuries, post WWII the Bordelaise have been using their own take on the system. "Cask (barrel) samples of wines are customarily shown in the spring following the vintage. Thousands of trade and media representatives descend on Bordeaux each spring for carefully organized programmes of tastings. Sales are solicited, through brokers and then négociants, as soon as proprietors decide to announce their opening price and market reaction is keenly monitored by interested parties. A particular property often releases only a certain proportion, or tranche, of its total production, depending on its need for cash and reading of the market." Oxford Companion to Wine.
Chateau Lafite Rothschild.
It's all a bit of a hoopla, as critic's reviews, and subsequent prices and quantities are released over the campaign. The first wineries usually start releasing in early June and it's wrapped up by the end of the month. Buyers make majority payment now and the balance when the wines are delivered, approximately 2 years later.
The issue with these top wines and the en primeur system is that if it's a good year and you're after a current release wine, you simply can't buy them - they've all been snaffled up 2 years prior. You have to wait for them to appear on the secondary market, which then means you have to worry about provenance - something you don't want to leave to chance with such a serious outlay.
With this in mind, I'm very excited to be able to offer you 3 of the First Growths from the highly regarded 2018 vintage. The reviews speak for themselves. These are simply some of the most desirable wines in the world and while they are nearly impossible to find, I have them available for purchase now. I secured all three wines en-primeur and received them just a few weeks ago. Since then they've been kept in temperature controlled conditions.
These are truly special.
---

Chateau Margaux 2018
Margaux comprises 99ha (87ha red,12ha of white). It's been owned by the Mentzelopoulos family since 1977, with Corinne and her daughter Alexandra (3rd generation) currently at the helm. The 2018 Chateau Margaux is a blend of 90% cabernet sauvignon, 4% merlot, 4% cabernet franc and 2% petit verdot. It's 14% alcohol.
"Deep purple-black in color, it slowly unfurls to reveal tantalizing scents of crème de cassis, wild blueberries and Black Forest cake with hints of redcurrant jelly, rose oil, dark chocolate and cedar chest plus a touch of star anise. The medium to full-bodied palate bursts with opulent black fruit, fragrant earth and floral layers, supported by a rock-solid structure of exquisitely ripe, finely grained tannins and seamless backbone of freshness, finishing with fantastic length. This is classic Margaux at its most seductive, although it is, rather amazingly, approachable and absolutely delicious right now. But, to enjoy its full glory, you will want to cellar it for at least 6-8 years and then watch it metamorphize over the next 40+ years." 100 points, Lisa Perrotti-Brown, The Wine Advocate, April 2021.
"So much ash, tobacco and earth to the bright blackberry and currant aromas. Flowers too. Fresh. Full-bodied with seamless tannins that spread across your palate and caress every square centimeter. It's shows loads of ripe-berry, cherry, currant and chocolate character, as well as walnut and light cedar. Then the finish goes on for minutes. Extremely refined and elegant, despite the structure. 90% cabernet sauvignon, 4% cabernet franc, 4% merlot and 2% petit verdot. A joy to taste, but drink after 2025." 100 points, James Suckling, March 2021.
I can offer it for $2,200 a bottle.

---

Chateau Mouton-Rothschild 2018
Mouton comprises 91 ha (84ha of red, 7ha white). The estate was established in the 15th century and the current owners are Philippe Sereys de Rothschild, Julien de Beaumarchais de Rothschild and Camille Sereys de Rothschild, who are the fifth generation since Nathaniel de Rothschild bought the estate in 1853. The 2018 Mouton-Rothschild is a blend of 86% cabernet sauvignon, 12% merlot, and 2% cabernet franc. It's 13.8% alcohol. The label is the work of Chinese artist and writer Xu Bing.
"I am a little bit speechless about this one. I have not seen such earthy and totally deep character of the soil in a young Mouton in my career. Of course, I didn't taste 1945 or 1959 when they were young, but I have been lucky enough to have a few bottles in my life. There is really terroir-driven character to this. Layered and so intense with polished and incredible tannins." 100 points, James Suckling
"This has so much tannic power, with density, layers and structure along with layers of blackberry, liquorice, baked earth, cigar box and the signature exotic spices of Mouton. A big, textured and complex wine that is taking it all in its stride. 100% new oak. There is the tiniest touch of Petit Verdot in the blend, but under 1%, so it's not in the official figures." 100 points, Jane Anson, Decanter.
"Deep garnet-purple colored, it straight away pops with bright, vivacious notes of crushed blackcurrants, juicy blackberries and redcurrant jelly with slowly emerging nuances of candied violets, stewed plums, licorice and black tea, plus a waft of dusty red soil. The medium-bodied palate is built like a brick house with super firm, super ripe, grainy tannins and bold freshness supporting the muscular black fruits, finishing long and savory with lingering mineral suggestions. This is so, so delicious and, due to the ripeness of tannins, approachable now. It will be difficult to keep your mitts off it for a good 5-7 years, when all those tightly tucked away nuances should begin to emerge. After that, it should improve over the course of 25 years or more and drink for 40+." 99 Lisa Perrotti-Brown, The Wine Advocate, April 2021.
I can offer it for $2,200 a bottle.

---

Chateau Lafite Rothschild 2018
The estate comprises 116ha (all red) and was established in the 13th century. The owner since 1868 has been the Domaines Barons de Rothschild (Lafite). Saskia de Rothschild took over from her father Baron Eric in 2018. The 2018 Chateau Lafite Rothschild is a blend of 91% cabernet sauvignon, 8.5% merlot and 0.5% petit verdot. It's 13.3% alcohol.
"Deep purple-black in color, it needs a fair bit of swirling to unlock intoxicating scents of blackcurrant cordial, baked plums and black cherry compote with an undercurrent of dark chocolate, licorice, cast-iron pan, cedar chest and fertile loam, plus a waft of pencil lead. The delicately crafted, medium-bodied palate is dripping with class, featuring layers of mineral-laced black fruits and exquisitely ripe, singularly Lafite tannins, finishing with epic length and depth. This simply stunning, delicately crafted expression of 2018 with its singularly evocative imprint of Lafite will require a good 7-8 years in bottle, then should continue to inspire awe over the following 40+ years. 2028 - 2068." 100 points, Lisa Perrotti-Brown, The Wine Advocate, March 2021.
"Wow. The aromas are so intense and refined at the same time, offering gorgeous blackcurrant, lead-pencil and orchid character. Such purity of fruit. Sleek and finely polished with a fine cut to the tannins that provide such grace and glamor. Yet, it's got the power and structure to age for decades. On and on. Try after 2029." 99 points, James Suckling, March 2021.
I can offer it for $2,600 a bottle.