There's a house on my street set high above the footpath with a tall retaining wall. I often walk past it in the evening, and with temperatures cooling down in autumn, you can literally feel the heat radiating from it hours after the sun has gone down. Is it tragic that my first thought whenever I feel it, is of radiant heat in gravelly vineyards?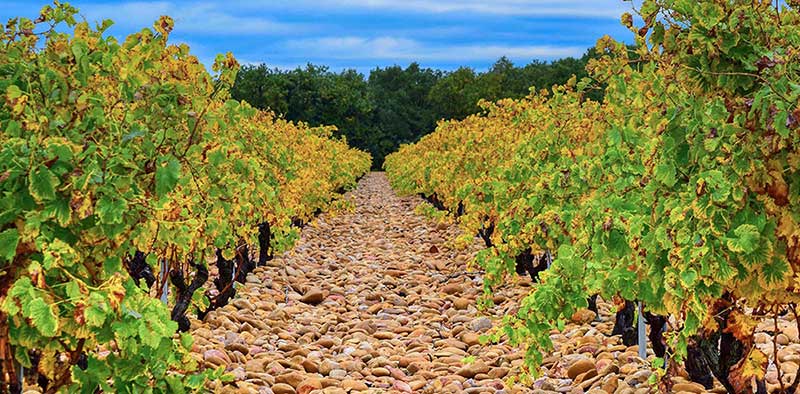 The stones that spring to mind first are the famous river-worn 'galets' or large, round pudding stones found in Châteauneuf-du-Pape in the southern Rhône.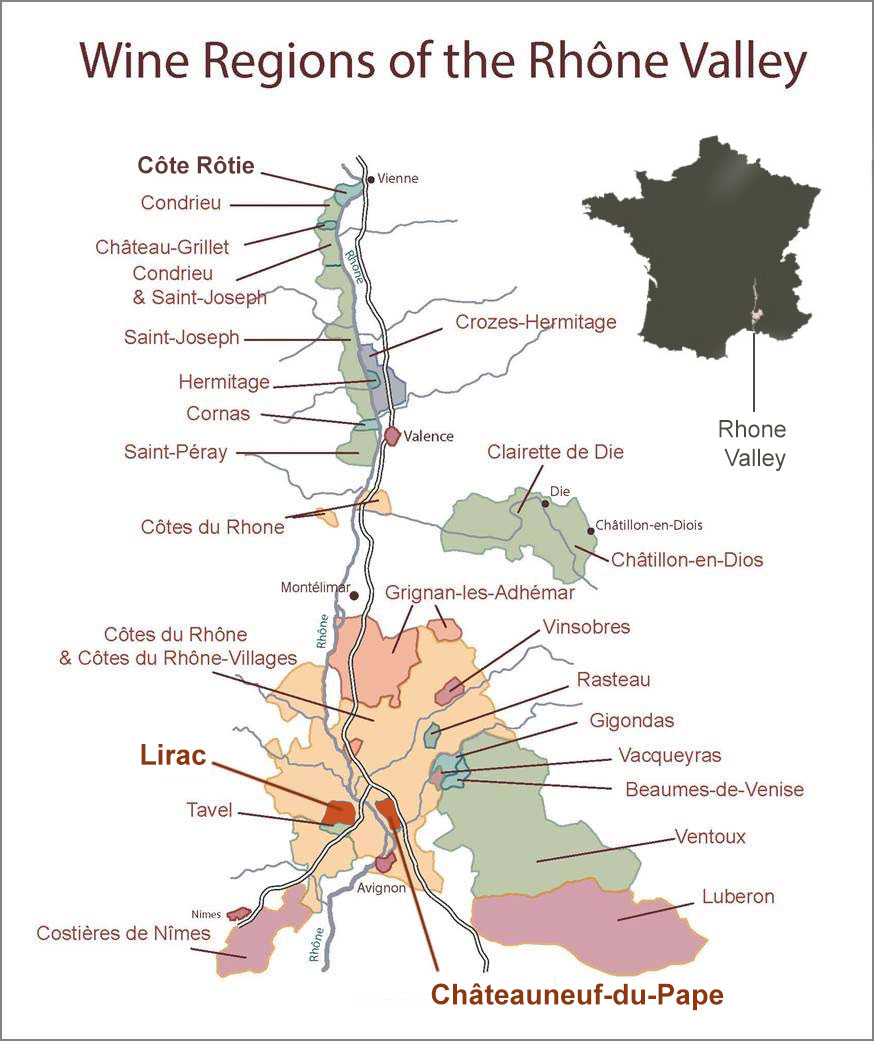 The southern Rhône is quite different to the northern Rhône. The two are separated by about 60km and the southern Rhône is wider, flatter, warmer and much larger. Northern Rhône Crus account for only around 5% of total plantings of the Rhône. The climate in the south is Mediterranean (as opposed to Maritime or Continental) which means you find more moderate temperature variations between seasons. While the south enjoys more sunshine and less rain, it's still frequently battered by the Mistral from the north west. The vegetation also changes dramatically, with olive trees, lavender garrigue (scrubland) and rocky outcrops common in and around vineyards in the south.
The Rhône's appellations are as follows (in ascending order):
• Côte du Rhône
• Côte du Rhône Villages
• Côte du Rhône (named) village - 18 of these
• Cru - Individual Appellations - 17 of these (8 in the north, 9 in the south)
The most famous of the southern appellations is of course Châteauneuf-du-Pape, but just over the river lies the much smaller and little-known Cru of Lirac.
As is often the case, the name Lirac applies to a town, a wine and an appellation. They sit on the right (west) bank of the Rhône, about a 20-minute drive north of Avignon, in the heart of the southern Rhône.
Like many appellations in this area, vines have been grown here for centuries, but Lirac first came to attention in 1863, when it was thought to be the origin of the devastating phylloxera epidemic in France, which wiped out most of the vineyards in the country. According to Rose Murray-Brown MW "a winegrower at Chateau de Clary in Lirac attempted to plant Californian vines which proved fatally disease-ridden." Not a great claim to fame and needless to say, the Lirac name disappeared for a while, its wines instead labelled as Côtes du Rhône. The region finally regained its place with promotion to Cru (ie. appellation) status in 1947.
Below: A cartoon from Punch Magazine 1890 acknowledging the descruction phylloxera was wreaking in French vineyards at the time.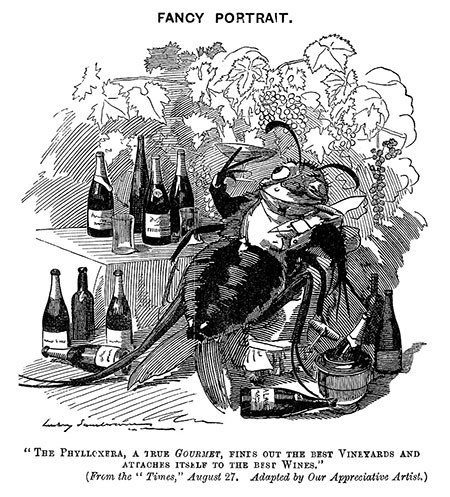 At under 800ha, Lirac is about a quarter the size of CNDP, and while it's one of the few appellations in the Rhône allowed to produce red, white and rosé, these days it's best known for its full-bodied reds.
Appellation requirements for reds stipulate a minimum of 40% Grenache, with Mourvèdre and/or Syrah making up at least 25%. From 2014 Carignan has been limited to 10%.
Rose Murray-Brown MW notes: "Grenache provides the round soft texture, smooth tannins, high alcohol and peppery herby notes, whilst Syrah adds more tannin, structure, acidity, liquorice and minty notes.
One interesting new development in Lirac is the increase in the use of Mourvèdre in Lirac red blends. At its best, Mourvèdre can add structure, depth and gamey notes to softer rounder Grenache."
As for the wines themselves, the better producers are making their wines in a more concentrated CNDP style. The official Rhone website describes "… a distinctive Lirac style, powerful, well-structured and aromatic, but always fresh and elegant. A gem to look for." One of the best retailers in the UK, Berry Bros. & Rudd describes Lirac as "Less Grenache-dominated than its neighbours, the current trend is towards a greater proportion of Syrah and Mourvèdre, which gives the wines a pleasing firmness and a rich, silky spiciness."
2016 in the southern Rhône was universally regarded as an incredible vintage, with plenty of critics singing its praises:
"This truly rare vintage is a new benchmark. The growing season was warm during the day but cool at night, with an unusually large diurnal swing that led to slow, even ripening across all varieties, while maintaining acidity. Reds are laden with fruit, yet extremely racy and fresh in feel." 99/100, Wine Spectator.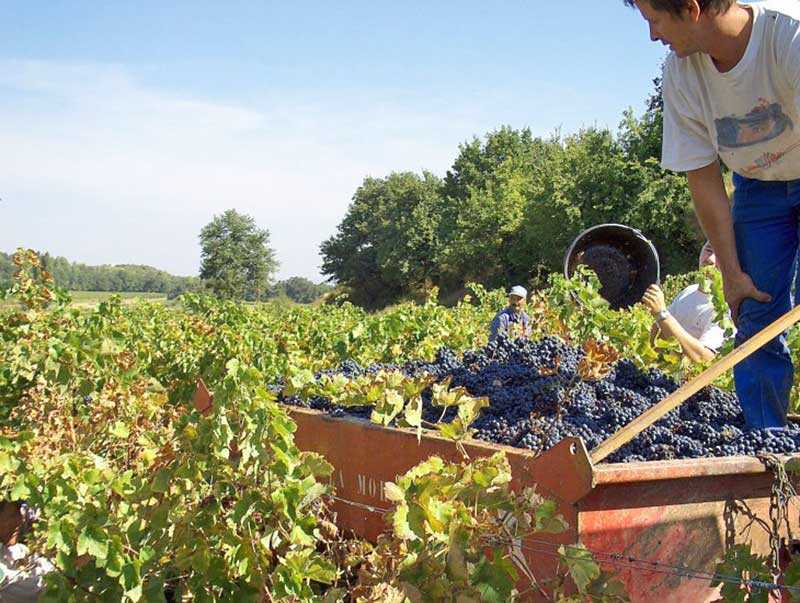 Vintage at Château de Segries.
"Certainly one of the great vintages, for reds anyway." Oxford Companion to Wine.
"Unmissable. This is one of the best vintages of the past few decades. Do not miss it," Decanter Magazine.
"The 2016 vintage in the Southern Rhône seems comparable to 1982 in Bordeaux for the profound impact it's likely to have on the market. These are incredible wines produced in reasonable quantities that are still largely undervalued. Smart consumers will snap up wines from their favorite producers as soon as they can, as the 2017's will be even more expensive and harder to find when they're released." Joe Czerwinski, The Wine Advocate.
Sharing many features with Châteauneuf-du-Pape, the low-profile appellation of Lirac is potentially a great place to find value. The key of course is to find the top producers. Here are two of the best from the sensational 2016 vintage.
---

Château Mont-Redon Lirac Rouge 2016
The Oxford Companion to Wine notes that a handful of the best Lirac is made by "some of the better producers in Châteauneuf-du-Pape, across the river". Mont-Redon is one of these. This prestigious and well positioned estate has, unbeknown to many, 33ha in Lirac, acquired in 1997.
"This well-known, large Châteauneuf-du-Pape estate has produced some of the greatest Châteauneuf-du-Papes I have ever tasted." Robert Parker Jnr, October, 2011.
"It is one of the showpieces of Châteauneuf-du-Pape, with healthy, carefully tended vineyards and a spotless efficiency inside the cellars." The Wines of the Rhône, John Livingstone-Learmonth.
The estate was founded in 1842, with current owners, the Abeille / Fabre family, taking over in 1923 when the estate was only 2.5ha. These days, its 95ha of prime vineyards make Mont-Redon the largest estate in CNDP. The last few decades have also seen the winemaking facilities undergo enormous change, with a new climate-controlled winery, featuring optical sorting machines, temperature controlled stainless-steel tanks and rows of new oak barriques. Such equipment and the potential for quality it provides, comes with a hefty price tag, far beyond the modest means of estates selling Lirac priced wine.
This wine is 70% Grenache, 20% Syrah, and 10% Mourvedre. After the Rolls-Royce Mont-Redon winemaking experience, it was aged two thirds in tank, one third in Burgundian barrels (228L) for about 18 months. The finished wine is 14.5% alcohol and sealed with a cork.
This is a dark rosy red in the glass. On the nose fruit dominates the aromatics of blackcurrant, dark cherry, chocolate and cigar box. On the palate upfront jubey raspberry and blackberry fruit melds with savoury pepper, liquorice, cedar and spice. Tannins are very fine. A fresh, balanced and smooth mid-weight wine, but at 14.5% alcohol, pour yourself a smaller glass.
"Dark red robe, a purple top. There are savoury, beef stock, black olives airs in a ripe, already pretty open nose; grilling accompanies its cassis fruits, some coulis in their depth, ripeness there. There's a hint of oak. The palate runs with expressive black fruits, blueberry, licorice to the fore, with some grain tannin on the aftertaste. This is tasty, with its black fruits pretty clear cut, coming out with dance. This is modern, on the go, lively Lirac with good brio. The attack and its bustling, busy fruit carries well into the finish, where the oak gives some toffee. Best 2030-2032. Do not miss this quality and value bargain!" 4 stars, John Livingstone-Learmonth, drinkrhone.com, October 2018 (he's a highly regarded Rhône expert).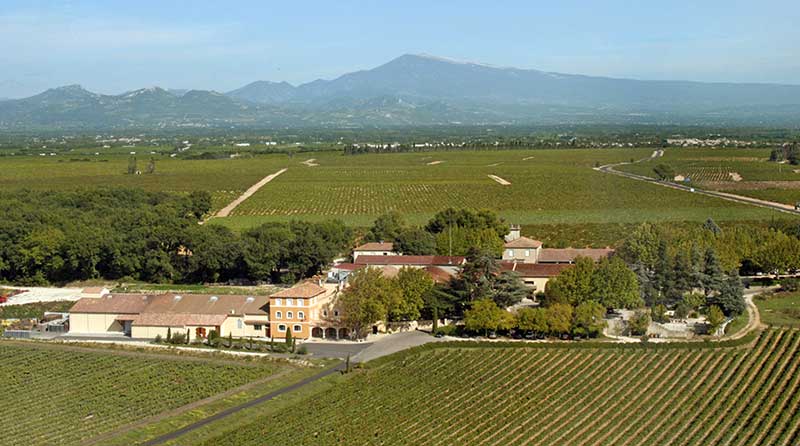 Château Mont-Redon.
Enjoy the benefits of the magnificent Mont-Redon facilities and expertise at a fraction of the price of a Châteauneuf-du-Pape. You'll find it at the lovely Felix restaurant for $80 a bottle.
I can offer it for $35 a bottle.

---

Château de Segries Lirac Rouge 2016
Dating back to the 17th century and boasting its own château and chapel, Château de Segries is one of the oldest and most significant estates in Lirac.
The Regis de Gatimel family owned the estate for centuries, with Count Henri de Regis de Gatimel inheriting it in 1904. Henri was a bit of a mover and shaker and the driving force behind Lirac achieving appellation status, which it did in 1947. Segries is the only estate that gets a mention in the Lirac section of the Rhône region's official website.
The current owner, Henri de Lanzac purchased the estate from Count Henri de Regis in 1994 and set about restoring it to its full potential. Henri works with his son Laurent, daughter Anne, and son-in-law Frederic Grasset, who is the winemaker. The estate has 58ha, 30 of which are in Lirac. The other vineyards are in Tavel and Côtes du Rhône.
"A super value treasure trove in the southern Rhône… the wines continue to go from strength to strength." Robert Parker, The Wine Advocate #178, August 2008.
"Château de Ségriès have been reliably good - and great value - for decades… the wines are so consistent from year to year." Joe Czerwinski, Robert Parker's Wine Advocate #233, Oct 2017.
The wine was sourced from vines with an average age of 80 years. It's a blend of 50% Grenache, 30% Syrah, 10% Cinsault and 10% Mourvèdre, although I've read it may also have some Carignan in it. The finished wine is 14.5% alcohol and sealed with cork.
"This medium to full-bodied effort has loads of chocolate covered cherries, candied violets, lavender, and earthy minerality in its medium to full-bodied, ripe, sexy profile. It's one delicious mouthful of fruit and will continue delivering the goods for another 4-6 years.'' 91 points, Jeb Dunnock, Vinous Media.

The Lirac vineyards of Château de Segries.
"Forward and plush, this full-bodied red offers ripe primary flavors of summer plum and preserved cherry, nuanced by subtle hints of bramble and earthy tones. Lingering tannins.'' 90 points, Anna Lee Iijima, Wine Enthusiast Magazine.
"The 2016 Lirac is another terrific wine from this estate… It's medium to full-bodied, with scents of ripe cherries, licorice and cracked pepper. Long spicy finish.'' 90 points, Joe Czerwinski, Wine Advocate Magazine.
Such a good wine for this price.
I can offer it for $35 a bottle.