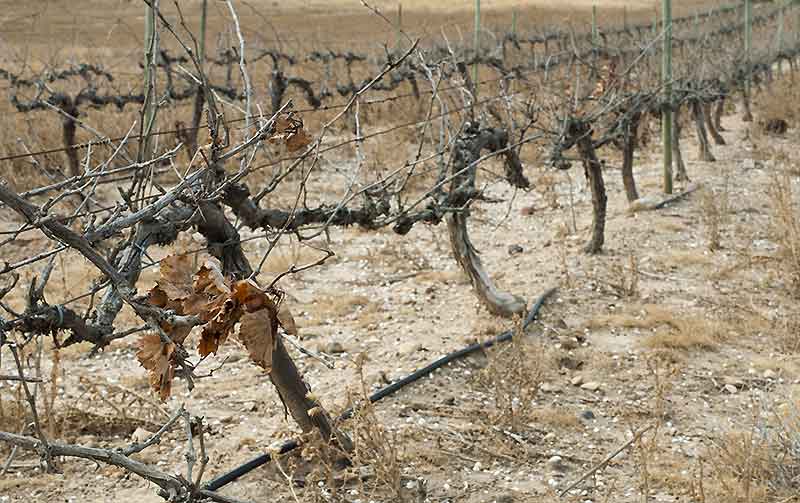 A hugely significant decision was made last month when the grower's Syndicate of the two largest appellations in Bordeaux (Bordeaux and Bordeaux Supérieur) voted to allow the use of seven new grape varieties. Those selected were:
Red: Marselan, Touriga Nacional, Castets and Arinarnoa.
White: Alvarinho, Petit Manseng and Liliorila.
Vignerons in France are only permitted to grow varieties designated by appellation laws, which in Bordeaux have traditionally been:
Red: Merlot, Cabernet Sauvignon, Cabernet Franc, Malbec, Petite Verdot and Carminere.
White: Semillon, Sauv Blanc, Muscadelle, Sauvignon Gris, Ugni Blanc, Colombard and Merlot Blanc.
The new varieties won't be allowed until the 2021 vintage and their use will be subject to a number of final approvals and conditions of course. But make no mistake, despite it seeming under the radar, this is MASSIVE news!
While cited factors include resistance to disease, of more significance is that several of the new varieties also have a proven ability to cope with warmer conditions. Many of the existing varieties in Bordeaux, especially the most widely planted Merlot, are particularly susceptible to heat. The approval of new varieties is acknowledgment, by what many regard as the premier wine region of the world, that significant changes need to be made to deal with warming temperatures.
In March 2019, the Australian Bureau of Meteorology (BOM) released figures showing that the 2018-2019 Australian summer was the hottest on record. The BOM noted 'worsening drought, locally significant flooding, damaging bushfires, and heatwaves capped a summer of extremes.' The report summarised conditions as "very hot and very dry."
The Australian Wine Research Institute (AWRI) has been considering the effects of global warming on the Australian wine industry for many years, as has Australian Dr Richard Smart, one of the world's leading viticulturalists. As far back as 1988 Smart suggested at the OIV (International Organisation of Vine and Wine) General Assembly that Bordeaux may soon be growing the more heat tolerant Grenache, rather than Cabernet and Merlot. It'll come as no surprise that this suggestion was met by laughter from French winemakers, but who's laughing now? Smart is a guru in this area and was one of the earliest to realise that Australia too had an issue, with most (not all) of our grapes planted in areas too hot for high-quality wine production. Not only that, Smart noted our historical bias towards French varieties were not well suited to the warm conditions they were planted in 50 years ago, let alone those they experience today.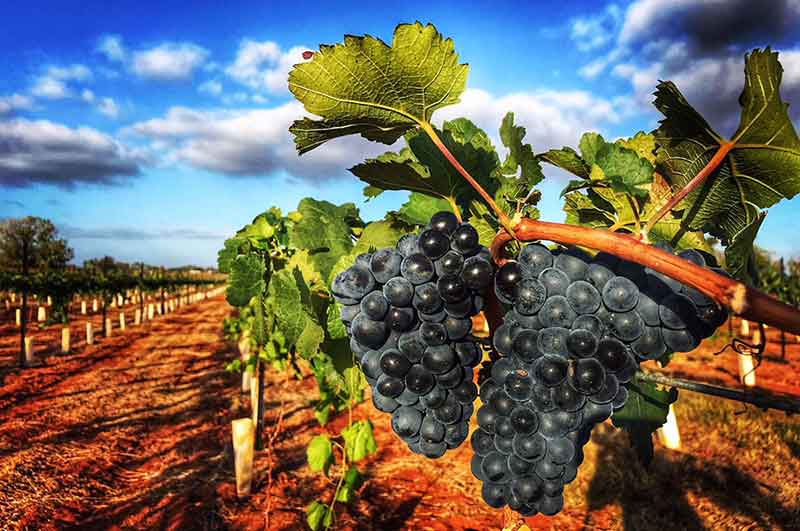 Ricca Terra vineyards.
Luckily Australia doesn't need a sanctioned vote to instigate varietal change and has for many years pioneered the cultivation of Mediterranean and Iberian varieties, well suited to hot and dry conditions. Many of these varieties were already found in Australia, in areas like Victoria's King Valley, which has a strong historical presence of Italian growers. But the last decade has seen plantings expand to many other regions including Heathcote, the Clare, Adelaide Hills and the warm Riverland region, an especially good fit for the sun-loving varieties of Southern Italy.
It's hard to get precise stats on these varieties in Australia as many growers are still experimenting with them. But I did give Wine Australia a buzz and the figures they could give me showed an increase in plantings of many of the heat tolerant Italian, Spanish and Portuguese varieties.
While I reckon we're going to see more of these varieties in the future, here are three delicious examples you can enjoy right now.
---

1. Bellwether Heathcote Ant Series Verminto 2016
Vermentino is indigenous to Italy and is widely planted in Sardinia. It's also "one of the most widely propagated alternative varieties in Australia. Parading flavours of lively white peach and nectarine, zesty citrus fruits and pronounced minerality, its aromas hint citrus leaf and also honeydew melon." James Halliday, Feb 2019.
Sue Bell dropped by our office several months ago. She's had a super impressive career making wine for Australian industry heavyweights like Penfolds and Constellation (Hardys). She's also made wine in California and Bordeaux. Sue was Dux of the Len Evans Tutorial in 2007, and in 2008, while a participant in the Australian Rural Leadership Program, she jettisoned the big end of town, setting out on her own with Bellwether Wines. She purchased the wonderful 1868 Glen Roy shearing shed in Coonawarra and it's from here she works her magic. The quality of her winemaking acknowledged with the Australian Winemaker of the Year Award 2014 from the Australian society of Viticulture and Oenology.
Sue makes two ranges of wines. Her more expensive Landscape (white label) series includes a Coonawarra Cabernet and a Tassie Chardonnay, both over $50 and released with age - they're super. But she also makes her Ant Series, a more affordable range, so named for the movement of ants indicating weather change - she describes this as her climate change series. I gave Sue a buzz last week for a catch up and we chatted about her choice of grape varieties and regions. In what she calls a common-sense approach to climate change, she has a mix of classics from places she sees as having a long-term future, eg. Tassie and Limestone Coast, and alternative grape varieties, especially Spanish, Portuguese and Italian, better suited to hot, dry conditions.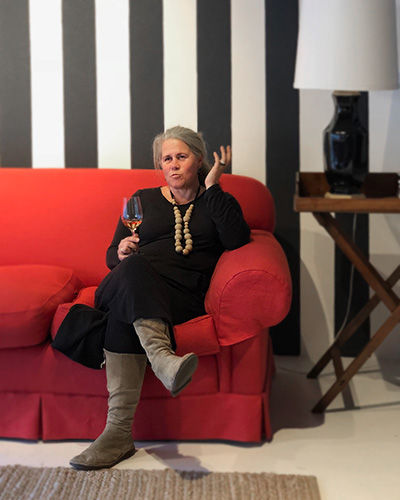 One such variety is Vermentino, which Sue sources from the Chalmers family Heathcote (central VIC) vineyard. (They have another one in the Murray Darling region). The Chalmers are pioneers and leaders in the field of alternative varietals and were awarded Gourmet Traveller WINE Magazine Viticulturalists of the Year in 2014. Sue told me she can still remember visiting one of the Chalmers nurseries many years ago on a 45-degree day and seeing a Vermentino vine looking vigorous and healthy despite the heat.
White wine is usually made by crushing the fruit and collecting the juice, which at this stage is full of solids, ie. pulp and flesh, and therefore cloudy. It's left to settle via gravity and the resulting clear juice is 'racked off' and fermented. Sue on the other hand, ferments her handpicked fruit using natural yeasts 'on full solids,' ie using the cloudy juice. She uses the solids to add texture to the wine, knowing that because she presses more gently than the norm, she avoids the bitter phenolics associated with squeezing the grapes too hard. Sue emphasised several times her preference for embracing the use of phenolics rather than getting rid of them as she sees them adding both texture and length. The solids are of course allowed to settle after ferment, so the finished wine is still beautifully clear. The wine sees no oak, is sealed with a screwcap and is 12.5% alcohol.
The wine is crystal clear and very light gold in colour. On the nose, gooseberry and pear notes mingle with white blossom and stoney struck match. On the palate, its robust acid reveals grapefruit, fennel and dried herb notes laced with lovely citrus pith bitterness and fresh oyster minerals. The finish is dry and very refreshing. A great food wine.
Sue emphasised the clean, fresh saline acidity, coupled with dried herbal flowers and rosemary. Her notes are "Complex peanut shell sulphides on the nose, oyster shell and dried rosemary. The palate is aromatic and floral with a saline acid freshness and textural depth." She calls this her gardening wine as she always has a glass after gardening - if not a beer or gin. Amazingly, Sue told me she recently enjoyed a bottle of this wine with 5 years age on it. That's the lovely line of acid no doubt allowing this, but I'll still be enjoying mine right now.
You'll find it at Osteria Coogee - which Terry Durack reviewed very favourably last month - for $85 a bottle.
I can offer it for $26 a bottle. Order here
---

2. Unico Zelo The River Nero d'Avola 2018
Brendan and Laura Carter are a young couple based in the Adelaide Hills, livin' the dream, making not only wine but small-batch spirits and perfume. They burst onto the scene in 2014, while only in their mid-twenties, with a range of delicious wines with cool labels, focussing on, but not limited to, alternative varieties. They source fruit both locally and from warmer areas including the Riverland. Max Allen wrote an interesting piece in the AFR on this area in 2017, aptly titled "Finding Riverland, the giant SA wine region you've never heard of."
Riverland is Australia's largest region, with almost 20,000ha under vine, that runs next to the Murray River around the town of Renmark, just inside the SA border. And while Riverland's history is in bulk wine production, more recently it's found itself a hot spot (ha, ha) for alternative varieties, with many now planted here, including the red grape Nero d'Avola.
Nero is not only a Sicilian native, it's the island's most widely planted variety, where it thrives without irrigation. "At its best, Nero d'Avola produces wines that have a wild plum and sweet chocolate character, high levels of tannins, and decent acidity." Wine Grapes, Jancis Robinson. Yum.
Brendan says in the AFR piece by Max Allen, "Look at the landscape where these grapes are grown. The red sands, the Murray River, the gum trees: it's the most unique Australian terroir we have. And if you grow the right grapes (like Nero) you can express the characteristics of that terroir." I spoke to one of the Riverland's most prominent growers and he told me that Nero is his most in-demand alternative red and it's easy to see why. Who would have thought we'd hear the term terroir in reference to Riverland?
The grapes for this wine are sourced from third generation Riverland farmer Bruce Bassham. He converted some of his traditional variety vineyards to Italian varieties (such as Nero) and hasn't looked back. The wine was made using natural yeasts and sees no oak. The finished wine is 12.5% alcohol.
The wine is a light and clear rosey red colour. On the nose you'll find raspberry, chocolate, sandalwood, allspice and red roses. Cherry and cranberry fruit upfront on the palate, with floral rosey notes, iron and smattering of pepper on the finish. This is a mid-weight wine, super dry - not sweet and jammy, balanced acid with nice soft tannins.
"Savoury, textural and brooding. Challenging, avant-garde - and one of the most exciting wines we've crafted to date. We're intensely passionate about this variety and its clear potential in the warm, sun-drenched spots of Australia. The insane water-efficiency of this variety, coupled with no additions in the vineyard or winery (save for a small component of SO2 at bottling) displays the potential for this variety to craft succulent, juicy, aromatic and supremely refreshing wine. One of our most sessionable wines." Winemaker's notes.
You'll find it on the concise 100 bottle wine list, at the wonderful Spice Temple Sydney, for $75 a bottle. Great label and ridiculously good value. Straightforward and delicious, a great Aussie Nero at this price.
I can offer it for $21 a bottle. Order here
---

3. Ricca Terra Touriga Nacional 2018
In the course of reading about alternative varieties in Australia, one name kept cropping up again and again, Ashley Ratcliff. So you can imagine my surprise when last week he turned up at my office unannounced. Is that Google listening or just good old-fashioned providence? Probably Google.
Ashley and his wife Holly founded Ricca Terra Farms in the Riverland in 2003, and today (along with the Chalmers family) is one of the leading producers of alternative varieties in Australia. Ashley is a dynamo, he's energetic, engaging and totally committed to seeking out and developing alternative varieties for Australia. He's outspoken about changes needed and recently issued a statement concerning the way forward for the Riverland. Click here if you have the time it's worth a read.
Here are a few of Ashley's gongs:
- Wine Business Monthly Top 50 Stars of the Australian Wine Industry (2011, 2013 & 2014)
- Australian Society of Viticulture and Oenology Viticulturist of the Year 2013
- ABC's Horticulturist of the Year (and runner-up to Farmer of the Year) 2013
- Riverland's Winemaker of the Year award 2013
- Gourmet Traveller WINE Magazine Viticulturalist of the Year 2015
"Few people have done as much to promote alternative grape varieties, which suit the hotter, drier inland wine regions of Australia, as Ashley Ratcliff." Gourmet Traveller WINE Magazine.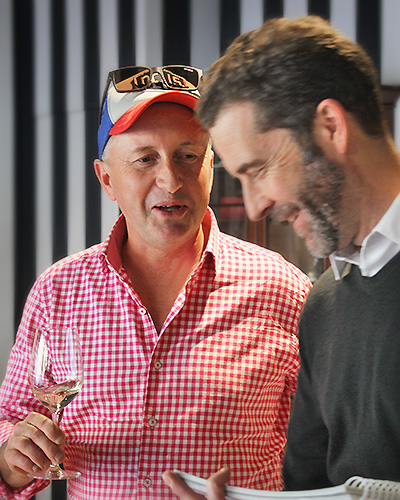 Ashley has some of the largest, and in some cases only plantings, of Mediterranean and Iberian varieties, well suited to hot and dry conditions. He grows over 20 varieties, some of which you would've heard and many you wouldn't (eg Arinto). And he's doing good things with them - this is a cracker.
Those of you familiar with Port, Portugal's great fortified wine, will be aware of Touriga Nacional. It's considered by many as the best red Portuguese variety, producing wines that are traditionally deep in colour, tannic, concentrated and long, with flavours of blackberry, dark fruit, spice and meat.
Close to the Portuguese coast the Atlantic tempers conditions, but as you move inland and towards the upper reaches of the Douro river, things get hot, really hot - and dry, and it's in these conditions that Touriga Nacional thrives. Although plantings in Portugal account for only around 10%, they are increasing rapidly as the table wines produced from Touriga Nacional are more widely appreciated. Ashley told me he loves growing Touriga Nacional as it's so well suited to the Riverland.
The fruit for this wine is handpicked, not common in Riverland, and fermented using natural yeasts in old oak barrels. The finished wine is 13.2% alcohol and sealed with a screwcap.
The wine is dark velvety red in colour. The nose is all blackberries, sweet spice and marmalade. On the palate: blackberries, chocolate and cloves are balanced with cumquat acid. Vanilla on the finish - although this is unoaked, it's deliciously dry with subtle tannins. I can see why this grape is traditionally used to make port, it's a bit of a flavour bomb.
Only made in small quantities and no critics reviews as yet. I wish I had more to sell.
I can offer it for $25 a bottle. New vintage available here