For all the talk about the revival of riesling or the emergence of Mediterranean varieties as the next big thing, it's pretty clear what is the big thing these days… rosé.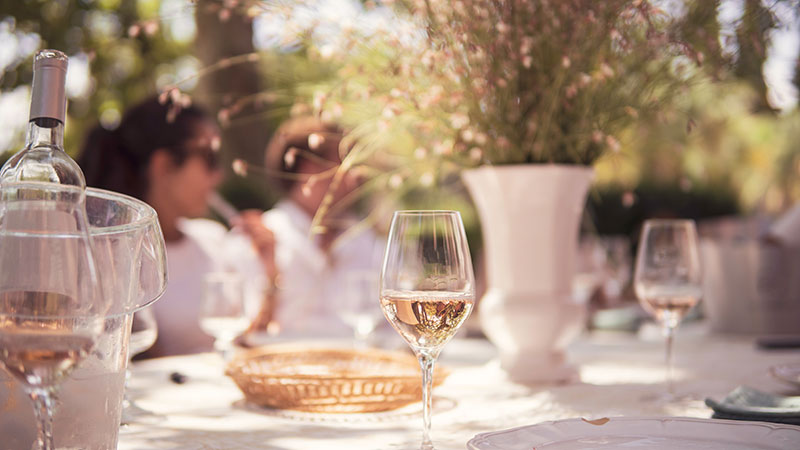 It wasn't so long ago that rosé was a curio. These days it demands a category of its own on every restaurant wine list and it seems it's fast becoming a must-have addition to any celebrity's own-brand range.
In France, rosé has outsold white wine since 2008 and I wouldn't be surprised if we follow suit, given that domestic consumption here has experienced double digit growth every year, for several years. It's not quite the giddy 59% growth in value experienced in 2017, but rosé still grew by an impressive 11% in volume and 14% in value to the year ended 3 October 2021.
So how is rosé made? The juice of nearly all grapes is white, so the colour comes from the skin of the grapes. Winemakers make it in a number of ways:
Red grapes are fermented in contact with the skins. After 6-48 hours the partially fermented juice is squeezed out. Because contact with the skins is limited, the partially fermented juice is pink rather than red. Ferment is completed without the skins.
Some winemakers bleed off (saignée) some of the juice from their red ferments at an early stage, when the juice is just pink, and use this to make rosé. This increases the skin to juice ratio in the remaining red ferment - the aim being greater depth of colour and tannins. In this case rosé is a by-product rather than the primary aim.
Red grapes are crushed and pressed before fermentation takes place. The juice has just the lightest touch of pink and is then fermented like a white wine (ie. not on skins). This technique is sometimes referred to as 'Vin Gris'.
Finally, but not often done, a winemaker may simply blend red and white wine.
Rosé is suited to our climate, our lifestyle and the way we entertain. Here are a few drops that I'll be enjoying this summer, one from Australia and two from the home of rosé - Provence.
---

Medhurst Rosé 2021
Despite the proliferation of great Australian rosés, this is still my favourite.
I was speaking to one of the country's best wine importers several weeks ago. Based in Melbourne, he was lamenting the state of affairs with the restaurants all closed. But a bright moment in all this gloom he told me, was that he was enjoying lunch with what he thought was the best Australian rosé he'd tried…. Medhurst.
Medhurst Estate was founded by Ross Wilson, who made his fortune as the former CEO of Southcorp and Tabcorp. Ross has a long association with the wine industry, in particular the Yarra Valley, and it was here he acquired a wonderfully positioned property in the mid-90s. With astute planning and admirable patience, Ross planted vineyards, built an incredible winery and more recently hired talented young winemaker Simon Steele (ex Brokenwood). Ross's strategy of putting pieces into place for long-term success is paying off, with the winery receiving some serious recognition.
Ross is a major fan of rosé, so much so that in 2000 he had a dedicated rosé vineyard planted with shiraz and cabernet. Most estates treat rosé as an afterthought.
The 2021 is a blend of 55% cabernet and 45% shiraz. Vines are low-yielding, with fruit handpicked and left overnight in a coolroom to cool for pressing the next morning. This minimises both oxidation and colour development. Only 500L of juice per tonne was obtained, usual rates are around 700L/tonne, showing just how softly the fruit is squeezed. The gentle pressing not only explains the pale colour, but means this wine is more expensive to make - even though it's still sold at such a good price. Five percent of the ferment took place in old French oak, the rest in stainless steel. The wine was fermented to dryness and bottled with light filtering and minimal sulphur. It's 13% alcohol and sealed with screwcap.
The wine is clear, bright and very pale copper. On the palate it's clean and bone dry, with subtle notes of strawberry, musk, honeydew and coconut, finishing long with delicate savoury notes. Its depth, weight and smooth mouthfeel belie its pale colour. Simon has balanced the acid in this wine so well it gives it freshness and vitality without being tart or linear. Its beautiful structure and integration set this wine apart - so generous and drinkable.
"Very pale copper with a bright vibrant pink hue. Deliciously elusive fresh fruits including strawberry and raspberry are supported by tropical fruits and the white blossom of jasmine. The palate is savoury and refined with a supple creamy texture. The finish to the wine is superb, fresh fruits lovely roundness and weight and a long chalky delicate line that is the trademark of this single vineyard wine." Winemaker's notes.
No reviews yet, but you will find it at Catalina in Rose Bay for $65 a bottle.
I can offer it for $25 a bottle.

---

Château Riotor Côtes de Provence Rose 2018
The bad news is that this is the last ever vintage of Riotor that will be made, as the estate was sold in 2019, just before the harvest. The good news is that I've stocked up, so you can have one last hurrah.
Riotor is textbook Provençal rosé. It's a perennial favourite which I've offered for close to 10 years and here's why: "Had a blind tasting last year with over 40 rosés at all price points. And not only was this (Riotor) the best in show, it was also the least expensive." Michael Madrigale, Head Sommelier, Bar Boulud and Boulud Sud (acclaimed New York restaurant group).
Riotor is one of the best Provençal rosés for the price.
Château Riotor is located in the magnificent mountains west of Saint-Tropez, within the Côtes de Provence appellation. This beautiful estate has been owned for four generations by the Abeille family, who also own the famed Château Mont-Redon in Châteauneuf-du-Pape (southern Rhône). Since 1988 they've worked to extensively renovate the vineyard, winery and chateau, which has paid off handsomely in the quality of their wines.
The blend is pretty much the same every year: 40% grenache, 50% cinsault, 7% syrah and 3% vermentino (white). I'm told there's always been a bit of vermentino in the blend but they only started declaring it in the last few years. The wine also spends a few months on lees which gives it a pleasant silky texture. It's 13.5% alcohol and sealed with screwcap.
The wine is a pale rose gold. Crisp, dry and aromatic, you'll find white peach and cranberries, mingling with melon and musk. On the finish it's clean and slightly savoury with hints of white pepper and plenty of fresh sherbety acid. Elegant and delicious.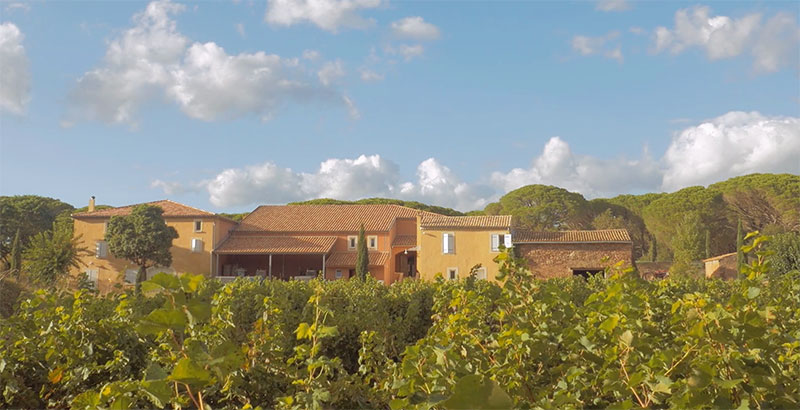 "Pale brilliant pink. Lively, mineral-accented orange zest, strawberry and floral scents show very good clarity and pick up a spicy nuance with aeration. Nicely concentrated yet lively on the palate, offering incisive red berry, blood orange and floral pastille flavors underscored by a dusty mineral quality. Shows sharp delineation and cut on the finish, which hangs on with strong tenacity." 91 points, Josh Raynolds, Vinous Media, August 2019.
Hard to beat for the money. I reckon you can't go past a bottle for $60 at The Lucky Bee -with fresh local seafood cooked Thai style, looking out over the water at Hardys Bay.
Last chance to stock up.
I can offer it for $25 a bottle.

---

Domaine de Terrebrune Rosé 2019
And finally, the real deal… Bandol, which Decanter Magazine's Andrew Jefford, describes as the 'one true Grand Cru' of Provence.
While its name is taken from the small chic seaside town of Bandol, the appellation's vineyards lie just inland. Nestled in the hills, you'll find beautiful villages surrounded by vines; the deep blue waters of the Mediterranean in the distance. Here, a collection of elevated, south-facing amphitheatres capture the sun to create a unique microclimate. Bandol gets an average of 3,000 hours of sunshine a year compared to Burgundy, which gets around 2,000 hours in a good year and only 1,600 in a dim one. Despite all this southern French sun, Bandol's proximity to the Mediterranean and its persistent Mistral wind, means this warmth is tempered, ensuring coolish nights and making it ideal for ripening grapes.
In contrast to many of the big names of Bandol, the wines of Terrebrune are defined by their elegance, and this is what I love about them.
"There is a more ethereal quality to them, a real freshness." US wine guru Kermit Lynch.
"Terrebrune makes some seriously great wines, and without a fancier French wine region price tag." Mike Bennie, The Wine Front.
This low-profile estate was founded by Georges Delille, a Parisian sommelier, who acquired what would become Domaine de Terrebrune in 1963. The estate sits to the east of the town of Bandol, near the town of Ollioules. It's in a beautiful position in the hills, with a view of the Mediterranean in the distance and cooled by the sea breeze which funnels up the valley, protecting the grapes from the summer heat.
Georges spent 10 years improving the property before he even sold a bottle of wine! Taking advice from Lucien Peyraud (of Domaine Tempier fame), Georges set about replanting vines, terracing the slopes, building a new winery and most importantly regenerating the rich, limestone laden, brown soil, after which the estate is named. In the meantime, George's son Reynald had completed winemaking studies and together they released their first wine in 1980.
The 30ha estate is certified organic. In the vineyards, manual labour is preferred to machine, and gravity rather than pumps are used in the winery. Wines are bottled unfiltered and unfined.
This wine is made from 50% mourvedre, 25% grenache and 25% cinsault. The grape are handpicked, destemmed and gently pressed in a pneumatic press. Natural yeasts are used in fermentation. Incredibly this wine can age for 20 years - if stored correctly of course. Incredibly aromatic and intense - this is serious rosé. Red berry and strawberry meld with savoury and mineral notes. Beautifully structured and incredibly long on the finish. This is all about intensity.
While you won't find this around in retail, you will find it at plenty of top restaurants like the soon to be opened very groovy Shell House, or Nomad, or Fred's, where it's $165 a bottle.
I can offer it for $65 a bottle.

---
Check out our other rosés:

---
OR order our Refined Rosés 6-pack

Plus we've got plenty of your favourite wines and lots of new ones online.