I know you're being bombarded with emails from everyone at this time of year so I'll keep it brief.

First and foremost - we have our own van and driver, so if you live in Sydney's Eastern Suburbs, CBD, North Shore, Lower Northern Beaches, Inner West or South Sydney, we will get your wines to you before Christmas. If in doubt, ring me and we'll work it out.
---
We have old favourites as well as lots of new and exciting wines on the website, and it's easy to order:
---
Here are some gifts, which as a wine lover, I know I'd be super happy to receive.
---
Top Australian Winery 2021 Yarra Yering was awarded:
Real Review (Huon Hooke et al) - Winery of the Year
Halliday Wine Companion Awards - Winery of the Year
Gourmet Traveller Wine - Winemaker of the Year
I've never seen one winery scoop the pool like this. Receiving just one of these awards is a huge achievement, so to win three is simply extraordinary and a testament to what an incredible winemaker Sarah Crowe is. These are all terrific wines - the perfect six pack, or just one or two, would be a terrific gift.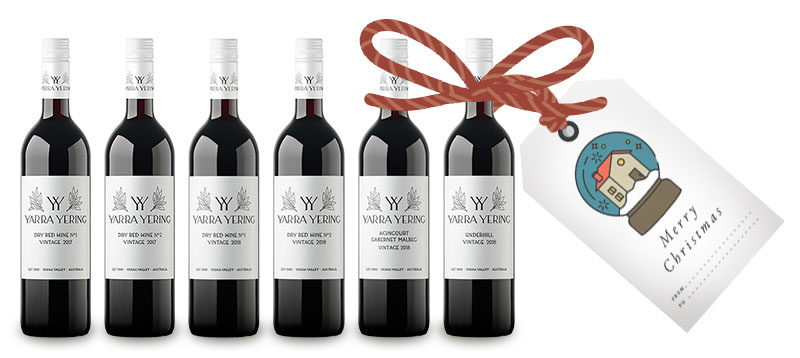 Yarra Yering Dry Red No.1 2017 - $105 a bottle
"This is the serious side of '17. The aromas and flavours are still fresh and vibrant, but the palate, in particular, brooks no argument: this is a wine for protracted cellaring to allow the whipcord-tight structure to relax its grip. Drink to 2047." 98 points, Halliday Wine Companion.

Yarra Yering Dry Red No.2 2017 - $105 a bottle
"It's another exquisite wine from '17, capturing all the senses immediately you assess the bouquet and palate. It's only just into medium-bodied territory, but it's mouthwatering in its intensity, red fruits flying high like a gaudy scarlet kite. Drink by 2042." 99 points & Special Value Rating, James Halliday Wine Companion.

Yarra Yering Dry Red No.1 2018 - $110 a bottle
"Essence of blackcurrant with a boysenberried freshness, almost into forest berry territory, with polished cedar wood oak and drifts of fragrant herbs. Pure, complete, svelte; all these words apply. The Yarra Yering Dry Red No.1 2018 has a long run ahead of it." 96 points, Halliday Wine Companion.

Yarra Yering Dry Red No.2 2018 - $110 a bottle
"There's a sweetness to the fruit and a savouriness to the finish, redcurrant and twists of herbs, with floral overtones and oak as garnish. It's smooth-skinned but not syrupy; it's a wine in complete control. Not a question mark in sight." 95 points, Halliday Wine Companion.

Yarra Yering Agincourt 2018 - $100 a bottle
"A wine of absolute charm. Blackcurrant, mulberry, roasted nut and fresh briar flavours come brightened by redcurrant. Tannin has melted in, clean acidity keeps it all fresh and true, the finish feels assured. It will age gracefully and (very) well." 95 points, Halliday Wine Companion.

Yarra Yering Underhill Shiraz 2018 - $110 a bottle
And… at the 2019 National Wine Show of Australia it was awarded:
- Len Evans Memorial Trophy for Champion Wine of the Show
- Shiraz Trophy
- Single Vineyard Red Wine Trophy
- Red Wine of Show Trophy
"An utterly gorgeous wine, cabernet characteristics well in evidence, but already complex, profound and multi-layered. Wonderful flavour and precision. Prodigious length, seamless harmony and great potential - although it's a great drink now." 98 points, Halliday Wine Companion.

---
Top German Riesling from an Epic Vintage
For those of you who love riesling, which should be everyone, this is as good as it gets. Top vintage, top producer, top country… that's it. It's tops.
"The 2019 vintage is the best vintage I have ever tasted for German riesling in my four-decade career." Stuart Pigott, JamesSuckling.com
"To sum up the prospects of the 2019 [German] vintage in a nutshell, it could become the vintage of the century. No, honestly!" Michael Schmidt, jancisrobinson.com
Egon Müller produces some of the most highly desired rieslings in the world. The estate has been in the family since 1797 and is the sole German member of the Primum Familiae Vini, whose other members include Château Mouton Rothschild, Vega Sicilia, Torres, Pol Roger, Antinori and Hugel & Fils.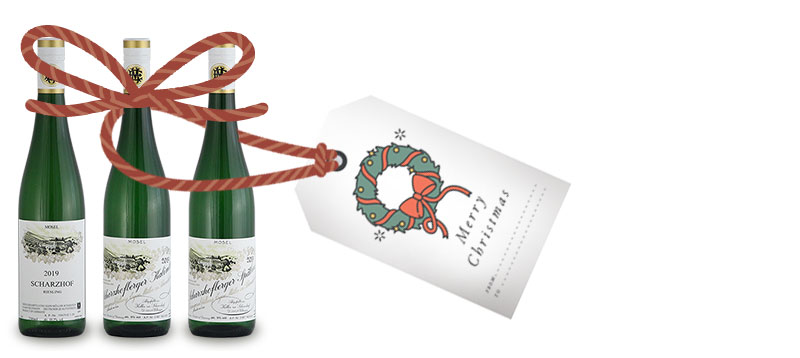 Egon Muller Scharzhof Qualitats Riesling, Mosel 2019 - $105 a bottle
"This is like a spring mountain river full of Riesling rolling over crushed slate. It is highly delicate but lush and sexy, with great precision, crystalline acidity and lingering salinity. Possibly the most fascinating Scharzhof I have tasted in 20 years. If you want to taste the DRC of Riesling, you should definitely try it." 94 points, The Wine Advocate.

Egon Muller Scharzhofberger Riesling Kabinett, Mosel 2019 - $325 a bottle
"Lush yet precise and enormously piquant and salty on the palate, it displays crisp white stone fruit aromas and the crystalline mineral nerviness of the iron-rich gray slate soils that eat up the residual sugar easily so that the taste is just electrifying and salty yet not really sweet. This is a frisky, mouthwateringly salty and piquant Riesling of remarkable precision, finesse and elegance." 96 points, The Wine Advocate.

Egon Muller Scharzhofberger Riesling Spatlese, Mosel 2019 - $470 a bottle
"Tropical fruit aromas on the juicy, elegant, refined and seamless palate lead to a salty-piquant, mouth-watering and stimulating finish with great finesse and precision. This is Scharzhofberger at its very best and a Spätlese close to perfection!" 98 points, The Wine Advocate.

---
Many considered Barolo the greatest red wine in the world and 2016 was an epic vintage in Barolo.
Barolo, the so-called 'king of wines' made from nebbiolo in the region of Piedmonte in north eastern Italy. This is any wine lover's dream, especially the epic 2016 vintage.
"In this vintage Nebbiolo shines as never before, both in clarity and vibrancy, heralding a new era for Barolo." Jancis Robinson MW, jancisrobinson.com.
"These releases from 2016 are downright monolithic in their excellence. The 2010 vintage comes close to 2016, thanks to that careful balance of elegance and power, but 2016 achieves almost startling focus and purity that puts it ahead." Monica Larner, The Wine Advocate.
"... a vintage full of truly spectacular, breathtaking wines that captures all the pedigree that Nebbiolo and Barolo are capable of." Antonio Galloni, Vinous.
You get the picture. Conterno Fantino is a family-run estate sits high above the town of Monforte d'Alba in Italy and produces some of the finest single vineyard Barolos.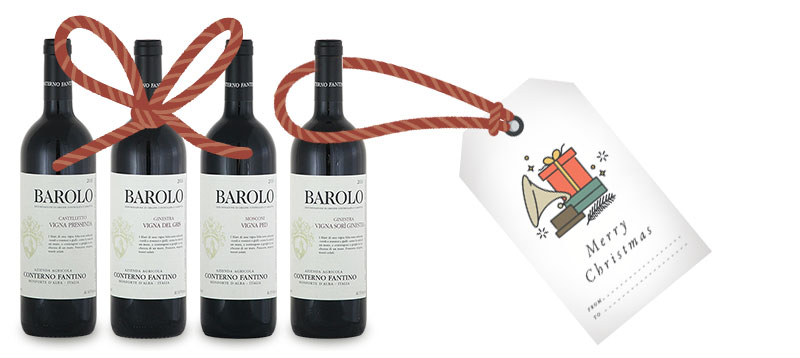 Conterno Fantino Barolo Castelletto Vigna Pressenda 2016 - $215 a bottle
"It opens to bright cherry and dried raspberry that set the tone for the abundant primary fruit that defines the bouquet. Those red berry flavors cede to cola, spice, mint and rosemary essence. There is an almost exotic quality here spurred forward by pressed blue flower and church incense. However, the big takeaway here is the sheer energy and resonance of this classic Barolo." 96 points, The Wine Advocate.

Conterno Fantino Barolo Ginestra Vigna del Gris 2016 - $215 a bottle
"The bouquet here brings us a medley of red and purple fruits with some ripe blackberry and plum. It shows a hint of pretty cherry sweetness with spice, tobacco and candied licorice. The mouthfeel is full and generous, and this supple Barolo wraps smoothly and luxuriously over the palate." 96+ points, The Wine Advocate.

Conterno Fantino Barolo Mosconi Vigna Ped 2016 - $225 a bottle
"Shows beautiful richness and precision with abundant fruit, tar, smoke and black licorice. The wine is generous and exuberant in a manner that only Nebbiolo can be. In other words, it offers a big personality on a svelte and slender frame." 97 points, The Wine Advocate.

Conterno Fantino Barolo Ginestra Vigna Sori Ginestra 2016 - $255 a bottle
"Shows the most underlying power, linearity and determination. While the other wines are a little softer and richer, especially on the mid-palate, this wine is all muscle and brawn. With its 15% alcohol content, its abundant bouquet and tight structural presentation, you should count on an extra long drinking window. Wait to pull the cork after the 10-year mark. At this young stage, the bouquet presents layered aromas of red fruit, tar, spice, ferrous earth and candied orange peel. There are hints of mint, eucalyptus and campfire ash. All said and done, this is a 11,700-bottle release of majesty and beauty that will make a proud and important protagonist of any collector's cellar." 98 points, The Wine Advocate.

---

And lastly, nothing says GIFT like a magnum.
We have a few here…