Heady, exotic and intense. Welcome to Viognier - a favourite of mine that captures the essence of spring.
"… a very particular perfume redolent of apricots, peaches, and blossom sometimes with a deeply savoury undertow." Oxford Companion to Wine.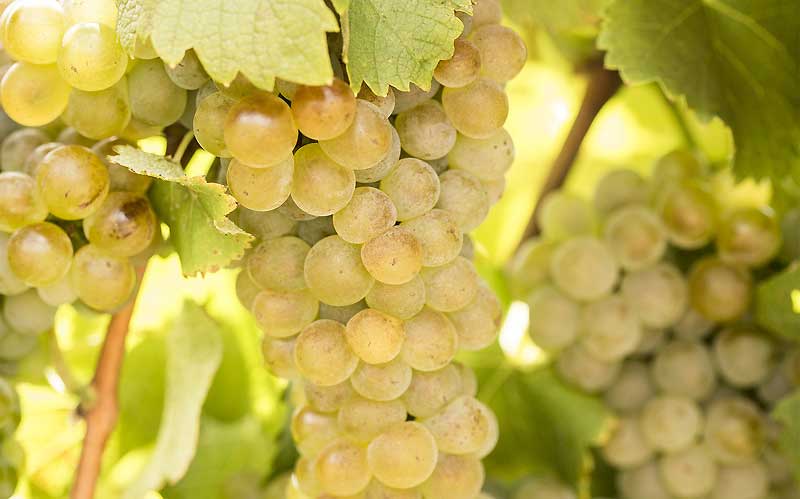 The home of Viognier is Condrieu (con-dree-oo), a small appellation in the Northern Rhône which sits on the western bank of the Rhône river, just south of Cote Rotie. While Viognier has enjoyed a revival in recent years, it wasn't always so fashionable. Post WWII Condrieu almost completely disappeared, with Viognier plantings dwindling to a mere 10ha (25 acres) by the mid 60s. Thankfully a handful of devoted winemakers maintained the variety, so that by the 80s, abandoned vineyards were being replanted and terrace walls rebuilt. By the mid 80s, plantings had expanded to 380ha.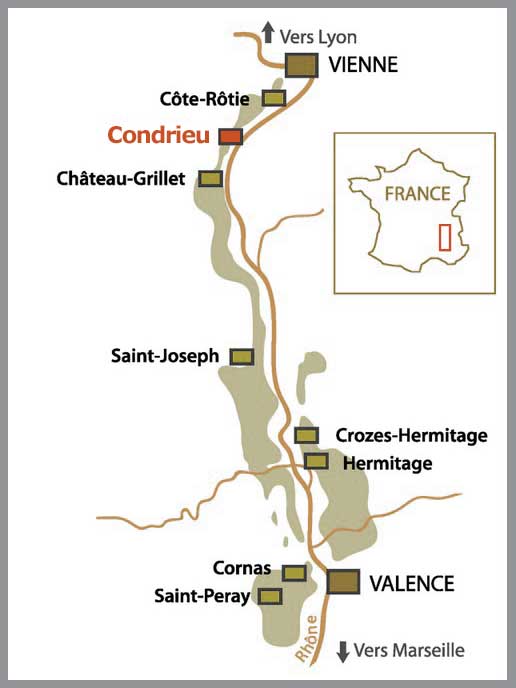 In 1986 and contrary to many other regions who at the time were pushing to expand their boundaries (think Soave), Condrieu reduced their allowed planting area by about a third. This admirable decision removed the potential for planting on lesser quality sites, leaving only those with the best hillside exposure. These days there are only 192 ha (474 acres) of vines, with little or no room for expansion.
So what is it about Viognier that makes it so appealing? Its alluring perfume and rich, seductive texture do it for me and I'm not alone. International author, Andrew Jefford's thoughts; "great Condrieu makes a plausible case to be the world's most powerfully scented white wine, and it's most sensually overwhelming (its textural richness matches it embedded scents)."
Flavour descriptors for Viognier include apricot, white blossom, nectarine, peach and spice. Relatively low in acid, this hedonistic wine is generally best consumed in the first few years while perfume and delicate flavours are at their peak. Some critics reckon top end Viogniers can be cellared but personally, I'd be drinking them up.
Viognier has found a few other homes around the world including the Southern Rhône, Languedoc and Australia, where Yalumba lead the global revival of the variety with plantings in the late 70s.
Here are four delicious examples of this captivating variety. One from an appellation in the Southern Rhône, one from Australia and of course two from Condrieu. Enjoy.
---

Chateau de Campuget 1753 Viognier 2017
Good Viognier that's affordable is hard to find, but this one really hits the spot. Offering classic Viognier flavours of apricot and musk, it's clean and fresh, with crisp acidity and none of the oiliness you can get in poorer examples.
There have been vineyards at Chateau de Campuget since 1753, hence the reference on the label. The estate is located near the village of Manduel in the appellation of Costières de Nîmes. The area was once considered part of the Languedoc, but in the late 90s became part of the Rhône on the basis that its wines were more reflective of those from the Rhône. The vineyards here are the southernmost in the Rhône, sitting in the very southwest of the region, around the town of Nîmes. There's a magnificent Roman amphitheatre here, built in 70AD, which is well worth a visit.
The appellation shares the same round pebbles or 'galets' made famous in Châteauneuf-du-Pape, but Costières de Nîmes is slightly cooler due to its close proximity to the Mediterranean, which is better for Viognier. The area does some great value wines, with whites accounting for around 10% of production and able to be made from several of the traditional white Rhône varieties including Grenache Blanc, Rousanne, Marsanne and of course Viognier.
The Campuget estate is about 15km south of Nîmes and since 1942 has been run by several generations of the Dalle family. The average age of vines is 25 years and the family manages to combine a traditional mindset with the most up to date equipment. They grow Syrah and Grenache for reds and Grenache Blanc, Rousanne and Viognier for whites. They also knock out a few rosés.
The juice spends a brief time in contact with the skins when the grapes are initially crushed. The crushed grapes are then put through a pneumatic press, with the juice then partially fermented in oak, before spending another 4 months in oak. The bottle is sealed with an interesting glass stopper known as a Vinolok.
In the glass this is a bright and clear light gold. The nose is intensely perfumed with tropical fruit and honeysuckle, while on the palate it's all baked apricots and clean crisp acid. A mouthwatering and delicious contrast.
"Exudes a bouquet of honeysuckle, apricot orange marmalade and tropical fruits. On the palate the balance and roundness are very pleasant. Medium-bodied, generously fruity but structured, it owes its freshness and precision to the good acidity. Drink from an early age and up to 2 years. Accompaniment: Aperitif, smoked fish or a cuisine of Asian or Indian inspiration." Winemaker's notes.
It's rare to find such an affordable, easy drinking example of this variety. The perfect introduction to Viognier.
I can offer it for $26 a bottle. SOLD OUT
---

Yalumba The Virgilius Viognier 2016
This wine is generally agreed (a most unusual thing in the wine world) by critics to be the best Viognier in Australia. Yalumba pioneered and are the biggest grower of Viognier in the country, so it's no surprise that they're doing it better than anyone else.
As wine critic for the Courier Mail in Brisbane, Des Houghton, recently noted "The new attention to this alluring Rhône white must amuse the folk at Yalumba, who've been making it for nearly 35 years, while painstakingly experimenting with different clones."
The wine has a long pedigree and has received so many great, and I mean great, reviews and gongs over the years it's hard to know where to start.
"Yalumba Virgilius Viognier is the nation's exemplar," James Halliday.
Coming from 35 year old vines, the handpicked Eden Valley fruit was fermented using wild/natural yeasts in 'mature' (ie. to not impart excessive flavour) French oak casks, after which it spent a further 10 months ageing on lees in the same casks.
The wine is at once tight and focused, yet textured and powerful. It combines perfumed, floral notes, with peach and apricot flavours. It goes so far beyond the simple fruitiness of most Aussie Viognier, offering some savouriness and nuttiness. There is great length, complexity and balance.
"Elegance is as much in favour as flavour, though so too is complexity. This is a fine wine, slender, flinty, spicy, kissed with wood smoke, carried by stone fruit. It darts in many different directions but ultimately it zeroes long through the finish." 95 Points - Campbell Mattinson in James Halliday's Wine Companion.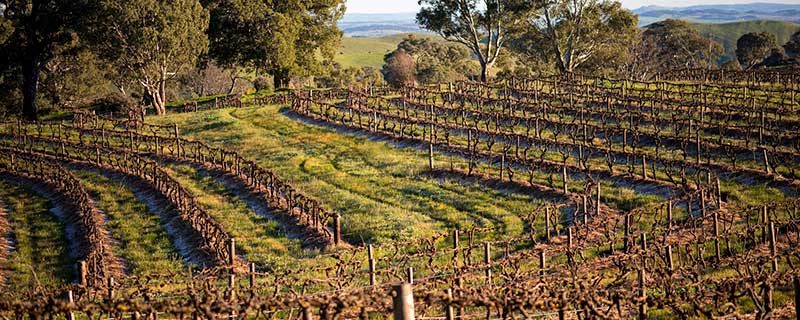 Yalumba's Eden Valley Viognier vineyards.
"…has a fresh, fragrant nose with the variety's classic orange blossom aroma. The palate is flavoursome, bright and textural. I enjoy the savoury nature of this wine as well as the subtle juiciness on the back palate." This seems a tighter, livelier wine than recent vintages, nicely judging the midline between opulence and delicacy. It will take a little age, too." Australian Gourmet Traveller Wine, Nov 2017.
Try the best Australia has to offer.
I can offer it for $42 a bottle. SOLD OUT
---

Yves Cuilleron Les Chaillets Condrieu 2016
Yves comes to town most years to host a few tastings. Unlike Guigal, he's not a household name, but he's still regarded as a superstar and northern Rhone success story. He makes whites and reds, however his whites are where the action is. He is considered a master of Condrieu.
I took a bottle of this along to a dinner and everyone was blown away. How nice to offer a wine that most people have not had and get such a response.
This wine has an extra dimension that only Viognier grown in Condrieu can achieve. It has all the perfumed seduction of Viognier at its best combined with a core of complexity. It is rich, silky, smooth and textured, yet clean, balanced and structured. Floral, exotic, yet minerally. The complete package. This is fantastic.
The 2016 vintage in the Southern Rhone was ideal from start to finish. The fruit for this wine was sourced from the oldest and best vines on the estate. "Les Chaillets" is the local name for terraces and it's on these that the densely planted vines sit overlooking Chavanay. The grapes were hand-picked when fully ripe and hand-sorted. Fermentation was with native yeasts in barriques, followed by a further 9 months maturation in old barrique on lees, with regular stirring and no racking - 13.5% alc./vol.
This wine has an extra dimension that only Viognier grown in Condrieu can offer. "A rich, refined and complex wine. A nose of dried yellow stone fruits, violets and honey, Harmonious, well-bred style on the palate, with good volume A pure, long finished, underlaid by the terroir's minerality. Drink for the primary aromas during 3-4 years, but also for the secondary aromas from 6-10 years." Winemaker's notes.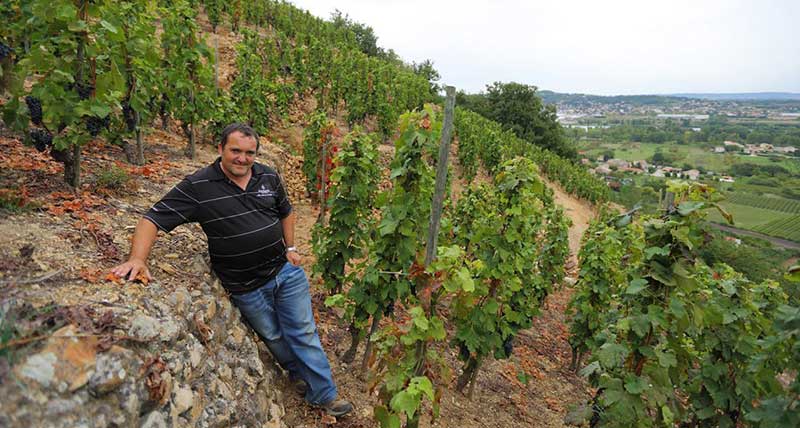 Winemaker Yves Cuilleron in his vineyards.
"Light gold. An intensely perfumed bouquet evokes fresh citrus and pit fruits, anise and violet, complemented by a vibrant mineral overtone. Juicy and sharply delineated on the palate, offering intense tangerine, pear nectar and honeysuckle flavors that deepen on the back half. Smoothly combines power and finesse and finishes on a strong mineral note, showing outstanding energy, persistence and lingering florality. Drink: 2019-2024 " 93 points, Josh Reynolds, vinous.com (May 18).
Sensational wine.
I can offer it for $135 a bottle. Click here to order
---

Guigal La Doriane 2016
The top Viognier from the biggest name in Condrieu. Marcel Guigal rose to fame in the appellation of Cote Rotie in the 80s, but these days has sizeable holdings throughout the Northern and Southern Rhône appellations. In Condrieu he supplements his own plantings with purchases from other growers and accounts for close to an incredible 45% of all Condrieu produced!
This is Guigal's flagship Viognier and is a blend of fruit from several of the best vineyard sites in the Condrieu appellation. It has all the bells-and-whistles. It's fermented and matured in new oak barrels for 12 months and goes through 100% malolactic fermentation.
"Shows the freshness and more classical style of the vintage. Citrus blossom, crushed rocks, honeysuckle, and orange blossom give way to a medium to full-bodied, incredibly elegant Condrieu that gains depth and richness with time in the glass. It will be better this time next year and keep for 7-8 years." 96 points, Jeb Dunnuck, Jan 2018.
"This vintage seems more restrained and less rich than some others, but it remains marked by smoky, grilled apricot aromas and flavors. It's nicely balanced and not overly opulent, retaining a sense of elegance on the long, spicy finish." 94 points, Joe Czerwinski, Wine Advocate #234 Dec 2017.
"Spicy oak influence which gives toasty, smoky overlay on the stone fruit. Thick, rich and impressive – and the oak and fruit integrate very well. A big step up from their standard Condrieu." Jancis Robinson, 17.5/20 points.
You might want to turn the music down on this video but it's worth having a look at the Guigal estate.
"It's very much about the cashew oak on the nose, while the palate is very full and fat, flowing and silky, with a mineral hint on the finish. It's long, with a strong oak influence, but the fruit beneath is pristine, though not as concentrated as some vintages. This has guarded enough acidity and freshness to make a successful Condrieu. Opulent, full, flowing and very rich." 93 points, Decanter Magazine.
Maybe just one?
I can offer it for $180. SOLD OUT
---
Food Pairings
Sweet fresh shellfish: scallops, lobster, crab, and shrimp
Mushroom risotto with porcini, chilli, pepper, parmesan and coriander
Meats: Veal, pork, and roast chook
Aromatic seasonings: Cinnamon, cardamom, coriander, ginger ie. Moroccan tagines with apricots
Nuts: Cashews, macadamias
Soft and semisoft cheeses: Fresh chèvre, gruyère, double brie