The Spanish were the first to bring vinifera (ie. European) vine cuttings to Chile in the mid-1500s, but it was French wine culture which helped create the Chilean wine industry of today. With independence from Spain in 1810, wealthy Chileans began to travel and appreciate the wines of France, and by the mid-1800s were returning with cuttings of many of the classic French (pre-phylloxera) varieties. These vines became the basis of the modern Chilean wine industry.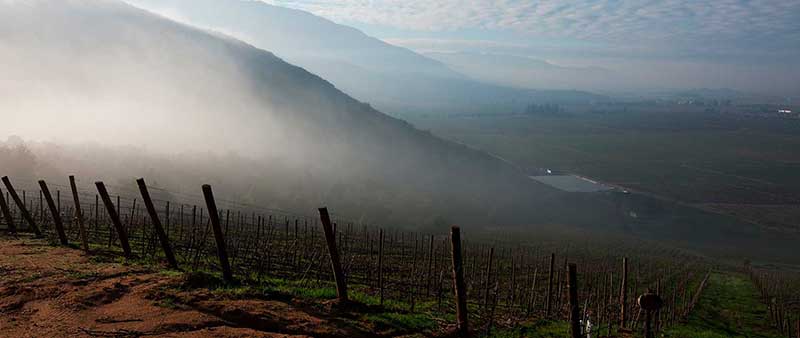 When vineyards around the world were ravaged and eventually destroyed by phylloxera in the late 1800s, Chile was one of the few countries (others include Argentina and parts of Australia) that avoided the devasting louse. The early 1900s saw the industry prosper, but by the 1970s domestic demand had plummeted and prices had crashed, resulting in about half the country's vineyards being pulled out. The 1980s brought a revival in fortunes, assisted by the advent of more stable and free market economic policies, as well as a return to democracy in 1989. Of particular importance was the shift from domestic consumption to an emphasis on quality wine for export which, rather like Australia, is what really saw the Chilean industry take off. Large investment lead to increased plantings, a revolution in winemaking technology and the arrival of highly skilled foreign winemakers.
The success of the wine industry in Chile shouldn't really come as a surprise given that it's such a great place to grow grapes. The winegrowing areas, which sit in the middle of an incredibly long, skinny country, are nestled between the towering Andes to the east and the Pacific Ocean to the west. Bountiful daytime sunshine and warmth is tempered by cool night air descending from the mountains as well as the cool air coming off the Humbolt current which flows north along the western coast of south America. The resulting large diurnal variations are ideal for the long slow ripening of grapes.
In addition to sunshine and the absence of phylloxera, Chile benefits from access to good water supplies flowing from the Andes (although drought finally became an issue last year), also there's less prevalence of many common viticultural diseases and plenty of cheap labour.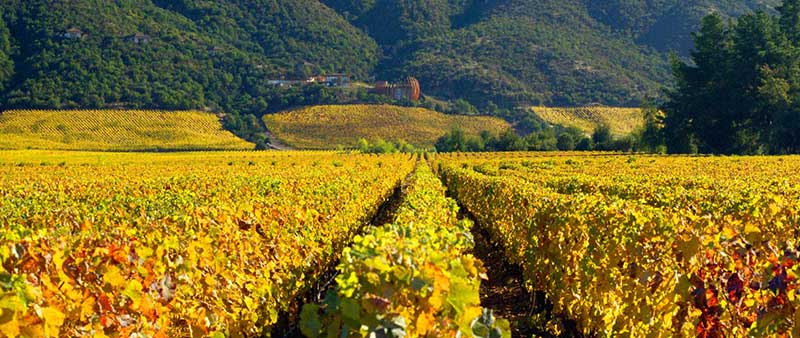 The Clos Apalta vineyards and winery.
Chile is the 8th largest grower of grapes in the world (2019) but interestingly comes in at 1st place in terms of the share of its national agriculture under vine, which at above 12% clearly indicates the importance of the wine industry to the country.
Red varieties dominate, particularly those traditionally from Bordeaux and account for around three quarters of plantings. The most planted variety is cabernet (approx 30%), with daylight to second which is sauvignon blanc (10%), followed closely by merlot (9%), and carmenère and chardonnay (both at 8%).
As malbec is to Argentina, carmenère is to Chile. More of this relatively obscure variety is grown in Chile than any other country and it's very much become the country's emblematic variety. Carmenère originated in Bordeaux and was widely grown there in the early 1700s, but post phylloxera it wasn't widely replanted, despite it being one of the region's six traditional varieties, and today has all but disappeared. Back in the 1980s, merlot was the big hope for Chile, but in the 90s it was discovered that as much as 50% of plantings presumed to be merlot were in fact carmenère! The discovery was a shot in the arm for the variety and helped elevate it to the status it is now enjoys.
Here's how James Suckling describes the variety: "The fully ripened grape offers plenty of spices and hints of chocolate and roasted red bell peppers. On the other hand, unripe carmenere can be reminiscent of green bell peppers of screaming intensity."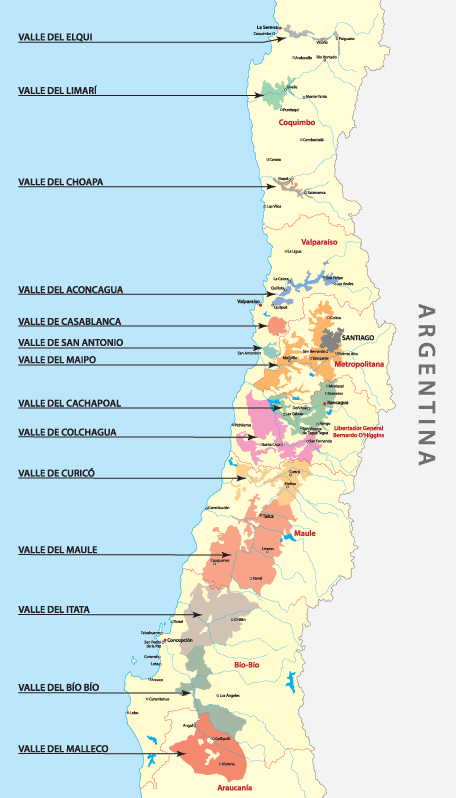 In 1995 Chile established its own set of wine laws known as Decree 464. This appellation-like structure has 4 tiers, which from geographically broadest to most specific are:
- Regions
- Sub-regions
- Zones
- Areas
It's actually quite complicated, especially if you're unfamiliar with the geography, so here are key regions you need to know according to the Oxford Companion to Wine. From north to south they are:
Coquimbo:
Elqui, Limari
Aconcagua:
Aconcugua, Casablanca, San Antonio (including Leyda)
Central Valley:
Maipo (including Santiago, Talagante, Pirque, Puente Alto, Isla de Maipo, Buin), Rapel (including Cachapoal, Colchagua), Curicó (including Teno, Lontué), Maule (including Talca, San Clemente, San Javier, Parral, Linares, Cauquenes)
Southern:
Itat, Bio-Bio, Malleco
Blessed with an abundance of natural advantages, the Chilean wine industry has gone from strength to strength and now produces wines the equal of anywhere in the world. The two wines below showcase the heights Chilean wines have scaled - both contain carmenère and both have perfect 100-point scores.
---

Clos Apalta 2017
The story goes that Alexandra Marnier Lapostolle had a dream to create one of the great wines of the world. As the great-granddaughter of the creator of Grand Marnier, described as France's most exported liqueur, it was with deep pockets that Alexandra and her husband Cyril de Bournet travelled the world, eventually finding their picture-perfect location in the Apalta Valley, which sits in the Colchagua Valley, about two-and-a-half hours south of Santiago. Lapostolle Wines was established in 1994 and the first release of Clos Apalta followed in 1997. "French in essence, Chilean by birth" is how this vision is billed.
No expense has been spared on all aspects of this wine. The estate is simply stunning. The vineyards are certified organic and biodynamic, and a spectacular 'nest-like' seven story winery was completed in 2005. The descending floors in the monumental cellar allow the whole winemaking process to be 100% gravitational. Son Henri de Bournet has been running the estate since 2013, assisted by consultant to the stars, Michel Rolland.
The 2005 Clos Apalta took out the highly coveted number one spot in Wine Spectator's Top 100 (2008). It's the only South American wine to have achieved this feat.
The 2017 Clos Apalta is the 20th vintage of this wine and is a blend of 48% carmenère, 26% cabernet sauvignon, 25% merlot and 1% petit verdot. The wine was fermented using indigenous yeasts, mostly in 7,500-litre French oak vats, but 18% was in new French barriques. Malolactic was in new French oak barrels and ageing was 27 months in 85% new barrels and 15% second use.
"Clos Apalta Valle de Apalta may be lesser known - in comparison to Bordeaux's Château Lafite Rothschild, Tuscany's Sassicaia or California's Opus One - but it has been awarded perfect 100 points... In hindsight, there's no doubt that Clos Apalta is one of the world's greatest red wines."James Suckling.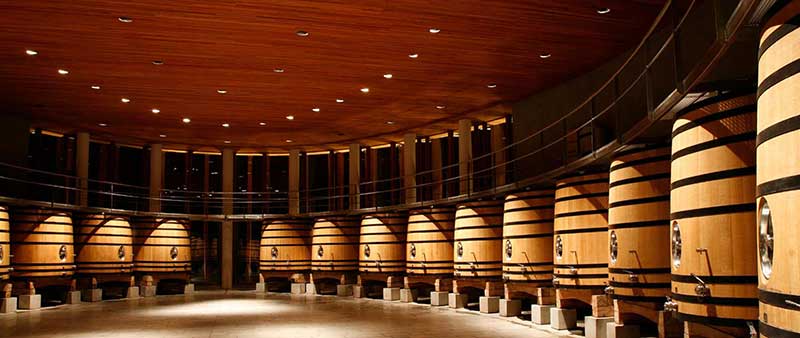 The descending floors in the monumental cellar allow the whole winemaking process to be 100% gravitational.
"What a stunning nose of crushed berries, fresh flowers, sandalwood and light vineyard dust. Black olives, too. Very complex. Full-bodied with a beautiful, dense palate of blackberries, chocolate, walnuts and cigar box. Fantastic length and composure. The tannin just rolls over the palate. Very structured. The most classically structured wine ever from here. Goes on for minutes. Outrageous and so polished." 100 Points, James Suckling.
Not much more to say.
I can offer it for $299 a bottle.

---

Seña 2018
Many see this as the iconic wine of Chile. Seña was established in 1995 as a collaboration between the legendary Robert Mondavi (Napa Valley) and Chile's Eduardo Chadwick, 5th generation owner and president of Vina Errazuriz, a benchmark Chilean producer. Chadwick was named 'Decanter Man of the Year 2018' in recognition of his "his pioneering vision and sheer determination that helped to propel Chilean fine wine onto a global stage."
Seña means 'signal' indicating the founder's intentions to show what Chile was capable of producing from its world class terroir.
Mondavi and Chadwick searched for four years before deciding on a site in Chile's Aconcagua Valley. Sitting 40km inland from the ocean and 100km north of Santiago, conditions are ideal here for a Chilean version of the Bordeaux blend. The vineyard became certified biodynamic in 2005, which was the same year the estate became wholly owned by the Chadwick family.
Flamboyant, ambitious and a great promotor, on the 23rd Jan 2004 Eduardo Chadwick organised an event reminiscent of the famous Paris tasting of 1976 when he flew 36 of Europe's most respected wine critics to an event that became known as the Berlin Tasting. In a high-risk venture, Chadwick lined up several of Chile's top wines for a blind tasting against the best of France and Italy. In an absolute coup, the underdog Chile came out on top. Viñedo Chadwick 2000 and Seña 2001 came in first and second respectively against a line-up that included no less than; Lafite, Margaux, Latour, Tignanello, Sassicaia, Solaia and Guado al Tasso.
This sensational outcome opened the world's eyes to the quality of Chilean wine and pitched Seña into the limelight. To this day, Seña continues to be the highest scored Chilean Bordeaux Blend by Robert Parker and James Suckling.
The 2018 vintage at Seña was hailed as one of the best ever, with near perfect climatic conditions. Here's a great summary of the vintage and the resulting wine from Seña's winemaker Francisco Baettig.
The 2018 Seña is a Bordeaux blend of 55% cabernet sauvignon, 18% malbec, 15% carmenère, 7% cabernet franc and 5% petit verdot. The grapes were fermented in a combination of stainless steel and concrete vats and matured in new barriques and Stockinger foudres for 22 months.
"This is a very elegant vintage of Seña, a year with a slow ripening so that the grapes achieved very good ripeness and full development of aromas and flavors, making the wine nuanced and complex, with depth but also freshness and finesse - floral and expressive. The tannins are very fine, polished and elegant, and the wine is long and complex, mixing the best of 2015 and 2016, coming through as a very complete year. It's still a little young and should develop nicely in bottle; it's approachable now, but if you can hold it a little bit more, it should be even better. This has to be the finest vintage of Seña to date."
98 points, Luis Gutiérrez, The Wine Advocate.
"This is a very thoughtful Seña that shows unique aromas of warm earth, mushrooms and conifer, turning to dark berries and black olives. The palate is more glamorous with ultra-fine tannins that envelop your palate. Shows power and vibrancy at the end. Toned muscles. It's a very intellectual wine that harkens back to the 2015. Beautiful to try now, but better after 2023." 100 points, James Suckling.
I can offer it for $349 a bottle.