I'm a big fan of the wines of Yarra Yering, especially since Sarah Crowe began weaving her magic as winemaker in 2013. Sarah was recognised for her excellence when she became the first woman to win the prestigious James Halliday Winemaker of the Year award in 2017.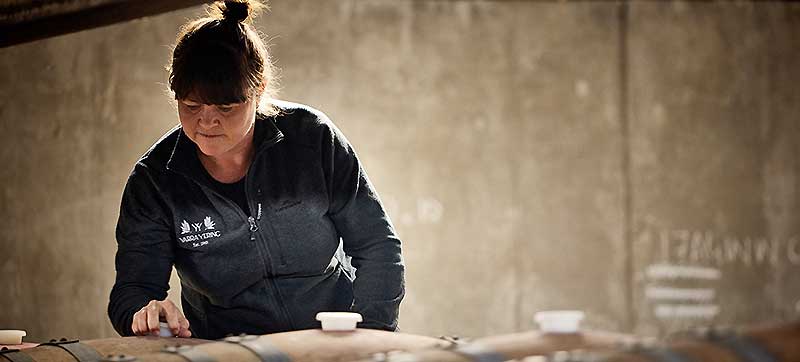 Yarra Yering was established by the extraordinarily talented Dr Bailey Carrodus, a pioneer of the modern Yarra Valley wine industry. Carrodus obtained his Bachelor's degree and subsequent Master of Science from Victoria University College in Wellington, NZ in 1952. He followed this with degrees in viticulture and oenology, ie. grape growing and winemaking, at Roseworthy College (now part of Adelaide University). In 1962 he headed to Oxford, obtaining his Doctor of Philosophy for research into plant physiology at The Queen's College. That's a lot of post nominals and a lot of wine knowledge!
In the late 60s, Carrodus moved to Melbourne where he initially worked at Melbourne Uni before moving to the CSIRO. In 1969, while still working at the CSIRO, he purchased land and planted grapes on the north facing slopes of the Warramate ranges, in a sub-region of the Yarra Valley known as Gruyere. The site is next door to Warramate winery, which is next door to Coldstream Hills - the winery established by James Halliday.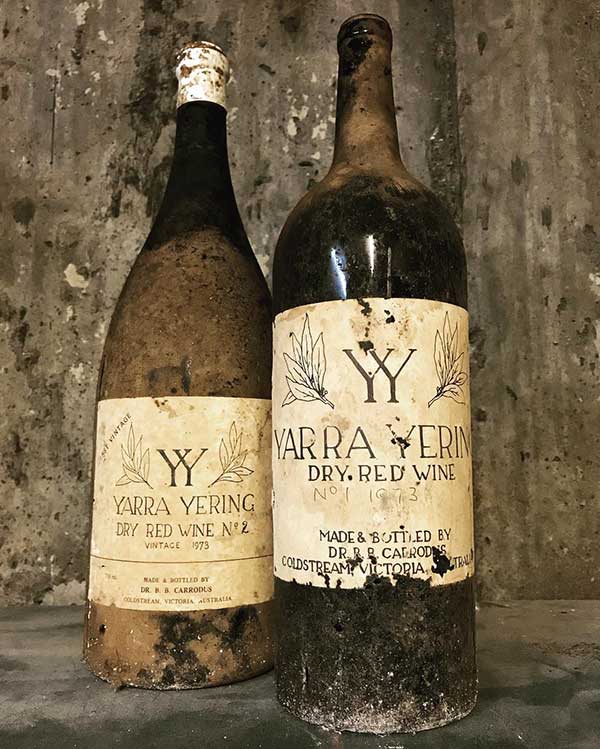 Yarra Yering's first vintage in 1973 was the first commercial vintage in the Yarra since 1922 and while several wines are made these days, back then only two were produced, Dry Red No.1, a Claret (Bordeaux) inspired blend and Dry Red No.2, a northern Rhône inspired blend.
By the 1980s, Yarra Yering had gained an international reputation for the outstanding quality of their wines:
"One of Australia's vinous treasures," Jamie Goode, Wine Anorak (UK).
"Best known for producing some of Australia's greatest wines," Decanter Magazine.
"An Australian icon that delivers very special wines," Berry Bros. & Rudd (Top UK wine merchant).
"Have always produced wines of extraordinary depth and intensity," James Halliday, 5 stars.
Carrodus himself gained a reputation as a bit of a genius, in his own determined and eccentric way...
"Bailey was one the most intelligent, determined, self-assured, stubborn and obstinate people I have ever met. He was eccentric, quirky, razor-sharp, persuasive and rather affected. He was however impossible to dislike." Jeremy Oliver.
"I met Carrodus a few times before he died, and he often lived up to his reputation as a private man who found fools insufferable – seeming to view wine journalism as a special kind of foolishness." Max Allen.
"Charming and highly idiosyncratic," James Halliday.
Despite the accolades, don't forget just how different the wines of Yarra Yering were to the prevailing powerhouse styles of the 80s and 90s. The fruit came from Victorian, cool climate, low yielding vineyards, with no irrigation, all of which were unknown back then. And while the wines had concentrated fruit, they were a relatively lighter style with firm acidity, as well as a certain savoury element. They also showed exceptional longevity. This leaner, more European style is all the rage now, but back then it was a world away from benchmark top quality Australian reds. But Carrodus stuck to his vision and it's only now that we truly appreciate just how ahead of his time he was.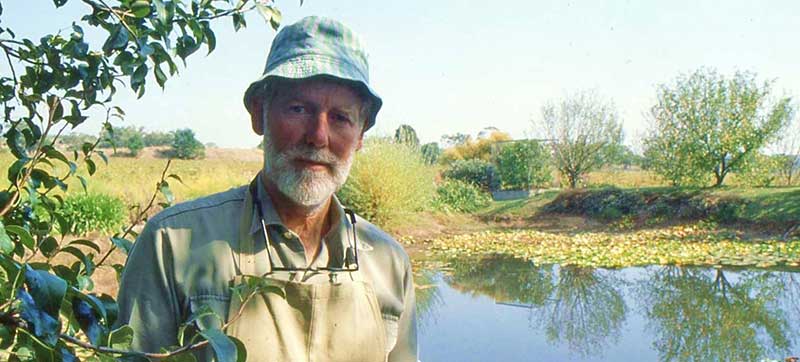 Bailey Carrodus died in September 2008, aged 78, a loss mourned internationally. Several hefty international publications including Decanter Magazine (UK), The Times (UK), Jancis Robinson (UK) and Wine Spectator (US) published articles acknowledging his immense contribution. And one of the residential colleges at The Queen's College, Oxford, carries the name "Carrodus Quad" in his honour.
In 2009 Yarra Yering was sold to a small partnership headed by investment banker and wine industry heavyweight Edouard (Ed) Peter. As James Halliday noted: "It was Bailey Carrodus's clear wish and expectation that any purchaser would continue to manage the vineyard and winery, and hence the wine style, in much the same way as he had done for the previous 40 years. Its acquisition in June '09 by a small group of investment bankers has fulfilled that wish."
Despite the pressure such a legacy creates, Sarah Crowe has proved more than up to the task.
"Yarra Yering wines have always been very good, but under the current management, they have hit new heights. Sarah Crowe is an outstanding winemaker…. Without any fanfare (she) puts out a bevy of fabulous wines year after year." Huon Hooke, The Real Review, June 2019.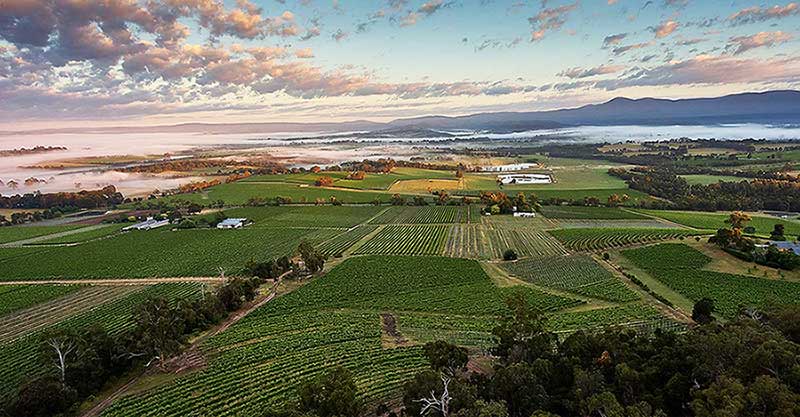 Yarra Yering came in at number 9 in Huon Hooke's recently released Top Wineries of Australia 2019 - an amazing result when you consider just how many wineries there now are in Australia. To put this in context, Grosset came in at 40, Clonakilla at 74 and Vasse Felix at 106.
Of the 11 wines Yarra Yering released from the 2016 vintage, all scored higher than 95 points from Halliday and one (offered below) topped out at 99! An incredible achievement.
---

Yarra Yering Dry Red No.1 2016
The 2016 is a Bordeaux inspired blend of 66% Cabernet sauvignon, 16% Merlot, 15% Malbec and 3% Petit Verdot. It's 14% alcohol. Langton's recent 7th Classification saw the wine promoted to 'outstanding'.
"A very reserved, elegant and regal nose, showing subtle yet confident aromas of freshly picked blackcurrants, lead pencil, cassis, dried herbs, cedar, iodine and crushed stones. The palate is very polished and seamless with velvety tannins, a beautiful line of acidity that's wonderfully integrated and a very long finish. Hard to resist now, but better in 2025." 98 Points, James Suckling.
"Deep, bright red/purple colour and a beautifully fresh and yet already complex perfume, violets and blueberries to the fore, the palate very bright, vibrant and fruit-driven, yet totally serious in its intent. Lovely balance and terrific length, as well as the kind of improbable elegance that means it is a pleasure to drink young. An outstanding wine which needs cellaring and will really sing when given some more time. Drink: 2020 to 2046." 97 Points, Huon Hooke, The Real Review.
"Profoundly juicy and rich, yet kept under tight control by the web of ripe tannins, oak part of the structure and texture but not flavour per se. It is a wine that you can sit with for a prolonged examination and discussion, and still not cover all its characteristics or ask all the questions." 97 Points, James Halliday, Wine Companion.
The wine also picked up a Trophy (and gold medal) for the 'Best Cabernet Varieties and their Blends' at the 2018 Yarra Valley Wine Show.
Not much more to add to those incredible notes, other than this really is one of Australia's best, and most overlooked Cabernets.
I can offer it for $105 a bottle. SOLD OUT - new vintages now available

---

Yarra Yering Dry Red No.2 2016
A northern Rhône (think Côte Rôtie) inspired Shiraz blend which in 2016 was made up of 95% Shiraz, 2% Viognier, 2% Mataro and 1% Marsanne. It's 14.2% alcohol. Langton's recent 7th Classification saw it promoted to 'excellent'… finally.
I've always seen this as an unsung hero of a wine. For some reason the No.2 has never gained the same following as the No.1. My theory on this is that people associate the numbers as some sort of quality hierarchy. But the No.2 was simply the second blend that Dr Carrodus put together and I'm told there was no particular reason it was done in this order.
"Deep, dark red/purple colour. The bouquet is pleasantly balanced with subtle spice and vanilla, floral, violet and dark berry flavours which recur on the palate. It has a deep, sneaky complexity. The tannins are soft and ample, fleshy and quite elegant. There is a lovely fruit-sweet core. A gorgeous wine. Drink: 2018 to 2036." 95 Points, Huon Hooke, The Real Review.
"Fragrance and headiness, this wine exudes intense perfume, mixed berry fruits, floral notes and spice. The addition of Mataro and co-fermentation with white grapes Viognier and Marsanne, intensify the Shiraz character while providing complexity, richness and generosity."
97 Points, James Halliday, Wine Companion.
For those of you who love cool climate Shiraz, this one's for you.
I can offer it for $95 a bottle.

---

Yarra Yering Carrodus Cabernet 2016
After the death of Bailey Carrodus in 2008, the new owners of Yarra Yering wanted to make a range of wines in his honour. In contrast to many of the Yarra Yering wines, which are blends, the Carrodus Range features single varietal wines, designed to reflect the very best of the estate.
Since their first release in 2010, there have been a Cabernet, Shiraz, Pinot Noir and Viognier. The wines have not been made every year, only when conditions are exceptional, and only in tiny quantities, around 400-500 bottles. The process is highly selective with the fruit for all the wines coming from the original vineyard planted by Dr Carrodus in 1969.
"Hand-picked, destemmed and crushed, open-fermented, twice-daily hand-plunging, gravity-filled to two Bordeaux-shaped barrels, one new for 18 months maturation. Restored my sanity after tasting a long string of miserable, green merlots and cabernets. Every aspect of this wine from vineyard to bottle is faultless, encouraging repeated visits to the glass making sure it is as good as it is. There is a cavalcade of perfectly ripe blue and black fruits running between rounded tannins, touches of leaf, herb and olive tapenade. Perfect balance at this stage is a rare thing with cabernet. Drink by: 2041; Alcohol: 14%,"99 Points, James Halliday, Wine Companion.
"Deep red colour with a good tint of purple. The bouquet is very floral, blueberry-like and violet-tinged, with a hint of charred oak, but the fruit is doing most of the talking. In the mouth, it's fabulously concentrated and yet superbly elegant, with terrific line and length. It has fathomless complexity. It's powerful and concentrated, yet not at all over-wrought. A sublime wine for long-term cellaring. The rewards of patience will be great. Drink: 2022 to 2051." 98 Points, Huon Hooke, The Real Review. Huon doesn't give out much above 95, so this is a super-duper review from him.
Incredibly, Halliday also gives the wine his highly coveted Special Value Star, which might seem strange for a wine at this price, but he obviously sees the quality in the same league as much more expensive wines. I can't help but think of the astronomical prices that the recent 2018 Bordeaux En Primeur (these are Cabernet blends) are fetching. By the time they arrive in Australia, most of the top wines will be north of $700 a bottle, and for those few with demand also driven by status, the figure will be closer to $2,000 a bottle.
This is special value indeed.
I can offer it for $249 a bottle (only 6 bottles available).

---

Warramate Black Label Cabernet 2016
Yarra Yering's Sarah Crowe is also winemaker for the adjoining Warramate winery and for those of you who remember just how good the humble Warramate Black Label Cabernet is, I also have some of the recently released 2016 vintage. It's such a well-made, delicious and incredible value wine.
Rumour has it that Dr Carrodus asked to buy Warramate and when turned down, planted the Yarra Yering vineyard right next door. The same group that purchased Yarra Yering also purchased the adjoining Warramate winery in 2011 - the result being that both estates' wines are now made in the Yarra Yering winery by Sarah, using the same artisanal techniques and equipment.
Halliday rates Warramate 5 stars saying it's "long established and perfectly situated" (he would say that - the winery he established is next door!) and "all the wines are well made."
"Intense varietal nose in the bounds of youthful exuberance. Shows signature blackcurrant & sarsaparilla notes well supported by integrated leafy characters, synonymous with the variety. A medium-bodied 'classic' claret style featuring a succulent, fruit-layered palate, integrated with earthy complexity and fine dusty tannins. Juicy acidity underscores well-weighted voluminous fruit and a deep, long finish, combining generosity and concentration with finesse rarely found at this price point." Winemaker's notes.
"This is a good wine. Medium toned, plenty of currant and a sash of bay leaf and herbal potpourri that calms the sweetness of fruit. Just. Finishes dry across a gentle wash of choco-coffee grind tannins. The finish a bit too soft to merit a higher score. A delicious wine to drink in the earlier to medium term." 92 points, Ned Goodwin MW (Halliday Wine Companion).
This is an underrated gem - you can't go wrong with it.
I can offer it for $26 a bottle. SOLD OUT - new vintage available

---
Yarra Yering Agincourt 2018 available here
---