In 1996 renowned wine critic Robert Parker tasted a line-up that included several wines from Chateau d'Yquem. "What is so remarkable about this series of wines is that the 1811 and 1847 Yquems are the two greatest Yquems I have ever tasted, eclipsing my Yquem reference point, the 1921." He scored both the 1811 and the 1847 one hundred (100) points. It's hard to comprehend wines so old could still be intact, let alone so profoundly good. Little wonder Chateau d'Yquem is considered the greatest sweet wine in the world.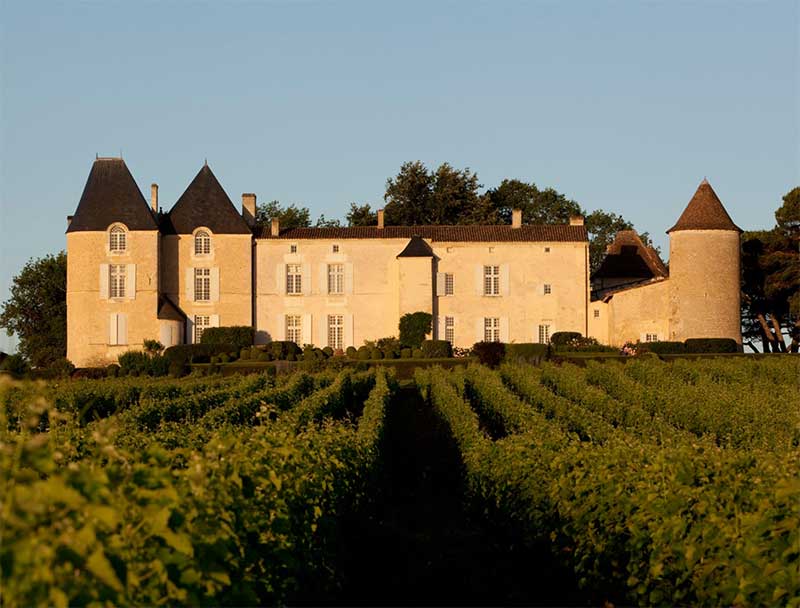 Of course none of us are going to live long enough to age wines for this long, but I can't tell you how many times I've had people tell me stories of how they've diligently cellared a bottle of wine for a special occasion, only to be disappointed when opening it mere decades later. When you open a bottle on a special occasion, you want it to be… well, special. And Chateau d'Yquem 2015 is exactly that.
My advice on laying down wine for a special occasion is to get the best you can afford. I guarantee when the time comes to open it, you'll have no regrets. In fact, for an iconic and long-lived wine like Yquem 20I5, I reckon you'll look back and marvel at how affordable it was. That might sound ridiculous, but here's what you can expect to pay for a few of the iconic red wines from the 2015 vintage in Bordeaux, the same region that Yquem originates. Chateau Petrus, loved by Chinese billionaires and Russian oligarchs alike, will set you back around $5,000 a bottle, if you can get it. Chateau Lafite Rothschild is a mere $2,000 a bottle. Yquem, at less than $450 (375ml) doesn't seem so unreasonable!
Much has been written about this wonderful estate:
"Wine has few more legends than the hilltop fortress of Yquem and its golden nectar." Hugh Johnson, Hugh Johnson's Wine Companion.
"It is no disparagement of the other leading sauternes to say that Yquem is the quintessence of these great luscious wines." Edmund Penning-Rowsell, Wines of Bordeaux.
"Yquem has been in a class of its own since the late 18th century. In over 200 years it has scarcely faltered, and never come close to relinquishing its reputation as France's finest sweet white wine." Stephen Brook, The Compete Bordeaux. 2017 edition is a fantastic book if you're looking for a gift for someone. Or yourself.
"It is sweet, golden and apparently almost immortal." Jancis Robinson writes of Yquem in the Oxford Companion to Wine.
"Probably the only Bordeaux wine that truly can be said to be in a class by itself. Plateau of mature: 10-70 years; top vintages can actually last for over 100 years." Robert Parker, Bordeaux.
The appellation of Sauternes lies about 65km south of the city of Bordeaux in an area referred to as the 'left bank' of the Bordeaux wine region (as it sits on the western bank) of the Garonne River. Only sweet white wine is produced here, from about 1,800ha of vines, of which about 80% is Semillon, 15% is Sauvignon Blanc and the rest Muscadelle.
Sauternes was included in the 1855 classification of Bordeaux, with three categories created:
Premier Cru Superieur

-

Yquem, the only estate.
Premier Cru Classe

-

11 estates
Deuxieme Cru Classe -

14 estates
The sole rank of Premier Cru Superieur given to Yquem was higher than that given to any of the red wines of Bordeaux.
The origins of Chateau d'Yquem go back to the Middle Ages, but since 1785 the estate has been owned by the Lur-Saluces family. During their stewardship, customers of note included Thomas Jefferson (who ordered it for George Washington), Napoleon Bonaparte and the Grand Duke Constantine of Russia (brother of the Tsar). In 1999, under acrimonious circumstances, a majority stake was sold to the publicly listed Louis Vuitton Moet Hennessy (LVMH), the world's largest luxury goods company, headed up by France's wealthiest man Bernard Arnault. Despite the change in ownership, the former owner and director, Alexandre de Lur-Saluces continued to run the estate until his retirement in 2004, after which Pierre Lurton of Cheval Blanc fame took over.
Yquem is located on the highest hill in Sauternes, a position where it enjoys the best growing conditions and is more prone to botrytis than any other in Sauternes. Botrytis Cinerea is a fungus that creates both the desirable noble rot, as well as the undesirable grey rot. Ripe grapes need quite specific conditions to get infected, humid mornings followed by dry afternoons. They need humidity to get the infection, but too much humidity and it will cause the grapes to split, exposing them to mould and bacteria, which leads to rotten fruit (grey rot). Noble rot shrivels the grapes, reducing both the water and sugar content, but the water reduces more than the sugar, so the result is relatively greater sweetness. Noble rot also alters the aroma and flavour profile of the resulting wine, giving the classic orange marmalade and apricot characteristics of botrytis-influenced wines.
The estate is 113 ha, the largest in Sauternes, of which 75% is planted with Semillon and 25% with Sauvignon Blanc. While this is a large holding by Bordeaux standards (and massive compared to Burgundy) it's important to remember that yields are a fraction of dry wine estates. By way of comparison, Yquem with 113 ha produces on average 100,000 bottles of sweet wine and Chateau Lafite-Rothschild with 116ha produces 500,000 bottles.
Only fully botrytised fruit is picked by up to 150 highly skilled pickers. The yields are minuscule, some of the lowest in the world, at a maximum of 9 hl/ha. Compare this to 25 hl/ha that is normal in Sauternes, or 55hl/ha for the basic dry wines of Bordeaux. Typically there will be 5 separate tries or picking sweeps through the vineyard, although it may be as many as 13, a very expensive process. Typically one vine produces one glass of wine.
With such high levels of sugar in the grapes, the yeast have to work very hard and the result is a long, slow ferment. The ferment peters out as the yeasts can no longer cope with amount of sugar, or the ferment can be stopped artificially by chilling. Either way, sugar is left in the wine. The Semillon and the Sauvignon Blanc are vinified separately, after which they are blended. Unlike most sweet wines, Y'quem is aged in 100% new oak (expensive) for up to 3 years. Most Sauternes are aged for 18-24 months in aged oak.
While the wine is intensely opulent when young, Yquem develops an extraordinary complexity and exotic richness when fully mature.

Chateau d'Yquem 2015 (375ml)
This vintage has been reviewed as one of the best of all time.
"It has a show-stopping bouquet that is beautifully defined and very complex and exuberant, infused with greater mineralité than recent vintages - intense but not as flamboyant as say the 2009 Yquem at this stage. The palate boasts absolutely stunning balance. This is a Yquem without a hair out of place: fantastically pure, botrytised fruit caressing the mouth. That is as per normal. What distinguishes this Yquem is the sense of electricity that is imbued by that razor-sharp acidity. There is just unbelievable tension here and to be frank, there is little point in me continuing to write this note, because it is simply an astonishing Yquem that will rank alongside the 2001 and 2009." 98-100 points, Neal Martin, The Wine Advocate.
"This is an incredible young Yquem that is so vinous like a great vintage of Montrachet but then on the palate it turns to Yquem with spice, dried fruit and mushroom as well as sweet fruit. Lasts for minutes. Acidity is all there giving it a dynamic vibrance that jolts your senses. Special wine. It has a little more than than 140 grams of residual sugar, less than the legendary of 2001. But is very close in greatness. Let's wait and see." 99-100 points, James Suckling.
"Stunning and utterly captivating, the 2015 d'Yquem is shaping up to be one of the truly epic wines of the vintage. All the elements are impeccably balanced, starting with the most captivating, alluring bouquet imaginable. The 2015 floats on the palate with grace and total finesse. What I like most about the 2015 is its airy, nuanced personality. Sweet floral notes, lemon confit, chamomile and acacia are some of the nuances that linger in this hauntingly beautiful d'Yquem. The 2015 was fermented in 100% new oak and residual sugar is 145 grams per liter, but none of that really matters. Readers who can find the 2015 should not hesitate, as it is truly magnificent!" 96-98 points, Antonio Galloni, Vinous.
Not sure if an excuse is needed but I read last week that there are two new billionaires in the world every week. Don't delay.
This needs to be kept in a temperature controlled cellar.
I can offer it for $430 a bottle (375ml) Stock is limited. SOLD OUT