Rosé. At last it seems this wonderful style has found a place at the Australian table.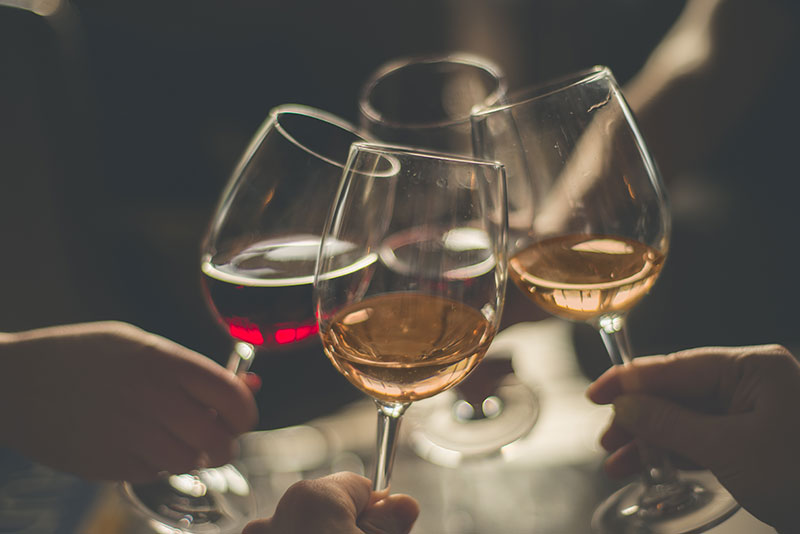 For years there was very little rosé available in Australia and what was here was pretty ordinary. I wondered if no one appreciated rosé because the quality was so poor or vice versa. Either way, there's no doubt it had an image problem here for many years. But as Australian tastes have evolved, we've realised just how suited it is to our lifestyle and the way we entertain.

In France rosé has outsold white wine since 2008 and I wouldn't be surprised if we follow suit. One industry report suggests sales of rosé were up around 16% last year in Australia.

The juice of nearly all grapes is white, so how is rosé made? Well, the colour comes from the skin of the grapes and winemakers do this in a number of ways:

1. Red grapes are fermented in contact with the skins. After 6-48 hours the partially fermented juice is squeezed out. Because contact with the skins is limited, the partially fermented juice is pink rather than red. Ferment is completed without the skins.

2. Some winemakers bleed off (saignée) some of the juice from their red ferments at an early stage, when the juice is just pink, and use this to make rosé. This increases the skin to juice ratio in the remaining red ferment - the aim being greater depth of colour and tannins. In this case rosé is a by-product rather than the primary aim.

3. Red grapes are crushed and pressed before fermentation takes place. The juice has just the lightest touch of pink and is then fermented like a white wine (ie. not on skins). This technique is sometimes referred to as 'Vin Gris'.

4. Finally, but not often done, a winemaker may simply blend red and white wine.

Enough technical stuff, here are a few drops I'll be enjoying this summer - two from Australia and three from France.
---

Chateau Riotor Cotes de Provence Rosé 2016

Riotor is textbook Provençal rosé. It's an old favourite of mine and here's why:"Had a blind tasting last year with over 40 rosés at all price points. And not only was this (Riotor) the best in show, it was also the least expensive." Michael Madrigale, Head Sommelier, Bar Boulud and Boulud Sud (acclaimed New York restaurant group).

Riotor is one of the best Provençal rosés for the price.

Château Riotor is located in the magnificent mountains west of Saint-Tropez, within the Côtes de Provence appellation. This beautiful estate has been owned for four generations by the Abeille family, who also own the famed Château Mont-Redon in Châteauneuf-du-Pape (southern Rhône). Since 1988 they've worked to extensively renovate the vineyard, winery and chateau, which has paid off handsomely in the quality of their wines.

The blend is pretty much the same every year: 40% Grenache, 50% Cinsault, 7% Syrah and 3% Vermentino (white). I'm told there's always been a bit of Vermentino in the blend but they've only started declaring it in the last few years.

The wine is a pale rose gold. Crisp, dry and aromatic, you'll find white peach and cranberries, mingling with melon and musk. On the finish it's clean and slightly savoury with hints of white pepper and plenty of fresh sherbety acidity. Elegant and delicious.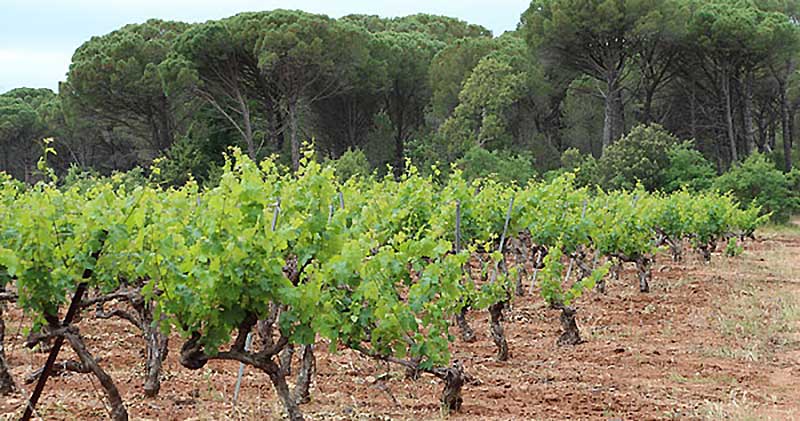 Riotor vineyards in Côtes de Provence.

"Sometimes the rosé from Provence can be so dry it borders on bland but the good ones like Riotor have good texture with lots of crunchy red fruit plus crisp acidity, which keeps them interesting and refreshing." Sebastian Crowther, sommelier Rockpool. SMH Good Food, 20th October 2015.

"Pale pink. Strawberry, orange zest and white pepper aromas and flavors, joined by a subtle floral nuance in the glass. Minerally and taut in the mouth, loosening up with air and showing good energy. Finishes with good, stony lift and vivacity, leaving a red berry note behind." Josh Raynolds, 89 points, Vinous Media June 2016.

Hard to beat for the money. You'll find it at all the best places around town, but I reckon you can't go past a bottle for $60 at the summery Coogee Pavilion.

I can offer it for $25 a bottle. Click here to order
---

Medhurst Rosé 2017
In an article just a few weeks ago James Halliday listed what he termed the"producers of real rosé in Australia."Only 6 made the grade, one of which was Medhurst, which should come as no surprise to the many of you who purchased this wine last year when it was the only rosé included in Halliday's annual Top 100. It also won a Gold Medal and Trophy for Best Rosé at the 2016 Yarra Valley Wine Show.
The good news is that the 2017 is even better, the reason being the big difference in vintage conditions. 2017 was great year in the Yarra, with cooler more typical Yarra vintage conditions, allowing for longer ripening of fruit, and wines of great line and length.
Medhurst Estate was founded by Ross Wilson, who made his fortune as the former CEO of Southcorp and Tabcorp. Ross has a long association with the wine industry, in particular the Yarra Valley, and it was here he acquired a wonderfully positioned property in the mid-1990s. With astute planning and admirable patience, the ensuing two decades saw Ross plant vineyards, build an amazing winery and most recently hire talented young winemaker Simon Steele (ex Brokenwood). Ross's strategy of putting pieces into place for long-term success is starting to pay off, with the winery receiving some serious recognition.
While the reputation of Medhurst has been built on the back of excellent Pinot Noir, Chardonnay, Cabernet and Shiraz, Ross is also a major fan of rosé. In fact, he's such a fan that he had a dedicated rosé vineyard of Shiraz and Cabernet planted in 2000 - extraordinary given that most estates treat rosé as an afterthought.
I caught up with Simon a few months ago to taste the 2017 rosé when it was first bottled. He told me the 2017was made in pretty much the same way as the 2016. It's a blend of 60% Cabernet and 40% Shiraz. Vines are low-yielding and fruit was handpicked and left overnight in a coolroom to ensure it was cold when pressed the next morning. This minimises both oxidation and colour development. Only 500L of juice was obtained per tonne of grapes pressed. Usual rates are around 700L/tonne, indicating just how softly the fruit is squeezed. The gentle pressing not only explains the pale colour, but also means this wine is more expensive to make - even though it's still sold at such a good price.
As the two varieties ripen about 2 weeks apart, they were fermented separately, both using cultured champagne yeasts to ensure a clean ferment. Five percent of the ferment took place in old French oak, the rest in stainless steel. Interestingly Simon also put a bucket of Chardonnay lees into the ferment to add texture.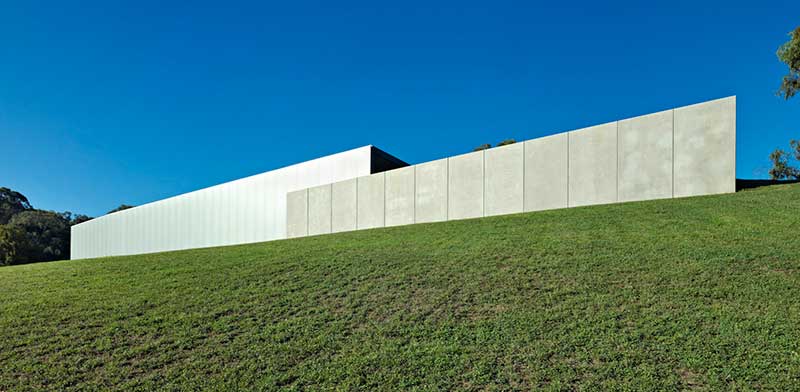 Medhurst state-of-the-art winery in the Yarra Valley.
Unlike many rosé winemakers, Simon didn't add acid to the wine. This usually requires tweaking the sugar levels to balance it, which he reckons leaves you not feeling so good the next day - he's proud that this wine has none of that. It was fermented to dryness and the wine has high ph (ie. low acid) which tends to make it "slippery" (winemaker speak for smooth). After light filtering and minimal sulphur, the wine was bottled.
"Delicacy with length" is how Simon describes this wine - I have to agree. It's clear, bright and a very pale copper. On the palate it's clean and bone dry, with subtle notes of strawberry, musk, honeydew and coconut, finishing long with delicate savoury notes. Its depth, weight and smooth mouthfeel belie its pale colour. Simon has balanced the acid in this wine so well it gives it freshness and vitality without being tart or linear. Its beautiful structure and integration set this wine apart to make it so generous and drinkable.

"Very pale copper with bright salmon hue. Deliciously elusive fresh fruits including strawberry and raspberry are supported by hints of fennel and white blossom of jasmine. The palate is savoury and refined with a supple creamy texture. The finish to the wine is superb, fresh fruits and a long chalky delicate phenolic edge that is the trademark of this single vineyard wine." Randall Pollard, Heart and Soil.

There's little press on this wine and Simon told me he didn't enter it into Halliday's Top 100 this year. I get the feeling he's keen to avoid having to manage the frenzied sell-out as per last year. Nice problem to have though.

This really is such a nice wine. Everyone I show it to absolutely loves it. Without a doubt one of the best Aussie rosés for the price.

I can offer it for $24 a bottle. Go to new vintage
---

Yves Cuilleron Sybel Rhone Valley 2015

Yves Cuilleron is one of the leading winemakers of the northern Rhône and I've offered his red and white wines before. He's not a household name like Guigal but still a"superstar of the northern Rhône," The Wine Doctor.

Wine Spectator said Cuilleron"continues to assert himself as one of the northern Rhône's most dynamic vignerons… the leader of Condrieu's new generation of winemakers."

"In the space of a decade, Yves Cuilleron has established himself as one of the leading lights of France's northern Rhône." The Wine Anorak.

Cuilleron is based in the village of Chavanay, just south of the town of Condrieu. It's also the most northern village in the St Joseph appellation. The 59ha estate is spread across some of the most prestigious appellations of the Northern Rhône, with vineyards in Condrieu, Saint-Joseph (red), Saint-Joseph (white), Côte-Rôtie, Croze-Hermitage, Cornas and Saint-Péray. He also has a substantial holding of vineyards (15ha) in and around the town of Chavanay.

Yves has farmed sustainably for over 20 years and in the winery prefers to use natural yeasts and avoid additions.
This rosé is made from 100% Shiraz, with the handpicked fruit sourced from non AOC parts of Chavanay. Sybel is not a district name, rather a derivation of "belle Syrah." The wine is made by bleeding off juice after just a few hours maceration with the Shiraz grapes. It's then fermented using native yeasts in temperature controlled stainless steel tanks. After ferment it's given a further 6 months in tank.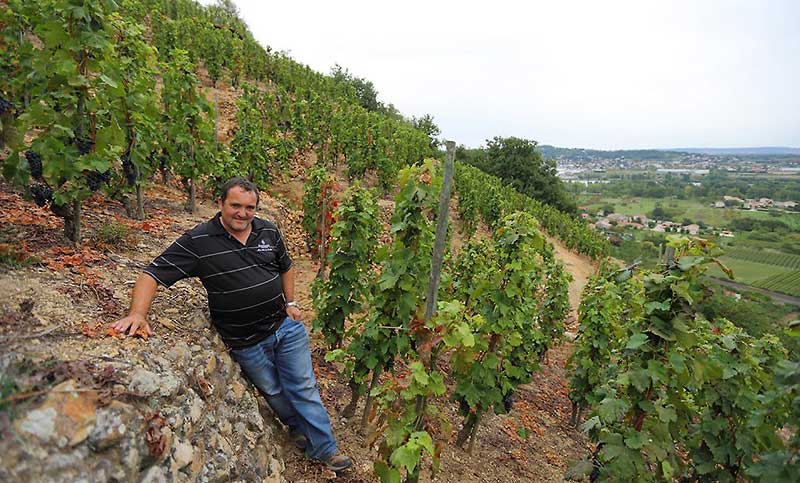 Winemaker Yves Cuilleron in his vineyards in the northern Rhône.

The wine is clear and a very attractive light vermillion (otherwise known as orangey red). On the nose there's a decidedly savoury element, with aromas of spice, pomegranate and cherry. More pomegranate, turkish delight and strawberries greet you on the palate with liquorice, cedar and spice unfolding on the finish. This might sound strange for an unoaked wine, but I've come across these seemingly contradictory 'woody' flavours in unoaked Rhône wines before. Fresh, crisp and dry, and with fine tannins and a nice astringency. Totally different to any Australian rosé you'll come across.

"Spicy raspberry and cherry aromas. Textured and lively on the palate, bitter cherry and berry skin flavours. Closes with a touch of spiciness and good length." James Johnston, World Wine Estates.

"Expressive and charming wine. Acidulous red fruits nose (strawberry, currant and sweet spices). Gourmand on the palate with a nice freshness finish." Winemaker's notes, expertly translated.

I can offer it for $24 a bottle. SOLD OUT
---

Spinifex Luxe Rosé 2017

Established in 2001 by NZ-born Peter Schell and his French-born wife Magali Gely, Spinifex is one of the most exciting and highly regarded wineries in the Barossa.

Peter is a trained oenologist (winemaker) and has made wine in Burgundy, Bordeaux, Provence, Languedoc, Switzerland and NZ, and Magali's family has been growing wine near Montpellier for over 10 generations. The couple source their fruit from a small group of dedicated growers in both the Barossa and Eden Valleys, concentrating on varieties from the south of France.

5 stars - James Halliday
Winery of the Year - 2009 Penguin Australian Wine Guide.

"… what I think is the best new-wave of small-scale Barossa wine companies to emerge at the beginning of the 21st century." Max Allen.

"Peter Schell, a New Zealander transplanted to the Barossa, is one of the stars of the region, producing composed, elegant wines from vineyards across the region." James Suckling 2015.

The couple makes a wide range of excellent wines, including several interesting white blends and some serious reds. But they also make a couple of super-duper rosés. Not surprisingly both are made in a southern French style. They do a very popular entry level rosé, which is a Grenache dominant affair, much in the style of a Cotes du Provence. But it's their top, or Luxe rosé as they call it, that grabbed my attention.
The Luxe is an unashamed homage to Bandol, a tiny appellation that sits within the vast Cotes du Provence appellation, and which for many is the pinnacle of global rosé production. Given the inspiration, it's no surprise that like Bandol, the Luxe is a Mataro (Mourvèdre) dominant blend. The wine isn't made every year (none in 2016), but in 2017 the blend was 51% Mataro (Mourvèdre), 38% Grenache and 11% Cinsault.
I had a chat with Peter last week and he told me the fruit for the wine comes from several dry-grown (ie. no irrigation) vineyards at the southern end of the Barossa, which boast an average vine age of an astounding 60 years. He emphasised the importance of fruit quality. "if you get the fruit right, the flavour right, the maturity right, it all pretty much looks after itself."Don't you love the way experts make it all sound so easy? The fruit was handpicked and cooled down prior to pressing. Time on skins was short, on average a day, with the fruit from each vineyard kept separate throughout the entire process.
The real difference with this wine though is that the juice was fully fermented in old French oak barrels. Not only that, when the ferment was complete, the wine stayed in barrel on lees (the dead yeasts cells), seeing a total time in oak of around 6 months. It's important to emphasise that the age of the oak meant no flavour was imparted to the wine, instead, Peter is looking to give a textural element to the wine.
Peter says with the Luxe he's looking for succulence, fleshiness and savoury complexity - it's important to remember to place such descriptors in the context of rosé.

"Luxe is selected from only those (rosé) parcels that have particular aromatic and textural complexity. We are drawn to sections that display what we call secondary fruit - fresh and dried flowers, herbs, spice, minerality, white and green tea-like aromatics - rather than primary fruit - fresh berry fruits etc." Peter Schell.

"Perfumed and perfectly pitched in the mouth, it is really hard to nail the descriptors, which range from grenadine and blackberry jube, to all kinds of crushed and roasted herbs. The finish is fine, fine, fine and super fresh. A wine of impressive finesse, and Schell's finest rosé to date." Bibendum Wine Co.

Try some serious Aussie rosé - a little bit of Barossa Bandol!

I can offer it for $32 a bottle. Click here to order
---
And finally the real deal. Decanter Magazine's Andrew Jefford, describes Bandol as the 'one true Grand Cru' of Provence.
While it's name its taken from the small chic seaside town of Bandol, the appellation's vineyards lie just inland. Nestled in the hills you'll find beautiful villages surrounded by vines; the deep blue waters of the Mediterranean in the distance. Here, a collection of elevated, south-facing amphitheatres capture the sun to create a unique microclimate. Bandol gets an average of 3,000 hours of sunshine a year compared to Burgundy, which gets around 2,000 hours in a good year and only 1,600 in a dim one. Despite all this southern French sun, Bandol's proximity to the Mediterranean and its persistent Mistral wind, means this warmth is tempered, ensuring coolish nights and making it ideal for ripening grapes.

Pibarnon is considered one of the benchmark rosés of France. The idyllic estate, with its amphitheatre-style setting, lies high in the mountains above the Mediterranean Bay of La Ciotat, between Marseille and Toulon. Its beautifully restored Provençal country house is surrounded by about 50 hectares of vines - stunning.

Comte Henri de Saint-Victor purchased the estate, the highest in the Bandol appellation, in 1975. He then set about reinvigorating it, restoring the house, acquiring more land and carving out terraces in the landscape to minimise erosion and maximise water absorption. With son Eric de Saint-Victor at the helm since 2000, Pibarnon continues to excel.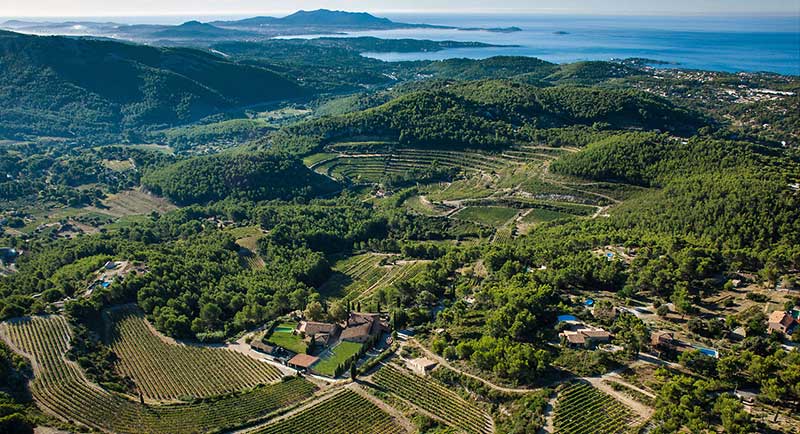 Aerial view of Chateau de Pibarnon's terraced vineyards.

"The rosé is unfailingly one of the most savory in Provence. The red is robust when young but develops a range of subtle, typically Mediterranean aromas, together with very fine tannins that places it amongst the greatest of all the French wines." Bettane and Desseauve's Guide to the Greatest Wine of France 2011 (Big cheese French critics).

"Two Stars - producteur de très grande qualité," (the equal highest rated producer in Bandol). Le Classement des Meilleurs Vins de France. (Big cheese French classification).

"The wines are gorgeous and offer classic examples of the appellation." Robert Parker, Feb 2014.

"Chateau Pibarnon is one of Bandol's best estates. All (wines) are of very good to outstanding quality and are some of Bandol's most well-crafted bottlings." Wine Spectator.
The 2015 rosé is a blend of 65% Mourvèdre and 35% Cinsault. It's fermented using natural yeasts and sees no oak.
"The 2015 is something very special. The texture silky and round, yet the generosity is shot through with spicy, savoury freshness that reflects the cool, limestone soils and the altitude of the vines here. Expect a beautifully perfumed wine with all kinds of wild berry, stone fruit and floral aromas and flavours as well as crystalline hints of crushed limestone, fresh picked provençal herbs and star anise. Pulpy texture, intensity, freshness and savoury drive. Don't expect the bottle to last long! Buy what you can for drinking over summer." Bibendum Wine Co.

"Vivid orange-pink. Displays vibrant, sharply focused scents of fresh red berries, blood orange and pungent flowers, joined in the glass by a mineral nuance. Silky and dry in the mouth, offering energetic strawberry and orange zest flavors that flesh out slowly with air. Shows excellent clarity and stony cut on the finish and leaves suggestions of berry skin and honeysuckle behind." 92 points, Josh Reynolds, vinous.com, May 2016 (a big score for a rosé).

Taste the best Bandol has to offer at the superb Mr Wong, for $135 a bottle.

I can offer it for $65 a bottle. Click here for new vintage
---

And remember we've got all your fizz options covered:
Who doesn't love a bit of Prosecco from a great producer?
Canella Prosecco 2015 - $27
Bollinger bubbles from the Loire:
Langlois-Chateau Crémant de Loire Blanc Brut NV - $29
Langlois-Chateau Crémant de Loire Rosé Brut NV - $31
For a bit of New World brilliance check out this multi award-winning estate from Central Otago, NZ.
Akarua Rosé - $35
Akarua Brut NV - $35
Akarua Vintage 2011 - $53

But if only Champagne will do, this beautifully refined yet complex drop should suffice.
Thienot NV - $65
---
Wines from my past offers are still available here