Brunello di Montalcino, often referred to simply as Brunello, is an Italian wine term you may have heard of but not know exactly what it is. I find it easily confused with Barolo, Montepulciano, Vino Nobile di Montepulciano and Montepulciano d'Abruzzo, but believe me, Brunello is worth singling out. "A great Brunello is a wine of incomparible refinement, power and ageworthiness." Decanter Magazine, May 2014.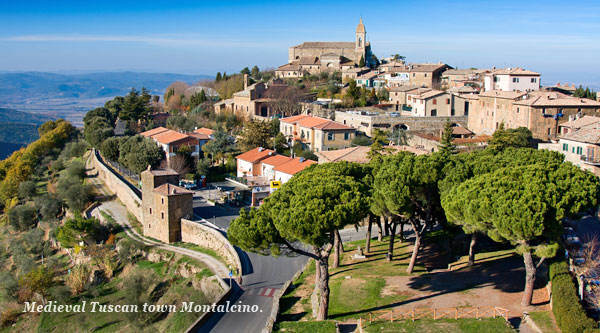 In 1999, prestigious US magazine Wine Spectator ran an article proposing the ultimate mixed dozen of the 20th century. Alongside several anticipated gems such as 1900 Château Margaux, 1921 Château d'Yquem, 1937 Domaine de la Romanée-Conti, 1945 Château Mouton Rothschild and 1955 Penfolds Grange was a 1955 Brunello from the Biondi-Santi estate - it was the only Italian wine included.

Brunello is one of Italy's most prestigious and expensive wines and, along with Barolo, is often referred to as the 'King of Italian Wines.' It's a red wine originating from the vineyards around Montalcino, a stunning medieval hilltop town located about 110km south of Florence, in Tuscany.

While wine has been made in this area for hundreds of years, it was not until 1888 that it was bottled under the specific name of Brunello di Montalcino. Brunello was recognised as a DOC (appellation) in 1966 soon after the scheme was first implemented and was upgraded to be one of the first five DOCGs, the highest level in the Italian wine classification system, in 1980 - the other 4 were Barolo, Barbaresco, Chianti and Vino Nobile di Montalcino. The region has grown from a mere 65ha in 1960 to 3,500 ha today - still tiny compared to Bordeaux at around 120,000 ha.

The term Brunello was the name traditionally given to the grape variety grown around Montalcino. These days we know it to be a strainof Sangiovese, Italy's most widely planted variety. Aside from Brunello, Sangiovese is responsible for several of Tuscany's most notable wines; Chianti, Vino Nobile di Montepulciano and most of the 'Super Tuscans.' But it's in Brunello that Sangiovese finds its most famous expression, producing the richest, fullest and boldest example of the variety. The reason for this is the climate. Even though Brunello is fairly close to Chianti, it's slightly warmer and drier than most of Chianti during the day and with the sea only 25km away, Brunello also enjoys a cool maritime breeze which ensures excellent ventilation and cooler nights. This diurnal variation means a long growing season and maximum ripeness.

Brunello is characterised by firm acidity and moderate to high tannin. The best examples have "luscious, bold, rich black and red fruit flavours."Wine Spectator Magazine. More specifically you'll find flavours of blackberry, cherry, raspberry, chocolate aged balsamic and minerals - ageing to fig, sweet tobacco, espresso and leather. If stored well, it'll cellar for between 10-30 years. As the Oxford Companion to Wine notes; "Brunello is one of Italy's most noble and long-lived wines."

In terms of DOCG requirements, Brunello must be made from 100% Sangiovese, age for a minimum of 2 years in oak and minimum of 4 months (6 for Riserva) in bottle. It cannot be released until 5 years (6 years for Riserva) after the date of harvest. Interestingly, it can also only be sold in Bordeaux shaped bottles.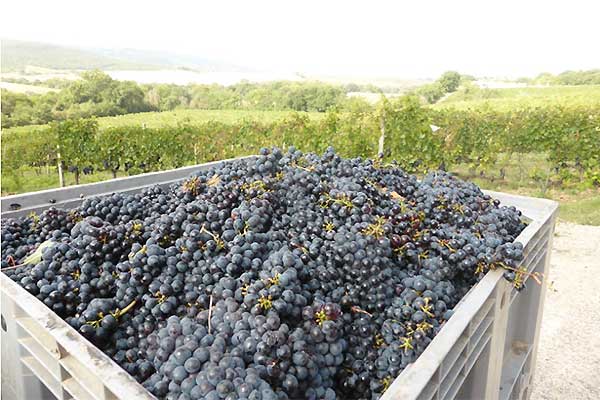 You might be familiar with the hoopla surrounding the 2010 vintage in several of Europe's regions. Red Bordeaux, Rhône and Barolo have all been released to much fanfare and finally it's time for Brunello, the last of the important 2010 wines to come to market. Much has been written about the stunning 2010 vintage in Brunello. Here are just a few of the superlatives from a few of the notables:
"A vintage of a lifetime! ...the greatest modern vintage of Italy's most famous red wine region. Never have the wines been so profound in quality, character, and quantity from the best hillside vineyards of Montalcino. They represent a new paradigm for Tuscany's unique Sangiovese-based red."James Suckling, Dec 2014.
"The near-perfect growing conditions in 2010 have resulted in one of the finest vintages in a generation." Decanter, Feb 2015.
"The 2010 vintage is iconic for Montalcino…" Monica Larner, The Wine Advocate, Feb 2015.
There are several good Brunello producers but there's one that is a true force of nature. Not only are her wines top notch, but by the region's lofty price standards, fairly priced, especially for the magnificent 2010 vintage.
---
Donatella Cinelli Colombini
The Colombini family is one of the most influential in the Brunello region. They've had significant holdings in the area since 1352 and were responsible for the magnificent Poggio alle Mura castle, now known as the Castello Banfi. In 1790 the family established Fattorai dei Barbi, one of the original houses of Brunello, which is still regarded today as one of the region's most significant producers. Donatella's mother, Francesca Cinelli Colombini ran Barbi with great success from the 1960s until her retirement in the late 1990s. While Donatella and her brother Stefano both worked in the estate, it was Stefano who inherited the position and took the helm as 20th generation heir.
It was this frustrating turn of events, coupled with Donatella's determined and dynamic character, that led to her setting up her own estate. In 1998, with some inherited land, she established 2 wineries, Fattorai del Colle and Casato Prime Donne. And it's Casato Prime Donne that's of interest to us.
Located in the hills of Montalcino, about a 10 min drive north of the town, Casato Prime Donne covers 40ha of which 16ha are ideally located vineyards, planted entirely with Sangiovese. In 2001 a new winery was built within a historic stone building with the aim of combining traditional techniques and modern technology.
Donatella's first-hand experience with the traditional and male dominated Italian wine industry has led her to become somewhat of a champion for women in the industry. Casato Prime Donne is unique in Italy in that it is staffed entirely by women. Not even Donatella's husband is involved - although her daughter Violante definitely is.
Donatella has become a major force in the Italian wine industry. She's been recognised for her winemaking skills, her formidable business and marketing acumen, as well as her highly successful wine tourism initiatives. Of her many successes, perhaps her best known initiative is 'Cantine Aperte,' a nationwide winery open day, which has become one of the most successful wine tourism projects in Italy. More recently, in 2012 she received the International VinItaly Award and in 2014 received an 'Order of Merit of the Italian Republic' for her professional contribution to winemaking.
There's no doubt Donatella knows her stuff and her wines clearly reflect this. Not only are they recognised for their quality but I find they possess real approachability. With 5 years age, these current releases are already looking formidable and are a must for any long term cellar.
"... this batch of new releases is some of her best work yet." Monica Larner, The Wine Advocate, #217 Feb 2015.
---

1. Donatella Cinelli Colombini Brunello di Montalcino 2010
This wine comes from six small vineyards surrounding a stone edifice built by Donatella's ancestors in the 16th century. Fermented in stainless steel temperature controlled vats, the wine was then aged in large oak casks for 2 years.

Donatella has engaged the services of leading French oenologist, Valerie Lavigne, which has seen a move away from new barriques (225L) to larger, older wood. This stems from a belief that oak should not be overpowering. "Large casks are much better than barriques at preserving Sangiovese's aromas, thereby avoiding drying out the tannins and disturbing a wine's balance."April 2011, decanterdotcom

This wine makes clear what all the 2010 Brunello fuss is about. Yum.

"Plum and black cherry flavours are ripe and augmented by leather, spice and tobacco notes. The initial sweetness gives way to solid tannins, but this displays energy and resonance on the long finish, with a lasting impression of sweet fruit. Best from 2017 through 2033." 93 points, Wine Spectator, June 30 2015.

"… makes a big and pleasurable impact on all the senses. First, it hits the nose with a wonderful medley of ripe, dark fruit, spice, tar, tobacco, leather and dried herbs. The wine is impeccably made and the quality of fruit is outstanding… Fleshy oak tones of cinnamon and clove round off the finish. It is extremely soft and smooth to the touch. This wine can be enjoyed in the near or long-term." 94 points, The Wine Advocate, #217 Feb 2015.

You really should have a few of these in your cellar.

I can offer it for $99 a bottle. (Limited stock) SOLD OUT
---

2. Donatella Cinelli Colombini Brunello di Montalcino Progetto 'Prime Donne' 2010
When it comes to the selection process for top cuvées, most tasting panels in Italy are made up of men. So of course Donatella decided to select an all-female panel of respected wine experts. The four are currently:
- Rosemary George (UK Master of Wine)
- Astrid Schwarz (German wine expert)
- Daniela Scrobogna (one of Italy's best sommeliers)
- Marina Thompson (Italo-American wine PR expert)
They meet at least twice a year to select a traditional, but very special Brunello, which then becomes the Prime Donne (meaning 'First Women' in Italian). Donatella sees this project as a demonstration of women's formidable talent as winemakers.
The evidence borne out by numerous studies, and I have to say that of my own experience, is that women do indeed have more sensitive palates than men. In a recent interview Donatella explains: "I started the Prime Donne project as a way to show that women's tastes and preferences are important for the wine industry," she says. "I also wanted to prove to everybody that you need brains, not muscles, to make good wines."
The wine is made in a similar way to the standard Brunello but aged for two and a half years (instead of two) in large oak casks. The result is an absolutely delicious wine. Magic.
"Features terrific fruit, with forthcoming aromas and flavors of cherry, raspberry and plum, accented by licorice, leather and tobacco details that add depth. Well-structured, but stays balanced and precise, adding mineral and woodsy elements on the finish. Excellent length. Best from 2019 through 2035."96 points, Wine Spectator, 'Highly Recommended,' June 30 2015.
All the estate's wines are hard to find in Australia, especially this one. Go on.
I can offer it for $115 a bottle (Limited stock) SOLD OUT
---
Glossary:
Barolo is a red wine made from the Nebbiolo grape. It's also the name of the area in Piedmont in north-western Italy from which the wine comes.
Montepulciano is another hilltop town in Tuscany around which Sangiovese is grown. Here it is made into a red wine known as Vino Nobile di Montepulciano.
Montepulciano is also the name of a red grape variety (which is not used to make the wine around Montepulciano). The best-known expression of the variety is a wine known as Montepulciano d'Abruzzo, which is made in the Abruzzo region in east central Italy.
All clear now?
---
Casanova di Neri Brun di Montalcino Cerretalto 2007 available here