For the last few years I've heard about the remarkable Cloudburst Wines, but it's only recently that I've managed to get my hands on them. These wines have a great story and are the perfect gift for the wine buff in your life (ie. you).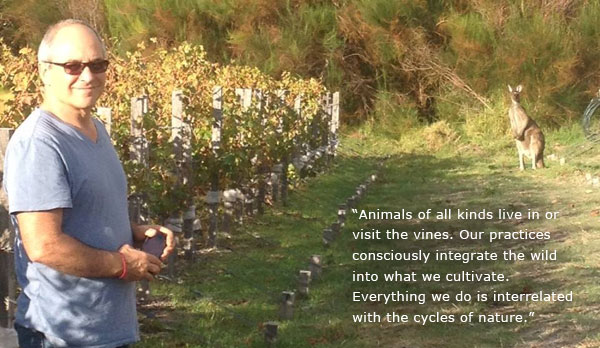 Until just over 10 years ago Will Berliner was a quietly spoken filmmaker living in New York with a degree in ecological biology from Yale and a deep love of organic gardening. But in 2004 the yearning of his Australian wife to return home lead to the couple purchasing a stunning 250 acre piece of wilderness just outside the Leeuwin-Naturaliste National Park in Margaret River, WA.

The initial plan to grow avocados was thwarted when a local agronomist recognised the potential of the site for viticulture. So without any prior experience with grapes or wine, they took the advice and their journey began.

Will enrolled at the University of California Davis, one of the world's most highly regarded viticultural & winemaking institutions, and planted his first grapes in 2005. He made his first wines from the 2010 vintage and entered them into the 2013 Margaret River Showwhere he came away with no less than Best Cabernet, Best Single Vineyard Red and Best Red of the Show. Everyone was stunned and not just at the outstanding results… the wines were priced at $250 a bottle.

5 stars, James Halliday.

"An extraordinary debut for a new vineyard."-Max Allen (the Australian).

"A cloud has burst, a star is born."-Huon Hooke, SMH Good Food, March 2014.

"I can honestly state that I have never, ever tasted a first group of releases from any winery – Australian or from elsewhere – at this level of quality."-Jeremy Oliver, July 2015.

Mayhem ensued and to add to the intrigue, the wines weren't even available in Australia. At this early stage Will didn't have the necessary licence to sell his wines domestically, so they were all shipped to the US where they'd been snapped up by some of its hottest restaurants, including Eleven Madison Park and Tribeca Grill in Manhattan, Alinea in Chicago and Spago in Los Angeles.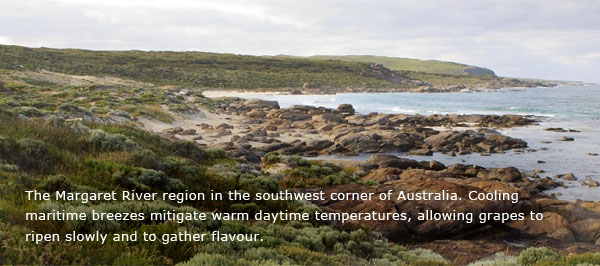 The success of Cloudburst lies in Will's connection to his vineyard. To appreciate the depth of this you need to go back a long way. James Halliday notes; "Will explains he had organic gardens since his teen years, has kept bees for decades, and been the steward of forests he owns in the US, studying related subjects at university level." The Cloudburst vineyard is a manifestation of Will's wider passion for biodiversity and he tends it, albeit on a larger scale, as he would an organic garden.

It helps that the vineyard is small, about 1.2 ha, of which only half is currently mature enough to produce fruit. The vines are planted very close together, as in Bordeaux and Burgundy, and each vine is low yielding. Will has planted Chardonnay and Cabernet, from cuttings from Moss Wood and Cullen, as well as a tiny amount of Malbec.

As this is the first time the site has been farmed, there are no traces of chemicals in the soil and that's how Will wants to keep it. Even the standard arsenic treated pine posts used to support the vines were eschewed in favour of local Wandoo timber, which is naturally termite proof. In the vineyard only milk and sulphur sprays are used and Will cuts out diseased berries by hand. The vineyard is not irrigated and the soil isn't cultivated traditionally. As in nature, Will prefers to allow a layer of humus (decaying leaves and twigs etc.) to build up, eventually mulching naturally back into the soil. No machinery is used in the vineyard - everything is done by hand, even the weeding! Will notes; "In January, we did 500 hours of weeding. If you're paying Australian wages, this doesn't make sense. I could have spent about $70 on Roundup, but as soon as you start killing one area you affect another area. That (the hand-weeding) is the kind of effort that goes into what you're tasting." - SMH Good Food, Huon Hooke, March 2014.
Even at such lofty prices, the wines don't come close to covering the cost of such fastidiousness. So Will does most of the hard labour himself.
Despite Cloudburst being the embodiment of 'great wine being made in the vineyard', mention must also be made of Stuart Watson of nearby Woodland Estate, under whose watchful eye and in whose winery Will makes his wines. As you would expect, the ferments are carried out using naturally occurring yeasts, with no additions or adjustments, and unlike many Margaret River Cabernets, the use of oak is toned down.
Unfortunately these wines are made in miniscule quantities but Will has kindly let me have 3 vintages of his Cabernet. These extraordinary, pure and elegant expressions of cabernet, demonstrate why Margaret River is internationally renowned for the variety.

It will be a happy Christmas if you find a bottle of this in your stocking. Worth dropping a hint.
---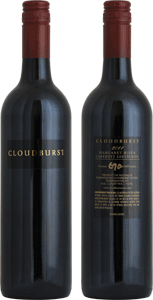 1. Cloudburst Cabernet 2011
"The very deep purple-black colored 2011 Cloudburst Cabernet Sauvignon flaunts a pronounced nose of creme de cassis, plum preserves, violets and lavender with touches of cedar, cinnamon stick, cloves and menthol. The richly fruited, medium to full-bodied palate is packed with black berry and baking spice goodness (though the oak is still poking through slightly). The fruit is superbly structured with firm, ripe, grainy tannins and a lively acid before finishing with very good persistence. Drink it now to 2025+. Wow!" 93+ points, Wine Advocate #214, Aug 2014 - Lisa Perrotti-Brown.
"Beautiful perfume – all seaweed, dried herbs and violet – then dark fruit, dark chocolate and some coffee, vanilla and spice. Medium bodied and all just so in the mouth – depth of fruit, firm but well rounded chewy tannin, perfect acidity – then flavours of dark chocolate and fresh dark berried fruit carry it long. Again, a regal sort of air, yet relaxed and affable – to walk with kings, and not lose the common touch. Clearly the product of a top Cabernet site (and winemaker). Superb." 96 points, The Wine Front - Gary Walsh.

Top rated red wine, 96 points.100 Top New Release Wines (June/July 2014) Gourmet traveller Wine.

I can offer it for $250 a bottle - 12 bottles available. Available on request
---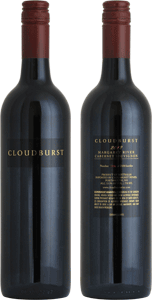 2. Cloudburst Cabernet 2012
"The 2012 is the third outstanding Cabernet from this new producer, proving that the initial quality was no fluke. It shows a lighter, sleeker, more elegant side of Australian wine. Vibrant and polished, layering the red berry, pomegranate and spice flavors on a velvety texture. Comes together on a seamless finish. This has depth, elegance and impressive length. Drink now through 2025." 92 points, Wine Spectator.
"Rich blueberry and ripe blackcurrant, subtle cedar oak, aniseed and floral perfume. Medium bodied, juicy redcurrant flavour and fresh acidity, slick of open weave tannin, long finish. Certainly in an early stage of its evolution. Sophisticated, quietly spoken style." 94 points, The Wine Front. Gary Walsh.
"Fine scents. Perfume. Rich, dark chocolate aromas, dark berries, forest floor, musk, clove spice. Supple in the palate, some plummy depth of flavour then the blue fruits and herbal notes take over. Tannins fan and spread, acidity lifts and tightens. Effortless, clean, linear, structured. Fine wine this". 95 points, The Wine Front - Mike Bennie.
"Ritzy packaging to one side, an outstanding feature of this wine is its exceptionally supple mouthfeel. Having said that, the purity of the varietal expression lays convincing claim to being more striking than the mouthfeel. Then there is the perfection of the balance. It goes on and on." 96 points, James Halliday.
I can offer it for $295 a bottle - 12 bottles available. Click here to order
---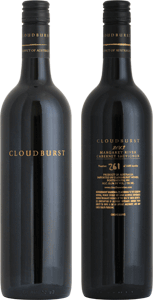 3. Cloudburst Cabernet 2013
"Pale crimson-purple; a striking black bottle with a single word on the screen-printed gold label: 'Cloudburst'. This is a very well made Margaret River cabernet, with purity and focus its watchwords; cassis and bay leaf fruit sits in a frame of firm, but not dry, tannins; has impressive length."96 points, James Halliday.
"A nervy supple and reserved cabernet of style and elegance. Its heady, deeply floral bouquet of violets, cassis, blueberries, mulberries and dark cherries is tightly backed by sweet, fine-grained new cedary/chocolate French oak, revelling undertones of dried herbs and a possible whiff of malbec. Long, fine and deeply flavoured, its pristine, polished palate is supported by a tight, powdery astringency, unfolding layers of sour-edged dark berries and plums, becoming quite savoury and mineral towards its tightly focused finish."96 points, Jeremy Oliver, July 2015.
I can offer it for $250 a bottle - 12 bottles available. Available on request