I don't know about you but I think it's time for a glass of Chianti.
Chianti is located between Florence and Sienna in the stunning Tuscan countryside and like many European wines the name refers to both region and wine. Chianti has been referred to as far back as the 13th century, but it was not until 1716 that the region was officially recognised with the identification of three specific villages: Castellina, Radda and Gaiole.
The original area, which became known as Chianti Classico, remained more or less unchanged until 1932 when it was expanded significantly and divided into several sub-regions. The greater region was expanded again in 1967 but despite the changes, Classico is still regarded as the heartland of Chianti.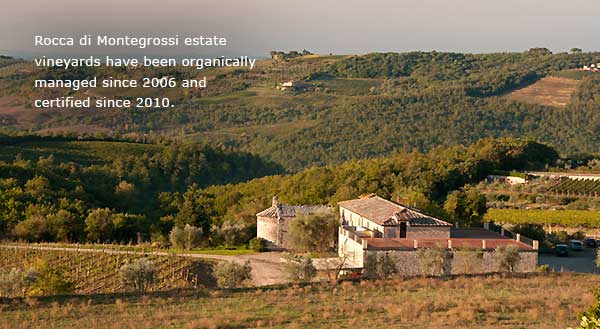 Nowdays Classico is one of 8 sub-zones within the greater Chianti region or Chianti DOCG. DOCG (Denominazione di Origine Controllata e Garantita) is the highest classification in the Italian appellation hierarchy. Of course there are several other delineations thrown into the geographical mix to further complicate matters.
In the mid-to-late 1800s, Baron Bettino Ricasoli the 2nd prime minister of Italy, also found time to create the original varietal formula for Chianti. He pegged it at 70% Sangiovese (red), 15% Canaiolo (red) and 15% Malvasi Bianca (white). There have been subsequent changes, but since 1996 it's been legal to use 80-100% Sangiovese, up to 20% Canaiolo and up to 20% of other approved red varieties (Cab Sauv, Merlot, Syrah). Despite the complexity, it's safe to think of Chianti as essentially Sangiovese.
Sangiovese is Italy's most planted variety and tends to be slow and late ripening in the vineyard. Its general characteristics are high/bright acidity and moderate to high tannin. It also tends to be lighter in colour and weight, which is why it's often blended with other varieties. Typical descriptors for Chianti include: cherry, raspberry, violets and herbs.
Rocca di Montegrossi isan estate in Chianti I admire. A few years agoI met the owner Marco Ricasoli-Firidolfi. It was a pleasure to meet him and find a man who was urbane, knowledgeable and, above all, modest.
Marco gave me an expert's insight into Chianti. He spoke of elegance, restrained power, structureand drinkability and was passionate about the effect of terroir on top Chianti. He insisted Chianti is best enjoyed with food, however he noted that wine should never be the protagonist at the table. A meal should be about conviviality and people. On a practical note, he was all for decanting Chianti, even young Chianti and prefers to serve his reds slightly cool (18˚C).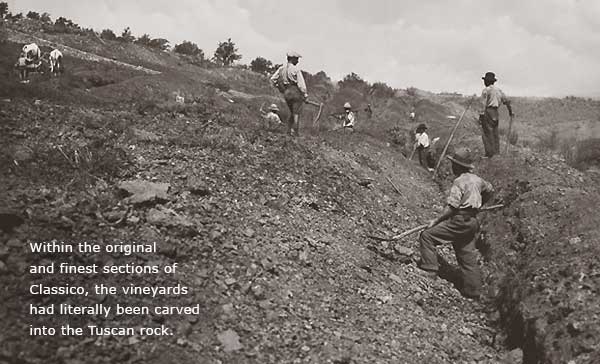 In 1994 Rocca di Montegrossi was established with the purchase of an estate 7km from Gaiole in the rocky sub-region of Monti. Within the original and finest sections of Classico, the vineyards had literally been carved into the Tuscan rock. This was a laborious (but in the end rewarding) exercise, as the vines are now rooted deep in the soil and yields are low. The Rocca di Montegrossi vineyards are meticulously tended and certified organic.The winery is run with a combination of solar panels and other renewable energy sources.
What's amazing is how, in a relatively short period of time, Rocca di Montegrossi has established itself as a producer of quality wine, recognised the world over. The reason for this is Marco's tireless drive and attention to detail, combined with pockets deep enough to fulfil his vision - he is absolutely committed.
I was lucky to recently taste Marco's wines once again and was reminded just how good they are.
---

1. Rocca di Montegrossi Chianti Classico 2013
This is the estate's flagship wine and the 2013 vintage is a blend of 88% Sangiovese, 8% Canaiolo and 4% Colorino. Aged for 15 months in French oak, it was then placed in bottle, unfiltered, for another 12 months prior to release. The wine is certified organic.
Marco showed some older examples to support to his assurance that it could be cellared for up to 20 years. I never think of entry level Chianti as a cellaring proposition, so this was a light bulb moment for me! When you consider this wine will easily go for over a decade - it's a bargain.
It has the signature ruby colour of Sangiovese and smells of berries and cherries. In the mouth it's all about structure. Chianti is a mid-weight wine that's built on acid and tannin. This is what gives the wine the backbone to live so long and what makes it so good with food. Of course you can enjoy it now with its lean and savoury character and complex dark fruit flavours.
"A wine with plenty of dried cherry and citrus fruit aromas and flavours. Medium body, slightly chewy tannins and a fresh finish. How Chianti Classico should be. Drink or hold." James Suckling, 91 points.
It's hard to believe a wine of this quality is their standard Chianti Classico, produced year in, year out.
I can offer it for $44 a bottle. SOLD OUT
---
Marco makes two special wines only in vintages he considers outstanding, the 'San Marcellino' and the 'Geremia'. Luckily I've been able to get hold of both of these from the outstanding 2010 vintage, which was exceptional across many regions of Italy and France.
The Wine Advocate rated the 2010 Chianti Classico vintage 96 points. Only 2 other vintages since 1970 have been awarded the same score - 2006 and 2004. No vintages have been awarded a higher rating.
---

2. Rocca di Montegrossi Chianti Classico San Marcellino 2010
The fruit for this 'Gran Selezione' is sourced from the 'San Marcellino' vineyard, so named because it surrounds the Church of San Marcellino in Monti.
The wine is made from 95% Sangiovese and 5%Pugnitello (little fist), a very rare and low yielding native variety that adds intensity to the wine. The fruit is hand harvested before being fermented with indigenous yeasts and aged for 28 months in a combination of French barriques (225L) and tonneaux (500L). A combination of oak ages was also used; 20% new, 10% two-year-old, and 70% three-year-old. The wine is certified organic.
This wine is a joy to drink now, it's already softened with a few years' age and you can really see the step up in quality. There's more of everything: it's deeper, darker, denser and more complex than the standard Classico. There's fuller fruit and that incredible structure. If you do want to hold onto it though, Marco is confident it will age for 20-25 years (if cellared well of course).
"Rocca di Montegrossi's 2010 Chianti Classico Vigneto San Marcellino is magnificent. Sweet herbs, leather, plums, black cherries and cedar are some of the many notes that take shape as this textured, vibrant Sangiovese/Pugnitello blend shows off its pedigree. A wine of distinction and total class, the San Marcellino is gorgeous today." Antonio Galloni, Vinous, 93+ points.
"Rich black cherry and plum flavours are augmented by licorice, leather and autumn leaves in this forceful red. Balanced, building to a long, slightly chewy aftertaste that channels the fruit, earth and mineral components. Drink now through 2023." Wine Spectator, 93 points.
"A rich and structured Chianti Classico with dried berry, toasted oak and mahogany character. Full-bodied, chewy and flavorful. Serious." James Suckling, 92 points.
"… a dark and firmly structured Chianti Classico with flavours of toasted pine nuts, black tea and rich spice accents from 28 months in French barriques and casks. Another two or three years in the cellar will bring all of the elements into harmony, but this is delicious now for pouring with cinghiali ragu." (Reminds me of Posh Nosh) Stephanie Johnson, Wine & Spirits Magazine, 93 points.
I can offer it for $100 a bottle. SOLD OUT
---

3. Rocca di Montegrossi Geremia IGT Toscana 2010
A small area of the 'Rocca' vineyards is comprised of clay, which doesn't really suit Sangiovese. A variety that thrives in clay is Merlot and luckily Marco is a big fan. With this wine he shows that not all Merlot needs to be in the Bordeaux mould, which can tend toward a lean, green, stemmy style.
The wine is 75% Merlot and 25% Cabernet and so can't be labelled as Chianti, hence the generic IGT Toscana designation. Like the 'San Marcellino', this wine is only made in great years. The fruit is hand-picked and after fermentation is aged for 23 months in barriques (225L) and tonneaux (500L), 15% new, 25% one-year-old, and 60% two-year-old. Once again the wine is certified organic.
What an impressive wine this is. It's dark and generous. In the mouth it's round, ripe and very smooth, and nothing like the leaner style of Chianti. It's velvety, rich and plump, but has the acidity to balance it perfectly. This is a really beautiful wine.
"The 2010 Geremia, Rocca di Montegrossi's Merlot/Cabernet Sauvignon blend, is utterly magnificent. Lavender, plums, cloves and violets literally jump from the glass. The flavours are bright, focused and vibrant to the core, all with a stunning sense of energy and pure class. The 2010 looks to have a very bright future. What a gorgeous wine this is." Antonio Galloni, Vinous (ex Wine Advocate), 95+ points.
"Dark, concentrated and tannic, this red is extracted, offering a core of sweet fruit and pure black cherry and blackberry flavours that linger on the tough finish, with a salty aftertaste. For fans of the style. Merlot and Cabernet Sauvignon. Best from 2017 through 2030." Wine Spectator, 94 points.
To get a wine of similar quality and cellaring potential from Bordeaux, you'd pay double this. Unfortunately stock is limited, so if you're interested please get in quickly.
I can offer it for $100 a bottle.

---
Rocca di Montegrossi Vin Santo del Chianti Classico
Vin Santo means 'holy wine' and this was nothing short of an epiphany for me. I've always disliked Vin Santo... now I get it. This is simply one of the best Vin Santos around.
I looked at the price and winced. But as I learnt more about the wine, my point of view changed dramatically. The one statistic that stuck in my mind was that for this wine, 100kg of grapes yields about 5-8L of wine. Consider that average yields on table wine are around 70L - incredible! The wine is made from 95% Malvasia Bianca and 5% Canaiolo. The bunches are hand-picked and then hung on nets in a well ventilated room to await the onset of 'noble rot' (botrytis cinerea). The individual grapes are inspected regularly and removed literally one by one when deemed ready. The wines are fermented very slowly due to the high sugar levels and aged for about 6 years in barrel.
The wine itself is nothing short of overwhelming. It's exotic, luscious, sweet, and incredibly complex. I was amazed at the high level of residual sugar (387g/L) as it finishes so fresh and clean. Savour it a glass at a time, as it will keep in the fridge for up to 3 months - how good is that? I can't see it lasting that long though.
This is handmade, traditional winemaking in the extreme and commercial insanity. Imagine what it actually costs to produce this stuff. Marco readily admits it's his great love and not a money-spinner. Not surprisingly, he only makes a minuscule amount - I think 18 bottles of the 2006 made it to Australia. This is an experience money usually can't buy.
---

4. Rocca di Montegrossi Vin Santo del Chianti Classico 2004 (375ml)
"Like nectar, this is thick and pure, yet almost weightless as it layers the apricot, honey and burnt molasses flavours effortlessly from start to finish. Shows amazing harmony, and the flavours last long after there is no liquid on the palate. Drink now through 2025." Wine Spectator, 98 points.
"It is a huge wine bursting with dried figs, molasses, burnt sugar, spices and dried flowers, all of which come together in a dense, full-throttle style. Expressive aromatics are woven throughout which keep the wine fresh and vibrant." Robert Parker's The Wine Advocate, 94 points.
I can offer it for $220 a bottle (375ml).
SOLD OUT

---

5. Rocca di Montegrossi Vin Santo del Chianti Classico 2006 (375ml)
"Aromas and flavours of molasses, Muscat raisin and caramel are the hallmarks of this sweet, unctuous dessert while. The finish is creamy and resonant, showing freshness and harmony. Drink now through 2024." Wine Spectator, 95 points.
"Dark coloured amber. So much dried, sweet cherries. Full-bodied and very sweet with syrup, yet fresh and amazing. A unique sweet wine. Drink forever. A joy to taste by the tea spoon." James Suckling, 95 points.
I can offer it for $199 a bottle (375ml). Limited stock
SOLD OUT