I've recently discovered Medhurst Wines in the Yarra Valley. This impressive estate is a study in things done properly.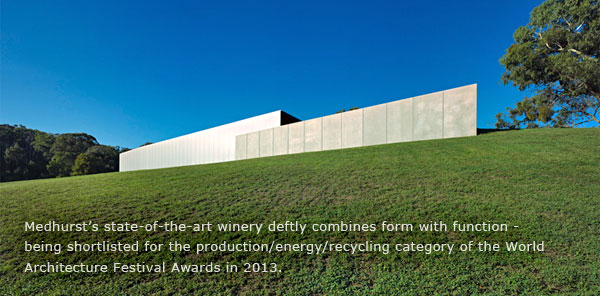 I visited the winery a few months ago and was won over by the quality of the wines. But to make sure I wasn't being influenced by the beautiful surrounds, I caught up with talented Medhurst winemaker Simon Steele when he visited Sydney a few weeks ago. We tasted the wines together in the less picturesque surrounds of my kitchen and they still stacked up.

The well-known cool climate region of Yarra Valley is east of Melbourne and has a winemaking history dating back to the 1830s. But by the 1920s, economic depression and increased demand for fortified wine meant that vineyards had given over to cows. The late 1960s however saw a revival, with a handful of new wineries, including Warramate and Yarra Yering being established. These two estates sit side by side just north of the town of Gruyere, next to them are Coldstream Hills and the relative newcomer Medhurst. These are the only 4 wineries tucked away in this special microclimate.

For many wine drinkers, The Yarra is synonymous with Pinot and Chardonnay, but this region produces stellar examples of several varieties. In addition to excellent Chardonnay and Pinot, (Mount Mary and Coldstream Hills) it produces some of the best Cabernet in the country (Mount Mary and Yarra Yering). It also does top-notch Shiraz and good Sauvignon Blanc.

The microclimate of Gruyere exemplifies this capacity for varietal diversity. Yarra Yering produces some of the best Cabernet and Shiraz in the country (Dry Red No.1 and Dry Red No.2) and Coldstream Hills produces some of the best Pinot Noir and Chardonnay. Medhurst is clearly in a great spot to make wine.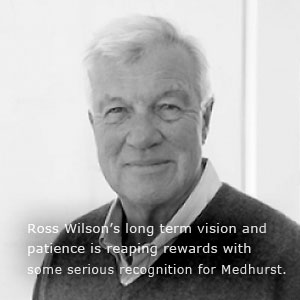 Ross and Robyn Wilson acquired Medhurst in the mid 90s, naming it after the road on which the property lies. But their connection to the area goes back much further. Robyn spent much of her childhood here and the couple were married across the road from the estate 40 years ago. Robyn's parents still live less than a kilometre away.

Ross Wilson is an energetic, larger-than-life character with a passion for surfing, sailing and cool climate reds. Ahead of his time in his deep love of elegant reds, he believed the Yarra one of the best places to make them. Originally from Melbourne, he put his degree in economics to good use as a surfboard shaper, before forging a highly successful corporate career. As CEO from 1987-1994 he transformed the modest packaging and brewing firm of SA Brewing into the wine industry leviathan Southcorp. Under his guidance the company became one of the largest wine companies in Australia, acquiring several of the country's most iconic producers including Penfolds, Lindemans and Wynns. After his stint at Southcorp, Ross made the highly publicised move to Tabcorp in Victoria, where he was CEO from 1994-2002. The float and subsequent stellar rise in the share price were well documented in the press. He is currently a board member of Wine Victoria.

Ross has a passion for wine as well as a genuine bond with, and access to excellent land. He has knowledge, experience and past successes and the drive, energy and enthusiasm to make it all happen, as well as two must haves in wine, a long-term vision and patience. He also has deep enough pockets to see it all through.

In 2000 Sauvignon Blanc, Chardonnay, Pinot Noir, Cabernet and Shiraz were planted. The years at Southcorp gave Ross access to some of the best viticulturists in the country, providing expert advice on where and how to plant. There are now 35 acres of vines.

A new winery was built in 2010-11. It's a highly practical, state-of-the-art building, perfect for small batch, high quality wine. The striking building seems to almost slice into the hillside, perfectly combining form and function. It won the Victorian Architectural Award for commercial design in 2012 as well as receiving a commendation from National Australian Institute of Architects in the same year. It was also shortlisted for the production/energy/recycling category of the World Architecture Festival Awards in 2013.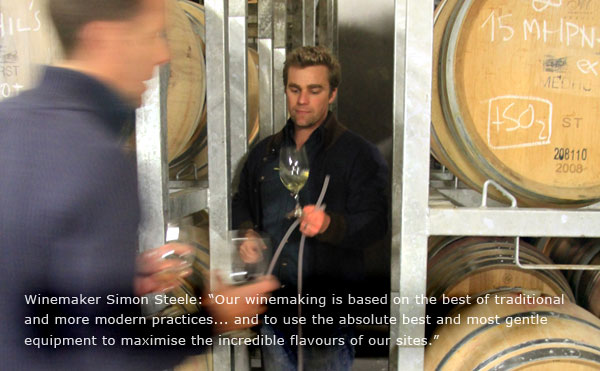 Talented winemaker Simon Steele joined Medhurst in late 2014. Simon gained his winemaking qualifications from The University of Adelaide (Roseworthy) and comes with some serious credentials. He's spent time in Burgundy, Languedoc Roussillon, Rioja, Ribera Del Duero, Margaret River, Yarra Valley, Hunter Valley and the Adelaide Hills. He's also worked for some big names in Australia including Shaw & Smith, Shadowfax, Hardy's and even Chapoutier. His most recent stint was 3 years as chief winemaker at Brokenwood, during which time the winery won many accolades. Not only is Simon a highly competent and well-respected winemaker, he's a nice guy to boot.

Ross's strategy of patiently putting the right pieces into place for long-term success is starting to pay off with some serious recognition. James Halliday rates Medhurst 5 stars and in his 2015 Wine Companion an incredible six of their current wines scored 94 points and above. A few other recent highlights include gold medals at the Sydney, Melbourne and Yarra Valley Wine Shows in 2014.

An enormous amount of care is lavished on Medhurst's wines, both in the vineyard and winery. All the fruit is grown on the estate and yields in the vineyard are super low. Picking is done entirely by hand and the wines I'm writing about today were all fermented using wild yeasts. This sort of attention and the resulting quality costs a lot of money, yet all the wines are very modestly priced. The incredible value for money is no doubt a deliberate strategy, but one that can't last indefinitely. Even at significantly higher prices I still think the wines will represent great value for money - at current prices they're a steal!

I tasted the entire current release and liked the lot of them. Here's a nice selection.
---

1. Medhurst Chardonnay 2013
This wine was wild fermented in large format French barrels (400 and 500L) of which only about 20% were new oak. Time left on lees (dead yeast cells) in these barrels and the slightest malolactic fermentation added complexity, while allowing the wine to retain its refreshing cool climate structure.
The wine is light gold in colour. Its bright citrus aromas meld with deeper oaky, baked buttery notes and dried stonefruit characters. Crisp and light on the tongue, the lovely combination of cool climate freshness with textured, nutty oak creates a nice contrast in this deftly balanced wine. Just one more mouthful...
Gold Medal - 2014 Yarra Valley Wine Show (Single Vineyard Class).

"… the bouquet and palate both have complexity, the bouquet with hints of funk, the palate with both depth and length to its stone fruit and citrus flavours, oak evident as much in the texture as the nutty cashew notes." 95 points, James Halliday.

For a wine of this quality it's an absolute bargain and no surprise that Halliday gave it his coveted Special Value Rating.

You'll find it at the very groovy Temporada restaurant in Canberra for $58 a bottle. This is a terrific place run by the same crew that operates Aubergine, the only 'two hatted' restaurant in our nation's capital. Temporada won Best Short Wine List of the Year at the SMH 2015 Good Food Awards, so finding a place on its list is quite an endorsement.
I can offer it for $30 a bottle. SOLD OUT Click here for Medhurst Estate Chardonnay
---

2. Medhurst Pinot Noir 2013

In a classic scene from the 2004 movie Sideways the protagonist Miles explains why he's so into Pinot. Often you have to spend a bit more on Pinot to get an insight into its alluring nature - not so with this wine.

The fruit was destemmed before being fermented with wild yeasts in small open vessels. After this it spent about 9 months in French oak barrels.

Crystal clear and rosey red in colour, the nose brims with cherry, almond and violet aromas. And on the palate, more delicious cherries – sweet, plump and juicy, but with subtle notes of liquorice and cedar. Firm acidity and fine tannins tie it together for a smooth, dry finish. Very silky and very delicious.

"Alive with bright cherried fruit but sordid and undergrowthy to boot. This wine will please a lot of folks. Spice and foresty notes pop their heads up too, though a gentle slide of creamy oak keeps all the various components running smoothly." 94 points, James Halliday.

97 points - 2014 Royal Melbourne Wine Show, Gold Medal, Best Pinot Noir Class.
I can offer it for $35 a bottle. SOLD OUT Click here for Medhurst Yarra Valley Pinot Noir 2019
---

3. Medhurst Wines Reserve Cabernet Sauvignon 2012
This is the first vintage of the Medhurst Reserve Cabernet, made in exceptional years, and as Campbell Mattinson of The Wine Front notes; "2012 was a very good Cabernet year in the Yarra."
For this wine the very best fruit was selected and fermented, after which there was an extended period of maceration to soften and refine the tannins. There was enough wine to fill just two barriques (225L each), one of which was new French oak, the other two-year old. In the end a mere 45 dozen were made.
This is why the Yarra is considered the best cool climate Cabernet region in Australia. I love this style of wine; mid-weight and elegant - it's lean and intense with firm but fine-grained tannins. You'll find classic cool climate Cabernet characters of cassis and chocolate melding with hints of fennel and cedar.
"Dark cherry and plums, milk chocolate, aniseed and tobacco with light spicy pencilly oak. Medium bodied, supple, smooth and subdued, with ripe fine grained tannin, a whisper of cool acidity, and freshness and redcurrant bobbing up on its long finish. All just so. Great to see a 'reserve wine' that's not shouty or trying too hard."
 93 points, Gary Walsh, The Wine Front.
If stored well, this has 10-20 years of cellaring in it. You'll be hard pressed to find another Yarra Cabernet of this quality at this price.
I can offer it for $59 a bottle (limited). Sold Out
---

4. Medhurst Reserve Shiraz 2012
This is the first release of the Medhurst Reserve Shiraz and it's clear that they really do wait for everything to be perfect before releasing under this special label. The very best Shiraz fruit was selected, amounting to just one French puncheon (500L), about 50 cases.
This is classic cool climate Shiraz; lean and elegant, yet smooth, complex and focussed. If you're a fan of cool climate Shiraz you'll love this stylish, tightly bound and absolutely delicious wine.
"Cool climate shiraz, dressed to kill. This is a wine of polish, complexity, sinewy tannin and serious persistence, all within an inherently savoury context. It tastes of walnuts, red and black cherries, smoky oak and sweet fresh herbs, the combination at once sophisticated and delicious. It's the first release of a Reserve Shiraz for Medhurst; the bar has been set at the top." 96 points, James Halliday.
And just to confirm what a 'must have' this is, Halliday also gave it a Special Value Rating, which is virtually unheard of for a wine of this rating and price.
I wish they made more of it. What a wonderful wine.
I can offer it for $59 a bottle (limited). Sold Out