The vast and sunny Southern Rhône is typified by olive groves, lavender, herbal scrub and of course vines. Centred around the towns of Orange and Avignon, it's a great place to find affordable drinking.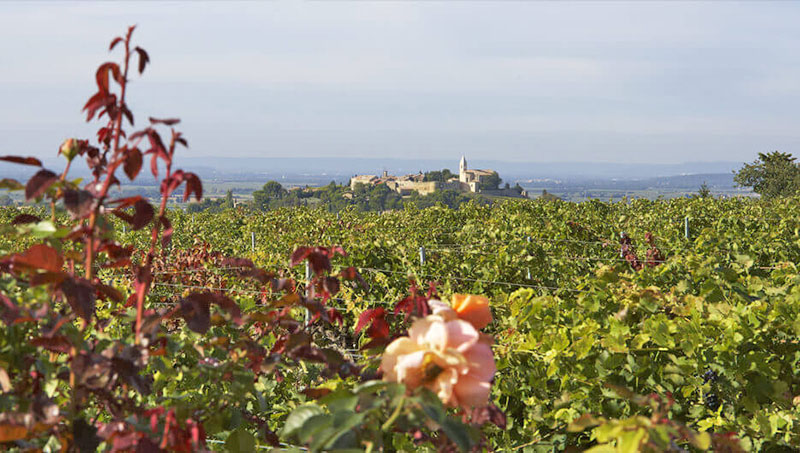 Most of Cairanne's buildings in the 'old village' date from the eighteenth century, except the old ramparts which date back to the 12th century when first the Knights Templar and then the Knights Hospitaller lived in the village.
The catch-all Côtes du Rhône appellation theoretically covers wine from anywhere within the region. In reality though, nearly all wine labelled Côtes du Rhône comes from the Southern Rhône.
The 3 Côtes du Rhône classifications (AOCs) are:
• Cotes du Rhône
• Côtes du Rhône Villages
• Côtes du Rhône Villages (with a named village)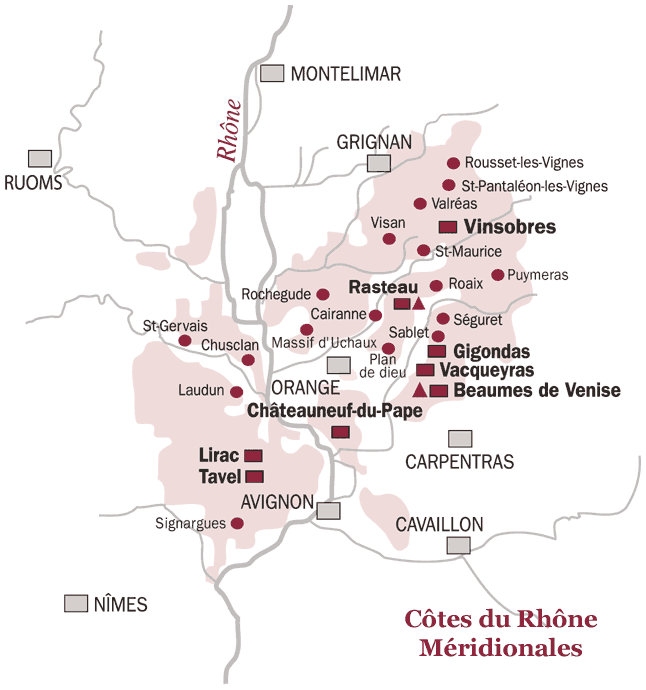 Côtes du Rhône AOC covers about 32,000 hectares and permits the use of 21 grape varieties, both red and white, however the majority of wines (89%) are red, made from Genache, Syrah and Mourvèdre. Since 1996, red Côtes du Rhône must contain at least 40% grenache but (isn't there always an exception?) wines made in the northern Rhône, where Syrah is the favoured grape, are exempt from this rule.
Côtes du Rhône Villages AOC is a step up from straight Côtes du Rhône, with about 95 villages identified as superior. The appellation covers only about one tenth of the area of standard Côtes du Rhône. It allows 9 grape varieties and requires higher minimum alcohol levels and lower yields in the vineyards. The wines tend to be more full-bodied and spicy in style than standard CDR.
With Côtes du Rhône Villages AOC (with a named village), 18 villages have been singled out for the superior quality of their wines and so are allowed to add their actual name to the label. This is a distinct step up in quality, with requirements regarding production more stringent still. The wines offer more depth and flavour, and may also have been aged for a few years.
Around 90% of Côtes du Rhône is red and while several grape varieties are permitted, the majority of wines are made from Grenache, Syrah and Mourvèdre.
The Côtes du Rhône concept is well-known in Australia with popular GSM blends (Grenache, Shiraz, Mourvèdre) produced in the Barossa and McLaren Vale. While it's tempting to put these ripe, generous and powerful wines in the same basket, remember how much warmer South Australia is than the south of France. The latitude of Avignon, in the Southern Rhône, is the southern hemisphere equivalent of just below Tasmania!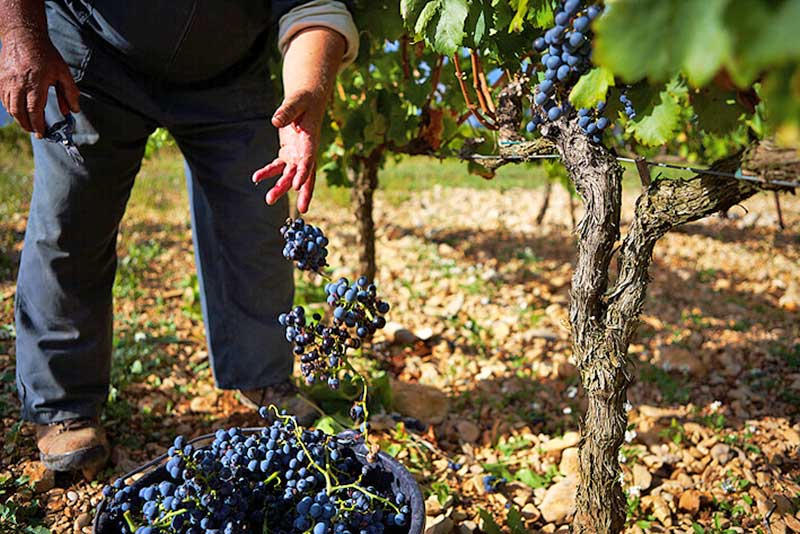 Red Côtes du Rhône is, at heart, an informal wine - not too structured, usually mid-weight, fruity, fragrant and easy to drink. Most red Côtes du Rhône is enjoyed young and offers terrific value. Respected wine writer Andrew Jefford describes it as "Delicious and supremely drinkable red wine. Almost nowhere in the world can match the Côtes du Rhône at its best."
The Southern Rhone also boasts several stand alone appellations, the most notable of course being Châteauneuf-du-Pape. Another one you might know is Gigondas. There are also several satellite appellations, the best known of which are Ventoux, Luberon and Costières de Nîmes.
Here are a couple of delicious southern Rhône quaffers that are worth having on hand.
---

Les Clairon des Anges Costières de Nimes 2015
The vineyards of Costières de Nîmes are the southernmost in the Rhône, sitting right in the very south west of the region, around the town of Nîmes. I visited the magnificent Roman amphitheatre here, built in 70AD, many years ago. The area was once considered part of the Languedoc, but in the late 90s became part of the Rhône, on the basis that its wines were more reflective of those from the Rhône.
The area shares the same round pebbles or 'galets' made famous in Châteauneuf-du-Pape but Costières de Nîmes is slightly cooler due to its close proximity to the Mediterranean. Like Côtes du Rhône, the red wines here are based on Grenache, Mourvèdre and Syrah.
The name of this wine means 'The Trumpet of Angels' and is a blend of 60% Grenache, and 40% Syrah. This is the entry level wine for Boutinot, a Southern Rhône producer, which has access to quality fruit at good prices, as well as highly skilled winemakers. Smaller producers simply can't turn out wine of this quality for the price.
Fruit is sourced from several growers in the area and the wine sees no oak during ferment or ageing. It offers fresh, simple flavours that deftly reflect the terroir and climate, and as the name suggests, sings on the palate.
"Distinctive balsamic aromas lead to a herbal palate. Notes of liquorice, sweet spices and dry leaves on the finish." Winemaker's notes.
Bright garnet in colour, this is a light to mid-weight wine with a lovely viscosity. On the nose there are notes of raspberry jam, turkish delight and fennel, becoming juicy fresh raspberries and cranberries on the palate, interspersed with rose petals, dried herbs and a touch of black pepper. Crisp acid balances the juicy fruit. Fine tannins and a lovely dry finish. Yum.
I can offer it for $20 a bottle. Click here to order new vintage
---

Boutinot Les Coteaux Côtes du Rhône Villages 2014
Initially started in the UK by Paul Boutinot in the 1970s, Boutinot became a successful wholesaler, representing dozens of international wineries in the UK. But since the 80s, the company has also become a successful winemaker. In 1989 it set up facilities in southern Burgundy, in 1993 in South Africa and in 2003 in Piedmont. The company now has 5 winemakers, 3 in France and 2 in South Africa. They also make wine either through joint ventures or under contract in Spain, Argentina, Chile NZ and Australia.
But Boutinot's heart lies in the Rhône. While the company has been making wine here since the 80s, it got serious when it purchased several well-sited vineyards and set up a winery in the beautiful old village of Cairanne. Working closely with a long established and extensive network of excellent growers, ensures the fruit is grown to their exacting standards.
This wine is predominantly Grenache, with a little Syrah. The fruit was sourced from the best selection of the 17 'named' Côtes du Rhône Villages, to which about 20% of barrel aged wine from the specific Villages of Sablet, Séguret and Cairanne was added.
Although the fruit is obtained solely from 'named' Villages, because it's blended across them, the wine may only be labelled as the lower ranked 'Villages' (French wine bureaucracy).
The wine has a good lineage, with the 2009 being included in Wine Spectator's '100 Outstanding Values' list (Dec/Jan 2013 issue).
This is a clear but dark ruby colour. Subtle fruit on the nose, on the palate the notes of plums and redcurrants are crisp and clear. Threads of rose and star anise weave lightly through this long and lean wine. The acid structure is refined, matched by its silky smooth tannins. Pure, long and flavoursome, this is a nice little wine.
I can offer it for $25 a bottle. New vintage available - click here
And for those hankering for some Aussie GSM, I still have some Head Wine Head Red GSM 2015 at $23 a bottle, which you can find here.