What is it that makes Pinot Noir so special? The protagonist in the film Sideways, is asked the same question.
Maya: "Why are you so into Pinot? ... I mean, it's like a thing with you."
Miles: "Uh, I don't know, I don't know. Um, it's a hard grape to grow, as you know. Right? It's uh, it's thin-skinned, temperamental, ripens early. It's, you know, it's not a survivor like Cabernet, which can just grow anywhere and uh, thrive even when it's neglected. No, Pinot needs constant care and attention. You know? And in fact it can only grow in these really specific little, tucked away corners of the world. And, and only the most patient and nurturing of growers can do it, really. Only somebody who really takes the time to understand Pinot's potential can then coax it into its fullest expression. Then, I mean, oh its flavours, they're just the most haunting and brilliant and thrilling and subtle and ancient on the planet."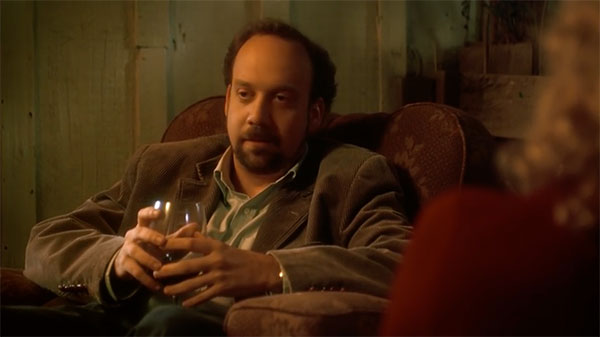 Many wine drinkers have a fascination with Pinot Noir - and with good reason. When good, it manages to capture the seemingly contradictory combination of finesse and power. Ethereal is a word often used by devotees, as are smooth, silky and sensual. Its fragrance, elegance and delicacy in no way diminish its ability to be bold, structured and assertive though. It can be complex, deep and intense without relying on weight. It really is the iron fist in a velvet glove.
In terms of actual flavour, Pinot Noir is characterised by "slightly sweet, freshly crushed, soft summer fruits: a fragrant, silky, multi-faceted and delicately elegant combination of raspberries, strawberries, cherries, mulberries and currants of different types." Clive Coates, MW.
The home of Pinot is of course Burgundy, a region centred around the town of Beaune in eastern France. Wine has been made here for a long time - the region's reputation was established by monks in the 10th and 11th century. Since that time there have been limits, both formal and informal, on how, what, and most importantly, where grapes may be grown. This, combined with increasing demand for the region's wine, has ensured the price of vineyards in Burgundy has risen steadily over the years. Recently this rise has become meteoric. According to France's rural land agency SAFER, the average price of Grand Cru vineyards (the top appellation) in 2014 was 4.35 million euros per hectare. Holy Moley!
There's no doubting the quality of good red Burgundy, but at the prices you have to pay, they're not just out of reach, they're not good value.
Here are two Pinots from other areas that I've been enjoying lately. They're interesting, great tasting and good value.
---

1. Mount Macleod Pinot 2015
Mount Macleod is the second label of the Burgundian inspired Caledonia Australis. This small family-owned estate has several vineyards located near Leongatha, a small town 135km southeast of Melbourne, about halfway to Wilsons Promontory. Despite the land around Leongatha being well-suited to growing top Chardonnay and Pinot (the iconic Bass Phillip winery is just south of the town) there are relatively few estates in the area.
The vineyards of Mount Macleod lie within one of Australia's largest, but least known wine regions - Gippsland. It's a massive area, covering a large part of the southeast of Victoria. It extends from Philip Island down to Wilsons Promontory, then all the way up the coast to the border with NSW and inland as far as the Great Dividing Range. The region is further divided into East, West and South Gippsland, within which you'll find Leongatha. The region is renowned for Pinot Noir, with James Halliday describing it as "one of the southern Victorian regions to have unequivocally proved its worth." Gippsland is dominated by small, often family-owned wineries.
The Mount Macleod vineyards were planted in the early 90s by a group that included Phillip Jones of Bass Phillip and Martin Williams MW. The current owners, Mark and Marianna Matthews, acquired the estate in 2008-09 and converted to organic viticultural practices. There are three Mount Macleod vineyards, situated on ideal free-draining, high ironstone soils with pebbling throughout.
As expected for a wine of this price, the fruit for the Mount Macleod Pinot was picked by machine in the cool of the night. What's not expected is that fermentation was carried out using natural rather than cultured yeasts. Post ferment, the wine spent 12-16 months in a mixture of stainless steel (to retain freshness) and old wooden barrels which previously housed the Caledonia Australis Pinot.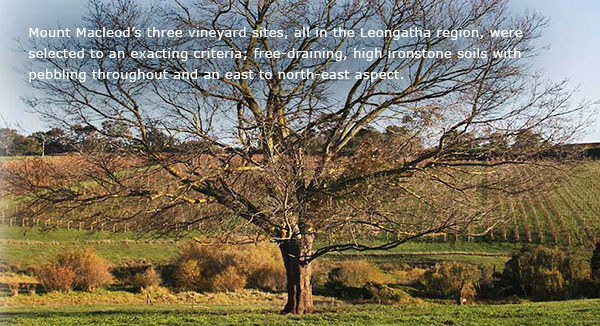 The wine is a clear light garnet colour. On the nose it's amazing to find some real Pinot characters rather than just sweet, straightforward fruit, which is usually the case with Australian Pinot at this price. Instead you'll find sour cherries as well as a slight barnyard/earthy character. Even though the wine is almost 14% alcohol, it has none of the big, juicy, syrupiness that can afflict Australian (and NZ for that matter) Pinots. On the palate the wine is lean, delicate and elegant, with flavours of sour cherries and berries, as well as hints of pepper and spice. When I spoke to the winemaker, he said the key attribute he is striving for with this wine is purity. The tannins are very fine and firm, yet well balanced acidity gives a nice dry finish.

"Nose: At bottling the wine was showing lots of vibrant strawberry notes and the earthier notes we expect were more subdued. Palate: The palate is well in line with the house style - crunchy cranberry like acidity with pristine fruit weight asserting itself as the acidity abates. The tannin level is low but the tannins present are silky and fine." Winemaker's notes, 1st June 2016.

You'll still find the previous vintage at either the Palisade Hotel in the Rocks for $52 a bottle, or at a new and very cool Indian joint in the city called Indu for $64 a bottle.

Mount Macleod Pinot is an incredible value wine - I'm amazed and pleased more people aren't onto it. It's not made in large quantities though, so get in before word gets around.
I can offer it for $23 a bottle.

---

2. Huber Malterdinger Pinot Noir 2013
With Germany's cool climate and emphasis on aromatic whites, especially Riesling, you'd be forgiven for overlooking Spatburgunder, as Pinot is known locally. I remember tasting a few Spatburgunders back in the 90s and wrote them off as thin and weedy.
But times have changed and German winemakers are having increasing success with Pinot. Thanks partially to climate change, it's due also to the determination and skill of a handful of the top producers, most notably Bernhard Huber. It was a wine of Huber's that I tasted a few years ago which forced me to rethink my view on Spatburgunder. Huber is recognised as Germany's top Pinot producer.
"A comprehensive tasting of his wines not only convinced me that he was an absolute leader in Germany, but that he was a serious contender in the whole world of Pinot Noir," Michael Schmidt (Jancis Robinson's German specialist).
"The German godfather of Pinot Noir," Decanter Magazine.
"Germany's greatest Pinot Noir producer," Joel B. Payne, chief editor of the Gault Millau German Wine Guide (The Gambero Ross of Germany).
" I have seen the occasional German Pinot that was decidedly promising. But the Huber Pinot Noirs take the whole game on to another level," James Halliday.

Bernhard Huber took over his family's winery and began estate bottling in 1987. Prior to this his father, like most in the region, had simply sold grapes to the local co-operative. With judicious purchases over the ensuing years, Bernhard added to the estate so that it now covers 25ha, of which Pinot accounts for about 70%. The balance is made up of Pinot Blanc, Chardonnay and Auxerrois (white).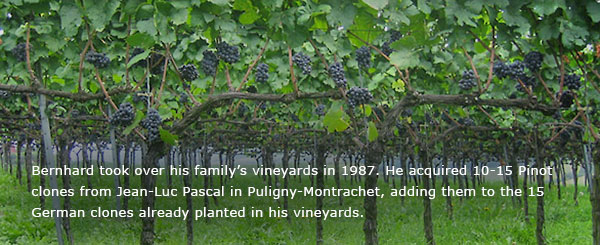 The estate is located in Malterdingen, a small town in the foothills of the Black Forest mountains, close to the French border, in the very southwest of Germany. This area is part of Baden, Germany's warmest and most southern wine region. Baden is the only region in Germany where red varieties are in the majority.
Records show that Pinot was grown in, and named after Malterdingen as far back as 1285. Despite the impressive lineage and climate suitability, I'm guessing it wasn't made to any sort of standard. Bernhard wanted to change this and wisely started by becoming friends with a few Burgundian winemakers, most notably Jacques Seyses of the Domaine Dujac (a top estate) who gave him a few pointers. Bernhard also acquired 10-15 Pinot clones from Jean-Luc Pascal in Puling Montrachet, adding them to the 15 German clones already planted in his vineyards.
Despite the French overtones, Huber is not trying to make an imitation of Burgundian Pinot. Like all great winemakers his wines reflect the sites from which they originate. Huber makes several Pinots, with his top wines regularly considered and rated amongst the finest in Germany.
"Huber's reds came to be recognised as among Germany's best." Decanter Magazine.
Tragically Bernhard died in June 2014, aged just 55, after a long battle with cancer. His talented son Julian took over winemaking and is proving a worthy successor. Bernhard's final vintage was this, the 2013.
The fruit for the Malterdinger Pinot Noir comes from deep rooted vines of up to 25 years of age. There are 30-35% whole bunches in the ferment and the wine spends 12 months in 3-4 year old barrels.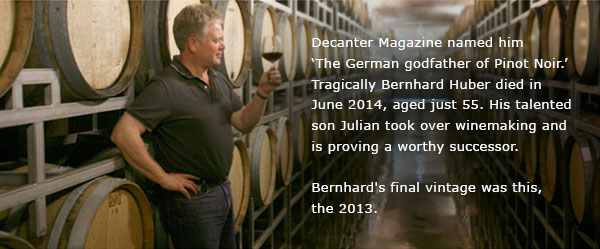 This is unlike any Aussie or French Pinot you've tried. The wine is a crystal clear, rosey red. On the nose it's savoury, sappy, smokey and herbaceous, with a gentle touch of oak. On the palate you'll find deliciously astringent red currants and berries, liquorice and subtle spice. The finish is long and dry with hints of pepper. It's lean, as expected, but still has good weight and intensity. I tried this wine in a line up with several other Pinots and it appealed to me, not because one particular feature leapt out, rather because everything was so well balanced. Definitely more than the sum of its parts.
"Spicy and sappy, smoky cherry and plum with oak well in the background. Light to medium-bodied, spicy and undergrowthy, with crunch of acidity and a fine dusting of tannin. A bit minerally and has precision, without being too strict. Finish is good too. Likely better with a couple of years on it too, though attractive now." 92 points, Gary Walsh, The Wine Front.
You'll find the previous vintage at Merivale's Mr Wong for $110 or at Aria for $135.
I can offer it for $57 a bottle. SOLD OUT