A couple of weeks ago Jancis Robinson MW published an article which "unashamedly celebrated the glories of Riesling." Robinson is one of my favourite critics and a longtime Riesling devotee. She's responsible for a raft of terrific Riesling quotes, but one I particularly like is from 2014: "for roughly 35 years I have been talking up Riesling, describing it as the world's greatest white wine grape… I know that Riesling can transmit terroir more sensitively than any white wine grape I know, making it truly the counterpart of the Pinot Noir that is so often grown alongside it. I also know that Riesling is just as good at history as it is at geography. Its wines can last just as long as those made from Cabernet Sauvignon. (I know; I once organised a tasting of the same senior vintages of Mosels and Médocs.) I also appreciate the way that, thanks to its extraordinary extract in many cases, Riesling can deliver so much flavour without that much alcohol and, perhaps because of this, it goes so well with food - far better than a typical Chardonnay."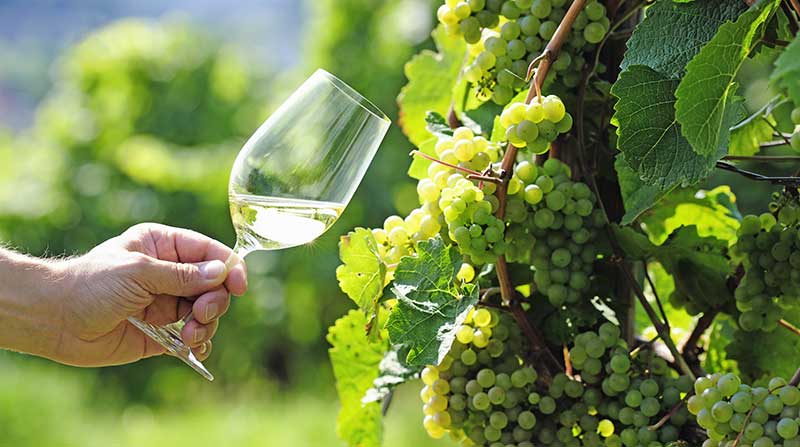 I couldn't agree more! I've been banging on about it for years. It's diverse, ageworthy, food-friendly and best of all, affordable. Riesling is the white wine I have most of by far in my cellar and it's the white wine I want to drink most often.
Not only is Riesling a wonderful variety, it also does incredibly well in Australia. Back in late March, Patrick Schmidt MW wrote up The Drinks Business Global Riesling Masters of 2017. He was on a panel comprising 6 MWs and a bigwig Swedish sommelier, that reviewed top Rieslings from around the world, including Germany, France (Alsace), Austria, the US and Canada. His conclusion: "… if there was a stand-out nation in the Riesling Masters this year, it was Australia, which has managed to create wines that are, for the most part, bone dry but deliver a fruity refreshment with Riesling that is rarely matched elsewhere."
So to illustrate, here are four stand out Aussie Rieslings.
---

Rieslingfreak No.4 2017
As most of you know I've been a big fan of John Hughes, aka The Rieslingfreak, for many years.
2017 was a huge year for John. He won Young Gun of Wine - Winemaker's Choice Award, decided by a vote of the 12 finalists. As well as massive, unprecedented results in the Sydney Royal Wine Show.
The No.4 is a dry style. In 2017 the fruit was sourced from three vineyards (usually it's two) in another Australian Riesling hotspot, the Eden Valley. Eden generally produces lighter and more delicate floral Rieslings than the Clare Valley.
Clear green-gold, this is a beautifully subtle wine. On the nose you'll find delicate blossom, lychee and musk aromatics. In addition the palate reveals beautiful citrus, lime and sherbet flavours. The finish is dry with a zing of lemon acidity and subtle minerality. Fine, delicate, skillfully made.
"The aromas of sweet spice, ripe lemons and limes and rose petals invites you into the glass. Flavours of lime cordial, lychee, sweet spice and apples make you salivate. The elegance of this wine makes you appreciate what a good Riesling is about, and the only downside - when the last bottle leaves the cellar." Winemaker John Hughes.
96 points, Gold Medal, 2017 Melbourne Wine Show
"Impeccably clean and crisp with intense citrus acidity all in balance. This is a well-made, quality example of Eden Valley Riesling, showcasing the area's classic stone fruit and mineral tones."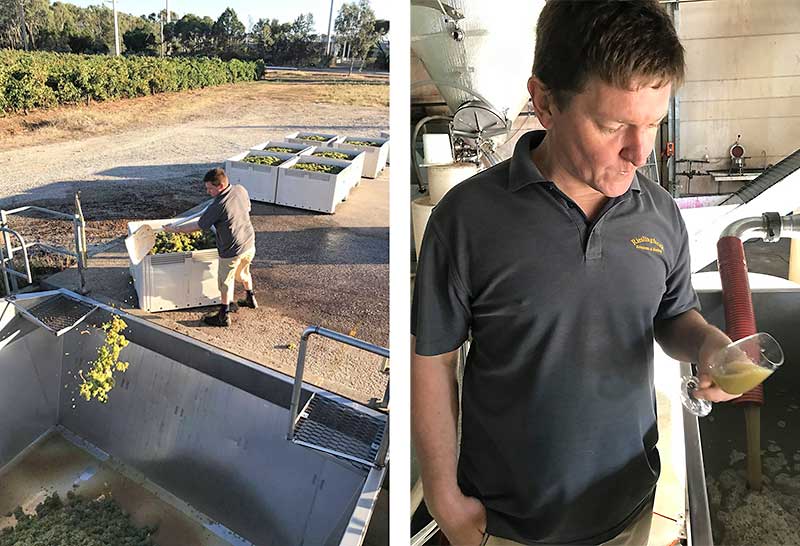 91 points and Highly Recommended. Decanter Magazine UK. (April 2018).
Served by Qantas Business Class in both domestic and international. My favourite of John's entry level wines.
I can offer it for $23 a bottle. Click here to order
---
Also, the 34th Clare Valley Gourmet Weekend is on this month, from Friday 18 to Monday 21 May 2018. The renowned festival is a celebration of the best the Clare Valley has to offer and this year, 36 wineries (including Rieslingfreak), two breweries and a number of regional restaurants will take part. The event will also feature a range of special events, including degustation lunches and dinners, the Gourmet Farmers Market, competitions, masterclasses and educational activities.
If you're planning a trip to the Barossa please let me know. John is only too happy to organise a vertical tasting at Rieslingfreak's new tasting room for any Bottle and Glass clients.
---

Kanta Riesling 2015
Back in February I attended Riesling Riot, a fantastic event hosted by dozens of the world's top Riesling producers. Stand-outs included; Riesling Freak (of course), Dr Loosen, Heymann-Lowenstien and Donnhoff. However top-dog for me was Egon Müller, whose wines were stunning. No surprise given that many regard him as the finest Riesling maker in the world.
This incredible German estate has been in the hands of the Müller family since 1797, with Egon Müller (IV) taking the helm from his father in 1991. Vineyard holdings include just over 8ha of vines in the world-famous Scharzhofberg vineyard, considered by many the finest white wine site in Europe. Müller is the sole German member of the exclusive 'Primum Familiae Vini', other members including Chateau Mouton Rothschild, Pol Roger, Vega Sicilia and Antinori. This guy is Riesling royalty.
Müller makes a range of Rieslings from dry through to sweet. I tasted the lot, not aware of just how expensive they were, and was wondering why no-one else was spitting them out! Superb, but out of reach for most of us. Entry level is around $60 but they head up to several hundreds of dollars for some of his sweet wines.
Müller also makes an Australian Riesling. The wine, named Kanta, is a collaboration between Müller and Michael Adrewartha of East End Cellars (Adelaide). A three year search lead to a vineyard in Balhannah in the Adelaide Hills, with the first vintage in 2005. In 2010 they moved 13km up the road to the higher altitude (400m) Argyle Vineyard in Echunga, from which they now source their fruit. Müller arrives in time for picking, although I'm told he sometimes only just makes it and oversees the whole production, carried out in the Shaw & Smith winery.
With an eye for detail, Muller noticed that Australian conditions produce Riesling grapes with thicker skins than those in Europe - he believes this is where the flavour lies. So after the fruit is crushed, it's left to cold soak (ie. juice with skins) for up to 16 hours before fermentation using the vineyard's indigenous yeasts. When the ferment is finished, the wine is held in tank on lees (the dead yeast cells) for over 6 months before being bottled.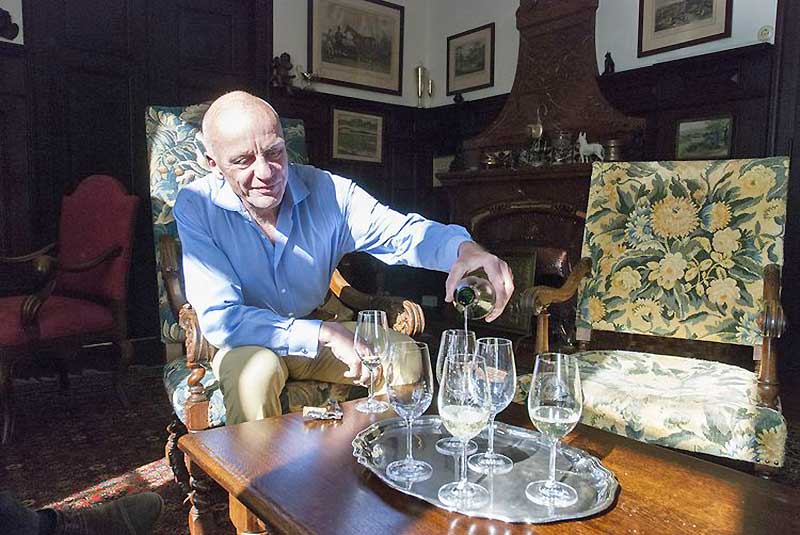 The result is a wine that's delicate and perfumed, with notes of white peach, white blossoms and white pepper. Fresh and focused; soft silky tannins pair with an elegantly dry and minerally finish, yet there's a touch more complexity and texture due to the skin contact. Like all good Rieslings, it will age gracefully - a fact I can attest to as there was a 2009 on tasting which was unbelievably fresh.
Experience the Muller magic for a fraction of the price. You'll find it at Catalina restaurant for $65 a bottle.
I can offer it for $27 a bottle. Click here to order
---
Mesh
I regularly buy this wine and have several vintages stashed away in my cellar. It's a delight to drink both on release and with some age on it. The joys of good Riesling!
Mesh is a collaboration between 2 of the great names in Australian Riesling, Jeffrey Grosset (no introduction needed) and Robert Hill-Smith (Pewsey Vale, Heggies, Yalumba).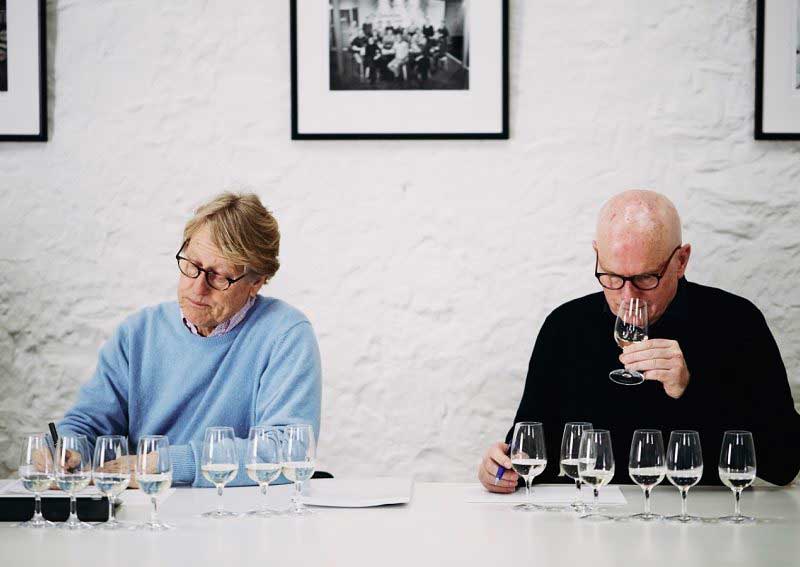 Robert Hill Smith and Jeffrey Grosset working on the final Mesh blend.
"This single word represents so much of the philosophy behind the wine - the weaving together of ideas & the combining of skills and knowledge." Robert Hill Smith.
"I'm convinced that we have been able to achieve more in quality terms by working together and sharing our knowledge. The chance to contribute to the reputation of the region and the variety is very exciting and the fact that Robert and I share a passion for Riesling is, for me, what makes this project so special," Jeffrey Grosset.
Grapes are sourced from two super-duper vineyards high on the slopes of the Eden Valley. Different coloured picking bins, yellow and blue, are filled equally by the pickers as they move along the rows. Jeffrey gets the blue bins, Robert the yellow, which they take back to their respective wineries and make a wine according to their own philosophy. The pair come back together and, after plenty of debate, the final blend is made. Their first vintage was 2002.
---

Mesh Riesling 2017
2017 produced ideal growing conditions; Jeffrey Grosset describing the vintage as "outstanding."
"The colour is very light and bright and the wine is all-round very reserved and tight. The fragrance recalls floral talcum powder, the palate soft and intense, as well as clean and dry. It's a style that rewards cellaring." 94 points, Huon Hooke, Gourmet Traveller WINE Magazine, Top 100 New Releases April-May 2018.
Huon Hooke listed the wine at no.11 in his Top 20 Rieslings of 2017.
"Exquisite Riesling… Sourced from Eden Valley in a stunning season. Lifted lemon citrus notes on the nose. The palate packs some punch but delivers it with finesse and delicacy. Fine chalky notes with a lingering subtle acidity sustaining a very long finish. Best drinking: Now to 2033." 96 points, Ray Jordan, The West Australian Weekend West, Feb 2018.
This is benchmark Aussie Riesling.
I can offer it for $26 a bottle. Click here to order
---

Mesh Riesling 2012 Classic Release
Just a few weeks ago I opened a bottle of 2012 Mesh from my cellar, which was an absolute cracker of a vintage in South Australia. While I was marvelling at how superbly it was drinking (so much so I had to open another), unbeknown to me, a quantity of the same wine, which had been held back by the winery, had just been re-released. Spooky.
This wine is still so fresh and crisp. You'll find zesty lemon sherbet as well as some delicate floral and more aged and complex honeysuckle characters.
"The colour is pale for its age, a light to medium yellow, the bouquet likewise fresh and vital with steely, herbal nuances and the merest trace of buttered toast. The wine is rich and full in the mouth but seriously dry thanks to the high acidity." 94 points, Huon Hooke, Gourmet Traveller WINE Magazine, Top 100 New Releases, April/May 2018.
"Hello 2012… it's a white label, similar to the classic black one. Soft juicy, honeycomb-tinged and lovely matur(ing) characters. It shows quite a bit of honeycomb/beeswax/toastiness in perfume and palate., but a brisk undertow of zingy acidity lends the wine vitality. Creaminess plays a part in texture. it's a touch 'wide' even though the finish is a bit more brittle and mouth-watering, It's in a good zone, right now, ready to drink, ready to enjoy as an aged expression, I think many will like the place it is in." 93 points, Mike Bennie, The Wine Front, December 2017.
"The resulting wine is a ripper and we're lucky they've held some back in their cellars for this classic release. Those endearing characters of a carefully cellared Riesling are starting to flow with aromas of citrus fruits, lemongrass, lemon curd, dried honey, toasted brioche and orange blossom apparent on the nose and palate. The wine ends with a sapid flourish of toasty grapefruit and the conclusion lingers beautifully with a fine elegant line." Dave Brookes, Feb 2018, The Adelaide Review.
You'll find it at Catalina for $80 a bottle. Absolutely delicious. I just wish I had more of it.
I can offer it for $35 a bottle (very limited quantity available) Click here to order