I love this description of Soave by Englishman Charles G. Bode, in his 1956 book Wines of Italy, "it tastes as a very clear, sunny sky might taste if one could drink it." A lot has changed in 60 years, but thankfully a good Soave is still as Mr Bode describes.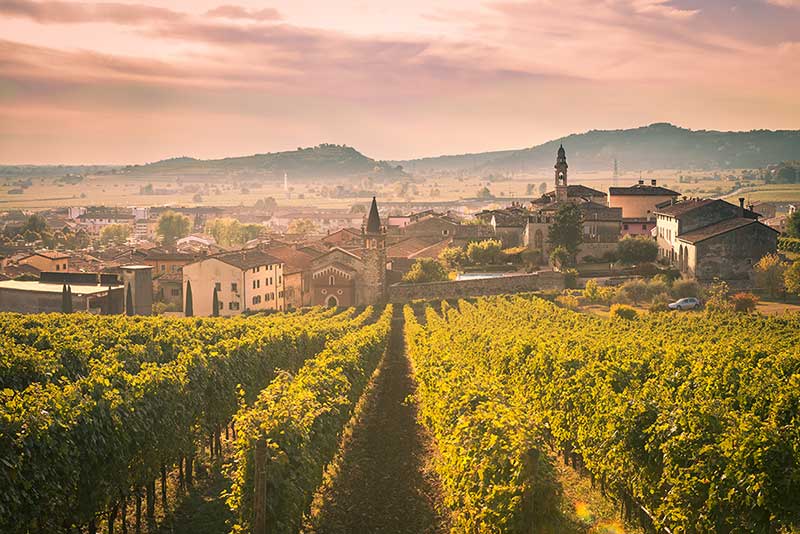 Soave is a dry Italian white wine as well as the name of the region in which it's grown. There is also a medieval village bearing the name Soave. The vineyards of Soave sit around the city of Verona, in the larger region of Veneto, in Italy's north east. In 2016 the hillside vineyards of Soave DOC joined Italy's national heritage list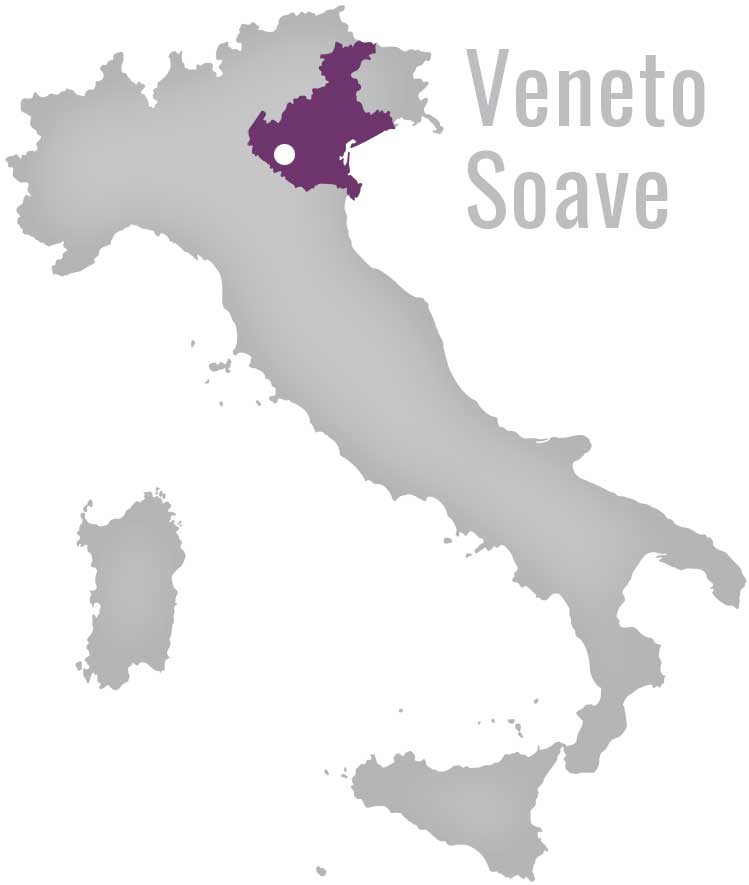 Veneto stretches from it's capital, Venice, in the east, to the shores of Lake Garda in the west. In its north east are the Piccol Dolomiti (the little Dolomites), home to Cortina skiing. And as if that's not enough, it's also home to the famous wines of Valpolicella, Amarone, and Prosecco.
Soave became a certified DOC (zone) in 1968 and the ensuing decades saw its boundaries expand dramatically. Today there are about 10,000 acres, making it one of the largest DOCs in Italy.
Initially this modern Italian wine was introduced to the world as something fresh, light and affordable. But most expansion here has been on the fertile plains surrounding the Adige River, where the emphasis has been on quantity over quality. Soave became a massive wine factory and gained a reputation for wine that was neutral, watery and too homogenous to be taken seriously.
Of course good Soave still exists, it's just hidden beneath Soave's unfashionable reputation. Within the Soave DOC is the subzone of Classico. Defined in 1927 and currently at about 2,720 acres, it covers the original and best hillside areas around Soave and Monteforte d'Alpone, near Verona. The soil here is much less fertile than the plains, the producers are committed to quality and the wines are impressive.
These days Soave is made from at least 70% Garganega. Up to 30% may be any combination of Trebbiano di Soave, Chardonnay, Pinot Bianco and Sauvignon Blanc. Garganega is a variety that performs best when yields are restricted, which is why it's so much better in the Classico area than on the fertile plains.
When made well, Soave is a wine that's lean and crisp and a bit like a ripe Chablis. It has great structure and a steely minerality. It's unlike anything we have here in Australia.
"True Soave is medium-bodied with fine acidity and a lively flowery aroma of white and yellow fruit, and garden herbs, taking on notes of chamomile and honey with age." Oxford Companion To Wine.
In DecanterMagazine (2009), Kerin O'Keefe described Soave as "Offering complex aromas and creamy fruit, punctuated with intense minerality."
And Jancis Robinson from her book Wine Grapes;"The best examples of Soave, generally from the Classico zone when yields have been restricted to allow the grapes to fully ripen, are characterised by lemon and almond flavours and a fine grainy texture like that of fresh pears. This delicacy combines with fresh acidity to give wines that may be steely and yet still tantalisingly spicy."
Here are three good ones.
---

Pieropan Soave Classico DOC 2016
It really is hard to find a better classic Soave producer than Pieropan. This is their entry level wine which they've been making since the early 1900s, and one I drink year in year out.
Village doctor and amateur winemaker (it was ever thus) Leonildo Pieropan founded the estate in 1890 when he purchased the historical Palazzo Pullici (built in 1460). The business is now in the hands of third and fourth generation family, Leonildo (Nino), who took over in 1970, and his sons Andrea and Dario. Nino has been the driving force in the growth and success of the estate and these days masterful Pieropan sits firmly atop the Soave pyramid, acknowledged as an appellation leader.
The fruit for this wine is handpicked from estate-owned, south facing hillside vineyards within the heart of the Classico zone. The vines range from 6 to 60 years old and are certified organic. The wine is a blend of 85% Garganega and 15% Trebbiano di Soave. It's unoaked, however it does see some ageing on lees, in glass-lined tanks, to give it more complexity.
In the 2008 vintage, Pieropan was the first Soave producer to forgo using the term 'Classico' on the label in order to utilise Stelvin (screwcap) closures - such was their commitment to maintaining the freshness and fragrance of their wine. It's hard to comprehend here in Australia, the wine is in every sense a Classico, but appellation regulations at the time didn't permit the use of Stelvin. The 2014 was the first vintage permitted to use the term Classico on Stelvin sealed wine.
Pieropan see this wine as their freshest, most youthful and lively Soave Classico. It's a light, greeny gold colour and on the nose is bright and fresh with delicate notes of white blossoms and honey. On the palate you'll find musk, honeysuckle and hints of kiwi and gooseberry. It gains a little weight as it opens up, as well as getting a little more minerally. Plenty of fresh, clean acid drives a refreshing and flinty/stoney finish. 12% alcohol.
"This is wonderfully aromatic - not a common feature of Soave - with floral notes (cherry blossom), citrus, stone fruit and almond. The palate is delicate and focussed, with excellent depth and lovely overall balance." Michael Trembarth, Melbourne based Italian wine expert.
"Brilliant straw yellow, greenish hints; the delicate nose is reminiscent of almond blossoms and marzipan: good depth of fruit on the palate, nicely balanced by a zingy acidity that enhances its long length." Winemaker notes.
You'll find it at Cho Cho San and Maybe Frank for $77. You can't go wrong with a bottle of this on the table.
I can offer it for $32 a bottle. SOLD OUT

---

Filippi Soave Castelcerino 2015
This is another Soave favourite.
Brothers Alessandro and Filippo Filippi have been rising stars of Soave for a few years now. Located high up in the Classico hillside vineyards, they grow an old, loose bunching clone of Garganega that has good air flow around the grapes, alleviating the need for chemicals to stave off disease. The old vine stock is traditionally trained on pergolas, rather than modern trellising systems, and organic and biodynamic practices are used in the vineyard. Adhering to the 'natural' philosophy of less is more, they have been making their estate-bottled wine since 2003.
The Filippi brothers see their wines as the embodiment of the culture and tradition of the area. Having lived in the region since the 14th century, their family has an incredible connection to the land, and their wine has become part of their identity.
Accordingly, the brothers are so keen to distance themselves from Soave's poor reputation, that they have abandoned the name 'Soave' on the front label. It bears instead the name of the single vineyard in which the grapes are grown - Castelcerino.
The wine is 100% Garganega and is fermented using natural yeasts in stainless steel tanks, after which it's left on lees (the dead yeast cells) for a few months. The wine is bottled without filtration. This one flies under the radar so no notes from the critics.
The wine is a clear, bright golden colour. Lean, fresh and minerally, it's just how Soave should be. Lemon and musk on the front of the palate carry nicely to a long minerally, almost buttery finish. Very different to the Pieropan, it's leaner and more savoury - kind of like a Riesling meeting a Chablis. All the while its precise sherbet-like acidity gives the wine great balance and length. It feels good in the mouth, and and doesn't intrude or overpower - making this crisp and elegant wine so enjoyable. No overt fruit and alcohol here. Beautifully balanced, a pleasure drink on its own or over a long leisurely lunch.
You'll find it at a lot of good joints around Sydney including; Bentley, Monopole, Tetsuya's, Fratelli Paradiso and Pilu, where it's around $80 a bottle.
I can offer it for $37. SOLD OUT
---

Suavia Azienda Agricola Soave DOC Monte Carbonare 2015
And lastly, a wine I only tried for the first time last year but it's become a favourite. A real beauty.
Suavia is the ancient name for the town of Soave, just to the north of which you'll find the even smaller town of Fittà. The Tessari family has owned vineyards here since 1887, but it was only in 1982 that Giovanni Tessari stopped selling his grapes to the local co-operative and started making his own wine. These days the 12ha estate is run by Giovanni's 3 daughters Meri, Valenina and Alessandra.
This extraordinary estate sits in the centre of the Classico region, higher than most others, with the 3 sisters devoting their energies solely to the region's two native white varieties, Garganega and Trebbiano di Soave.
The sisters place much importance on the special volcanic basalt soil in the area; "We always say that this wine is "like a bit of earth in a glass" and it's true. In the Monte Carbonare vineyard the vines sink their roots deep down into the black earth: pure volcano. This gives the wine personality, forthright and truthful, with a sharp mineral nature. It tastes of rain on flint, on the black stones of the dry walls, and of that good fragrance that countryside releases when dampened by the first rain."
The vines are around 35 years old and the sisters tend them meticulously without the use of synthetic fertilisers or insecticides. The winery, while modern and efficient, still incorporates non-invasive techniques such as the use of gravity to move wine around.
This is an absolutely delicious wine.
"An elegant white, framed by bright, finely tuned acidity and underscored by a racy streak of mineral. Offers a pleasing mix of yellow plum and apricot fruit, with pickled ginger and spring blossom notes. Lingering finish. Drink now through 2022". 90 points, Wine Spectator.
"The delicious 2015 Soave Classico Monte Carbonare shows beautiful balance and intensity. The wine opens to a delicate side with yellow fruit, pear, saffron and dried garden herb. It also shows a more powerful side that is fuelled by the wine's silky but tight structure and its impressive persistence. This is a highly recommend wine that paints a complete picture of the Soave Classico potential."Wine Advocate, 92 points.
"Pale golden-tinged straw color. Perfumed nose hints at delicate white flowers, white peach and minerals. Still youthfully closed in the mouth, but with a fine-grained texture and a seductive sweetness to the crisp, bright and very saline flavors of nectarine and lime leaf. Turns increasingly mineral and lemony on the long finish, thanks to laser-like acidity. Really speaks of volcanic soils."Vinous, 92 points.
You'll find it for $80 a bottle at Fred's, which at the recent'ish Gourmet Traveller National Restaurant Awards took a double gong with Best New Restaurant of the Year and Sommelier of the Year (Caitlyn Rees).
Not much of this to go around unfortunately. It's good.
I can offer it for $39 a bottle. SOLD OUT