We had such a good response to these wines earlier this year, and many of you have asked if we will be getting more. The answer is yes, but these are the last we have available and stocks are limited. Here's a recap...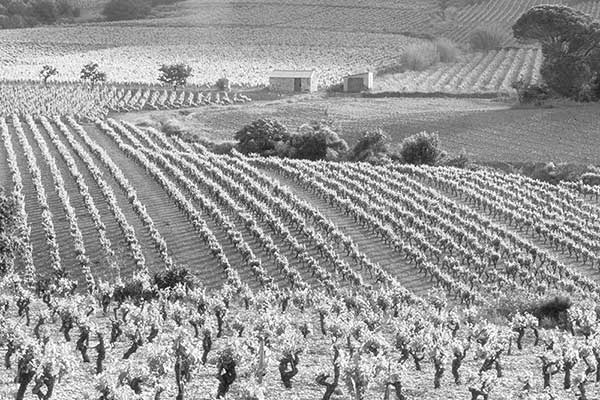 Laurent Delaunay is a fifth generation Burgundian producer and negociant. He lives with his family in a village just west of Nuits-St-Georges in the north of Burgundy. A couple of years ago I quizzed him about the mind-boggling prices of land in Burgundy. He said that young Burgundians found it difficult to access this closed shop and said it was the main reason they looked further afield.
In the mid-90s Laurent and wife Catherine explored what was then considered the new frontier, Languedoc-Roussillon. This massive region in the southwest of France, runs along the Mediterranean coast, inland from the Spanish border and around to Montpellier. Vines dominate this vast landscape, covering an area almost 3 times the size of Bordeaux. Unlike high profile neighbours, the Cote d'Azur and Provence, the Languedoc's pristine countryside and authenticity seem to have remained intact.
Languedoc's reputation was traditionally for commercial wines with fairly rough edges. There has been a shift recently though, as producers realise the potential in many of the long established vineyards. Laurent and Catherine have been at the forefront of this movement.

About 17km east of Carcassonne, in the tiny village of Marseillette the couple discovered the Abbotts winery (started in 1996 by Australian Dr Nerida Abbott). Isn't there always an Australian connection? When the winery came up for sale in 2005 they nabbed it and set about refining the winemaking style, concentrating on elegance, freshness - with a greater emphasis on terroir. In 2011, satisfied with the transition, they changed the name to Abbotts and Delaunay.

I offered the first vintage of their Alto Stratus a few years ago. Since then, Laurent has continued to expand the empire, with the acquisition in 2015 of another Languedoc estate, the 25ha Domaine de la Métairie d'Alon.

It's important to appreciate the experience and expertise Laurent brings to Languedoc-Roussillon as a Burgundian negociant. He has an innate level of appellation fastidiousness, a fixation with vineyard sites and terroir, and after years in Languedoc-Roussillon, he knows how and where to source good fruit. Unfortunately Languedoc-Roussillon's long wine history means its reputation has been slow to change. Laurent's a smart fellow though and he knows the only way he will change this is to over-deliver.
Laurent typifies a new confident and progressive Languedoc, one that's casting off historical associations and sense of inferiority, and taking on established regions with quality wines at a fraction of the price. Good news for us in Australia - we appreciate these beautiful wines for what they are. Laurent is driven, optimistic and taking a long-term view. He knows that eventually the market will see the worth of his wines.

In the meantime, enjoy them at a fraction of Burgundy's prices.
---
1. Abbotts & Delaunay Limoux Zephyr Chardonnay 2014

Greek mythology buffs out there will know Zephyrus as the personification of the mild West Wind. However this Zephyr is actually named after the mild south-westerly which blows in the south of France.

Limoux (pronounced li-moo) is a fascinating appellation just south of the city of Carcassonne. Sparkling wine, known as Blanquette de Limoux, has been produced here for centuries and the locals claim that secondary fermentation in the bottle, the process that gives it the bubbles, was being used here well before the Champenoise took it up.

The dominant variety in this region is Mauzac, which until 1993 was the only variety permitted for producing non-sparkling wines. Since then though, Chardonnay and Chenin Blanc have become more widely grown.

Limoux's vineyards are higher, cooler and further from the influence of the Mediterranean than any other in Languedoc-Roussillon. Laurent detailed how the fruit for Zephyr Chardonnay is sourced from 3 separate terroirs within the Limoux appellation, the aim being to combine the best characteristics of each. Haute Vallée de l'Aude (upper Aude) - highest in altitude: bringing minerality and structure, Terroir Autan - middle of the appellation around the village of Limoux: gives floral characters, and Terroir Mediterranean - east of the region, influenced by an Atlantic climate: providing riper fruit.

The 2014 was handpicked and only about 30% was aged in new oak for 8 months. With a few years' age, it has gained some complexity and roundness, developed a nice butteriness and toasty flavour. Importantly, and the key for me, was that through the complexity, it still has some nice mineral freshness and zestiness.

Clear, pale gold. A delicious combination of bright lemon and baked pineapple with underlying rich buttery, burnt sugar, caramel and toasty oak notes. Fresh, clean acid ensures the oak isn't overpowering as it unfolds to a dry, lingering and slightly floral finish. If Chardonnay seems to has fallen out of favour with you lately, this might just bring you back to the fold.

"Green-gold in colour with silvery grey highlights. A fine, subtle, fruity nose (apricot, citrus, preserved lemon) with white flower aromas (nettle, jasmine, syringa). Notes of meringue and marzipan. Lovely, refreshing, long, mineral structure. Very well-balanced. This wine boasts remarkable length and lovely freshness, finishing off on a note of lemon tart." Winemaker's notes.

The wine received 2 Silver medals, one at the Decanter World Wine Awards and one at the International Wine Challenge. I'm told both of these competitions are quite exclusive.

I couldn't help but think of white Burgundy and marvel at the price of this wine. As Wine Spectator noted back in 1994, just after Limoux was granted AOC status, "the district has the soil and climate to make the best Chardonnay in France outside Burgundy." Where could you find white Burgundy of this quality for this price? At less than $40 I think it's a bargain.

I can offer it for $35 a bottle. Order online
---
2. Abbotts & Delaunay Boréas Faugeres 2014

Continuing with the wind theme, Boreas is the Greek god of the North Wind and Winter. This wine is a blend of 76% Syrah, 8% Grenache, 8% Carignan and 8% Mourvédre. The fruit comes from the appellation of Faugères, which takes its name from the beautiful town around which it sits. The appellation is around 5000 acres and about 80km inland (west) of Montpellier and lies at between 250m-500m elevation. The Oxford Companion to Wine refers to Faugères as "one of Languedoc's most consistent appellations," with wine having been made here for centuries. More recently, some pretty decent reds have been emerging from the area.

80% of the appellation's grapes are red and while Carignan has traditionally dominated, it's recently been outnumbered by Grenache, Syrah and Mouvèdre. These varieties and the warm, generous wines they produce in Faugères, are familiar to Australian drinkers. But there's something a little different about them here - a certain spicy savouriness that makes them very appealing. Jancis Robinson MW describes the wines of Faugères as "big, southern (French) reds that taste like a cross between the spice of the southern Rhône and wild, rustic Corbières to the south west."

One of the defining aspects of the appellation is the prevalence of schist in the vineyards. The value of this ancient metamorphic rock comes mainly from its ability to retain heat and moisture, which the vines use as needed. Because schist tends to be flaky, it breaks and splits and vine roots are able to penetrate it. Laurent credits the schist soils with giving his wines not only a freshness, but also a warmth and softness.

The fruit for the wine was harvested and totally de-stemmed before being fermented for about 3 weeks, with gentle pumping over a key to the smooth style of the wine. 60% was then transferred to 225L oak barrels (barriques) for 9 months (30% new, 20% one year old) and 40% of the wine went to stainless steel tank to ensure some freshness.

The wine is a bright, purpley-red colour. You'll find fresh upfront raspberry and red berry notes, with plenty of pepper and hints of thyme. Vanilla and violets meld with aniseed and fennel on the finish. It's this seemingly contradictory generous up-front new-world fruit, overlaid with lean old-world savouriness and structure that makes this wine such a pleasure to drink. Dry, mid-weight and with velvety tannins, you'll be rewarded if you give it a little time in the glass.

"Deep garnet in colour. Intense nose redolent of red berries, blackcurrant, sour cherry and mild spices. Notes of cigar, cocoa and a touch of pepper. Bold on the palate with fine, ripe tannins, a long finish and a lovely hint of oak. This is an elegant, 'ethereal' wine that boasts considerable freshness and a great deal of finesse." Winemaker's notes.

I really like this wine.
I can offer it for $39 a bottle Order online