The Hunter Valley is so hot and humid that it might seem a strange place to grow grapes. But as leading wine journo Jamie Goode points out "the Hunter makes some of Australia's most interesting, mid-bodied, elegant and ageworthy expressions of Shiraz." The Oxford Companion to Wine describes Hunter Shiraz as "extremely distinctive, moderately tannic and long lived wines with earth and tar overtone, sometimes described as having the aroma of a sweaty saddle after a hard day's ride. At 20-30 years of age, the best acquire a silky sheen eerily close to wines of a similar age from the Rhône Valley."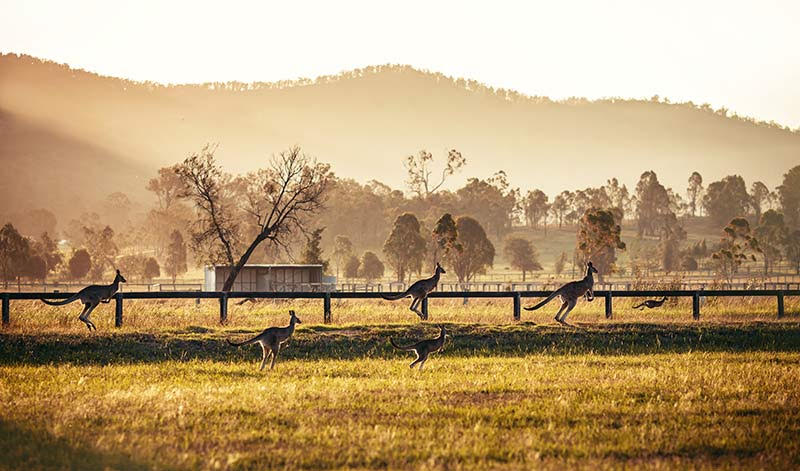 While sweaty saddle might seem like a strange descriptor, it's well-known by Hunter Shiraz devotees. But have you noticed this uniquely Hunter character diminishing over recent years?

What was thought to have been a distinct expression of the Hunter climate and soil, is now known to be the more unromantic compounds created by the yeast Brettanomyces Bruxellensis, and its close relative, Dekkera Bruxulensis. These characters are commonly referred to simply as 'Brett'. The southern Rhone is another region where common 'house styles' or regional attributes (some of which are regarded as complex and desirable) are in fact Brett.

On his aromadictionary website, Richard Gawel, a research scientist at the Australian Wine Research Institute (AWRI), describes the 'Bretty' character. He identifies the three most important known aroma active compounds as:
1) 4-ethyl phenol (4-ep), which has been variously described as having the aromas of Band-aids®, antiseptic and horse stable.
2) 4-ethyl guaiacol (4-eg) which has a rather pleasant aroma of smoked bacon, spice or cloves.
3) Isovaleric acid which has an unpleasant smell of sweaty animals, cheese and rancidity.
Other characters associated with Brett are: wet dog, creosote, burnt beans, rotting vegetation, plastic and (but not exclusively caused by Brett) mouse cage aroma and vinegar.
While Brettanomyces can be found on the outside of grapes and on winery equipment, its favourite place is oak barrels. Recognition of this has lead to many of the older Hunter wineries systematically replacing old barrels and implementing better hygiene practices. The result of which is that the typical 'stinky' Hunter Shiraz is much harder to come by - replaced by a truer expression of the Hunter.
But enough of the techy stuff.

James Halliday confidently asserts that "For those born and bred in Sydney, the Lower Hunter Valley is not only the greatest and the most important wine region in Australia, it is tantamount to the only region." I was born and bred in Sydney and have to confess I haven't shared this view, but recently found myself getting excited about Hunter Shiraz with the success of the 2014 vintage. It's been hailed by both winemakers and critics as the best in decades, many saying conditions were the best since since 1965.

"The Hunter Valley has what must rate as the best vintage in half a century… Shiraz is absolutely outstanding," Halliday's Wine Companion. He rated the vintage 10 out of 10 for red.

"The 2014 vintage is being touted by Hunter Valley winemakers as one of the best in living memory for shiraz; some old-timers are saying you need to go back to classic years such as 1965 to find a comparably favourable growing season. And from what I've tasted of the 14s so far I'd have to agree: the best wines are exceptional - wonderful to drink now, but also destined for a long and delicious life in the cellar." Max Allen, The Australian.

The more measured Huon Hooke noted that "The 2014 vintage is a great one for Hunter Valley Shiraz. What I like about the 2014 Hunter Shirazes is their tremendous concentration, their depth of flavour (and colour) without sacrificing traditional Hunter elegance." July 2015, The Real Review.

"Vintage of the century - definitely. Best vintage since 1965 - probably. As good as 1965 - possibly. Quite simply the best (red) vintage I've experienced in my (nearly) 30 years of making wine in the Hunter." Andrew Thomas, Thomas Wines.

Bruce Tyrrell compares 2014 to the great 1965 vintage, saying it was the best of both this and last century. He rates the vintage 10 out of 10 for reds as do both Ian Scarbourough and Mike De Iuliis. Brian McGuigan also reckons 2014 was as good as 1965.

Jim Chatto, Hunter Valley Wine Show Chairman and Chief winemaker for McWilliams said "you get one, maybe two of these vintages in your lifetime, make it count" and "that he had never seen better reds in his 21 year experience with Hunter wine."

Aussie duo The Wine Wankers told their nearly 500,000 global followers on social media "remain calm; stock up on Hunter Valley 2014 reds - NOW!"
---
While everyone knows the big names in the Hunter, I'd like to tell you about a relative newcomer Leogate Estate, which has succeeded in resurrecting a famous Hunter vineyard and is now turning out some excellent Shiraz, particularly from the 2014 vintage.
Leogate was established by Bill and Vicki Widin in 2008 and is named after its cast-iron entry gates featuring a rampant lion. The couple purchased the property in two parts from Fosters and Tyrrells, and Leogate now totals around 330 acres, of which 185 are under vine.
The basis of the estate is the Brokenback Vineyard, located on Broke Rd Pokolbin and planted in the mid-to-late 70s by Len Evans as part of the Rothbury Estate. The vineyard is a gem, located in a prime site in the valley. Directly to its north lies the famous HVD Vineyard, now owned by Tyrrells and a source of fruit for both Vat 1 and Vat 47, and directly to its south lies the Braemore Vineyard, another famous plot that supplies fruit to top Hunter estates like Thomas Wines.

I visited Leogate a couple of years ago and have subsequently met Bill several times. He's no-nonsense and he's a doer. Bill had a successful career in business and accounting during the 80s, after which he became a substantial cattle farmer (Angus) in the Tamworth district. Now at an age when most people are retiring, he's establishing a substantial winery… as you do.

Bill hired top winemaker Mark Woods (ex Briar Ridge) and in 2012 built a smart new winery capable of processing 500T. And in case the couple didn't have enough on their plate, last year Bill purchased another 250 acre certified organic vineyard in Mudgee, which he's in the process of expanding.

It's wonderful to see someone with a big vision, deep pockets and faith in the Hunter, bringing life back to an historic site. It's clear Bill has set the right foundations, with the estate receiving recognition for the quality of its wines right from the start. James Halliday rates Leogate 5 stars and notes "they have had a string of show successes for their very impressive portfolio."

Here are a few of the early highlights - impressive for such a young winery:
- At the 2014 London International Wine Challenge, Leogate's The Basin Reserve Shiraz 2011 was awarded the James Rogers Trophy for the World's Best New Wine.
- At the 2013 Hunter Valley Wine Show, Leogate's Western Slopes Reserve Shiraz 2011 won the Len Evans Trophy for best named vineyard wine and the Drayton Family Trophy for best named vineyard dry red.
It seems Leogate is beginning to roar.
---
Leogate Estate Brokenback Shiraz 2014

The fruit for this wine comes from the Brokenback Vineyard, with winemaker Mark Woods saying the 2014 vintage was "the best you could hope for."

After crushing and destemming, the must was fermented on grape skins for approximately 10 days. After which the wine was transferred into 1, 2 and 3 year old small French 80% and American 20% oak casks for 14 months maturation. The wine was fined and filtered before bottling.

"Deep red/purple in colour with a vibrant crimson hue. An intense bouquet of plum and spice with supporting oak. This Shiraz is a classic rich and flavoursome style with subtle French oak complexity. The wine displays pepper, spice and layers of ripe berry/plum fruit flavours, while the fine tannins give the wine structure and length. Medium to full bodied style. Drinking well now or will further develop with medium term cellaring, 5-10 years.14%." Winemaker's notes.

In 2016 the wine was served in Business Class on international Qantas flights. To make this grade a rigourous tasting of 1200 wines is carried out by a tasting panel of 11 highly regarded sommeliers.

"The bouquet has more spicy notes than most Hunter Valley Shiraz, amplified this voyage but backed up by a full spectrum of red, purple and black fruits matured in French oak. Will be a classic but needs a degree of patience." 94 points, James Halliday's Wine Companion.
"This black and fully opaque wine sports a dashingly sexy and seductive nose. It's restrained when first poured, primarily displaying its excellent intensity of minerals, asphalt and gunflint. With some time in the glass, flavors of black plum coulis, cassis and black cherry jam begin to unleash their charm. There's loads of power here, with an intense and dense mid-palate, dry and textured tannins and a long finish. A food-friendly wine, it would benefit from cellaring but is fully enticing now. Drink through 2024." 94 points, Wine Enthusiast Magazine USA - Jan 2018.

At already 4 years of age, it's great drinking now, but will go a few more years in the cellar… if you can wait.

I can offer it for $35 a bottle. Click here to order
---
And here are a couple of super wines. Both the Western Slopes Reserve and The Basin Reserve Shiraz are sourced from isolated parcels within the Brokenback Vineyard, where crop yields are low, producing wines with excellent concentration of fruit flavour. Both wines are produced in very limited quantities.

Leogate Estate Western Slopes Reserve Shiraz 2014

"From west-facing vines on a small plot of the Brokenback Vineyard planted in the early '70s. Dark crimson-purple, beautifully deep and intensely bright; it has a layered and spicy bouquet with hints of dried herbs setting it apart from the other '14 Shirazes, it is firmer and the tannins more present, the finish no less intense and long." 95 points, James Halliday.

Silver - 2017 International Wine Challenge, London

I can offer for $115 a bottle (limited). Click here to order
---
Leogate Estate The Basin Reserve Shiraz 2014

"Deep, intensely bright hue; the bouquet is complex and multilayered, with classic Hunter characters: plum, earth, spice and layers of dark and red fruits. The palate flows magnificently with a precise and intense line of fruit and tannin that goes on and on." 97 points, James Halliday.

In 2016 the wine was served on Qantas First Class International Flights, which is a bit of another big deal as it involves a rigourous tasting of 1200 wines carried out by a tasting panel of 11 highly regarded sommeliers.

Silver - 2016 International Wine Challenge, London.

I can offer it for $115 a bottle (limited). Click here to order