I enjoy chatting with winemakers - you get such a good insight into the character of their wines. Last week I had the pleasure of Emmanuelle Bekkers' company, talented winemaker and one half of Bekkers Wine of McLaren Vale.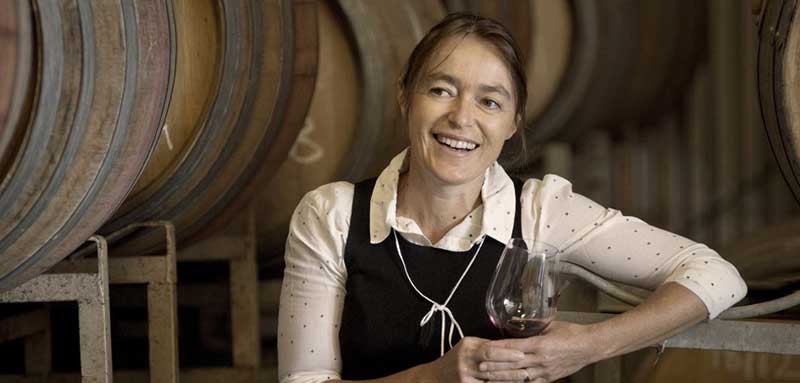 Winemaker Emmanuelle Bekkers
Emmanuelle and husband Toby Bekkers are the perfect wine couple - both highly credentialed and experienced, and with extraordinary attention to detail - the wines they are producing are simply outstanding.
"… a new Australian classic in the making." Max Allen.
"… benchmarks in modern Australian winemaking." 'The Innovators' Wish Magazine, The Australian, Feb 2018.
5 stars. James Halliday.
Emmanuelle was born in beautiful Bandol, in the south of France. She has a degree in Biology (biochemistry) from the University of Marseille and a degree in Oenology from the University of Montpellier. She's worked in several wineries, large and small, in both France (Burgundy, Bordeaux and Languedoc) and Australia (McLaren Vale & Langhorne Creek). Emmanuelle also has her own wine consulting business, Oenologie Requin.
Toby is a gun in the vineyard. He has his own viticultural consulting business, working in both Australia (particularly McLaren Vale) and France. He has an honours degree in Applied Science and Agriculture from the Uni of Adelaide and these days is one of the most sought after consultants, internationally recognised as a "leading exponent of organic and Biodynamic viticulture," James Halliday.
Back in 1995 Emmanuelle came to Australia to work vintage at Tintara with Steve Pannell, where Toby was doing vineyard samplings. She fell in love with McLaren Vale, and Toby. These days the couple still to-and-fro between France, but are settled by the beach at Aldinga in McLaren Vale, with their two children and dog Smudge.
Specialising in Syrah and Grenache, Bekkers' first vintage was in 2011. They only make 3 wines in Australia; a Grenache, a Syrah and a Syrah Grenache. Emmanuelle also makes a premier cru Chablis in France, but that's for another time.
It's unusual to find a winery turning out so few wines, but it just shows the intense focus Emmanuelle and Toby have on producing the best. Toby explains: "Nothing we have seen overseas has diminished our conviction that McLaren Vale is capable of producing unique, world-class wines and we aim to be an emblem for the region." And with the kind of wines they're producing they'll surely achieve this.
---
In a time when more and more fruit is picked by machine, the Bekkers still choose to pick by hand. Once picked they also manually sort the fruit to get rid of any shrivelled or raisiny grapes. Sorting is something they do a lot of at expensive estates in Bordeaux where Emmanuelle has worked, but it's not common in Australia, especially in McLaren Vale. Even though it costs more, Emmanuelle told me she likes to sort to avoid unwanted jammy characters in the wine as well as to allow "the more delicate, fresh fruit and spice flavours to blossom." Selection is crucial to the process - Emmanuelle maintains "what you leave behind is just as important as what you take."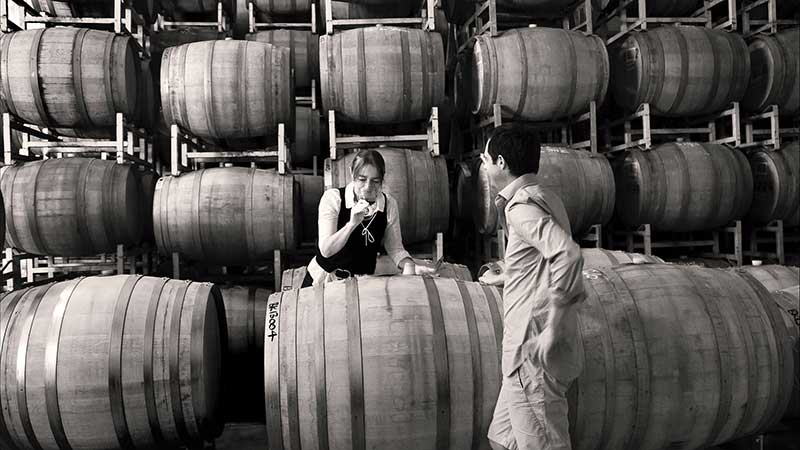 Emmanuelle and Toby Bekkers in the winery.
Colour, tannins and much of the flavour of red wine comes from the grape skins, so how winemakers deal with them is crucial. I find it's also the key to texture in red wines. Emmanuelle leaves around 20% of the grapes as whole bunches, the other 80% she destems but does not crush. All the grapes are then cold-soaked, which involves cooling the grapes to around 8 degrees for between 4-8 days, depending on which of the 3 wines it is. The cool temperature ensures no oxidation or fermentation occurs in the meantime and the result is a gentle extraction of tannin and colour, as well brighter colour and more delicate flavours.
The fruit is allowed to warm up, with fermentation occurring spontaneously using the ambient wild/natural yeasts. The fermenting tanks have cooling systems and are tweaked to ensure the ferment never runs over 25 degrees. By comparison, some winemakers run their red ferments as hot as 30-32 degrees which, while it ensures good extraction of colour and flavour, also risks harshness. By contrast, Bekkers ferments are long, cool and gentle. During the ferment the skins floating on top are gently plunged by hand (with the Grenache), or gently pumped over (with the Syrah), a process where the juice is pumped from the bottom of the fermenting tank and sprayed over the top of the floating skins. Both techniques ensure gentle extraction of colour and tannin. After ferment, the wines are aged for varying periods in combinations of old and new, large format oak. There is minimal use of sulphur and no filtration. The wines are sealed with stelvin closures (ie. screw caps).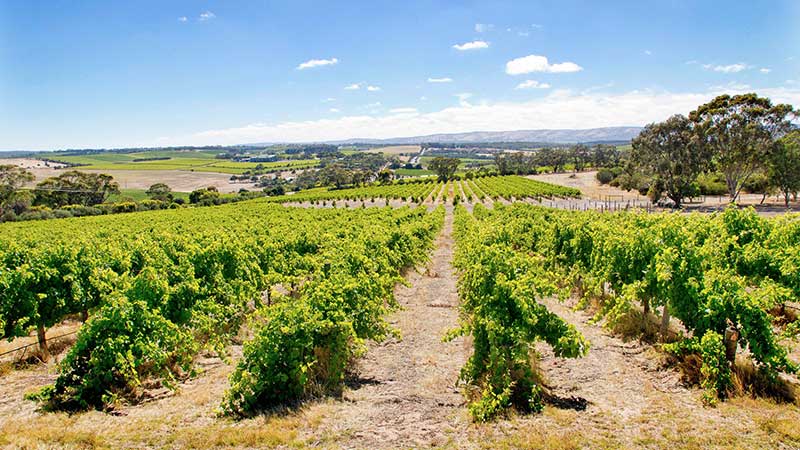 Toby Bekkers is a leading exponent of organic and biodynamic viticulture.
The result of all this work is incredible texture, and the resulting smoothness on the palate is a real Bekkers signature. Emmanuelle told me about a Japanese sommelier who described the 3 reds as silk (Grenache), satin (Syrah Grenache), and velvet (Syrah). This wannabe haberdasher's description succinctly captures the common thread running through these wines - a textural smoothness, as well as the difference between them - the weight.
"We believe that the textural element holds the key to fine wine." Emmanuelle and Toby.
Made in tiny quantities, these stunning and delicious wines are the equal of wines worth twice as much. Be sure to grab a few of each before the rest of the world cottons on and they become hard to get.
---

Bekkers McLaren Vale Grenache 2016
100% Grenache, with the fruit coming from 3 vineyards, one from the cool end of McLaren Vale adding spice and aroma, the others adding red fruit. The winemaking is as above, after which the wine spent 17 months in 500L old oak.
Weight is the key here. This wine is delicate and elegant, yet bursting with fresh bright red fruit and savoury spice. Underneath there's so much more.
"…has a deliciously spicy, very layered, complex nose and palate. Deeply embedded, its Imperial Leather blend of spices (think sandalwood and anise) and old vine earth/moss notes are, like the Wirra Wirra, superbly integrated into the fabric of this wine. It is an outlier in terms of time in oak, spending significantly longer than the others (17months versus 7.5-11 months) in (500L) seasoned French oak. It makes for a slightly more emphatic savouriness but, although it has greater concentration and fruit weight, its sleek melange of red and black berry and cherry remains lively and persistent - as lingering as the spice, thanks to palate-cleaving fine, granular, very mineral tannins. An anchor for the flavours." Sarah Ahmed, The Wine Detective.
This is a ravishing wine, which continues to celebrate the world-class Grenache being made in South Australia. I could spend hours sniffing this wine - this is a magnificently perfumed creature. This regal wine layers site, soil, sub-soil, rocks, minerals and local flora, too. It is the non-fruit elements which grab me as much as the obviously stunning red fruit notes." 19+/20 Matthew Jukes (UK wine critic and author).
"There are spicy, herbal and sooty, earthy aromas; the palate is medium to full-bodied and soft, with attractive sweet fruit in the middle and a pleasing touch of firmness from light tannins. A superb wine, balanced and elegant, with a great harmony between its savoury and fruity characteristics." 95 points, Huon Hooke.
"Yes it's warm with alcohol but it's a quite stupendously good wine. It's rich with character, fruit and length. It's a deluxe wine if ever there was one. Dutch chocolate, cranberries, squishy fresh raspberries, fresh mint and sarsaparilla. It's bursting to please but regardless it charges on through the finish, tannin whistling as it passes. It's terribly good; call it grand and be done." 96 points, Campbell Mattinson, The Wine Front.
See how good Australian Grenache can be.
I can offer it for $80 a bottle. Click here to order
---

Bekkers McLaren Vale Syrah Grenache 2016
A blend of the two hero varieties of McLaren Vale, 69% Syrah and 29% Grenache. It's important to note that the Grenache component uses different fruit to that in the straight Grenache. While Grenache always has a certain level of spiciness, Emmanuelle uses more aromatic and spicy Grenache in this wine.
Winemaking is as per my introduction, with the two varieties kept separate. The wine spends about 12 months in large format (300L and 500L) old oak.
The Syrah makes this wine darker in colour than the straight Grenache. It's smooth like the straight Grenache but with more weight. A wonderful balance of the power, colour and generosity of Syrah, with the lifted vibrancy and spice of the Grenache. So easy to drink, but compared to the wine above, this exhibits power alongside its refinement.
"This marries power with elegance in a seamless flow of brooding, dark fruit, judicious spice and luxurious tannins. A generous volume of perfume opens the wine, offering forest berries, garam masala spice with a seasoning of cedar and sweet herbs. The palate is succulent, exceptionally long and moreish showing some gentle sweetness and lick of refreshing acidity to close. It looks superb now, but I wager a decade will find it in full stride." Mike Bennie, Gourmet Traveller Wine.
"The meaty bouquet seems a little forward-developed (that's the Grenache) and has aromas of charcuterie and a background raspberry hint. There's a fruit-sweet core and a savoury dryness that continues through the palate and finish. A savoury, complex, delicious blend." 95 points, Huon Hooke.
"Only old 300L and 500L barrels are used for these wines and this is the key to their purity and cadence. In addition to the gentle oak treatment, the careful addition of whole bunches (20% in each wine) is perfectly judged too, bringing wistful hedgerow and briar perfume to puncture the glossy depth-charges of black fruit. The blend is the more powerful wine, using 69% Syrah and 31% Grenache to bring rippling muscle beneath its mill-pond-still surface. I like it enormously and it is a big, bold wine…" 18.5+/20 Matthew Jukes. (UK wine critic and author)
I can offer it for $80 a bottle. Click here to order
---

Bekkers McLaren Vale Syrah 2015
Let me say straight up this is a simply stunning wine.
The fruit was sourced from two sites - 64% coming from Hickinbotham vineyard in the Clarendon sub-region (elevated and cooler) and 36% coming from the Gateway vineyard in the Seaview sub-region (coastal breeze influence). The winemaking was as described above, with ageing for around 20 months, 40% in new French oak and 60% older, large format 500-600L barrels.
This will knock your socks off with its wonderful velvety texture and smooth mouthfeel. Dense, dark and gently powerful. Long, complex and lingering flavours of plum, pomegranate and aniseed. But I'm really taken with the phenomenal viscosity and smoothness. Yum.
"Probably the best modern-style McLaren Vale Syrah I've tasted. It's intensely fragrant and complex with a rasp of black pepper to nose and palate, liquorice, five spice, peonies and inky florals, a gentle savouriness and a touch of mocha oak. As for the fruit, supple, concentrated but juicy blackberry and plum is sumptuous, yet vivid and fresh - very persistent. Tasted at home, I lingered over this sensual Syrah for three days and it never stopped giving. I loved, loved the tannins – fine spun, but mineral (iron filing) and present, as if interwoven with the fruit. With terrific perfume, depth, length and detail, it is a seemingly bottomless pit of delights. Bet it ages really well (if you can resist it now)." Sarah Ahmed (UK wine critic).
"This wine has instant impact: rich damson in colour, with intense black spice, it balances the punch and intensity of an Australian Shiraz with the elegance of the same grape from the Northern Rhône. It seems to elongate in your mouth, with silky tannins and dark fruits backed up by chocolate notes and crunchy redcurrants. Delicious, it deepens after 15 minutes of opening." Jane Anson, Wine Revolution (she also writes for Decanter Magazine).
"Deep, dark red/purple colour, youthfully deep and bright. There are very ripe blackberry, dark plum aromas, with earthy and sooty notes, fresh and bright with vitality and intensity. A full-bodied, marvellously concentrated, deeply-flavoured Shiraz with real gravitas, persistence and ageing ability. Outstanding, Drink 2017 to 2040. Top rated 2015 McLaren Vale Shiraz from 75 tasted to date." 96 points, Five Stars, Huon Hooke.
"This makes the marriage of intensity and elegance seem simple, purity and power likewise. It is suspended in time and place with glorious fruit (no chocolate), gently savoury/spicy fine tannins and oak hiding in the panoply of fruit flavours." 98 points, James Halliday Wine Companion 2018.
Amazingly the wine also gets a Special Value Rating from James Halliday. This highly coveted gong is awarded to "wines considered to offer special value for money." It's unusual for a wine of this price and clearly indicates Halliday thinks its could/should sell for much more. I have to say I agree.
A world class wine.
I can offer it for $110 a bottle. Click here to order