I've loved watching the Tour de France, mainly for the sweeping footage of stunning countryside. You're never far from vines in France and one night I caught a leg of the race which skirted just south of the magnificent Rhône wine region… mmmmmm Côtes du Rhône.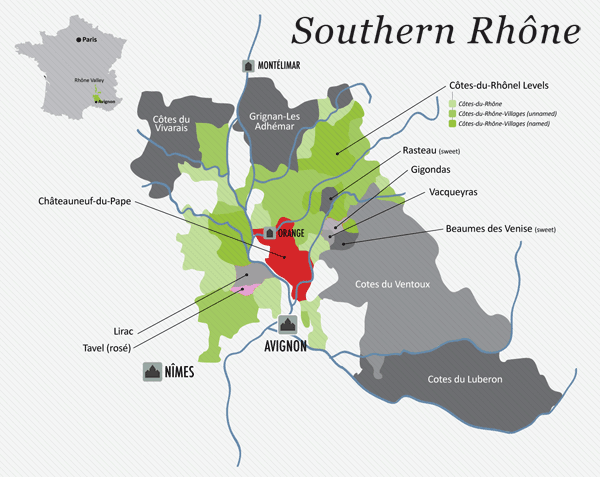 The renowned Rhône region follows the Rhône River from Vienne in the north to Avignon in the south. The region is neatly divided into two sub-regions, the Northern Rhône and the Southern Rhône, with the catchall Côtes du Rhône appellation theoretically covering wine from anywhere within the entire region. In reality nearly all wine labelled as Côtes du Rhône comes from the vast and sunny Southern Rhône.
There are 3 different Côtes du Rhône classifications…
Côtes du Rhône AOC (appellation) covers about 32,000 hectares and permits the use of 21 grape varieties, both red and white, however the majority of wines (89%) are red, made from grenache, syrahand mourvèdre. Since 1996, red Côtes du Rhône must contain at least 40% grenache but (and isn't there always an exception?) wines made in the northern Rhône, where syrah is the favoured grape, are exempt from this rule.
The Côtes du Rhône concept is well-known in Australia with popular GSM blends (grenache, syrah, mourvèdre) produced inthe Barossa and McLaren Vale. While it's tempting to put these ripe, generous and powerful wines in the same basket as Côtes du Rhône, remember how much warmer South Australia is than the south of France. The latitude of Avignon, in the south of the Rhône, is the southern hemisphere equivalent of just below Tasmania.
Red Côtes du Rhône is, at heart, an informal wine – not too structured, usually mid-weight, fruity, fragrant and easy to drink with many different cuisines. Most red Côtes du Rhône is enjoyed young and it offers terrific value. As highly regarded wine writer Andrew Jefford observes: "Delicious, and supremely drinkable red wine, almost nowhere in the world can match the Côtes du Rhône at its best."

Côtes du Rhône Villages AOC is a distinct step up from straight Côtes du Rhône, with about 95 villages identified as superior. The appellation covers only about one tenth of the area of standard Côtes du Rhône and allows 9 grape varieties, requires higher minimum alcohol levels and lower yields in the vineyards. Red wine dominates (96%) and these wines tend to be more full-bodied and spicy in style than standardCDR. There is a minimum of 50% grenache, 20% syrah and/or mourvèdre and a maximum of 20% of other grape varieties permitted.
Côtes du Rhône Villages AOC (with a named village) 18 villages are allowed to add their actual name to the label. Once again this is a step up in quality, with more stringent requirements regarding production. The wines offer more depth and flavour, and may have been aged for a few years. Since the appellation was formed in 1966, 5 villages have been granted their own appellation; Beaumes-de-Venise, Gigondas, Rasteau, Vacqueyras and Vinsobres.
I recently tasted a couple of Côtes du Rhônes that I reckon are perfect for mid-week winter drinking, offering great taste at the right price. I'm sure you'll like them too.
---

1. 'Un Air' de Remejeanne Côtes du Rhône 2012
Let's start with a wine from Olivier Klein, cool new kid on the block. Olivier's grandfather established Domaine la Remejeanne in the obscure village of Sabran, about 35km west of Orange (in the Rhône), back in the 1960s and Olivier's father, Rémy Klein, took over in 1988.
Rémy Klein is the real deal. A talented, hard working and highly regarded winemaker – best illustrated by his inclusion as one of only 4 individually profiled Rhône winemakers in Andrew Jefford's acclaimed book The New France.
"… one reason why the Domaine la Remejeanne makes such beautiful Côtes du Rhône wines is that Klein is constantly researching, trialling and testing new techniques and approaches…. The result is a range of wines that, like their creator, combines finesse with friendliness."
"Proprietor Rémy Klein is one of the most consistently top-flight winemakers among the Côtes du Rhône producers." Robert Parker.
Olivier has been working on the estate since 2009 and is himself proving a precocious young talent. Aside from helping his father, he also makes his own entry level Côtes du Rhône 'Un Air de Remejeanne' complete with groovy packaging.
The 2012 'Un Air' is a blend of 90% grenache and 10% syrah and as you would expect from a young dude, it has the organic-minimal-intervention-thing going on. He uses natural yeast, there's no fining or filtering and only minimal use of sulphur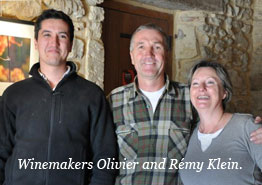 The wine is a deep rosy red colour and on the nose it's lifted and aromatic, with plenty of pure, juicy, unworked natural fruit. In the mouth it's sweet strawberries and violets – almost like entry-level Burgundy for a fraction of the price. You'll find it straightforward, fresh, and energetic, with a savoury edge and hints of spice and bracken to give it backbone. The very fine tannins make it smooth and all too easy to enjoy. What a vibrant, upbeat and drinkable wine.
"The blissfully simple 2012 'Un Air de Réméjeanne' Côtes du Rhône: strawberries metamorphosed into wine." Andrew Jefford, Decanter.com
"The palate has the ease of the Gard département in it, a sympa grenache roundness that is totally unforced, so it achieves a natural grenache elegance. It is stylish, pretty naked, and the finale is aromatic. Will go down very well with Vin Nature lovers." John Livingstone-Learmonth. Drinkrhône.com
I can offer it for $24 a bottle. SOLD OUT - Check availability
---

2. Head Wines 'Head Red' Barossa GSM 2013
Yes, I know… this is not a Côtes du Rhône, but I have to offer this because Alex Head is such a great winemaker and takes his inspiration from the Rhône. I met up with Alex the other day for lunch at Mr Wong (what a great wine list) and as usual was impressed by his dedication and perfectionism.
I've been a big fan of Alex for several years and have told his story a few times before.Since my last write-up, Alex's 2012 wines have picked up a swag of awards and more recently he was recognised with:
- 2013 Barossa Wine Show Trophy – Best Small Producer
- 2013 Marananga Wine Show Trophy – Most Successful Exhibitor
- 2013 Young Gun of Wine Awards – People's Choice Trophy
The 2013 Head Red GSM is 85% grenache (sourced from a combination of 50 and 100 year old vines) 10% shiraz and 5% mataro (also known as mourvèdre). 2013 was a warmer vintage, great for grenache and the wine spent 9 months in large format, old oak.
This wine is dark ruby in colour and as you would expect, has more fruit than the CDRS. It offers loads of delicious, ripe red fruit, like macerated berries in summer pudding. There are notes of violets and wine gums, tempered with stone and spice characters. In contrast to a typically big South Australian GSM, you'll be pleasantly surprised by the mid-weight of this wine. It amazes me that even though it's not heavy, it still has a smooth, viscous, glycerol-like texture and nice weight in the mouth. Not sure how Alex does it… but this satisfying balance creates a very drinkable wine. Plenty of nuance without being heavy handed. No wonder this is such a popular bistro style wine.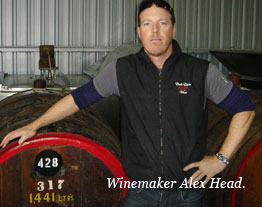 "Spicy and meaty with that 'stony' kind of feel that instantly makes me warm to a wine. Raspberry, floral notes and some darker fruit flavours lead into a medium bodied palate – almost Pinot-like in weight – that pitches Australian fruit sweetness with Rhôney stony savouriness to create a thoroughly delicious drinking wine. It's fresh and vibrant with lightly stalky powder fine shaping tannin, and I have to mention it, peanut flavours. Clean and long on the finish. Yum. A delight". 94 Points. The Wine Front


"… the strongly scented red berry bouquet leads into a palate that, while relatively light-bodied, has energy, drive and freshness to its array of red fruits. It's hard to imagine it being better than it is now, but will likely outlive your patience. Good value." 93 Points & Special Value Wine. James Halliday.
I can offer it for $23 a bottle. Click here for new vintage
---

3. Château Pegau Côtes du Rhône – Villages – Cuvée Setier 2012
And finally an entry-level wine from a revered name in the Rhône… Pegau.
Domaine du Pegau is regarded as one of the leading traditional/classic style domaines in the southern Rhône appellation of Châteauneuf-du-Pape (CNDP). The Féraud family made wine here for several generations before Paul Féraud started bottling wine under the Pegau name in 1987. Now Paul's daughter Laurence runs the estate,with their top wines fetching top prices and receiving praise from critics the world over.
Robert Parker notes in his book Wines of the Rhône Valley: "The 32-acre estate of the Féraud family produces one of Châteauneuf-du-Pape's most majestic, old-style, robust, superconcentrated, blockbuster wines. I have long been a fan of this estate, and have put my money where my mouth is, having purchased all of Pegau's vintages since 1979." Not surprisingly he gives the domaine his highest rating, 5 stars (outstanding).
Château Pegau (as opposed to Domaine) is a new venture for the Féraud family. In early 2012 they purchased an established 100+ acre estate in Sorgues, just a few kilometres from the southernmost border of CNDP. When an estate with a stellar reputation for top-end wines decides to release an entry-level range, it's a risky move and the pressure is on to impress. So they've pulled out all stops to ensure they're not tarnished by the introduction of a more affordable range – this wine over-delivers and is definitely value for money.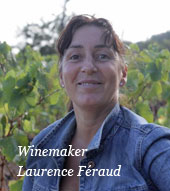 Château Pegau made several wines in their first vintage (2012) and the Côtes du Rhône Villages – Cuvée Setier is the best of them. Named after an ancient measure used for both grain and wine, Setier is a blend of 60% grenache, 20% syrah and 20% mourvèdre,from 35-60 year old vines, planted in stony soil similar to CNDP.
"aged in enamel tanks… is slightly more fresh and focused, with medium-bodied richness, loads of cracked pepper, black fruits and herbs aromas and flavours, and chewy tannin on the finish. It too has outstanding potential and should have upward of a decade of longevity. Drink 2015 -2022" 88-90 points. The Wine Advocate # 209 Robert Parker. This is a great review, given the modest price of the wine.
This wine is very different to the first two. It's crimson in colour, slightly darker and definitely denser. On the nose it reveals red currants and spice and is cedar city. On the palate ripe blackberry flavours mingle with cranberry astringency – a wonderful combination, interspersed with rich notes of cedar (a typical CNDP characteristic) and chinotto. Structurally it has fine, dry, chewy tannins and a typical French savoury acidity on the finish. It's a firmer, more structured wine than the first two and you can detect the extra dimension the 'village' element adds.
I can offer it for $25 a bottle. Click here to order.