Vouvray is a staple at my place and if you like whites, it should be at yours too. I love its contradictory nature - aromatic and light, yet when left to open up, it gains weight and texture. It's an appealing combination.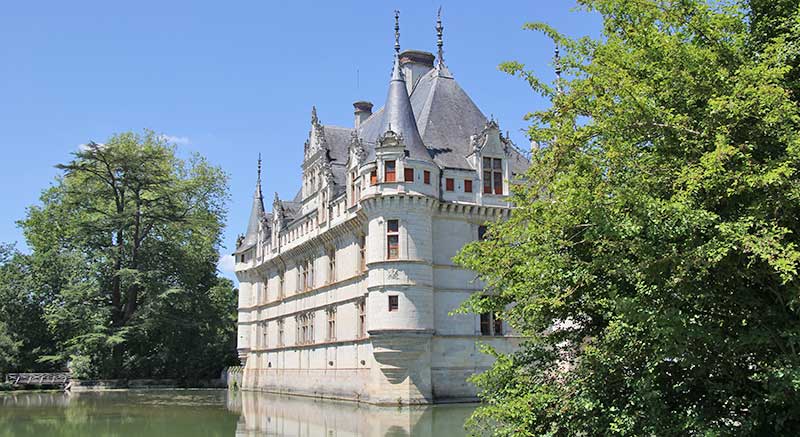 Built in the early 1500s, Château d'Azay-le-Rideau stone is locally quarried limestone.
Vouvray is a wine, a town and a region located in the stunning Loire Valley, which since 2000 has been a UNESCO World heritage site. The town of Vouvray sits about 10km east of the city of Tours, on the north bank of the Loire River, in the Touraine district. Oxford Companion: "the most important Loire region centred on the town of Tours. This is 'the garden of France', and Loire château country par excellence, a series of playgrounds for France's pre-revolutionary aristocrats, and now the Parisian weekender's rural paradise."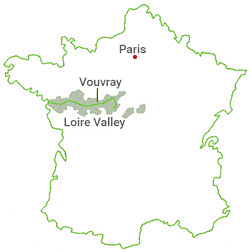 I visited the region a few years ago, marvelling at its topography, with most of the vineyards sitting on a plateau several metres above the town. While the topsoil of the plateau is made up of various soils including clay and gravel, the subsoil is form of local limestone known as tuffeau. This wonderful material is not only ideal ideal for growing grapes, it's also a terrific building material and was quarried extensively to build many of the splendid Loire chateaux. Most of the local cellars and even a few houses have been tunnelled into the plateau.
The Vouvray appellation was created in 1936 and these days is about 2,000ha. It's planted almost entirely with the white variety Chenin Blanc, which is sometimes referred to locally as 'Pineau de la Loire.' Jancis Robinson hits the mark when she describes Chenin Blanc as "probably the world's most versatile grape variety." It's amazing that Chenin from Vouvray produces such a wide range of styles:
Sparkling
Sec - dry
Demi Sec - off dry
Moelleux - sweet and often botrytised
Doux - the sweetest style, the term 'liquoreux' may also be used
Acidity is the backbone of Vouvray. Chenin has little problem achieving good richness and texture, however its naturally high acidity gives Vouvray finesse and length, and an ability to age for decades. Vouvray is one of the few whites, aside from Sauternes and German Riesling, that can be cellared very long-term. I remember an article Huon Hooke wrote several years back (SMH 22/01/13) in which he tasted a dry 1954 Vouvray and referred to even older vintages of sweet Vouvray, which tend to last even longer.
In the US, after WWII, Vouvray was all the rage. US wine writer Frank Schoonmaker, who penned the classic Encyclopedia of Wine in 1964, reckons this was because the allied headquarters were situated at nearby Tours, so the soldiers developed a taste for the local drop.
What amazes me about Vouvray is that it's still such an underestimated wine. Its lack of profile here means it remains underpriced - it's some of the best value drinking, if you know the right producers of course.
Here's a selection of dry Vouvrays I like.
---

1. Domaine Pichot Coteau de la Biche Vouvray Sec 2016
The Pichot family has a long history in Vouvray, dating back to 1739. Currently at the helm are Jean-Claude (retired) and his son Christophe. They have about 24ha of organically farmed vineyards located throughout the appellation, most in the prime sites of Le Mont and Haut Lieu at the top of the village.
Coteau de la Biche is the only vineyard of the estate, planted on silex layered over limestone slopes, and unlike the top sweet wine sites that face full south, it faces south east. The combination of soil and aspect make it particularly suited to the production of great dry whites.
The wine sees a combination of ferments, with 90% in stainless steel, and the other 10% in 400 litre wooden vats. It is aged on lees (spent yeast cells which sink to the bottom of the tank) to give more complexity, before being bottled.
This is what classic, young, dry Vouvray is all about. It starts off with an austere and flinty old-world dryness, rather like a Chablis, however it opens up with time in the glass. How enjoyable to have a fresh, young wine driven predominantly by structure not fruit. You'll love the clean, crisp mouthful of refreshing acidity.
"2016 is a classic vintage for dry Vouvray - yielding wines of perfume, finesse and lip-smacking freshness. Aromas of pear, candied fruit and spice with hints of honey and that distinctive chalkiness that is so typical of great Vouvray. Fine, brilliantly focused flavours with exceptional texture and length, with 7gm residual sugar (ie. dry)." David Burkitt, Vintage and Vine.
You'll see this wine in quite a few restaurants around town, including Catalina, where it's $70 a bottle. I can't think of too many whites under $30 that drink so well now, yet have the genuine potential to age 15+ years. Super value and sure to become a favourite.
I can offer it for $27 a bottle. Click here for new vintage
---

2. Domaine du Clos Naudin Vouvray Sec 2015
This legendary estate run by Philippe Foreau is, in an unusual display of unity amongst the critics, universally acknowledged as one of the top two Domaines in Vouvray. (The other being Domaine Huet below).
Robert Parker: "Philippe Foreau is one of the most scrupulous growers and vinificateurs as well as one of the most adept tasters in all France. 5 stars. Outstanding."
Andrew Jefford: "A reference domain, in sum." 2 stars (the highest he gives a Vouvray producer).
Chris Kissack (A Loire specialist who runs the website Wine Doctor): "I think they are among the greatest examples of Vouvray I have ever tasted. They show finesse, delineation, yet great character and flavour also. At all levels the wines are excellent."
Hugh Johnson: "Philippe Foreau is a perfectionist" 3-4 stars (the highest he gives a Vouvary producer).
3 Stars (Highest rating) La Revue du Vin de France (Big Cheese French Wine Magazine).
The Domaine was established in 1919 by Philippe's grandfather and Philippe took over from his father in 1983. The estate is 11.5ha which are farmed organically. His yields are low and he harvests entirely by hand. In the winery he's a minimalist with no acidification, no chapitalisation (addition of sugar), no malolactic (a process that softens the wine) and minimal use of sulphur. Ferments occurs naturally ie. wild yeast instead of commercial yeasts in 300L barrels.
Despite the accolades, Philippe Foreau maintains a very low profile, with no website and he doesn't travel to promote his wines. He also doesn't exhibit his wines at the all-important Annual Salon des Vins de Loire. True to form, when I stopped by the Domaine several years ago, everything seemed pretty deserted, with nothing resembling a public cellar door evident.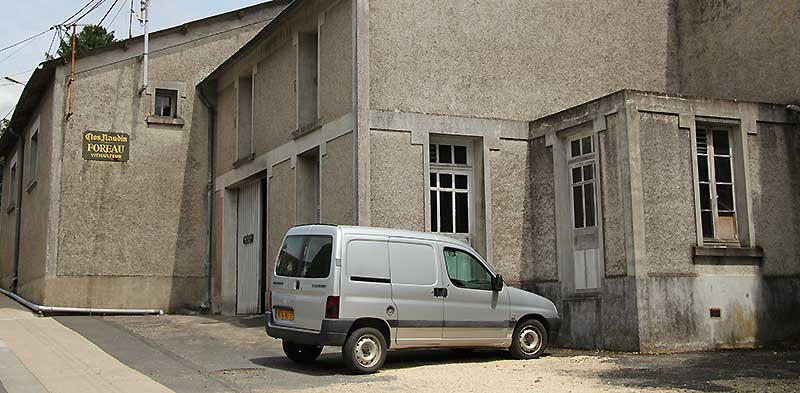 The understated facade at Domaine du Clos Naudin.
Foreau's US importer, Neil Rosenthal, tasted the 2015 Sec with Philippe at the cellars: "Philippe is a trusted soul who does not talk lightly, so when he claims a vintage to be great, we take notice. When he declares a vintage to be perhaps the finest of his lifetime, we know we are witnessing some of the greatest wines of ours. This is the case with 2015. Philippe feels that the 2015 Sec is better than the 2002, and perhaps approaching the great '96 Sec. It is a rich and powerful wine, holding 5 grams of residual sugar. Carried mostly by its intense mineral backbone, it presents quite expansive in the mouth. The fruit is quite tart, which is typical of this wine, with apple skin notes, a salty and tonic mineral texture that gives the wine considerable length. Currently the nose is rather closed and shows a flinty white-pepper note."
It's very hard to find any reviews for Foreau's wines outside France, but here's one from La Revue du Vin de France. "This dry Vouvray opens to a fresh nose, a very pleasant lemony and mineral edge. On the palate, both acidity and ripeness are showing well, still with a lot of freshness and purity. It will pair very well with seafood or grilled fish for example." 17/20. ( A very good score for them)
This is quite simply an excellent example of dry Vouvray, with the potential to age 20+ years. Freshness, minerality and purity. This is an amazing wine.
You'll find this at a few good restaurants around the country, including Est in Sydney and Dinner by Heston in Melbourne. You'll also find it at Rockpool Bar & Grill at $130 a bottle!
This is the advantage of lesser-known appellations. For the best example of a region I can't stress enough what good value this is.
I can offer it for $55 a bottle. Click here to order
---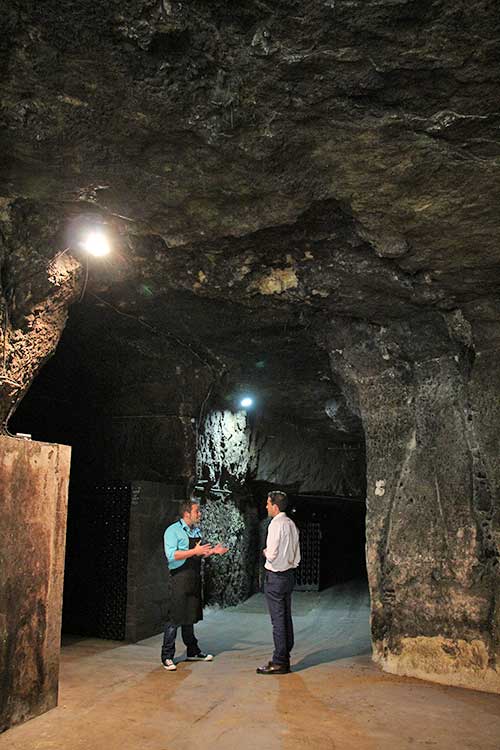 Domaine Huet
The other top estate in Vouvray is Domaine Huet, which unlike low-key Foreau, enjoys an international profile as one of the world's top white wine producers.
"No matter what the vintage or the wine style (including sparkling), the quality is always extraordinary and clearly reflects the excellence of their terroirs. The chiseled, contoured mouthfeel and precise minerality are unique in the Loire." La Revue du Vin de France.
"The biodynamic Huet estate comprises three key terroirs with clearly identifiable personalities… it is justly regarded as the leading property in the Vouvray region." Clive Coates MW, The Great Wines of France.
When I visited the estate I was fortunate enough to not only taste the wines, but also be shown around the winery and amazing tunnelled cellars.
Although founded in 1928 by Victor Huet, Domaine Huet's path to greatness was forged by Huet's son Gaston, who worked with his father until 1937, after which he took full control. Over the next five decades, Gaston drove the estate's growth - inheriting the Haut-Lieu vineyard and purchasing Clos du Bourg in 1953 and the Le Mont site in 1957. These three great terroirs were the foundations on which Domaine Huet's reputation was built. In 1971, Noël Pinguet, Gaston's son-in-law, joined the estate and another era began.
Pinguet converted the vineyards to biodynamics in the late 1980s, and put greater emphasis on the purity and precision of the wines. Jean-Bernard Berthomé, who at the time was chef du culture of Domaine Huet and is the Estate's current winemaker, was the driving force behind Huet's advancement in biodynamic farming.
When Gaston Huet died in 2002, Pinguet sought a financial partner and in 2003, Anthony Hwang, a New York based businessman, invested in the Estate. The Hwang family worked with Noël Pinguet for another decade until he retired in 2012.
Today the vineyards and cellars of the estate are managed by Jean-Bernard Berthomé, who has played an integral role here since 1979. Assisting Berthomé is Benjamin Joliveau, who has worked at the estate since 2008 and was handpicked by Noël Pinguet. Sarah Hwang runs the business side of things in her role as President. This exceptional team is overseeing yet another exciting era in the history of Domaine Huet. The Hwang family are committed to the estate's evolution and have spared no expense along the way.

3. Domaine Huet Le Clos du Bourg Sec Vouvray 2016
This iconic parcel of vines is generally regarded as the greatest of the three Huet single vineyards, and one of the revered vineyards of the appellation. It has been farmed by Domaine Huet since 1953 and was purchased in 1963. Clos du Bourg makes some of the most powerful and long-lived white wines in Europe. With only one metre of topsoil over solid limestone, the vines almost immediately tap into the mineral resources 'underfoot'. The warmth of the site, combined with the minerality of the soils results in rich, super long-lived wines that seem to effortlessly synthesize intense minerality and finesse with generous texture and concentration. A great vintage can only mean one thing here. This will live and live but the balance already renders it particularly delicious.
"Bright and pure, with delightful pear, green almond and green plum notes laced with a fennel streak, ending with finely beaded acidity and a mineral echo through the finish. Very refined." 96 points, James Molesworth, Wine Spectator.
"Something a tiny bit oxidative on the nose, giving a bruised apple sort of character, but then wonderfully pronounced stone fruit comes through on the palate, with a touch of honey and honeysuckle. Lip-smacking acidity is well balanced with the fleshy body." 17.5/20 points, Jancis Robinson (a high score for her).
If you can keep your hands off it, and if well cellared, this wine will last for decades.
I can offer it for $95 a bottle. Click here to order