There's no doubt that rosé is the most abundant and widely known wine of Provence, but most critics agree that the greatest wine from this southern French region is from the appellation of Bandol and it's not a rosé… it's a red.
Right next to the vast rosé appellation of Côtes de Provence is the tiny appellation of Bandol, referred to by many, including Decanter Magazine's Andrew Jefford, as the 'one true Grand Cru' of Provence. While its name is taken from the small chic seaside town of Bandol, the appellation's vineyards lie just inland. Nestled in the hills you'll find beautiful villages surrounded by vines; the deep blue waters of the Mediterranean in the distance. Here, a collection of elevated, south facing amphitheatres capture the sun to create a unique microclimate. Bandol gets an average of 3,000 hours of sunshine a year compared to Burgundy, which gets around 2,000 hours of sunshine in a good year and only 1,600 in a dim one. Despite all this southern French sun, Bandol's proximity to the Mediterranean and its persistent Mistral wind, means this warmth is tempered, ensuring coolish nights and making it ideal for ripening grapes.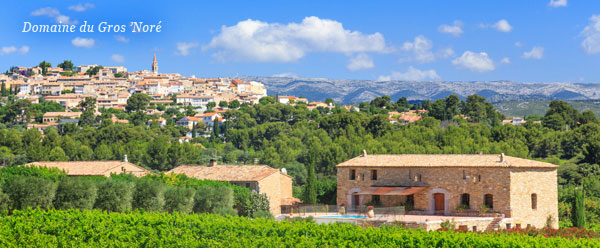 Bandol itself makes very good rosé and small amounts of white but its best is its red. Appellation laws require a minimum of 50% Mourvèdre; the balance usually made up of Grenache and/or Cinsault. The thick skinned, late ripening Mourvèdre (also known as Mataro in Australia) thrives in Bandol, where it produces some of the best examples of the variety in the world. As Jancis Robinson MW notes in her tome Wine Grapes, "Provence's most famous red wine, Bandol, is arguably Mourvèdre's finest expression;" a view shared by The Wine Advocate: "no wonder its (Bandol's) wines are hailed as the apogee of Mourvèdre."
So what to expect from a Bandol red? These are wines we know and like in Australia - generous, tannic and high in alcohol. You'll find them mouth-filling, well structured and age-worthy, with flavours that include blackberry, liquorice and a meaty spiciness. New York Times wine guy Eric Asimov describes them well: "predominant flavours include dark fruits, licorice, herbs, tobacco and earth. If you shy away from overly fruity wines, like flamboyant Châteauneuf-du-Papes from warm vintages, Bandols offer excellent, more savoury alternatives."
Bandol Rouge evokes a sun-drenched climate, making it perfect to pull out in the cooler months, when it'll bring a little Mediterranean warmth to your table.
There are just a handful of top producers in Bandol - here are two I hope you like.
---
Domaine du Gros 'Noré
This 16ha estate lies in the hills around the small medieval village of La Cadier d'Azur, with sweeping views of the gleaming Mediterranean.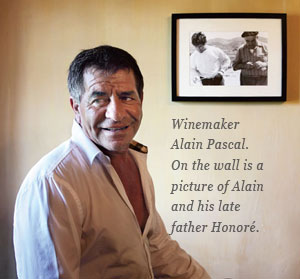 The Pascal family have been growing grapes here for generations and like many growers, Honoré Pascal sold his fruit to others. After Honoré's death in the mid 90s, his son Alain Pascal took over the estate, renaming it Gros 'Noré (grow-nor-ray) in honour of his father. This is a cheeky reference to his father's ample girth, gros is fat in French and Noré is the abbreviated version of Honoré.
Alain is a former boxer and a bear of a man. He built the estate's cellar and house by hand and released the first Gros 'Noré wine in 1997. Legendary US wine merchant Kermit Lynch then discovered it, putting Gros 'Noré on the map and introducing the wines to the likes of Alice Waters of Chez Panisse fame.
Alain is pure salt of the earth and is blessed with a gentle and generous disposition. Lynch likes to draw a parallel between Alain's personality and his Bandol Rouge: " Do not be fooled by the strength and boldness of the Gros 'Noré Bandol, underneath a big exterior is a wine of character, depth, complexity, soul, and finesse."
After 18 years, Alain has established Gros 'Noré as one of the leading estates in Bandol.
"Alain Pascal has made his domaine one of the best representatives of his appellation. With old vines of Mourvèdre ripened to perfect maturity, he produces Bandol reds which are always complete, intense and made for long ageing, from the clay soils of Cadiere d'Azur." Classement 2013 (France's leading annual wine guide).
---

1. Domaine du Gros' Noré Bandol Rouge 2011
Alain makes his wines in a traditional way; small batches, natural yeasts and ageing in old foudres (large oak vessels), avoiding fining and filtration.
The fruit for this wine comes from 30-year-old vines and is a blend of 80% Mourvèdre, 15% Grenache and 5% Cinsault. Using 80% Mourvèdre, much higher than the 50% required by appellation law, gives the wine power and concentration .
The wine is dark plummy red and very dense in colour. There's loads of black, dark, spicy fruit, and as it opens up, dried herb and savoury elements emerge, as well as liquorice and anise. But the key to this wine is its liveliness. You'd think a wine from the heat of the south would be big, hot and baked… but it has good Bandol brightness and freshness; surprising and impressive. This feels like 12 or 13% alcohol rather than the 15% it actually is. The tannins are dry, firm and velvety, making for a smooth finish.
This wine has received great reviews: "… it's a dense, concentrated 2011 that offers notions of black cherry, blackberry, earth and ground herbs on the nose. This flows to a full-bodied, gorgeously put together palate that has considerable structure, superb purity of fruit and a knockout finish. Give it another 2-3 years in the cellar and enjoy it over the following 15 years or more." 94 points. Jeb Dunnuck eRobertParker, Feb 2014.
For Parker fans out there… this wine is an amazing price for a 94-point wine! You'll find the 2010 vintage at SMH 2015 Restaurant of the Year, Sepia for $129.
I can offer it for $55. SOLD OUT
---

2. Domaine du Gros 'Noré Bandol Rouge 'Cuvée Antoinette' 2011
Named after Alain's mother (a very French thing to do) this wine was first produced in 2008. It comes from old vines in Bandol's highest and coolest north facing slope and comprises 95% Mourvèdre, the balance being Cinsault and Grenache.
This is Alain's finest wine and what a treat it is. This is a real step up, with more of everything. More intensity, more complexity and power packed into it, but still with that freshness and elegance. Why aren't more people onto Bandol? This wine is a cracker…
Here's a slightly more eloquent note: "Also gorgeous, yet slightly more elegant and polished... It exhibits impressive amounts of red and black fruits, sweet spice, smoked earth and dried flower notions as well as building richness and depth on the palate. Full bodied, elegant, seamless and silky, with fantastic polish to the tannin, it's reasonably approachable now, yet should be better in another year or three, and have 15-20 years of ultimate longevity." 94 points. Jeb Dunnuck, eRobertParker, Feb 2014.
I can offer it for $115 a bottle (very limited). SOLD OUT
---
Château de Pibarnon
I've told the Pibarnon story a few times before; they're one of the best rosé producers in Provence but it's actually their reds that put them on the map.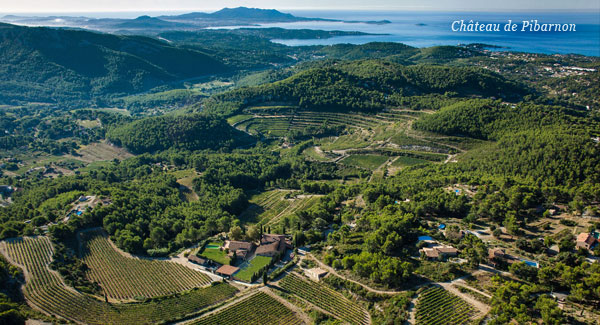 This idyllic estate, with its amphitheatre-style setting, lies high in the mountains above the Mediterranean Bay of La Ciotat, between Marseille and Toulon. Its beautifully restored Provençal country house is surrounded by about 50 hectares of vines… stunning.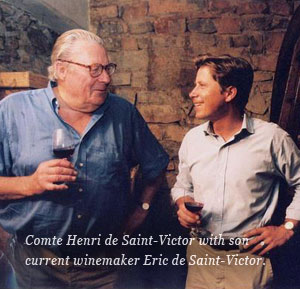 Comte Henri de Saint-Victor purchased the estate, the highest in the Bandol appellation, in 1975. He then set about reinvigorating it, restoring the house, acquiring more land and carving out terraces in the landscape to minimise erosion and maximise water absorption. With son Eric de Saint-Victor at the helm since 2000, Pibarnon continues to excel.
"The wines are gorgeous and offer classic examples of the appellation." eRobertParker.com, Feb 2014.
"The red is robust when young but develops a range of subtle, typically Mediterranean aromas, together with very fine tannins that places it amongst the greatest of all the French wines." Bettane and Desseauve's Guide to the Greatest Wine of France 2011.
"Two Stars - producteur de très grande qualité," (the equal highest rated producer in Bandol). Le Classement des Meilleurs Vins de France 2009.
"Château Pibarnon… a great Bandol classic with wines of depth, balance and without peer in Provence." Le Classement 2005, Bettane & Desseauve (bigwig French wine critics).
"Château Pibarnon is one of Bandol's best estates. All (wines) are of very good to outstanding quality, and are some of Bandol's most well-crafted bottlings." Wine Spectator, July 2003.
---

3. Château de Pibarnon 'Les Restanques' Bandol Rouge 2010
Les restanques is the local name for the terraces carved into the hill and this is the estate's entry-level red. Made from 70% Mourvèdre and 30% Grenache, the fruit comes from a younger, single four-hectare site that sits at an elevation of 200m, and which tends to produce a lusher, silkier style of Bandol when young. The wine has a higher percentage of Grenache than their flagship cuvée, and much more than your average Bandol red, giving this wine a more approachable and early drinking style.
Rich, rust tinged red in colour, it's dense but less so than the entry level Gros' Noré. On the nose it's totally different, with a much more charcuterie, savoury focus. A delicious wine-gummy red fruit emerges on the palate, integrating nicely with pepper, subtle spice notes and a savoury stoney finish. Dense and concentrated, yet very approachable - this is easy drinking.
"Ripe and broad-textured, with concentrated roasted plum, dried berry and wild cherry flavours, accented by notes of paprika and white pepper. Bittersweet chocolate hints show on the dense finish. Drink now through 2020." 93 points, Wine Spectator.
"… a superb effort that surpasses a number of estates' top wines. More forward and ready to go than their traditional cuvée, it is medium to full-bodied, rich and layered, with fabulous red fruits, currants, spice box and potpourri-like aromas and flavours all emerging from the glass. While the overall impression here is upfront and fruit-driven, it has good acidity and fine tannin, so I wouldn't be surprised to see it evolve gracefully. Enjoy it over the coming 7-10 years or so." 91 points. eRobertParker.
I can offer it for $56 a bottle. SOLD OUT - Check availability
---

4. Château de Pibarnon Bandol Rouge 2010 (750ml)
This is the estate's flagship wine and what a great one it is. Made from 90% Mourvèdre and 10% Grenache, it undergoes partial de-stemming as well as lengthy maceration to achieve optimum flavour, colour and tannin extraction. After fermentation, the wine spends a minimum of 18 months in large oak casks before bottling.
The wine is a dark plummy colour with a rusty edge - a slightly deeper hue than the previous wine. On the nose and palate there's a lush combination of concentrated dark fruit, lifted sweet red fruit, pepper and meaty savouriness. As it opens up in the glass though, it continues to evolve with subtle floral, musk and toffee notes. With firm, velvety tannins, this top Bandol is rich and generous all the while remaining fresh, elegant, and subtle.
Many acknowledge the 2010 as this wine's best vintage. In a line up of 18 Bandol reds last year by New York Times wine critic Eric Asimov, this wine was the top pick, described as "Pure, smooth and harmonious, with complex, lingering flavours of dark fruit, earth and herbs."
It was similarly praised by Jeb Dunnuck: "… and even more impressive, the 2010 Bandol… offers both gorgeous aromatic complexity and superb richness and depth on the palate. Giving up notions of pepper, Provencal herbs, underbrush and leather, with a solid core of dark fruit, this medium to full-bodied, pure, layered and beautifully balanced effort needs another 2-3 years of bottle age, and will easily keep for a decade or more past that." 94 points. eRobertparker.com, Feb 2014.
This really is a benchmark Bandol and as a colleague so succinctly summed up… "it's so worth it!"
I can offer it for $79 a bottle (limited). SOLD OUT - Check availability
---

5. Château de Pibarnon Bandol Rouge 2010 (375ml)
And because there are times when just a couple of glasses will suffice, or you want just that little bit more…
Finding good quality wine in half bottles is not so easy, so I jumped at the chance to grab these. You should too.
I can offer it for $45 a bottle (375ml). Click here to order