Warming, delicious and best of all affordable - here are some favourite reds that'll hit the spot.
---

Head Wines Head Red Shiraz 2015
Alex Head is a winemaker who works hard and continues to go from strength to strength. He's been making wine in the Barossa for a mere 10 years yet in that short space of time has gained a reputation for the quality of his wines - a huge achievement in a region where it's not unusual for a winery to have 100 years on the scoreboard.
Taking his inspiration from the Rhône, Alex was at the forefront of a wave of winemakers who challenged the so-called 'Parkerisation' of the Barossa - wines made in a style developed to suit the palate of influential wine critic Robert Parker. Characterised by high alcohol, rich, ripe fruit, and masses of sweet new oak, it was first brought to prominence in the Barossa by Torbreck in the mid 90s.
When Alex arrived in the Barossa in 2006, as an outsider (from Sydney), he brought with him a groundbreaking and decidedly anti-Parker stance. He eschewed the common practice of picking fruit late and overly ripe. He also sought to avoid additions that were a standard part of winemaking at the time. He used no enzymes, no cultured yeasts, no added acids and no added tannins, all techniques that have since become widely practiced.
Alex and his ilk have helped redefine the classic Barossa red, giving rise to wines that are leaner, less-oaked and more savoury in style.
Since his first vintage in 2006, Alex has received considerable recognition. He was a finalist in the Young Gun of Wine Award in 2011, 2012, 2013 and 2017, and James Halliday gives him a 5 star rating. Over the years his wines have picked up a swag of awards including: Best in Shows, multiple trophies and gold medals, and even a position in AFR Magazine's Top 20 Wines of the Year. His wines are regularly scored in the high nineties by the nation's top critics.
The wine is an inviting deep red colour. On the nose you'll find red fruit, violets, pepper and tar. On the palate plums and rhubarb notes meld with pepper and liquorice. Beautifully fine tannins and sweet juicy red fruit on the finish contrast cleverly with more savoury earth characters. Warm climate richness with cool climate finesse. What a delicious wine.
"The back label puts it succinctly: 'this is the best value blend of Barossa Valley shiraz I can make each year.' The bouquet is super-fragrant, the medium-bodied palate vibrant and fresh, the flavours circling red and black fruits, multi-spices, a touch of black licorice, and the tannins judged to perfection." 95 points, James Halliday. He also gives it a'Special Value' award.

Included in Halliday's Top 100 Wines for 2016

"Unusual sophistication at this price point for a Barossa Shiraz. It's not an ooze monster, not at all. It's fine and spicy, almost bony in structure with firm grainy tannin, blueberry and floral/apricot perfume, pan juices and crisp cut of acidity. Finish is dry, meaty and spicy, with a vapour trail of sweet blue fruit. Likely better again with another year in bottle (which it now is!)." 92 points, Gary Walsh, The Wine Front.
Extraordinary drinking for the price.
I can offer it for $23 a bottle. Click here for more Head Wines
---

2. Yves Cuilleron Les Vignes d'a Cote Syrah 2015
After discovering this last year, I had the pleasure of retrying it with winemaker Yves Cuilleron when he was in town last week. It's still lean and spicy, but with a year in bottle it's gained in intensity as well as filling out a little. Such great drinking, especially for thenorthern Rhône,affordable examples of which are hard to find in over here.
Yves Cuilleron is one of the leading winemakers of the northern Rhône. Not a household name like Guigal but still regarded as a"superstar of the Northern Rhône," The Wine Doctor.
Way back in 2000, Robert Parker identified Cuilleron as one of a small number of young winemakers transforming the Rhône in a way he'd never seen,"…they are revolutionising the quality of wines consumers receive."and"Yves Cuilleron has become one of the bright shining stars of the northern Rhône."
In his fantastic book The New France, Andrew Jefford lists all the producers in his Rhône chapter (north and south combined), but features only 4. One of these is Cuilleron, about whom he writes;"the talented, dynamic, yet affable Yves Cuilleron is one of the great northern Rhône success stories."
Cuilleron is based in the village of Chavanay just south of the town of Condrieu. Yves' grandfather Claude established the family estate in 1920, passing it over to his son Antoine (Yves' uncle) in 1960 and then Yves in 1987. Since then Yves has embarked on an ambitious path of growth, expanding the estate far beyond its initial toeholds in Condrieu and Saint Joseph. He built a new winery in 1992, renewing and adding to it in 1999, 2007 and 2014.
Yves has farmed sustainably, for over 20 years and in winemaking prefers to use natural yeasts and avoid additions. He also likes to vinify his many parcels of fruit separately to express what he calls "maximum typicity." It also explains why he has over 30 different wines each year!
What's impressive is Yves gives the same level of care and attention to his entry level wines as those from top appellations. For a fraction of the price you'll see why northern Rhône wines, and Yves' in particular, are so sought after.
The fruit for this wine is sourced from vines in Chavanay - nearby, but not actually within a recognised AOC (appellation). This explains the generic Vin de France on the label.
The grapes were handpicked before being sorted and destemmed. Fermentation was carried out with native yeasts in open vats with grape skins left in to macerate for about 2 weeks. The wine was then matured for about 8 months in vats and barriques.

The wine is a lovely dark purple, the colour of blackberry jam. On the nose and palate you'll find bright cherries, almonds and pepper. The wine manages to be at once fresh and generous, yet elegantly lean, structured and focused. Tempered by great acidity and a dry savoury finish, its density and concentration contrast with the rounder, riper wines of the southern Rhône. 13% alcohol, with minimal oak influence and soft tannins, it's smooth and delicious - not to mention superb value.
A great introduction to northern Rhône Shiraz, and a nice reflection of Yves' more expensive wines. But no need to put this one in the cellar, enjoy it straight away.
I can offer it for $25 a bottle. Click here to order
---

3. Chateau Pesquie Terrasses Ventoux Rouge 2014
Another region known worldwide for it's good drinking and affordable reds is France's southern Rhône.The familiar tipple here is Côtes du Rhône, an informal, mid-weight red that's usually fruity, fragrant and easy to drink. But if you know where to look you can find appellations that offer something a little more serious and interesting than your standard CDR.
Once such appellation is Ventoux, a place where the last of the alpine country meets the warmth of Provence. Ventoux is nestled against the foothills of the Vaucluse Mountains, just east of Châteauneuf-du-Pape. This unspoilt area takes its name from nearby Mt Ventoux, an imposing 6,500 ft peak that in recent decades has become a mythical climb in the Tour de France. The appellation is large, with about 6,000 ha of vines producing 60% red, 36% rosé, and 4% white. The main red varieties are the usual southern Rhône suspects; Grenache, Syrah, Cinsault, Mourvèdre and Carignan.
Ventoux reds are a little more supercharged than your standard Côtes du Rhône - tending to be darker and more generous. "Bold wines that really show their terroir - reds with lots of pepper, spice and dark fruit. Native garrigue and lavender are major influences"Wine Folly. With a higher altitude than most of the southern Rhône and the cooling effect of the mountains, these wines tend to show more natural acidity and structure.
Despite vines having been cultivated here for centuries, the wines have remained obscure to the rest of the world. But recently Ventoux has been discovered by astute drinkers.
Located near the foot of Mt Ventoux lies one of the stars of the appellation, the beautiful Château Pesquié. This 3rd generation estate is a recent discovery for me, but I'm not the only fan."Easily one of my favourite estates from the up-and-coming Ventoux region, Château Pesquié is run by the talented brothers, Alexandre and Frederic Chaudiere. The wines sell for a song, yet always deliver high-quality, loads of character and impeccably made profiles."Jeb Dunnuck, Robert Parker's The Wine Advocate.
I like the minimal use of chemicalsin the vineyard, combined with judicious use of both traditional techniques and state-of-the-art technology in the winery.
The estate makes several wines; white, rosé and red, but I reckon you can't go past the Terrasses Rouge for value. The name comes from the terraces, carved many generations ago, into the steep hillsides to enable planting. The wine is a blend of 60% Grenache and 40% Syrah (a higher percentage of Syrah than most CDR). There are also traces of Carignan, Cinsault and Mourvèdre.
The wine is a dark plummy red. The nose shows off a typically French savoury barnyard funk. The palate offers plenty of up-front, sweet, juicy plums, vanilla and peppery spice. Finished with velvety soft tannins, this is a generous but elegant wine. Enjoy old world meeting new.
"Always a terrific value, the 2014 Ventoux Terrasses is no exception and offers complex, classic southern Rhone notes of dried garrigue, pepper, spice-box, licorice and sweet cherry fruit. These carry to a medium to full-bodied, elegant and balanced red that gains depth and richness with time in the glass, has loads Provencal character and a great finish. Made from a blend of 60% Grenache and 40% Syrah that was aged in tank and old barrels, it can last for 7-8 years (I know as I just finished a case of the '05, which was still going strong at age 10.)" 91 points, Robert Parker's Wine Advocate, Jeb Dunnuck, March 2016.
This is an astounding score for a wine of this price!
I can offer it for $27 a bottle. Click here to order
---

4. Morgante Nero d'Avola 2014
And lastly a wine from Sicily that's sure to bring a little Mediterranean warmth to your table.
Sicily is the largest island in the Mediterranean, and one with a long and significant history. Medieval Sicily was a seat of culture and trade, and I was interested to read that in the early 14th century Palermo had 100,000 inhabitants. At the time only Venice and Milan boasted larger populations in the whole of Europe. The flipside of this is that post WWII Sicily has been marred by poverty, violence and the presence of the Mafia.
Sicily has an incredible wine history dating back over 3000 years. With its hot climate, it was renowned for many centuries for its sweet wines. Since the 1800s the island's most famous wine has been its fortified Marsala, which has more recently fallen out of fashion.
Modern Sicily is a powerhouse of the Italian wine industry, producing over half a billion litres in 2016 (by comparison the whole of Australia made 1.3 billion litres). Until the 1980s though, most production was bulk industrial wine, much of it used by the northern regions of Italy to beef up thinner cool climate wines.
The last few decades, especially since 2000 with the advent of EU grants, have seen big changes in Sicilian wine. There has been significant improvement in the quality and a reduction in quantity. Sicily now offers wines for the enthusiast and boffin alike.
Sicily boasts many indigenous grape varieties, including Catarratto (white), which is the island's most widely planted grape. But it's Nero d'Avola, also known as Calabrese, that's the island's most important red grape. Named after the city of Avola in the far south of Sicily, it likes the hot climate and tends to ripen later, producing strong, full-bodied wines that are deeply coloured, with firm tannins. Some compare Nero d'Avola to Aussie shiraz, but I think you'll find it more savoury - it's from European earth but with a familiar touch.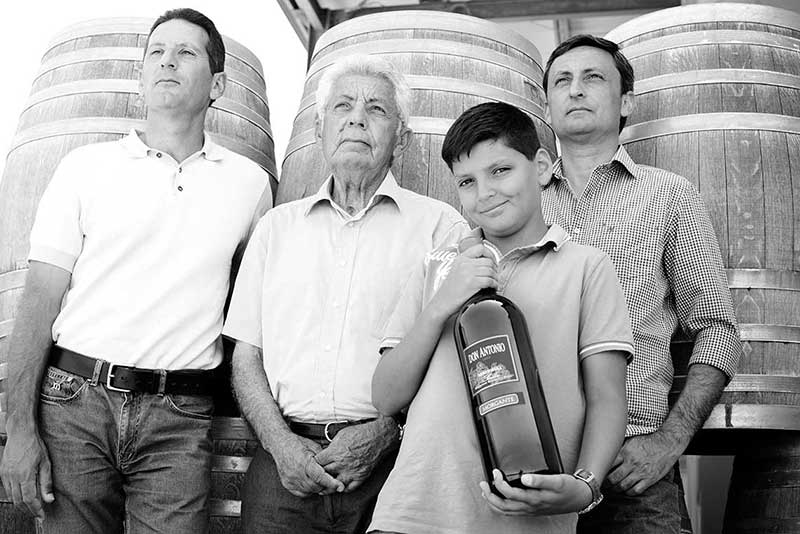 The Morgante family owns 200 hectares of vineyards, olive and almond groves on thewesternreachesof Sicily. Although they have been growing Nero d'Avola for five generations, it was only in 1994 that they decided to vinify their own grapes for the first time.

This wine is 100% Nero d'Avola. You'll find it generous, plump, and warm and in some aspects rather like an Aussie Shiraz with flavours of ripe blackcurrant, cassis and chocolate. If you leave it to open up, you'll find it gets even richer. Yum.

The wine is fermented in temperature controlled stainless steel. It is then briefly aged (3 -4 months) in barriques (225l), before a few months further ageing in bottle.

"Dark red colour, with shiny violet flashes. Blackberry and cherry aromas stand out, then geranium leaf, salty notes and towards the end vanilla, liquorice and tobacco. Mainly fruity in the mouth with a gentle, dry, outstanding freshness and good persistence". Winemaker's notes.

It finishes dry, with well-balanced acidity. Euro with a touch of Oz and a benchmark for its price to quality ratio.

I can offer it for $29 a bottle. Go to new vintage of this wine