I always find Burgundy a bit of a maze, but as a generalisation, the best whites come from an area known as the Côte de Beaune, which lies to the south of the medieval town, and Burgundy's wine capital, Beaune.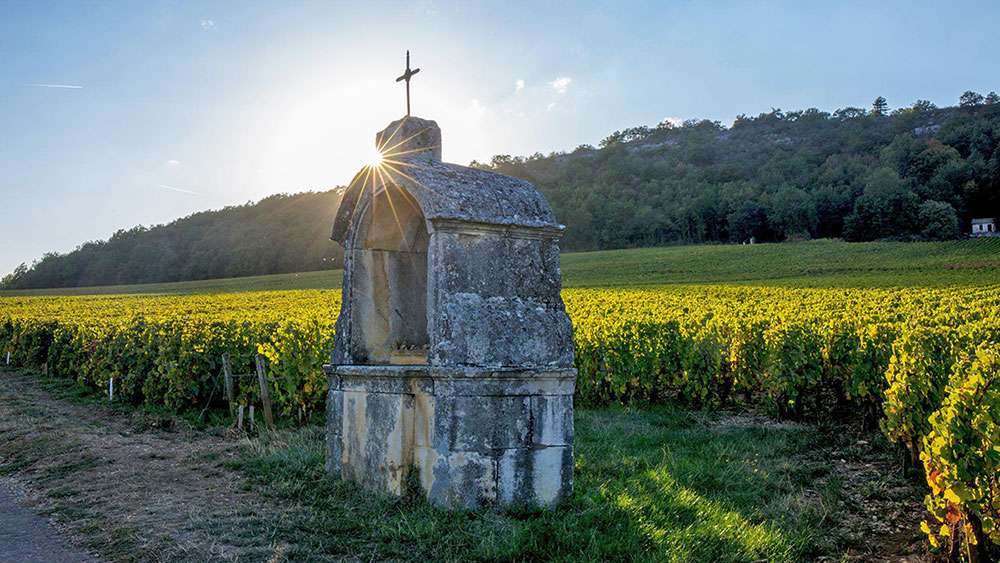 Within the Côte de Beaune you'll find several villages, the most famous of which (for white) are Meursault, Puligny-Montrachet and Chassagne-Montrachet. The last two of these are particularly revered, between them sharing most of the Côte de Beaune's Grand Crus (top appellation sites). Wines carrying either of the Montrachets on their label can be diabolically expensive, with the Grand crus going for thousands of dollars a bottle. There's no doubt they're some of the greatest white wines in the world, but at these prices, they're out of reach for most of us - which is why I need to tell you about St-Aubin.
"St-Aubin: Is this Burgundy's Best Value Village?" Stephen Brook, Decanter Magazine.
"St-Aubin is without a doubt one the appellations that provides the best quality/price ratio among white wines of the entire region (Burgundy)" Wines and Vineyards of Burgundy (Favaro & Gravina). A great book if you can get your hands on it.
Tucked away in a valley, just to the west of the main line of the Côte, St-Aubin borders both Chassagne and Puligny, the only appellation to do so. And while there are no Grand Crus in St-Aubin, there are 30 Premier Crus, which account for about 75% of plantings.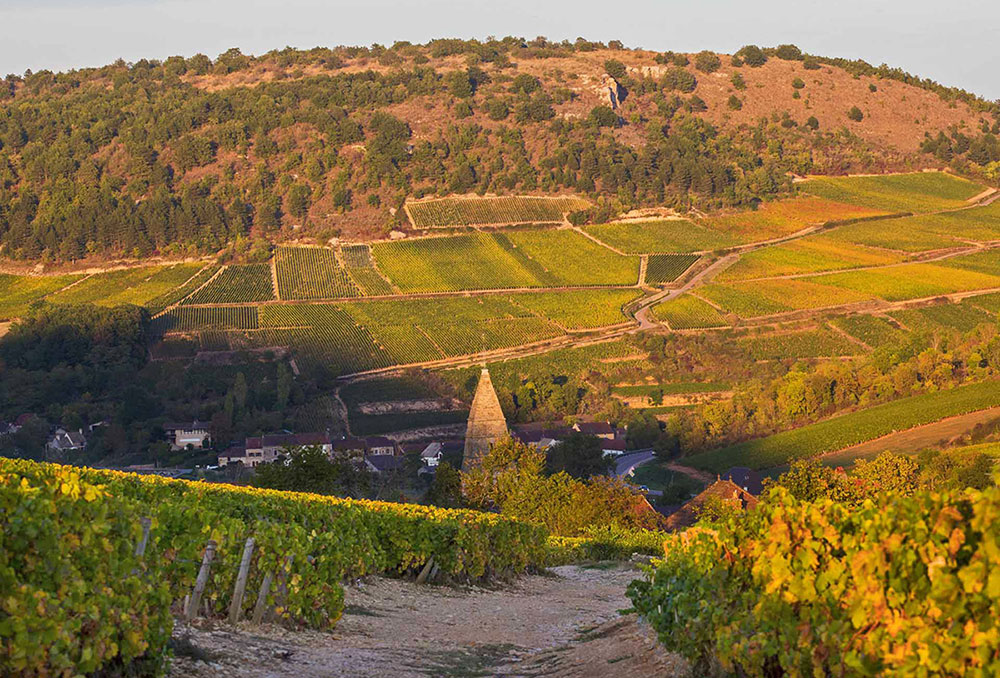 St-Aubin is a fairly small appellation with only about 170ha of plantings. To put this into perspective, Chassagne-Montrachet has about 310ha, and Château Lafite (single estate in Bordeaux) has 112ha. Decades ago, red grapes (pinot noir) dominated, however these days whites have found favour and chardonnay accounts for over 80% of plantings.
As the monks who established and subsequently farmed Burgundy for centuries knew, a few metres can make a difference. So even though St-Aubin borders the two most famous white appellations, I'm not trying to hoodwink you into thinking they're exactly the same. They're not, but there's no doubt that St-Aubin produces great wines, offering you a glimpse of top Burgundy for a fraction of the price.
One wag refers to St-Aubin as "the gateway drug to addictive pleasures far more sublime than you might have imagined the chardonnay grape was capable of delivering." (Jay McInerney, Town & Country, June 2021).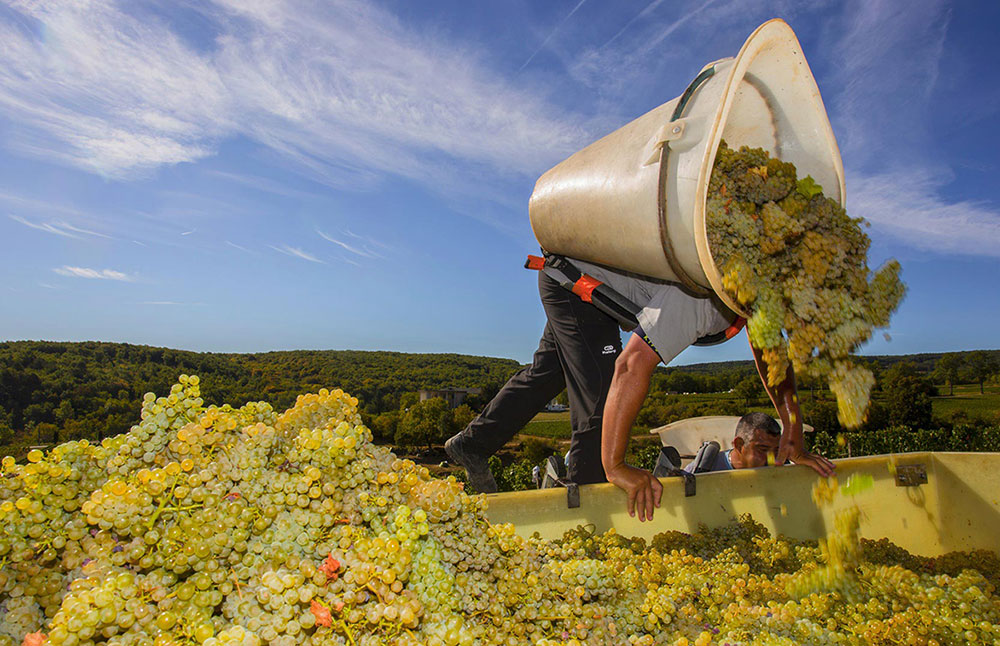 The whites of St-Aubin are described by the official Burgundy website (Bourgogne-wines.com) as "the colour of sunshine, with golden highlights whose exact shade varies according to where it is grown and in what year. When young, it combines aromas of white flowers, flint, green almond, and orangeflower. Richer fragrances come with age: beeswax and honey, marzipan, ambergris, and cinnamon. This is a firm and flattering wine - a bit sharp to start with but which becomes fleshier and fuller with time. This is a wine with real breeding."
"White St-Aubin is a fresh, energetic wine, which has some of the character of Puligny-Montrachet, especially in the warmer vintages" Oxford Companion to Wine.
St-Aubin has forged a reputation as a hidden gem, an appellation that offers quality wines at affordable prices. Unfortunately, it seems that more and more astute drinkers all over the world are discovering this, so it's getting harder to find them in Australia.
Like all regions, it's important to know who's who in the zoo and in St-Aubin the top producers are generally considered to be Domaine Marc Colin, Domaine Hubert Lamy and of course Domaine Larue. Luckily, I've been able to secure a parcel of Larue's wines.
---
Domaine Larue
Guy Larue founded this family estate in 1946 and these days it's run by his sons Denis and Didier, as well as Denis's sons Bruno and Vivien. While the estate is based in St-Aubin, the family has a total 17ha of vineyards spread across four villages; St Aubin, Puligny-Montrachet, Chassagne-Montrachet and further north in Aloxe-Corton.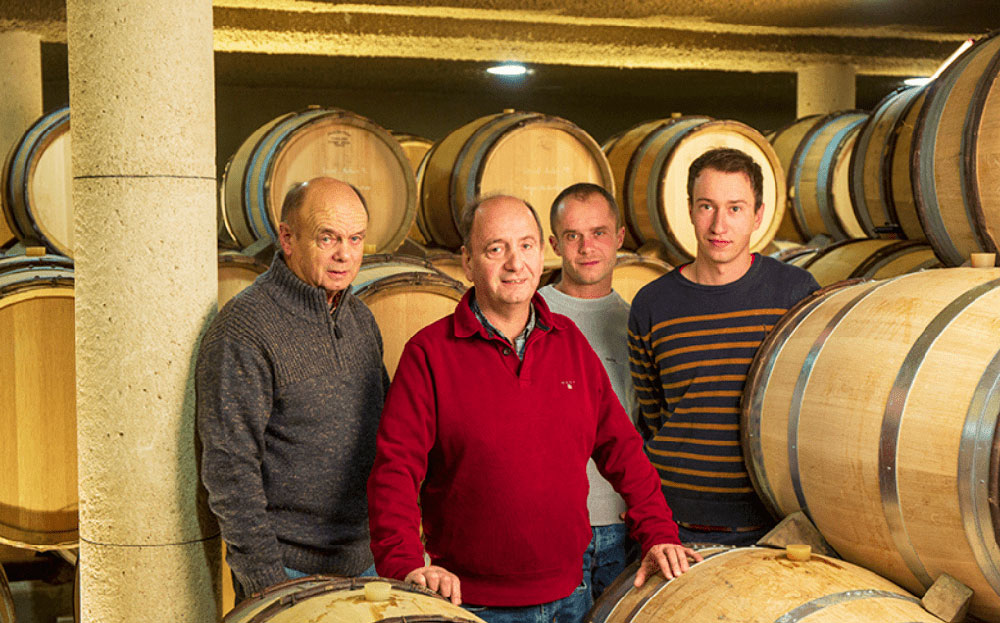 Denis, Didier, Bruno and Vivien Larue.
"Wines from Larue possess purity, energy, and an invariable minerality derived from the predominant limestone soils of Saint-Aubin. The Larues are meticulous and precise in all aspects of winegrowing and winemaking and their wines reflect these qualities. Tasting the full range is a veritable tour of the appellation, with each terroir's individual and striking signature clearly evident. These wonderful white Burgundies have the additional benefit of being approachable young, although they are tightly wound and can always benefit from a few extra years of bottle age." Kermit Lynch (legendary US wine merchant).
There's maddeningly little press on Larue. Perhaps the fact that their wines are so hard to find and sell out every year with next to no reviews, is the best endorsement of all.
Both wines below are from the warm, dry 2019 vintage, about which much has been written…
"During my week of intensive tasting in Burgundy at the end of July it became clear to me that the 2019 vintage has hit the bullseye. Almost every winemaker I spoke with talked about the vintage's rare combination of excellence and great consistency." James Suckling.
"Superb vintage," William Kelley, The Wine Advocate.
"The long, hot dry summer of 2019 created the perfect condition in Burgundy for a bumper vintage. Bernard Hervet, former director of Faiveley and Bouchard, two of the biggest maisons in the region, went so far as to say that it could "perhaps rival 1865, the greatest vintage of all," Financial Times, Dec 2020. Monsieur Hervet certainly knows how to grab a headline.
---

Domaine Larue St-Aubin 2019
The fruit for this wine was sourced from 2 domaine-owned parcels, located behind the village of Gamay. This section of 'village' St Aubin vineyards, stretches around a convex, south facing hillside and captures the sun.
The vines were planted here between 1971 and 2005, with an average age of 40 years across the two plots. The chardonnay fruit was handpicked and brought to the winery where it was gently pressed and the juice run off by gravity into barrels (20% new) for fermentation. Post ferment the wine spent 10 months ageing on fine lees (the dead yeast cells), after which it was lightly filtered and bottled. The finished wine is 14% alcohol and sealed with cork.
In the glass this is clear gold. On the nose, gooseberry and melon aromas meld with subtle freesia bloom - a touch of oak in the background. On the palate you'll find lemon, butterscotch and nectarine with warm nutty notes on the finish. This has a lovely soft mouthfeel. Intensity of flavour is matched by a nice line of acid, giving this wine a balanced and smooth old world composition - subtle fruit, understated oak and acid providing good length and structure.
The winemaker recommends serving the wine with snail cassolette (using Burgundian snails of course). You won't find this delicious wine around town at all, so be sure to grab some.
I can offer it for $85 a bottle.

---

Domaine Larue Aligote 2019
The two varieties most associated with Burgundy are of course chardonnay, which accounts for 51% of land under vine, and pinot noir, which accounts for 39.5%. The remaining 9.5% is made up of the lesser known varieties of the region; aligoté 6%, gamay 2.5% and a handful of other varieties you've never heard of.
Aligoté, often referred to as the Burgundy's other white variety, is characterised particularly by firm, bright acidity and flavours of "light stone fruit, apple, pear and citrus notes, but riper examples can be quite aromatic and lifted, even touching on the exotic." Aussie based Young Gun of Wine website.
"Aligoté is a delicious white wine that is young, stylish and is a little different. It is pale gold in color and offers a well-balanced taste, and ranges from a fruity bouquet with notes of apple and lemon to a more floral palette. In the mouth, this vibrant wine tickles the taste buds." Official Burgundy website (Bourgogne-wines.com)
I became intrigued by aligoté ever since learning that Aubert de Villaine is a champion of the variety. De Villaine is of course the long-time co-director and 7th generation of his family to run the internationally renowned Domaine de la Romanée-Conti. De Villaine and his American wife Pamela have their own estate, Domine A & P de Villaine, in Bouzeron (about 10km south of St Aubin) where they make aligoté.
De Villaine notes that "As early as 1730, the historian (some might say early travel writer) Abbé Courtépée, in his Description du Duché de Bourgogne, praised aligote's distinctive character: dry, yet delicate, and distinguished by roundness and finesse so cherished in the varietal. Aligoté has long been cultivated in Burgundy, formerly in a position of favor on the slopes of the Côte d'Or's great white villages of Meursault and Pernand-Vergelesses. The dictates of popular taste led to its replacement by such better-known grapes as Chardonnay and Pinot Noir, and today Aligoté has been largely relegated to flatter regions with richer soils which produce an abundance of Bourgogne Aligoté that doesn't live up to its potential."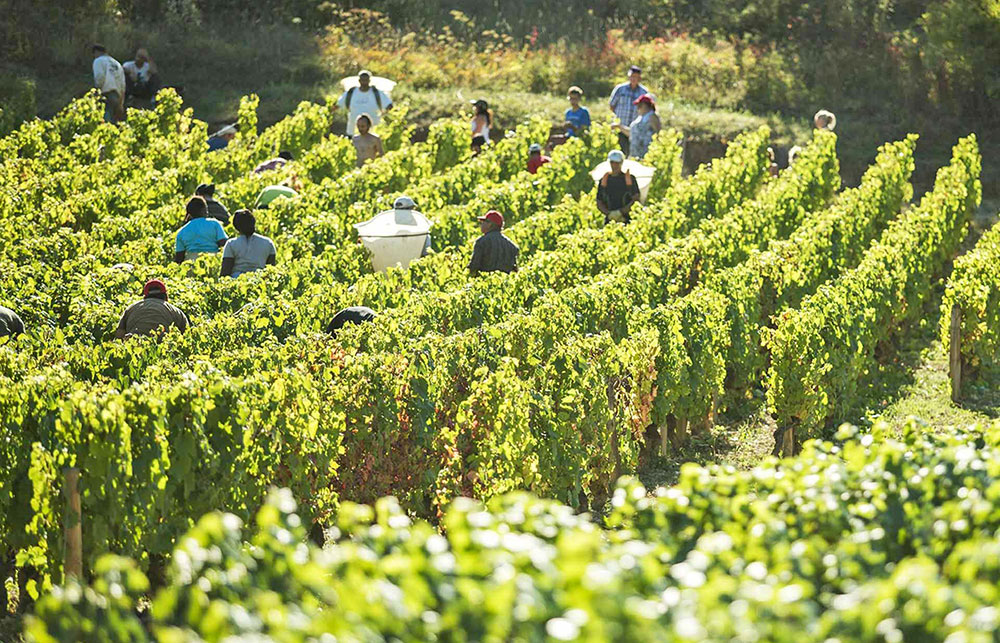 Sourced from 2 plots of old vines, on a hill just outside the village of St Aubin, the Larue aligoté definitely lives up to the potential of this often-overlooked variety. The handpicked fruit is taken to the winery and after gentle pressing, is fermented entirely in tank (ie. no oak), with the temperature of the ferment kept low to preserve freshness. The wine spends some time in tank, on the lees (dead yeast cells), to give some added texture. The finished wine is 12.5% and sealed with cork.
In the glass this is clear gold. On the nose it's more fruity than floral, with pineapple, lemon, burnt sugar and nutty notes. On the palate butterscotch quickly morphs into crisp lemon and citrus pith, then rolls on to a deliciously dry, flinty finish. With refreshing crisp acid, this is a tasty and interesting savoury white.
Once again, pretty hard to find around town, although it is at Bopp and Tone in the increasingly trendy Wynyard for $105 a bottle.
I can offer it for $39 a bottle.