Late last year I had the good fortune to meet with Bertie Eden of Chateau Maris, from the south west of France. He was in Sydney to attend Rootstock, a high profile sustainable wine and food festival for which he was a major drawcard. Being a Pom, his trip naturally took in a day of cricket at The Ashes in Brisbane - which Australia won by 10 wickets. Energetic, passionate and knowledgeable, spending time with Bertie reaffirmed the passion we all share for wine.
Somewhat of a rebel in what is a conservative local French wine scene, Bertie is totally committed to sharing his vision about sustainable winemaking, a crusade that's seen Chateau Maris bringing biodynamic practices into the mainstream, through not only Bertie's advocacy, but also the outstanding quality of his wines.
I've told this story before, but it's worth recapping. Chateau Maris was established in 1997 by Robert 'Bertie' Eden and American Kevin Parker. Bertie is the son of an English lord and great-nephew of former British PM Anthony Eden. You might think he was destined for a life in politics and power, but like many before, he was captivated by the rugged beauty of the south of France as a place to purse his winemaking passion. The pair purchased an existing vineyard, in the village of La Liviniere, which lies within the idyllic Minervois appellation, itself within the greater wine region of Languedoc.
Languedoc is a massive area of sun-baked vineyards, almost 3 times the size of Bordeaux, that runs along the Mediterranean coast, from Montpelier almost as far as the Spanish border. There have been efforts recently to simplify the appellation system in Languedoc, and it continues to evolve, but I still find it confusing. There are a handful of appellations that stand out though, one of which is Minervois, granted its own appellation in 1985 in recognition of the quality of its fine reds. Minervois is located in the foothills north east of Carcassone, less than an hour's drive inland from the Mediterranean.
In the late 90s, after extensive campaigning and in a first for Languedoc, the step was taken towards a Burgundy-like quality hierarchy, with the recognition of a limited number of smaller, higher quality appellations within the boundaries of other appellations. The first of these so-called Crus (now confusingly called Grand Crus of which there are 5) to be recognised was La Livinière. Taking it's name from the sleepy village of La Livinière, the tiny appellation of only 350ha is at the base of the Black Mountains, with the Pyrenees as a back drop. You may also see it referred to as Minervois La Livinière or Cru La Livinière and it's here you'll find the 79 acre Chateau Maris estate.
La Livinière is a red only appellation, based predominantly on Syrah and Mouvèdre, but you'll also find Carignan and Cinsault, and to a lesser extent Grenache.
"The wines of Minervois la Livinière taste of the warmth of the deep south, with the herbs of the garrigue, thyme, bay and rosemary, with the scents of cistus and broom," Rosemary George MW.
"La Liviniere produces so many wines that seem to combine the rugged scents of the high vineyards with the suppleness of lower-altitude wines, that they have earned their own appellation." The World Atlas of Wine 7th Ed. (You must got a copy of this book!)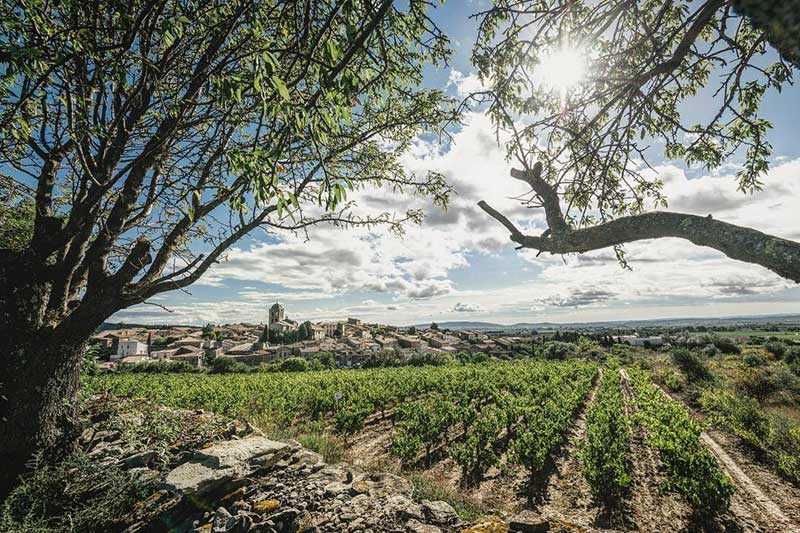 Vineyards at Chateau Maris.
Ironically, Languedoc not being considered one of France's prestigious wine regions does have some benefits, namely more relaxed regulation and most importantly, affordable land. Languedoc has traditionally produced wine for the mass market but in the last few decades a new generation of winemakers, like Bertie, have seen it as the perfect place to realise their dreams, and started producing some great wines. Despite the positive change, the historical perception of Languedoc has ensured prices remain modest. I find myself coming back to the wines of Languedoc as a great place to find value if you know where to look.
---
The wines of Château Maris have a familiar New World generosity of fruit, yet an earthy savouriness and lean structure that make them typically European. Château Maris exemplifies the 'old meets new' dynamic that's possible in Languedoc. Using concrete eggs and tanks as well as top quality oak, their sunny yet savoury embodiment of the region won me over. Actually so did the price.
"One of my favorite estates in the Languedoc." Jeb Dunnuck, April 2015, The Wine Advocate #218.
"Château Maris is a great place to start for readers looking to explore the Languedoc. These wines are all beautifully made and have tons of character, and in most cases, represent rock solid values," The Wine Advocate, April 2016.
Château Maris is one of Jancis Robinson's (MW) favoured Languedoc producers and their wines also regularly appear in 'Best of Languedoc' recommendations in Wine Spectator and Decanter Magazine.
Château Maris wines made it into the internationally recognised Wine & Spirits Magazine Top 100 wineries of 2016.
"Chateau Maris is producing wines that hum with a renewed energy, wines that speak of the wild hills of the Languedoc, the ancient cracked limestone and untamed garrigue that shape their souls." Nick Ryan, The Australian, Dec 2017.
The talented and gregarious Bertie is the driving force behind the estate's success. He's also responsible for the estate's strong environmental bent. The vineyards are certified organic (Ecocert and NOP) and certified biodynamic (Demeter & Biodyvin). These certifications entail more than I can go into here, suffice to say there are no herbicides or pesticides.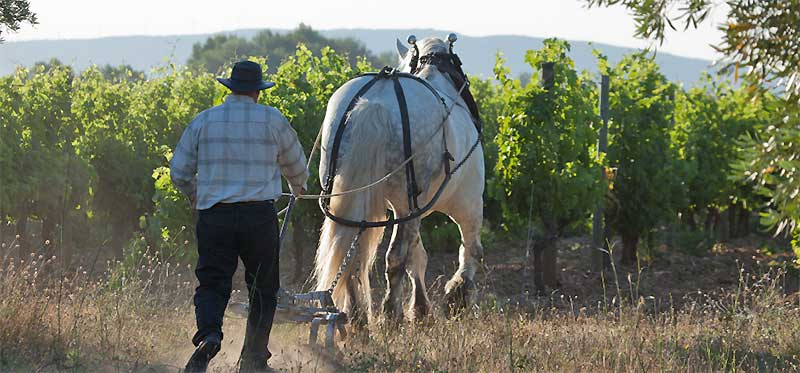 "The Biodynamic Apostles of the Languedoc," Wine Spectator, Nov 2005.
In 2013 Wine Spectator named Château Maris one of the top 4 wineries in the world "confronting climate change head on."
It's not unusual for estates to use sustainable practices in the vineyard, but I can't think of another one that's taken its environmental commitment this far. The winery is built entirely of untreated wood from certified sustainable forests and massive hemp bricks. Not only this, it is self-sufficient in power, using solar panels and a wind farm. It recycles its used water and the roof has been planted with local native plants. The entire building is also biodegradable. This extraordinary project is the first carbon neutral winery in Europe.
Environmental credentials and top quality wine… what's not to like?
Bertie make several wines - these are the ones that I loved.
---

1. Chateau Maris Minervous Rouge 2016
This is the estate's entry level red and is sourced from both growers and estate fruit in the Minervois appellation. It's a blend of 70% Syrah and 30% Grenache and is certified organic - unusual for a wine of this price. It's fermented using natural yeasts, with no additions, minimal intervention and sees no oak.
At the estate this wine is referred to as Bertie's 'lunchtime wine' - he does have a glass every day with lunch. It's a mid-weight, fresh, easy drinking style, full of blackberry, black cherry and spice.
"Rippling with red and black berry characters, along with a wisp of smoke curling up from a grill built from vine cuttings and laden with meat, this beautifully tapered blend of Syrah and Grenache is an ideal introduction to the appellation." Nick Ryan, The Australian.
Bertie suggests matching with charcuterie, red meat, BBQ or a Gazpacho, but I reckon it'll go with most things.
An 'every night of the week' wine.
I can offer it for $25 a bottle. Click here to order
---

2. Chateau Maris La Touge 2015
This is one of the estate's most popular wines and it's easy to see why. The wine is a blend, which Bertie says is 50% Syrah, with the rest Grenache and Carignan.
The handpicked fruit comes from a biodynamic vineyard. It's fermented using natural yeasts in concrete tanks, after which it's aged for 16 months in a combination of concrete eggs and tanks.
There's no doubting this wine's appeal. Succulent, seductive and juicy, with clean, fresh dark fruits and hints of spice and savoury herbs. Bertie mentioned the lower pH soils flow through to the wine in the form of clean, fresh acidity. This wine offers the best of new world freshness and purity, with delicious old world savouriness.
Winemaker's notes: "Nose: Very expressive with some notes smoky, meaty, and dark fruit (black currant; blackberry). Tasting notes: Inky purple on the glass. La Touge has full-bodied richness, beautifully integrated acidity, ripe tannin and no hard edges. It is soft – juicy tannins – very good length."
"Fresh, vibrant, yet also concentrated and rich, it was bottled with no fining and a light filtration. This is a smoking Languedoc that anyone interested in the region needs to try." 93 points, Wine Advocate. (An amazing score for a wine of this price).
"If you really want to see what makes the Languedoc special, try this. It is complex, dark and detailed, with granitic and herbal qualities that could come from nowhere else. Smells a little like a nervous woodsman running late for a date, unable to shower, who hurriedly picks a bouquet of wildflowers, black berries and herbs." Nick Ryan, The Australian, Dec 2017.
This wine is served at over 40 bars and restaurants in Manhattan. New York loves it and so will Australia. Classic La Laviniere.
I can offer it for $35 a bottle. Click here to order
---

3. Chateau Maris Les Planels 2015
This wine is majority Syrah, the balance Grenache and a tiny amount of Carignan. It's sourced from a beautiful single 3ha site in the appellation of AOC Minervois Cru la Liviniere, where the 25 year old vines are surrounded by thyme, lavender, pines and garrique.
Once again, a wine made with natural yeasts and no additions. It went through a cool ferment in a combination of cement and wood, after which it was aged for 12 months in oak and a further 6 months in concrete eggs.
The texture of this wine is simply incredible. Plush and seamlessly smooth, it's long, lean and elegant and at the same time dense, rich and powerful. Viscous and intense - yum!
Winemaker's notes: "A bouquet of aromas, already complex with some notes of sautéed black cherries, black currants, licorice, pepper and cured meats. Deep purple colour. Rich, full-bodied, yet elegant and seamless, with an awesome texture. With integrated acidity and a beautiful elegance about it that keeps you coming back to the glass. Soft palate with juicy tannins."
"The 2015 Minervois La Liviniere Les Planels sports a deep purple color to go with killer notes of sautéed black cherries, black currants, licorice, pepper and cured meats. Rich, full-bodied, yet elegant and seamless, with an awesome texture, this wine is a hedonistic dream to buy by the case. I'm not sure how it will age, but it will certainly knock your socks off over the coming 4-5 years at a minimum!" 94 points, Robert Parker's The Wine Advocate. (An incredible score for a wine of this price)
An absolute beauty.
I can offer it for $45 a bottle. Click here to order
---

4. Chateau Maris Les Anciens Carignan 2013
And lastly a real treasure. As the name suggests, this is Carignan from ancient vines, which in this case means 90-year-old and dry grown (ie. no irrigation). These are the oldest vines on the estate and are gown within the Cru La Liviniere appellation. Not surprisingly production is extremely limited.
2013 was a slightly fresher vintage in Minervois, giving this wine a line of clean acidity. Good quality 100% Carignan is hard to find, with Bertie describing it as the most exciting Carignan he's ever made. When he got talking about this one he did get pretty excited.
"I loved the 2013 Minervois la Liviniere les Anciens, and this 100% Carignan knocks it out of the park with its liquid violet, crushed rock, peppery herbs and fresh plum and berry fruits. Medium to full-bodied, with a seamless, elegant profile that the hallmark of the vintage, it has fine tannin and a great mid-palate." 93 points, Robert Parker's The Wine Advocate.
The wine is drinking beautifully now, but will age for several more years. Get in quickly, this is a bargain for something so rare and delicious.
I can offer it for $55 a bottle (only 12 bottles available). Sold Out