Located in northwest Italy, bordering both France and Switzerland, Piedmont (Piemonte) is a key region for any wine lover. Meaning "at the foot of the mountains", and with the Alps towering on three sides, the hilly terrain is characterised by hot summers and cold, foggy winters.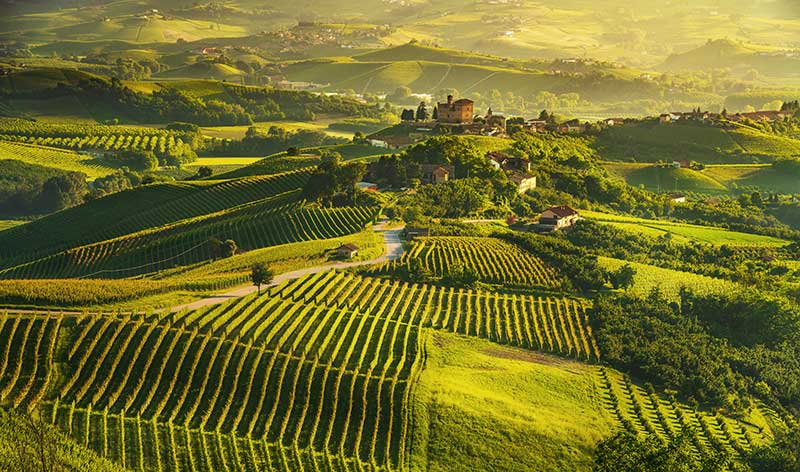 The most famous wines of Piedmont are without doubt Barolo and Barbaresco, both made from Nebbiolo. While these are some of the world's greatest wines, they often require several years in the cellar before they're ready to drink, and there are times when I want something more approachable than these super tannic beauties. Hello Barbera!
Barbera is Piedmont's most widely grown and most commercially important grape. Traditionally, it's been a workhorse variety, considered inferior to Nebbiolo, but as the Oxford Companion to Wine notes: "No grape has known such a dramatic upgrade in its fortunes and image in the last 20 years than Barbera in Piemonte."
The variety lends its name to three classified zones in Piedmont where the best examples of Barbera are to be found; Barbera d'Asti (DOCG), Barbera d'Alba (DOC) and the lesser known Barbera di Monferrato (DOC). Nizza (DOCG) is also considered one of the best spots for Barbera.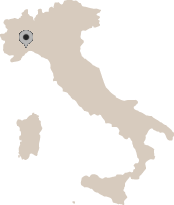 Historically, the area south west of the town of Alba is prime Barolo country, its best sites planted with Nebbiolo; a wise move considering the stratospheric prices that Barolo commands. But there are sites which are too cool for the late ripening Nebbiolo, and it's here that Barbera (which ripens about 2 weeks earlier than Nebbiolo) is planted. Mind you, it's still regarded as a relatively late ripener.
Traditionally Barbera was made into cheap everyday wine, while Barolo was expensive and made to be cellared for years before drinking. Then in the 1980s, there was a change. Winemaker Giacomo Bologna started experimenting with single vineyard Barbera that he picked later and aged for longer in small new oak barrels. These techniques had never been tried and the result was a small revolution in the quality of Barbera.
These days Barbera is still a quaffer when compared to Barolo, but the light, tart wine of the past has gone. Barbera is a lively medium-to-full-bodied wine, with lovely juicy fruit and a wonderful balance between sweet, bitter and savoury. It's characterised by a deep ruby colour, gentle tannins (compared to Nebbiolo) and an abundance of bright, energetic acid. Flavours associated with Barbera are; blackberry, cherry, plum, liquorice, dried herbs and pepper.
"At their best, Barbera wines are deep coloured, fresh and relatively soft, with bright cherry fruit flavours," Wine Grapes, Jancis Robinson's epic tome.
Not surprisingly, much of the good Barbera comes from top Barolo makers, in a variety of styles from youthful and unoaked, through to full-bodied, oak-aged numbers. Here are three that I'm enjoying at the moment:
---

Marcarini Barbera d'Alba 'Ciabot Camerano' 2016
The Marcarini estate was founded in 1850 by Giuseppe Tarditi in La Morra, one of the key communes of Barolo. The estate was one of the earliest to designate single vineyards (in the 1950s) on their labels, a practice now followed by most top estates.
Since 1990 the estate has been owned and run by Manuel Marchetti, widower to Giuseppes's great, great, granddaughter, and more recently by his children, making them the 6th generation. These days there are 25ha across several sites in the Langhe and Roero, which are two important subregions of Piedmont. A common feature of wine regions in Italy is a confusing array of regions, within regions, often overlapping.
The winery is housed in an 18th century building, that's dark and cool, but has been fitted out with the latest winery equipment. Tradition with innovation is how they like to describe it.
This quality estate makes a range of wines, including; Dolcetto, Moscato d'Asti (sweet white), Arneis (dry white), Langhe Nebbiolo, and of course Barolo and Barbera.
'Ciabot' is Piedmontese dialect, referring to the small workers huts that dot the landscape throughout the region. The fruit for this wine comes from two vineyards, one in La Morra and one in Neviglie. It was handpicked and fermented in temperature controlled stainless steel tanks to retain as much freshness as possible. Post ferment, the wine spent 9 months in steel and another 9 months in large barrels. The total of 18 months is 3 times the ageing required for standard Barbera d'Alba.
"A made for drinking Barbera aged 9 months in barriques, the nose displays ripe raspberry and plum fruit, the palate medium bodied, soft and flavourful." Michael Trembarth.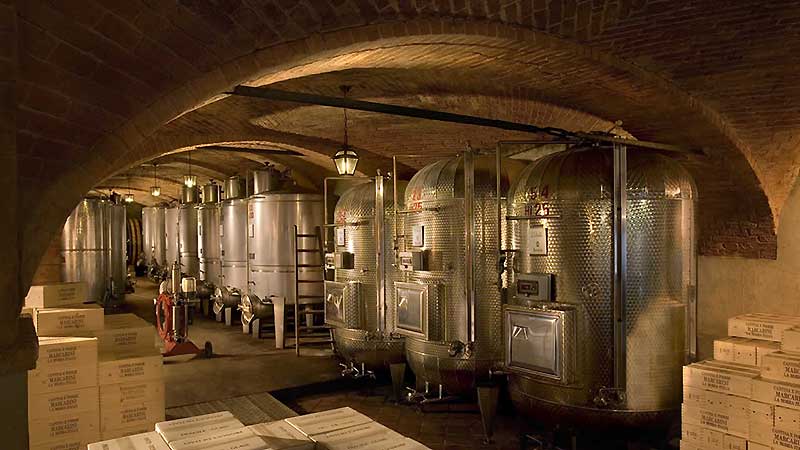 The colour is dark rosey red with mid-weight intensity. On the nose its initial vinous character blows off after a few minutes to reveal notes of cherry and marzipan. On the palate raspberry and redcurrant mingle with liquorice and pepper. Crisp, bright acidity and soft tannins - nice entry level Barbera.
Gaze at the Harbour Bridge and enjoy it at Aqua Dining for $75 a bottle or at home with a bowl of pasta and truffles (a local Piedmont specialty).
I can offer it for $29 a bottle. NEW VINTAGE AVAILABLE HERE
---

Marina Coppi Sant' Andrea Barbera 2017
Vigne Marina Coppi was established in 2003 in the town of Castellania, in the hills of south-eastern Piedmont. The winery is located at no. 5 Via Sant'Andrea, hence the name of the wine.
The estate was set up by Marina Coppi, daughter of cycling legend Fausto Coppi, aka Il Camionissimo or champion of champions. His claims to fame are that he won the Giro d'Italia 5 times (1940, '47, '49, '52, & '53) and the Tour de France twice (1949 & '52). He was voted Italy's greatest sportsman of the 20th Century. He also had an extramarital affair that gripped the nation, but I digress.
Marina's son, Francesco Bellocchio and his wife Anna now run the small, 4 hectare estate, which is planted mainly with Barbera, but also includes Nebbiolo, Croatina (red), Favorita (white) and Timorasso (white).
This wine is 90% Barbera and 10% Croatina. The grapes were handpicked, before being fermented in temperature controlled stainless steel. To maintain its freshness the wine saw no oak ageing, instead it spent about 9 months in stainless steel, before being bottled.
I found this wine softer, darker and more generous than the Marcarini, with much more fruit. It's a bit more like an Aussie Shiraz.
"Intense and vivacious ruby-red in colour. The bouquet has good intensity with hints of cherry and wild strawberries. On the palate, full, satisfying and fresh. Best served with white and red meats, elaborate fish dishes, fresh cheese. Ideal with agnolotti and raw salame," Winemaker's notes.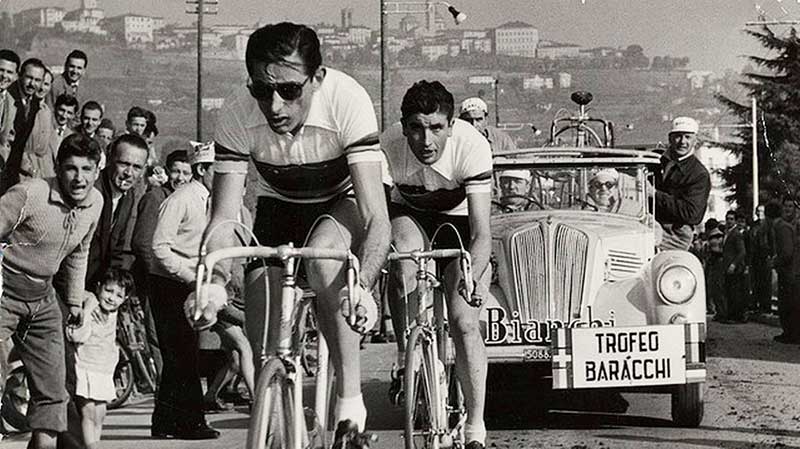 In the glass this wine is a rich purpley red. On the nose blueberries and cherries mingle with Christmas pud spices. On the palate juicy pomegranate melds with sasparilla, liquorice and pepper. A refreshing acidity balances this nicely viscous weight and texture. A beautifully dry finish is wrapped in velvety tannins. This is a fresh and modern take on Barbera, a great all rounder, very versatile.
You'll find it at the wonderful Ucello at Merivale and on the multi award-winning wine list at the 'Pilu at Freshwater' both for $80 a bottle.
I can offer it for $35 a bottle. Click here to order
---

Cigliuti Barbera Serraboella 2015
Finally, an estate you probably haven't heard of but one worth knowing about. It's one of Piedmont's top Barbaresco producers, who also happens to turn out wonderful Barbera.
"If there is an estate in Barbaresco that deserves more attention, it is without question Cigliuti." Antonio Galloni, Vinous Media.
"A small family estate located on the hill of Serraboella, the production is minuscule and the wines are made with a traditionally simple approach, not pumped up with new wood or made to a style, these are wines of terroir and tradition." Nick Stock. (Respected Australian wine critic, contributor to many top publications including Gourmet traveller Wine Mag and author of Penguin Good Wine Guide).
The Cigliuti family have been in the wine game for four generations, however it was only in 1964 that Renato Cigliuti began bottling his own wine to sell. Born in 1938, Renato still works at the estate every day, however his daughters Claudia and Silvia now run the show. I had the pleasure of meeting Claudia and tasting her wines when she recently came to Australia.
Renato has worked the same seven and a half hectares of land (grapes and hazelnuts) in the heart of Barbaresco just near Neive, since childhood. During the tough times post WWII, many of Renato's neighbours abandoned the land to find work in the city. However, as Renato tells the story; "Only the infirm, the mad and elderly are staying on, they used to say. And you couldn't say they were wrong exactly, when on Saturdays you saw youngsters of my generation speeding round the village in their fancy cars and fashionable clothes, without a care in the world. I stayed on because the land gives me a sense of security. I stayed here to cultivate my great passion, my land. Separating myself from it would have been like separating myself from my family." Hard work and passion overcoming adversity, especially when it involves stunning countryside and beautiful wine, is a story many estates love to spin. But Renato's the real deal and the hardship he endured back in the '50s by staying on, has paid off in spades. The land no one wanted back then is worth a small fortune nowdays.

The estate gets a mention as an "outstanding producer" in the Barbaresco section in one of my favourite books, The World Atlas Of Wine.
The estate makes two Barberas but I prefer this, the more affordable one - the first vintage of which was made in 1964. It's 100% Barbera with the fruit coming from the Serraboella vineyard, a magnificent site from which the estate also sources Nebbiolo to make its top Barbaresco. The vineyard sits at around 350m elevation and is rich in clay and chalk. It gets full sun with a southeast exposure, with no other hills casting shadows over it.
In the winery the family are very much traditionalists. The must is fermented in steel vats at controlled temperatures, before being aged for 18 months in second and third-use French oak barriques.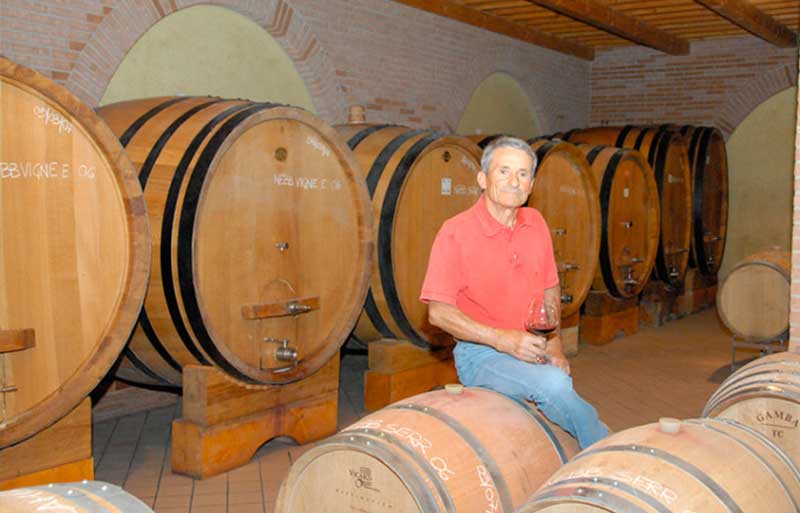 "Cigliuti's 2015 Barbera d'Alba Vigna Serraboella is very pretty. Inviting, pliant, with soft contours and lovely overall depth, the 2015 will drink well upon release. This is a relatively mid-weight, restrained style for the vintage. Sweet floral notes add perfume through to the finish." 90 points, Antonio Galloni, Vinous.
"Dense and saturated, with blackberry, plum, bittersweet chocolate and earth flavors, backed by lively acidity and hefty tannins. Drink now through 2024." 90 points, Bruce Sanderson, Wine Spectator.
Dark rosey red, shifting up in density. On the nose this is all dark stewed plums, spices and chocolate with a sarsparilla flourish. On the palate pomegranate, blueberries and violets meld with sweet cigar box notes and finish with a sprinkle of black pepper. Crisp acid and beautifully dry finish wrapped in velvety tannins. I love the plushness and softness of this wine.
I can offer it for $49. SOLD OUT Go to new vintage