Back in June 2020, the global economy was in the grip of Covid-19, experiencing lockdowns, job losses and significantly decreased consumer spending. At that time, preditions were that the global economy was heading pretty much to hell-in-a-handbasket.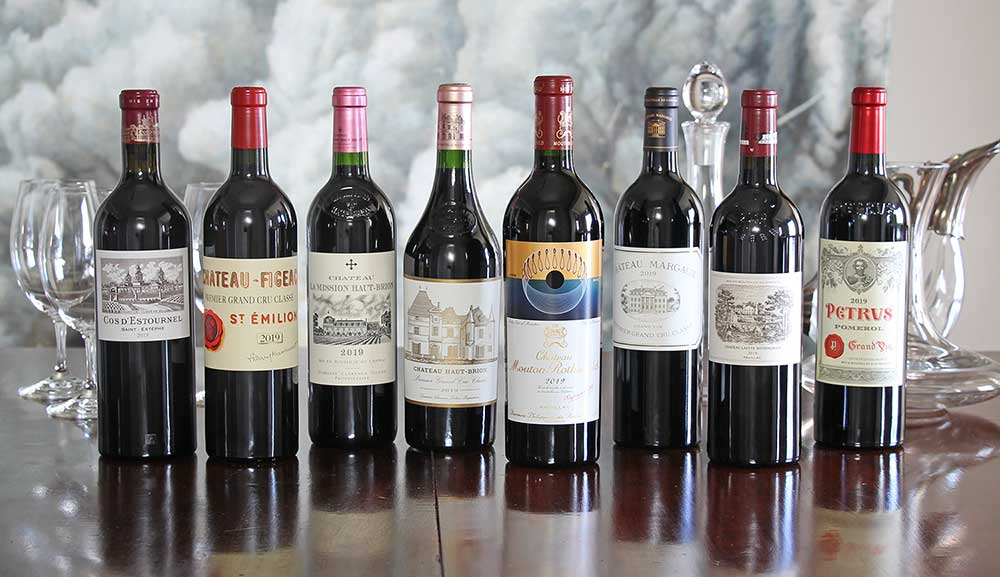 The World Bank's June 2020 edition of Global Economic Prospects noted: "The swift and massive shock of the coronavirus pandemic and shutdown measures to contain it have plunged the global economy into a severe contraction. According to World Bank forecasts, the global economy will shrink by 5.2% this year.1 That would represent the deepest recession since the Second World War, with the largest fraction of economies experiencing declines in per capita output since 1870."
This graph from the Reserve Bank of Australia shows just how hammered consumer spending in Australia was in the June quarter of 2020.
---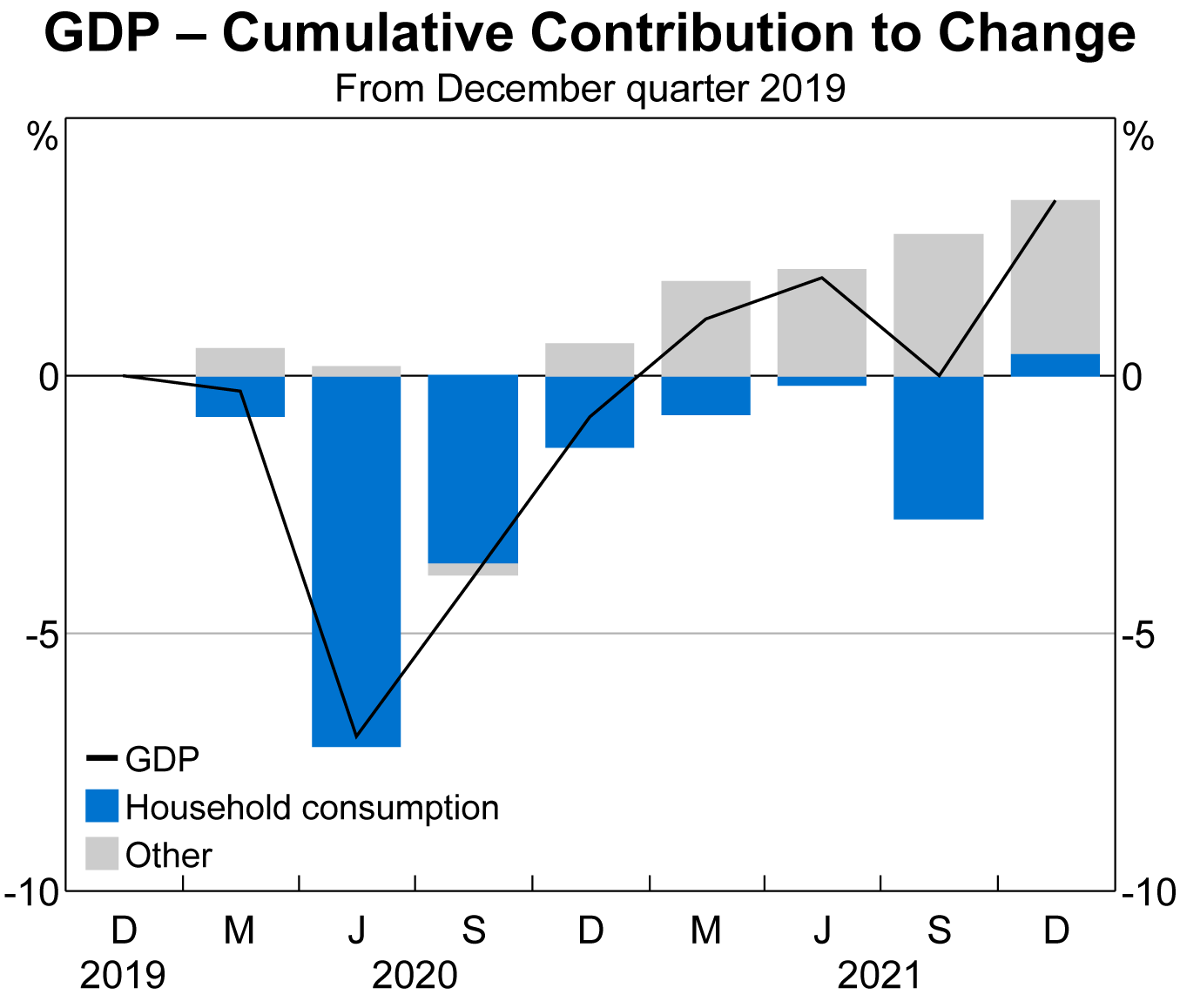 Source: ABS/RBA
---
Against this backdrop of doom-and-gloom, June 2020 also saw Bordeaux's 2019 En-Primeur campaign go out to the world. Let me tell you a little about Bordeaux, its most coveted wines, and the En Primeur system.
Bordeaux is arguably the world's premier quality wine region. Located in south west France, close to the Atlantic coast, its vineyards lie on either side of the Gironde estuary, and along the banks of the Garonne and the Dordogne - the two rivers that feed the estuary.
The waterways divide the region into three areas. The Left Bank, where cabernet dominates, sits to the west of the rivers, the Right Bank, where merlot dominates, sits to the east of the Gironde, and the area referred to as Entre-Deux-Mers, sits between the Garonne and Dordogne Rivers.
Bordeaux is a large region with about 110,000 ha of vines - about four times the size of Burgundy. There are over 60 appellations within Bordeaux and according to Jancis Robinson MW (Feb 2021) there are 8,800 registered wine-producing châteaux! Despite Bordeaux's size and its huge number of estates, or châteaux as they are referred to, most of the wine world's fascination is with the tiny number of wines recognised in the 1855 Classification of Bordeaux, the St-Emilion classification, as well as a handful from Pomerol.
Château Mouton Rothschild.
The 1855 Classification recognised just 57 estates and their grand vins (top wine), divided into 5 growths, ascending in quality from 5th up to 1st. The classification covered the area known as The Medoc, which is the peninsula that stretches north from the city of Bordeaux (ie. Left Bank) taking in the prestigious communes of St-Estèphe, Pauillac, St Julien and Margaux. Having said that, and there's always an exception, it did include one estate, Château Haut-Brion, from Graves, an area just to the south of the city of Bordeaux.
In theory the classification was meant to be an evolving hierarchy, with rankings for estates and their wines reviewed periodically, but with so many vested interests, this was never going to be the case, and in practice it became set in stone. Only two estates have managed to move up the rankings, most famously in 1973 when, after decades of lobbying by Baron Philippe de Rothschild, Château Mouton-Rothschild was elevated from 2nd to 1st Growth. Since 1885 there has of course been changes to the names and ownership of the original 57 châteaux, as well as divisions and amalgamations of land.
There are currently 61 châteaux in the classification, comprising:
5 x First Growth
14 x Second Growth
14 x Third Growth
10 x Fourth Growth
18 x Fifth Growth
Château Margaux.
The 5 first growths are - with tasting profiles provided by Bordeaux expert, Jane Anson MW in Decanter Magazine:
Château Haut-Brion (Pessac Léognan) - Aromatic complexity, richness, depth of fruit
Château Lafite (Pauillac) - Complex, elegant, extremely long-living
Château Mouton Rothschild (Pauillac) - Silky texture, caressing tannins, gourmet
Château Latour Pauillac) - Textured, powerful, concentrated
Château Margaux (Margaux) - Graceful, nuanced, perfumed
The term Super Second has emerged in the wine market and refers to a small number of second growth wines that are regarded (and priced) closer to the first growths. The most notable of these is Château La Mission Haut-Brion and others include Château Léoville Las Cases, Château Pichon Longueville Baron and Château Cos d'Esournel, which you'll often hear simply referred to as Cos.
The Right Bank's two most important appellations are St Emilion and Pomerol.
The St-Emilion classification was not implemented until 1955 and has been reviewed every 10 years or so in 1958, 1969, 1985, 1996, 2006, 2012 and 2022. As classifications affect the perceived quality and price at which wines can be sold, they also affect the value of estates. So the amendment process has not surprisingly led to significant controversy and legal action.
Château Figeac.
The St-Emilion classification, ascends in order of importance as follows:
St-Emilion
St-Emilion Grand Cru
St-Emilion Grand Cru is then divided into:
St-Emilion Grand Cru
St-Emilion Grand Cru Classé
St-Emilion Premier Grand Cru Classé B
St-Emilion Premier Grand Cru Classé A
Initially Château Ausone and Château Cheval Blanc were the only two Premier Grand Cru Classé A estates, but they were joined by Château Pavie and Château L'Angélus, in 2012. In a story for another day, Ausone and Cheval Blanc abandoned the system in 2021, followed soon after by Angelus. The 2022 classification saw Château Figeac promoted to Grand Cru Classé A, making it and Château Pavie the only two currently holding the ranking.
Pomerol has no classification system, but Château Pétrus at the top, informally recognised as a first growth, its prices regularly fetching in excess of the Medoc first growths. The appellation's other top wines include; Château Le Pin, Château Trotanoy, Château Lafleur and Château La Fleur-Petrus.
Château Haut-Brion.
Acquiring these highly coveted wines in Australia is not easy. Most are sold En Primeur through La Place de Bordeaux. En Primeur is a system used by the French, most notably the Bordelaise, to sell their wine as futures. This simply means consumers purchase wine at an agreed price now, for delivery at some date in the future.
The Bordeaux En Primeur campaigns run during northern hemisphere spring and are usually wrapped up by the end of June. It's a bit of a hoopla, with critics reviewing the wines, after which the châteaux release the prices and quantities of their wines. The buyers make majority payment at that time, with the balance due when the wines are delivered, approximately 2 years later.
You can see that during an En Primeur campaign, the châteaux have the difficult task of reading the market, and setting prices so that demand and supply match. For the 2019 En Primeur campaign, the château had high hopes for strong prices given the superb quality of the vintage. Lisa Perrotti-Brown MW's En-Primeur report in The Wine Advocate released in June 2020, proclaimed "2019 is an outstanding vintage".
But the demand side at the time of release was another story as Colins Hay's article 'Bordeaux 2019: the 'miracle' vintage meets the market from hell' made clear. "It is no exaggeration to suggest that the market conditions surrounding the Bordeaux 2019 en primeur campaign are more inauspicious than they have ever been. Stephanie de Boüard-Rivoal at Angelus has likened them to those in 1930 for the release of the 1929 vintage. That might sound hyperbolic - and it is perhaps intended to sound hyperbolic; but it is not a bad analogy at all. It really is that bad." The Drinks Business, June 2020.
Château Petrus.
I'm sure great anxiety ensued in the minds of the Bordelaise as they sought to finalise their release prices during the 2019 campaign. Yes, such a great vintage, but with consumer's wallets firmly closed, would there be buyers for their exceptional wines in times of such uncertainty.
The good news for buyers is that prices were significantly reduced. "Amid economic gloom, a small solace for wine investors. Last year's excellent vintage (2019) of Bordeaux reds is selling for 15-30% less than the crop of 2018." Claret Correction, The Economist, 27th June 2020.
I'm pleased to say that luckily, I took a big breath and waded in for a bit of cherry picking, securing a selection of the best from the 2019 vintage, the quality of which was recently praised by one of my favourite critics, Jancis Robinson MW: "I have good news for those who took advantage of the relative bargains that were Bordeaux's 2019s offered en primeur. Now that the wines have well and truly settled into bottle, on the basis of tasting 270 of them blind two weeks ago, I can report that the vintage is looking very good indeed, perhaps the best I have ever tasted at this stage." A Bordeaux that is among the Very Best, Financial Times, 4th Feb 2023.
The wines arrived last year and have since been stored securely in temperature-controlled conditions. With the weather now turning cool, I'm super-excited to offer these wines to you. They're the best of the best and include 4 first growths, 2 super seconds, a St-Emilion Premier Grand Cru Classé A and Petrus.
Gems like these are in limited supply and their prices a result of exceptional circumstances. The 2022 wines are being released en primeur now and prices are back to normal. So if you've ever planned to make one of these treasures part of your cellar, now is your chance.
---
Click through for more information on each wine.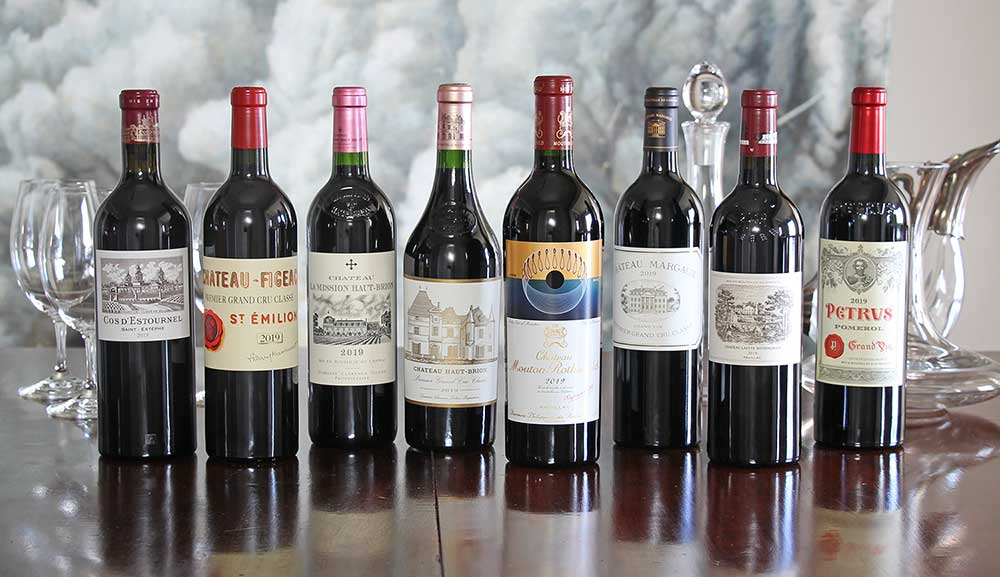 Château Cos d'Estournel 2019 – Super Second
99 James Suckling
99 Lisa Perrotti-Brown
98 Antonio Galloni
98 Jane Anson MW
I can offer it for $530 a bottle

Château Figeac 2019 - St-Emilion Premier Grand Cru Classé A
100 Lisa Perrotti-Brown
99 Antonio Galloni
98 Neal Martin
98 Jane Anson MW
I can offer it for $600 a bottle

Château La Mission Haut-Brion 2019 – Super Second
100 Jeb Dunnuck
99 William Kelley
99 Jane Anson MW
I can offer it for $850 a bottle

Château Haut-Brion 2019 – First Growth
100 James Suckling
100 Lisa Perrotti-Brown
98+ Jeb Dunnuck
I can offer it for $1,590 a bottle

Château Mouton Rothschild 2019 – First Growth
100 Lisa Perrotti-Brown
99 James Suckling
99 Antonio Galloni
I can offer it for $1,700 a bottle

Château Margaux 2019 – First Growth
100 James Suckling
100 Lisa-Perrotti-Brown
100 William Kelley
100 Jane Anson MW
I can offer for $1,795 a bottle

Château Lafite Rothschild 2019 – First Growth
100 James Suckling
100 William Kelley
98 Neal Martin
I can offer for $2,100 a bottle

Château Petrus 2019
100 Lisa-Perrotti-Brown
100 Jeb Dunnuck
I can offer it for $10,000 a bottle.
Please email me directly if you are interested in this wine.

And this one little relative cheapie is a nice drop…
Château Phélan Segur 2019 – St Estephe
96 James Sucking
95 Lisa Perrotti-Brown
95 Neal Martin
I can offer it for $125 a bottle