When most people think of Western Australian wine they think of Margaret River, but the region that first put the west on the map was actually the Swan Valley, located about 25 km northeast of Perth, in the upper reaches of the Swan River.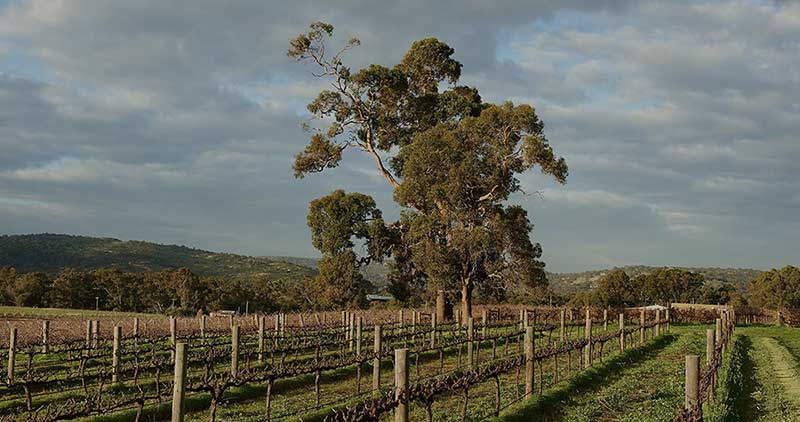 The Marri tree in Rocket's Vineyard.
Vines were planted here in 1829 by botanist Thomas Waters, making it the second oldest region in the country after the Hunter Valley. Well known producer Sandalford planted vines in 1840 and by the 1850s the region was planted with table grapes and fruit, much of which was used in the production of dried fruit. There were 3 significant waves of migration: post WWI, during the 1920s and post WWII. Of particular note was the predominance of Croatians who transformed the area from traditional agriculture to vineyards. The region flourished, and at one stage had more operating wineries than either NSW or Victoria.
These days there are over 40 wineries in the Swan and while a range of wine styles are made, the most planted variety here is chenin blanc. The University of Adelaide's snappily titled Which Winegrape Varieties are Grown Where?provides an extraordinary breakdown of the world's grape varieties. Its figures show South Africa with 55% of the world's plantings of chenin blanc, followed by France with 29%, daylight to third spot, Argentina with 7% and Australia in 5th spot with 1%, the majority of which is grown in the Swan.
Chenin is not well known in Australia but Jancis Robinson MW describes it as "probably the world's most versatile grape" and I'd have to agree. It's a wonderful variety, enjoyed dry through to sweet, as well as in sparkling form. In her tome, Wine Grapes, Jancis Robinson refers to "the real chenin flavours of honey, straw and apples." She also classifies grapes of the world as classic, major or other, with chenin achieving classic status. One of Chenin's distinctive characteristics is firm acidity, a quality I love as it brings freshness and vivacity. The firm acidity also means that, along with riesling, chenin is one of the few white varieties that can genuinely age.
I think chenin's one of the most overlooked and undervalued varieties and in the right place, and right hands, is capable of producing exceptional wines.
I've offered chenin blancs several times over the years: from Vouvray, Savennières, Saumur and even South Africa (where it's known as steen), but I've never offered one from Australia. So it gives me great pleasure to finally offer what I think is a one of the best and most exciting new examples of this wonderful variety, from our chenin capital, the Swan.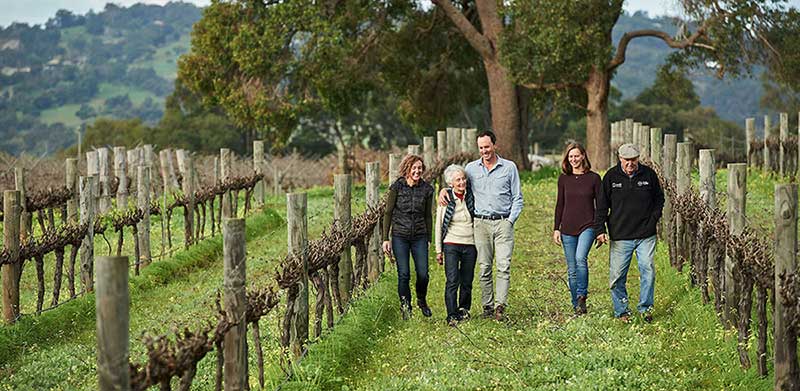 Rob and Genevieve Mann (centre) with Rob's parents and sister Emma (who designed the label).
The name most associated with Swan Valley chenin, indeed the Swan Valley in general, is without doubt legendary winemaker Jack Mann. A tireless worker, Jack started at Houghton Wines in his teens and succeeded his father George as chief winemaker in 1930 at the age of just 24. He held the position until 1972, by which time he had completed an astounding 51 consecutive vintages with the company. Aside from his many other achievements, Mann perhaps best known as the creator of the chenin dominant Houghton's White Burgundy, which gained both national and international notoriety when it won the 1937 and 1938 Melbourne Wine Shows. The wine went on to become one of Australia's most successful and popular wines, and I well remember selling cases of it when first working in the trade back in the 80s.
"In winemaking, you have to accumulate an enormous amount of knowledge before you realise you know nothing. And when you realise you know nothing you start to learn." Jack Mann.
Jack died in 1989 at the age of 83 and in the same year the Wine Press Club of Western Australia recognised his contribution by establishing the Jack Mann Memorial Medal, the state's most prestigious wine award, which is conferred annually for outstanding contribution to the State's wine industry.
Jack Mann was a hugely significant influence on the Western Australian wine industry, and his legacy continues not just through this award, but also through his family, whose impact on the industry continues to be significant to this day. Jack had four children, three of whom are involved in wine.
Dorham Mann – winemaker and State Viticulturalist
Corin Lamont (nee Mann) – winemaker
Tony Mann – grape grower (and also represented Australia in cricket)
"The Mann family are winemaking royalty in Western Australia." Huon Hooke.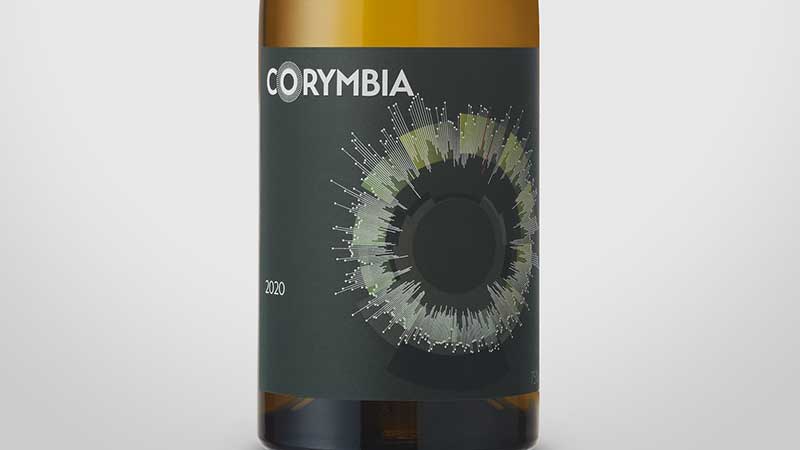 The label shows graph of temperature and rainfall for the vintage year, with the harvest dates in red.
Tony Mann and his wife purchased a property in the Swan Valley in 1984 and progressively planted it out with the help of their son Rob. They planted cabernet (1986), chenin (1992), tempranillo (2002) and malbec (2012). Aside from the first few years when they were getting established, the vines have been dry grown (ie. no irrigation) and the vineyard has always avoided the use of chemicals. It became fully organic in 2017, and will gain full certification later this year.
The fruit from the estate traditionally went to Lamont Wines, Tony's sister's winery, but Tony's son Rob Mann and his wife Genevieve had the idea of Corymbia, combining their considerable talents.
Rob was Senior winemaker at Hardy Tintara, before becoming Chief winemaker at Cape Mentelle. During his tenure, Cape Mentelle was twice awarded Producer of the Year and Rob was awarded Winemaker of the Year. He was then appointed to run LVMH's Newton Vineyard in the Nappa, where he worked from 2014-2017. Genevieve's no slouch either. She's worked as a winemaker in South Africa, France, California and SA before becoming winemaker at one of my favourite WA wineries, Howard Park.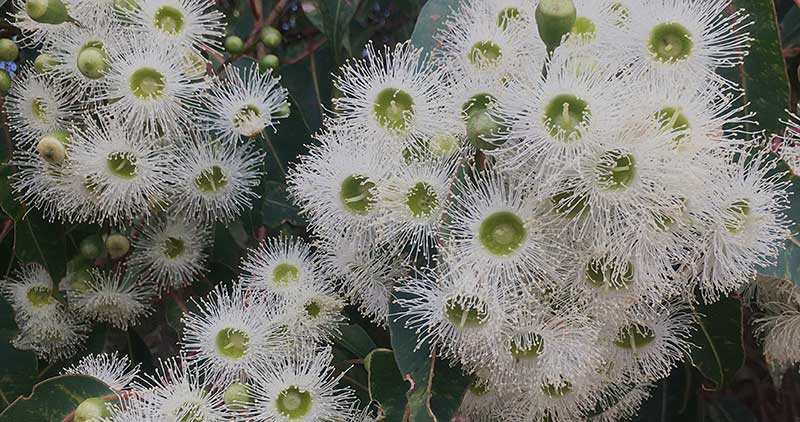 The Marri blooms during vintage.
The name Corymbia comes from Corymbia calophylla, formerly known as Eucalyptus calophylla, and commonly referred to as Marri, a red gum native to southwestern WA. It produces a beautiful white flower, known as a Marri blossom, that blooms around the same time as the grapes ripen.
Rob made the first Corymbia wine in 2013 in a corner of the Cape Mentelle winery, where he was working at the time. 2014-2017 saw him flying back and forth from his next job in the Nappa, not only to continue making Corymbia wines, but also to see his family who were still living in Australia. That's quite a commute. Rob finally returned to the Swan in 2017, focussing all his energies on Corymbia and making his first chenin in 2018.
Corymbia is the distillation of four generations and over a century of the Mann family's unique experience and knowledge of the Swan Valley. Rob and Genevieve Mann are taking this incredible legacy in a new direction and in doing so are creating one of the country's most exciting new ventures.
"The wines under the Corymbia label have been outstanding." Gourmet Traveller Wine.
"Corymbia chenin will be The Next Big Thing... Whoosh. Belter of a wine." Mike Bennie, The Wine Front.
---

Corymbia Rocket's Vineyard Chenin Blanc 2020
This wine is 100% chenin blanc grown on Rocket's Vineyard. Rocket was Rob's dad's nickname when he played cricket for Australia and the vineyard is named after him.
The fruit was organically farmed and harvested by hand over a two-day period. The grapes were whole bunch pressed (ie. not destemmed) and the juice was simply run into a combination of stainless-steel tank and seasoned French oak barriques and fermented using indigenous yeasts. The wine was then left on its yeast lees (dead yeast cells that fall to the bottom) in the same fermentation vessels, for about 6 months, before being bottled. Sounds so simple. But as always, it's only the experts who make crafting such good wine sound so easy. I spoke with Rob a few days ago and he described it as a"high solids, natural ferment" from which he was looking for "a delicate, classically structured wine." After the wine was bottled, it was left to rest for almost a year. It's 12.5% alcohol, sealed with a screwcap and comes in a nice heavy bottle.
The cool label was designed by Emma Mann, Rob's sister and graphic designer. From a distance it resembles a Marri blossom (Corymbia Calophylla), but if you look carefully, the 365 stamens of the flower are actually a graph of temperature and rainfall for the vintage year, with the harvest dates in red. Très clever.
Rob told me that 2020 was hottest vintage in over 20 years. In such conditions you'd expect super-ripe fruit to totally overide acidity, yet the wine retains incredible energy and freshness. It's a testament to Rob's farming techniques and provides optimism for the continued growing of grapes in warmer regions like the Swan Valley.
As for the wine itself, I love it. In the glass it's a clear, light yellow gold. On the nose you'll find white peach, lemon blossom, honeydew and subtle toasty oak notes. On the palate, lemon, white pepper and gooseberry meld with a chic mineraliness and super crisp, clean acid. Vibrant and refreshing - its mouthwatering, briny, saline character gives great structure and makes it just so drinkable.
"The wine smells of Rocket's Vineyard Chenin; lemon pith, nashi pear and fresh blackcurrants with a lick of flint. The palate is lively with a briny spine, great clarity and stacks of flavour. It's so salivating, it's the perfect drink for every occasion." Rob and Gen Mann
"It's gently spiced with pepper and cinnamon quills. It's floral with some fresh herbs, poached apple, bees wax and refreshing lemon barley water flavours. The palate is altogether racier, almost riesling-like acidity keeping this long and pure with the right amount of phenolics adding that extra layer." 95 points, Jane Faulkner, Halliday Wine Companion.
"Preserved lemon, lemon barley, pear and spice. Tight, juicy, pear skin and lemon peel, bright acidity, powdery with a talc-like perfume, saline and fresh, with a dusty chalky finish of fine length. Hot climate wine, from a hot vintage, laying it on cool. Excellent. So excellent. This is a banger." 93+ Gary Walsh, The Wine Front.
For those of you busting to get out for a nosh up, you'll find it at Matt Moran's Chiswick in Woollahra for $17 a glass.
I can offer it for $29.50 a bottle.