Cabernet lovers with deep pockets will know that June is when the Bordelais sell their wines, still in barrel, for delivery a few years later, through the 'En Primeur' system. With several layers of middlemen, as well as multiple channels, I never feel confident I'm buying at the best price, and tend to avoid it. While I enjoy the anticipation and the excitement of seeing the top wines released at thousands of dollars a pop, it reinforces just how fortunate we are to have our own Cabernets heroes, often unsung, here in Australia.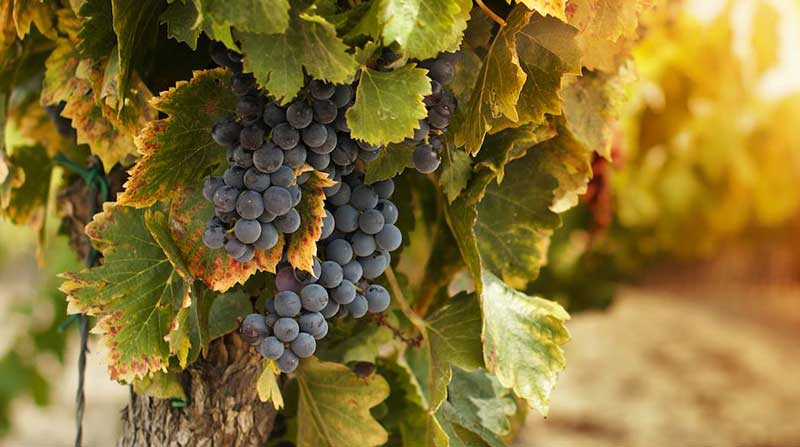 Cabernet Sauvignon is without a doubt one of the world's great varieties - its fame lying in its principal role in the red wines of Bordeaux. The grapes are small, thick skinned and bluish in colour. Cabernet has quite distinctive characteristics, as Jancis Robinson notes "the wines tend to be deep in colour, high in tannin and relatively high in acidity. There's a recognisable nobility and stability to its aroma which can vary from blackcurrant to cedar." If conditions are too cool, unripe Cabernet can be herbaceous. Similarly, if grown in too hot a climate, it gets jammy. But when it's just right, the Cabernet I love is lean and elegant, yet concentrated, with firm tannins providing length and structure.
Wine drinkers certainly seem enamoured of Cabernet - it's now the world's most planted variety, having overtaken Airen, a fairly neutral Spanish white variety, in 2016. It's hard to get up-to-date figures, however the International Organisation of Vine and Wine (OIV) shows 2017 global plantings of Cabernet at 341,000 ha. To put that in context, total plantings (of all varieties) in Australia in the same year were around 135,000ha
Despite its pedigree and global popularity, Cabernet doesn't seem to spark as much joy in Australia. The 2019 vintage report from Wine Australia shows Cabernet third in terms of tonnes picked:
Shiraz - 418,364 t
Chardonnay - 356,259 t
Cabernet - 253,581 t
Merlot - 118,117 t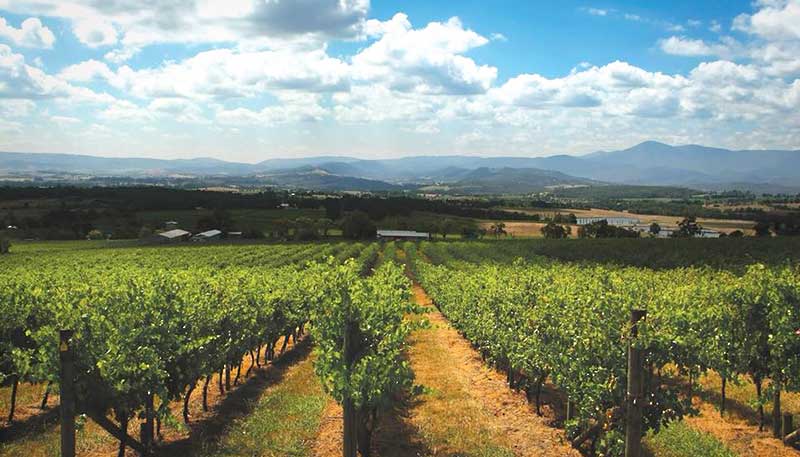 North facing Warramate vineyard at the base of the Warramate Hills, looking out across central Yarra Valley.
It's not as if Australia doesn't have some wonderful Cabernet regions. Four that spring to mind (taste descriptors c/o Halliday's Wine Companion) are:
Coonawarra - mint/eucalypt, density, savoury black fruit, tannin.
Margaret River - power and structure, red-fruit plushness, elegance, brine.
Frankland River - black fruit, tannin, structure, spice.
Yarra Valley - red fruit, bay leaf/floral, velvet, nuance.
But recently it's been back on my mind, thanks to wines like the Warramate Cab below. It's a classic, mid-weight, lean, structured Cabernet, the sort on which Bordeaux was built.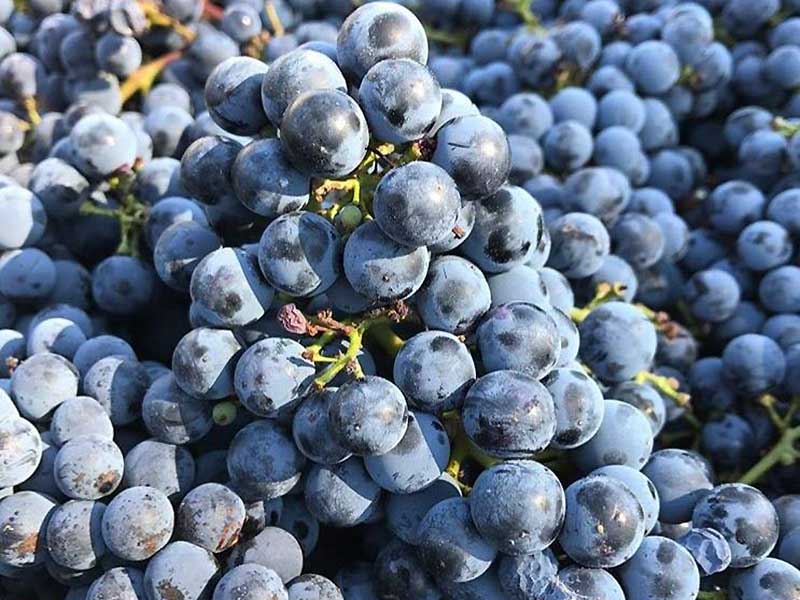 2017 vintage cabernet grapes from the Warramate vineyard.
Warramate Cabernet is a perennial treasure and this winery has been quietly going about its business for 40 years, with Jack and June Church first planting in 1969. Jack was an industrial chemist with a yen for winemaking and after much deliberation he chose the north facing slopes of the Warramate ranges, in the Yarra Valley.
The Yarra Valley is a well-known cool climate region east of Melbourne, with a wine history dating back to the 1830s. By the 1920s it had given over to cattle, but the late 1960s saw a renewal, with vineyards Warramate, Yarra Yering, St Huberts and Yeringberg being established. For many wine drinkers, the Yarra has a reputation for Pinot and Chardonnay, but don't forget its traditional strength lies with Cabernet, with some of the best in the country from producers like Mount Mary and Yarra Yering.
Warramate is a small producer nestled between Coldstream Hills (established by James Halliday) and the iconic Yarra Yering. Rumour has it that Yarra Yering's founder, Dr Bailey Carrodus, asked to buy Warramate before planting his own vineyard right next door. Yarra Yering is known for producing one of Australia's great cabernets Dry Red Wine No.1.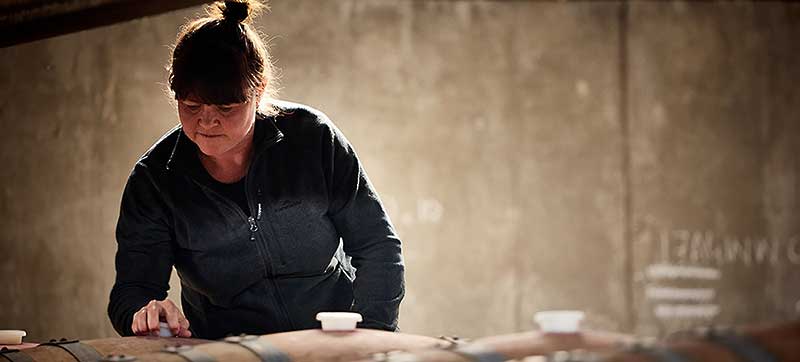 In 2017, winemaker Sarah Crowe was awarded the Halliday Wine Companion Australian Winemaker of the Year.
When Dr Carrodus died in 2008, Yarra Yering was purchased by a partnership headed by Ed Peters and the same group purchased the adjoining Warramate a couple of years later. Things really moved up a notch when Sarah Crowe became Chief Winemaker at Yarra Yering in 2013 and subsequently became the first woman to win the prestigious James Halliday Winemaker of the Year award in 2017.
The humble Warramate Cabernet is made by Sarah in the Yarra Yering winery using the same skill, artisanal techniques and small custom-made tanks used to make the Dry Red No.1. This is extraordinary - wines at this price point simply aren't made like this.
---

Warramate Cabernet Sauvignon 2017
Let me say straight up this is simply an amazing wine for the price. It's 100% Cabernet, with the majority of the fruit coming from a more recently planted vineyard (2000), however a percentage still comes from the original 1969 plantings. All Warramate vineyards are unirrigated. Also, it's not widely known, but a portion of the fruit going into this wine comes from Yarra Yering.
The wine is essentially made in the same way as the far more expensive Yarra Yering Dry Red No.1, using the same custom made 0.5 - 2.0 tonne 'tea chest' open fermenters. After fermentation, the wine spends a total of 18 months in French oak, 10% of which is new, the rest old. The finished wine is 13% alcohol and sealed with a screwcap.
This is deep rosey red in the glass. On the nose: cedar and sarsparilla precede savoury graphite and tomato bush aromas with an overlay of sweet dark fruit and vanilla touch. On the palate: fresh raspberries and violets intertwine with subtle green vegetal notes and skilfully subtle vanilla. This is lean and elegant with crisp clean acid and fine, firm tannins drawing to a beautifully dry finish.
"Intense varietal nose in the bounds of youthful exuberance. Shows signature blackcurrant and sarsaparilla notes well supported by integrated leafy characters, synonymous with the variety. A medium-bodied "classic" claret style featuring a succulent, bright fruit layered palate integrated with earthy complexity and very fine dusty tannins. Juicy acidity underscores fruit purity and a deep, long finish, finesse rarely found at this price point." Winemaker's notes.
"The perfumed bouquet introduces a supple, medium-bodied palate with the full suite of ripe cabernet flavours, enhanced by moderate alcohol. Oak, too, plays a part." 95 points, Halliday Wine Companion, 2020. And a Value rating. Not really an inspiring note, but the score says it all.
"Lovely cabernet. Medium in body, svelte by feel, charming by nature. Currants and pencils, bay leaves and choc. Confident and classy in an unforced way. It has the balance to drink well now but over the medium term and beyond it will develop beautifully." 92+ points, Campbell Mattinson, The Wine Front.
The impression I get is that proximity and shared ownership means Warramate overdelivers on quality to promote and introduce drinkers to the wines of Yarra Yering.
SOLD OUT