When I think of the wines I'd like to be drinking over Christmas it goes something like this….
Champagne to start - always.
A crisp and fresh dry white - to go with seafood.
I'd definitely want the option of a more textural white - to go with richer offerings on the table.
There'd have to be a rosé - it goes with anything.
And then a light red - with so much celebrating I won't feel like something big and heavy.
To finish, I'd like just a little of something sweet, but it would have to be light and refreshing.
So I've put together a couple of Christmas six-packs for easy Christmas celebrating.
---
We've plenty of other delicious wines on the website if you prefer to rummage through and create your own pack. Perfect as gifts or for pulling out the perfect tipple when friends and family come over.
---
St Nick's Picks 6-pack
Veuve Clicquot Brut NV
Grapes from as many as 50 to 60 different Crus are used for the blending of Yellow Label. The predominance of Pinot Noir provides the core structure of Clicquot, while a touch of Meunier rounds out the blend. Chardonnay adds elegance essential to a perfectly balanced wine.
Medhurst Yarra Valley Pinot Noir 2021
Lovely nose, highly perfumed wine with red cherry, five spice, mint and floral notes dominating the aromas. The palate has a core of red fruit flavours and the mouthfeel is lithe and energetic. Superb drinking with slinky fine tannins and a clean, fruit-driven finish.
Chateau Riotor Rose 2018
Nicely concentrated yet lively on the palate, offering incisive red berry, blood orange and floral pastille flavors underscored by a dusty mineral quality. Shows sharp delineation and cut on the finish, which hangs on with strong tenacity." 91 points, Josh Raynolds, Vinous Media, August 2019.
Corymbia Rocket's Vineyard Chenin Blanc 2020
"Lemon and sliced apple aromas, some gentle pastry and an overall purity and freshness. The fruit has been coaxed into a smoothly fleshy style on the palate with a bright apple, pear and lemon-flavoured finish. Beautifully balanced."
94 points, Nick Stock, Gourmet Traveller WINE, October 2021.
Scala Ciro DOC Bianco 2019
On the nose and palate you'll find an abundance of floral, musk, white flower and tropical fruit aromas and flavours. Dry and crisp, with refreshing lemon acidity. At 12% and with it's cool retro label, it's perfect warm weather drinking.
Massolino Moscato d'Asti 2020 (375ml)
Massolino's Moscato is more savoury and complex than the more typical examples (yet every bit as delicious). As always, this is bursting with wonderful, complex fruit--chamomile, pear, citrus and acacia flower--but it finishes chalky, crisp and with a twist of sage leaf. Impossible to stop drinking!
I can offer the pack for $200.

---
Christmas Crackers 6-pack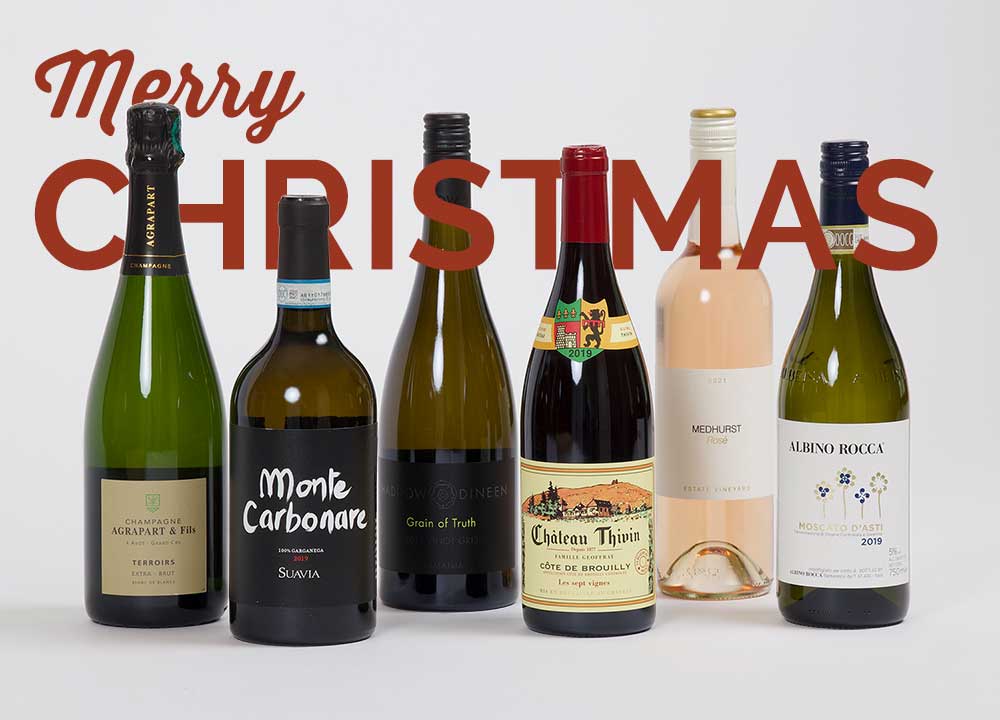 Agrapart Grand Cru Blanc de Blanc NV (Dis 2020)
"Citrus, white flowers, white pepper and crushed rocks add a super appealing upper register. This release is a blend of equal parts 2016 and 2015, with about 25% of the wine done in neutral oak. Dosage is 5 grams per litre. Best of all, the Terroirs is a superb value." 92 points, Antonio Galloni, Vinous.
Suavia Soave DOC Monte Carbonare 2019
"Forthright and truthful, with a sharp mineral nature. It tastes of rain on flint, on the black stones of the dry walls, and of that good fragrance that the countryside releases when dampened by the first rain." Winemaker's notes.
Haddow and Dineen Grain of Truth Pinot Gris 2019
"Strong pear scents, almost like poached pears, touches of cinnamon spice, marzipan, lemon blossom. Really nice whiffs. Slick and rich in the palate, a generous, full-flavoured gris though there's plenty of nice cut, spice and tang to keep the palate fresh and perky after each sip" 92 points, Mike Bennie, The Wine Front.
Chateau Thivin Cote de Brouilly Les Sept Vignes 2019 (Beaujolais)
"Bright and lively, all the raspberries and some pretty floral notes, plus a dab of spice. It's medium-bodied at most, fresh cranberry acidity and flavour in the mix, and a fine-boned finish of clarity and excellent length." 94 points, Gary Walsh, Winefront.
Medhurst Rose 2021
"Deliciously elusive fresh fruits including strawberry and raspberry are supported by tropical fruits and the white blossom of jasmine. The palate is savoury and refined with a supple creamy texture. The finish to the wine is superb, fresh fruits lovley roundness and weight and a long chalky delicate line." Winemaker's notes.
Albino Rocca Moscato d'Asti 2019
It's light, floral and fresh, with aromas and flavours of honeysuckle, citrus peel and pear. It's more structured than most Moscatos on the market and it's as serious and intellectual as a Moscato can get and at 5% it's a great way to finish a meal.
I can offer the pack for $330.

---
AN IMPORTANT WORD REGARDING FREIGHT...
Metro Sydney - we have our own van and driver, so for metro Sydney* we'll be able to sort out pre-Christmas delivery for orders placed up until the 23rd December.
Outside of Sydney - we rely on couriers. They've been experiencing significant delays due to massive increases in volumes so there will be no guarantee of pre-Christmas delivery for orders placed after the 1stDecember.
*There's always some ambiguity and flexibility as to what may be regarded as metro Sydney. We're in Bondi Junction, so if you're 'in Sydney' but miles away, best to email me at davidparker@bottleandglass.com.au so we can clarify the situation.