I remember an Austrian wine delegation arriving at a winery I was working at in the mid 90s. They were on a road-trip attempting to introduce Australians to the wines of Austria and there was much talk of a white variety I'd never heard of back then, Grüner Veltliner, which was at that stage and is still today, Austria's most widely planted variety.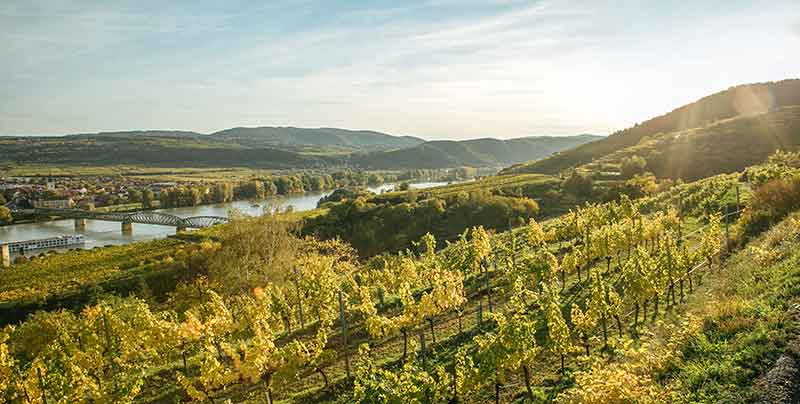 Salomon Undhof vineyards overlooking the Danube.
The delegation was working hard to rebuild the country's reputation a full decade after the infamous 1985 antifreeze scandal, in which a small number of merchant companies (not producers) illegally doctored their sweet commercial wines with additives. These additives included diethylene glycol (DEG) in an effort to add body and even more sweetness, hoping to imitate wines of higher quality and while the headlines latched onto DEG being toxic and used in antifreeze, in the quantities it had been used, it was harmless. While only a minuscule amount of wine had been dosed, the result of the scandal on the entire Austrian wine industry was devastation. Exports plummeted over 90% from 48 million litres in 1984 to 4 million litres in 1986 and it took over 15 years to recover.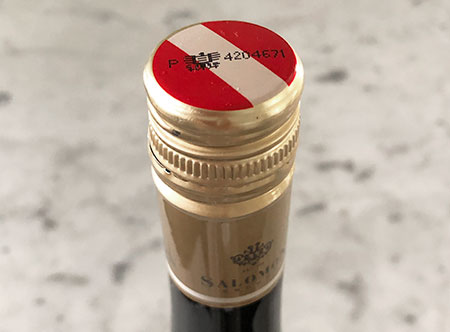 It's hard to imagine anything good coming from this - but it did. The Austrian wine industry was forced to entirely rebuild itself, with an intense focus on quality. New wine laws were implemented (the strictest in Europe) and there was a move by the smaller, quality-focussed producers to market their own wines, rather than rely on the old network of negociants and wholesale wine merchants, who had been responsible for the scandal. These days it's hard to find a bad bottle of Austrian wine.
All Austrian wines at Qualitätswein level have the red and white capsule as well as a Federal Inspection Number, proof of arduous and rigorous quality control measures.
But back to the mid 90s, and like most in the trade, I thought the group was on mission impossible. Why would Australian consumers buy this unheard-of white wine from Austria, when there were similar styles available (such as Riesling) made by renowned producers from Germany, France and Australia? I didn't even know what Grüner Veltliner was back then. How times change. These days you'll find a Grüner on many wine lists around town.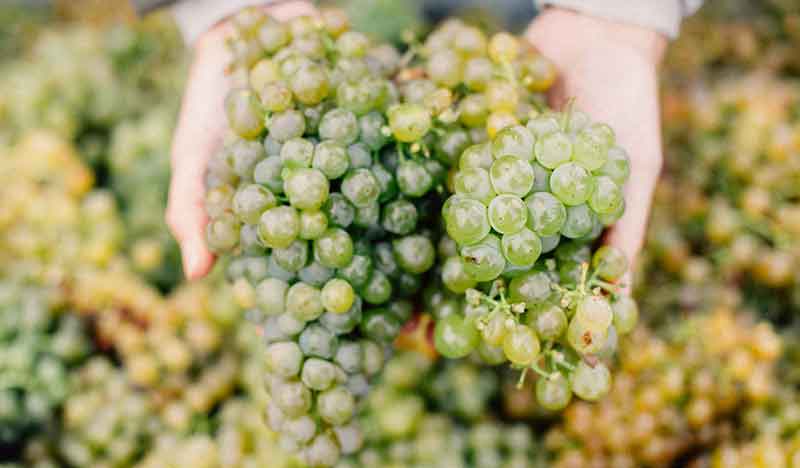 So what to expect of a young Grüner? They are generally pale green in colour and have an attractive nose. Typical descriptors include grapefruit, limes, pears and white pepper. They have similar features to Riesling, Gewürtzraminer and Pinot Gris, and like them, are lovely aromatic wines with good levels of acidity. Grüner makes an interesting alternative that's great with food.
"Austrian wines from this grape - virtually always dry - capture an otherwise unprecedented range of flavours, including those of lentils, green beans, mange-tout, cress, rhubarb, beetroot, roasted red peppers, tobacco, white and black pepper, citrus zest, iris, and nutmeg. A tactile 'bite' or pleasantly sizzling peppery astringency - referred to by Austrians as Pfefferl - is often treated as a varietal signature. Arguably also without precedent is this grape's ability to achieve satisfying ripeness and completeness at levels of potential alcohol ranging from as little as 10.5% to as much as 15%. Grüner Veltliner wines can reflect vineyard identity as well as mature impressively in bottle for decades. There can be enormous variation in size and colour of berry; size and shape of cluster; vine vigour; and wine flavour." Oxford Companion to Wine.
Here's an interesting piece from everybody's favourite, Jancis Robinson MW: "As a confirmed Riesling enthusiast, I was slow to recognise Grüner Veltliner's charms. For a long time I thought of it as a poor second to the great Riesling in Austria's wine lexicon. It took one of several significant blind tastings staged by Munich dentist and fine wine merchant Jan Paulson of www.rare-wine.com to convince me that Grüner Veltliner was truly a great grape variety. It was an audacious exercise. In each case a panel of renowned wine tasters was invited to taste a range of top Austrian Grüner Veltliners, mixed in flights arranged by age, with top Chardonnay-based wines made around the world. Best of all, we in London were allowed to choose the opposition, so it included such names as Montrachet, Corton Charlemagne, Leflaive and Ramonet. Before this London tasting back in 2002, I could not imagine it would be anything other than a walkover for Chardonnay in general and white burgundy in particular. After the tasting I could hardly believe the results: seven of the top 10 places had been taken by Austrian wines, some Chardonnays but mainly Grüner Veltliners - but this was a result that replicated similar ones in the other, similar tastings. This proved to me that Grüner Veltliner is capable of producing very fine, full-bodied wines well capable of ageing."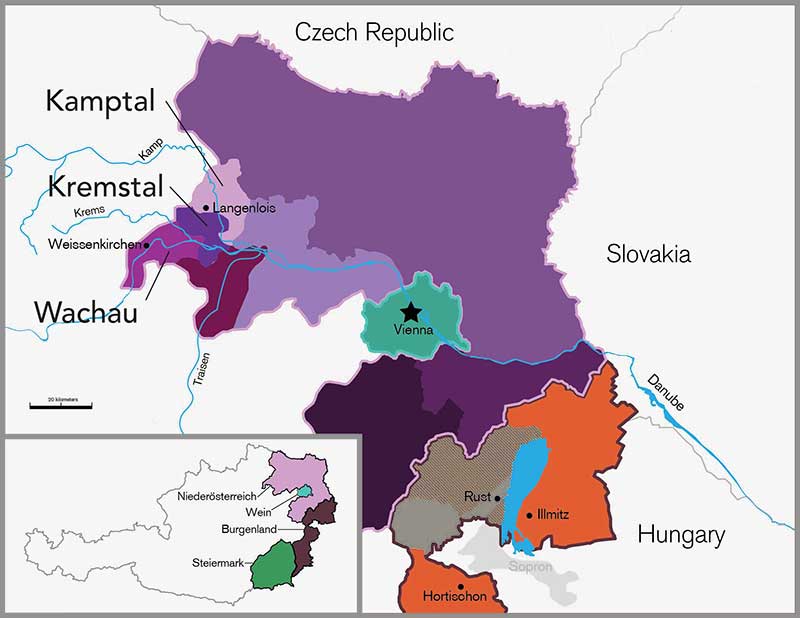 Let me tell you a little more about Austria. With around 46,000 ha of vines, it's not a major producer. To put it in context, France has around 786,000ha, Australia 145,000ha and New Zealand 40,000 ha (source: OIV State of the Vitiviniculture World Market April 2018, figures from 2016). Given the cool climate, it's no surprise that white grapes dominate, accounting for 67% of planting, with Grüner Veltliner, the most planted variety, accounting for 31% of plantings according to the latest figures from the official Austrian Wine Statistics report.
I find the Austrian viticultural demarcation a little confusing. There's a system of regions, sub-regions and districts and there are several quality classifications, one of which is DAC (Districtus Austriae Controllatus) status, which is based on the French/Italian/Spanish appellation system. There are currently 13 DACs and they are still being rolled out. In conjunction with this, is a complex German-like quality hierarchy, part of which is based on must weight, ie. ripeness of the grapes when picked.
But let's concentrate on geography for a moment. Simplified, the 4 main areas, all of which are in the east of the country, are:
Niederösterrreich (lower Austria) 28,145 ha (2015) Includes the important DACS of Kremstal, Kamptsal and Weinvertal, as well as The Wachau.
Burgenland – 12,248ha (2015)
Steiermark (Styria) - 4,324 (2015)
Wein – 581ha (2015)
You tend to find the best examples of Grüner in Niederösterrreich (lower Austria), specifically in the DACs of Kamptal, Kremstal, and The Wachau, which is "acknowledged as the source of the mightiest GVs, mostly grown in terraced primary-rock sites overlooking the Danube." Decanter, July 2019.
Of the many Grüners I tasted last year, there was one I kept coming back to for both quality and value.

Salomon Undhof 'Wieden' Gruner Veltliner 2017
"Salomon Undhof is a figurehead of the Austrian wine history. White wines have been produced here from some of the best 'Grand Cru' locations along the Danube for 225 years. Thanks to Bert Salomon, the winery today mainly stands for excellent dry Rieslings and Grüner Veltliner - long-lasting, elegant wines for which the house is famous," Peter Moser, Falstaff, August 2019. Falstaff is Austria's oldest and highest circulation wine magazine and the Austrian wine authority.
"Bert Salomon is on a roll, having over the past several years achieved increasingly consistent and impressive results at what was already among the Kremstal's longstanding best addresses, not to mention among the area's historical leaders…" David Schildknecht, Vinous, November 2015.
Salomon Undhof was founded in 1792 in the Kremstal region along the Danube. The estate is currently run by Bertold (Bert) Salomon and has several excellent sites covering about 25ha. Interestingly, Bert and his wife Gertrude purchased around 50ha of land on the Fleurieu Peninsula, south of Adelaide back in 1995 and these days produce a range of decent reds.
Back in Austria, the 'Wieden' vineyard adjoins the winery and is encircled by a massive wall. Vines from the Wieden old Grüner Veltliner rootstocks have also been planted on the terraces of the neighbouring Kreuzberg vineyard and this wine is a blend of the two sites.
In the glass it's a light green gold. On the nose you'll find lemon sherbet and baked pear aromas. On the palate, lime and grapefruit marmalade meld with ripe pineapple and savoury nuttiness. A nice mineral stoniness persists on the long dry finish. Good acid keeps it clean and balanced and will allow a few years ageing yet, but with more viscosity and weight than a Riesling the result is mouthwatering juiciness. Yum.
"Ripe, bright and intense on the nose with delicate flinty aromas in the background. Juicy-piquant and mouthfilling, this is an elegant, intense, persistently aromatic and quite powerful but still delicious Veltliner with intense fruit and delicate freshness with grip and stimulating salinity,' Stephan Reinhardt, The Wine Advocate, Dec 2018.
You'll find it at Jacques Raymond's très groovy L'Hotel Gitan in Prahan for $75 a bottle. Or you can enjoy it in self-isolation at home.
I can offer it for $34 a bottle. Order here