Chardonnay is so versatile a grape that it's grown in just about every corner of the world. Despite its extraordinary reach, the most famous examples come from a handful of vineyards nestled in the Côte de Beaune in Burgundy. Here you'll find great names such as Meursault, Montrachet and Corton-Charlemagne. There's no doubt this area produces some of the world's greatest expressions of Chardonnay, but they're also some the most expensive.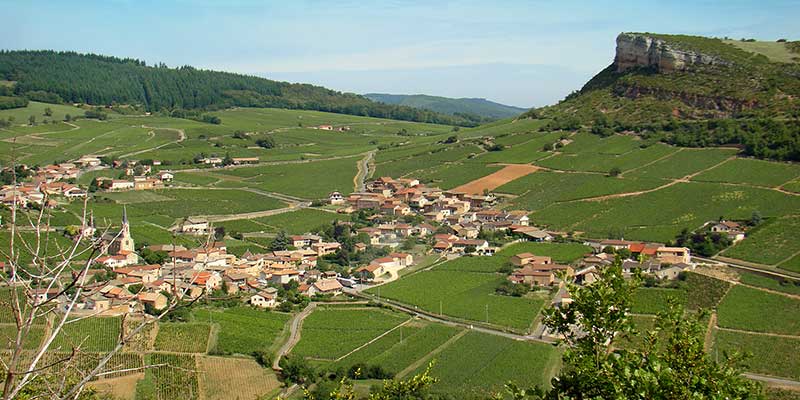 About 45km south of Beaune, but still in Burgundy, you'll come across an area known as the Mâconnais, where Chardonnay accounts for 80% of plantings. By Burgundy standards it's a fairly large area, 10km wide and 35km long, but unlike the Côte d'Or's monoculture, you'll find other types of agriculture here, especially dairy farms.
The landscape is stunning, with quaint villages and rolling vineyards, it's as idyllic as wine country gets. Eric Asimov, wine critic for The New York Times notes that the Mâconnais was traditionally a "reliable source of fresh, crisp, inexpensive whites." While it remains so, some of the more progressive domaines of Burgundy have recently started producing their own Mâconnais wines - offering better quality, but at reasonable Mâconnais prices.
The cost of land further north in Burgundy's top appellations is astronomical. French land agency SAFER reported that in 2018, prices for the best Premier Cru Burgundy vineyards were between €2M - €3M per hectare and the maximum price of Grand Cru vineyards was more than €14M per hectare! Meanwhile vineyards in the Mâconnais sold for between €13,000 - €73,000 per hectare.
These extraordinary figures explain why ambitious winemakers are seeking more affordable (but still recognised) appellations like those found in the Mâconnais. The result is a revitalisation of the Mâconnais as Jasper Morris MW (award winning Burgundy expert and author of Inside Burgundy) notes; "recently the region has been arguably the most dynamic part of Burgundy."
Within the Mâconnais lie several appellations:
Mâcon - white, red and rosé.
Mâcon-Villages - white only, from within a defined area of the appellation.
Mâcon-(followed by the name of a specific village) - white only, from 26 specified Mâcon villages.
You'll also find 5 other appellations:
Viré-Clessé
Saint-Véran
Pouilly-Vinzelles
Pouilly-Loché
And the highly regarded Pouilly-Fuissé (not to be confused with Pouilly-Fumé, which is Sauvignon Blanc from the Loire).
The thing I like about the Mâconnais is that if you know where to look, you can find great Chardonnay at reasonable prices. One winemaker at the forefront here is Jean-Marie Guffens.
Guffens is considered the finest winemaker in the Mâconnais, with many of his wines compared to those from the more exclusive appellations of the Côte de Beaune.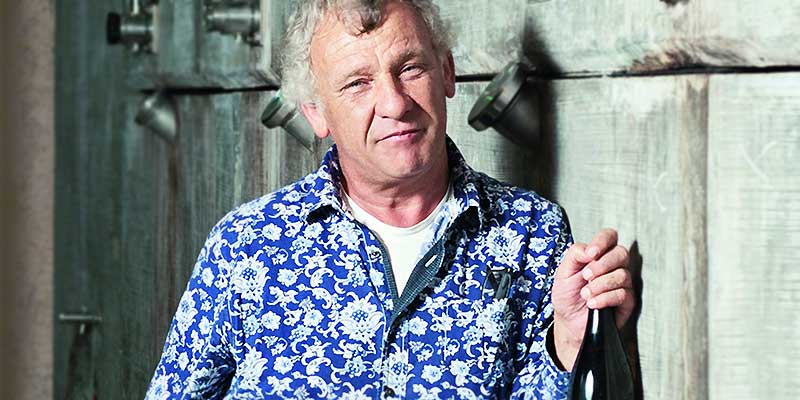 "Before Guffens, no one knew that Mâcon Peirreclos or even Pouilly-Fuissé could rival Corton-Charlemagne or Bâtard Montrachet. Now they do." Andrew Jefford, The New France.
Guffens also makes Chablis and Jefford rates him a 2-star Chablis producer, a score he awards to only two other producers, Raveneau and Dauvissat, both of which sell for hundreds of dollars a bottle.
"This peerless winemaker has surpassed himself with recent vintages." Bettane & Desseauve, The World's Greatest Wines.
3 Stars - Producteur de vins de qualité exceptionnelle (the only producer in the Mâcon area with this ranking), Le Classement 2007, Bettane & Desseauve (bigwig French wine critics).
"A visionary who has helped lead the striking improvement in the Mâconnais." Eric Asimov, The New York Times Wine Critic.
Guffens even gets a mention as a "leading producer" in the Oxford Companion to Wine.
But he's a controversial character to say the least. Guffens, a celebrated winemaker, universally admired for his remarkable winemaking skills, is also despised for his incendiary flamboyance. Like many gifted people, he treads the line between crazy and brilliant.
Some of his comments about fellow winemakers are extraordinary, as wine critic Andrew Jefford notes: "To be a Belgian in Burgundy is bad enough, but to be a motormouth who talks about fellow winemakers in the same tender terms that boxers use to needle their opponents, has turned Jean-Marie Guffens into a celebrated pariah."
This is classic Guffens on where he sits in the Burgundian hierarchy: "I'm one of the three best white winemakers in Burgundy. It's just a pity that the other two are so far behind." And referring to certain fellow winemakers, "they're one-eyed kings in the land of the blind."
I'm told this is all tongue-in-cheek and he's just as hard on his own wines, but there's no doubt Guffens hasn't endeared himself to Burgundy's establishment. Consequently, he's endured a decade of heavy-handed investigations by authorities into allegations of fraud. These culminated in 2001 with raids on his winery and even incarceration, all of which came to nothing, with Guffens eventually being exonerated.
In 1997, disgusted with his treatment in Burgundy, Guffens with wife Maine Heynen, purchased a southern estate. While continuing to make Burgundian wines, Guffens essentially decamped to the beautiful (and aptly named) Château des Tourettes, located just outside Apt in the high country of Provence. He sources his fruit from all over Burgundy, from vineyards he owns and leases, as well as from growers, and makes much of his wine in Apt.
Guffens has 3 projects; Domaine Guffens-Heynen, Maison Verget, and Château des Tourettes. He makes many great wines from several different appellations, any of which I'd be happy to drink, but one in particular caught my eye for for its extraordinary value. It's not often you find white Burgundy of this quality at this price.
---

Maison Verget Mâcon-Villages Terre de Pierres 2018
Guffens founded Maison Verget in 1990. In his watershed book, The New France, Andrew Jefford describes the Verget style like this; "Don't buy Verget wines looking for the kind of cheese paste, farm straw richness of traditional 'funky' white Burgundy; these are white wines made with the kind of ravishing purity, compelling sensual austerity, more familiar among the greatest winemakers of the Saar, the Ruwer, or Alsace." Guffens himself sums up his approach as "I am Flemish, I love purity."
The fruit for 2018 Terre de Pierres, or 'field of stones', is mainly sourced from the villages of Charnay-lès-Mâcon and Viré. 30% of the fruit is from Pierreclos. Viré is within the highly regarded appellation of Viré-Clessé and the other 2 villages are from the 26 'named' Mâcon villages.
This wine is crafted entirely from free-run juice. When the grapes are initially brought into the winery and placed in the press, juice runs out into the tray below, simply from the weight of the grapes themselves. This initial flow of juice does not experience any actual pressing and is totally free of any bitter phenolics (tea bagginess) that can come from excessive pressing.
This wine is fermented using natural yeasts and then matured on its fine lees (dead yeast cells) in horizontal stainless steel tanks. While the wine is aged on lees, Guffens is not into lees stirring and prefers minimal sulphur - both techniques designed to showcase fruit purity. Guffens thinks the leesy, cheesy characters in white Burgundy are too often used to disguise shortcomings in the wine. The wine sees no oak which I'm told is because the fruit comes from vineyards with chalkier soils, which tends to not only remove the need for oak, it makes the wine much more minerally than other Mâcon. It's also nice (and unusual) to see a French wine of this quality with a screw cap, which helps maintain freshness. The finished wine is 13% alcohol.
There is a perception that Mâcon is a richer, broader, warmer style of Chardonnay that benefits from oak. But the reality is that most Mâconnais whites are made without oak, some of them quite Chablis-like, which is definitely the case with this wine.
In the glass this is a clear light gold. On the nose, melon, honeysuckle and butterscotch aromatics make your mouth water. And on the palate: ripe melon, burnt sugar and musk notes contrast with zingy lime and firm mineral notes on the finish. This delicious balancing act is beautifully long, with a lovely weight and viscosity. Yum.
"The 2018 is packed with fleshy yellow plum and nectarine fruit and loads of brown, kernel-like complexity. The palate is layered yet linear with more texture than the 2017 but with the same cool, powdery freshness and an appealing phenolic twist on the finish. Viré nicé!" Bibendum Wine Co.
As one of our customers (GS) said of the previous vintage "I do think it's possibly the best value Burgundy that you can buy." Couldn't agree more.
Simply an amazing wine for the price - you really should try Mâcon like this.
I can offer it for $49 a bottle