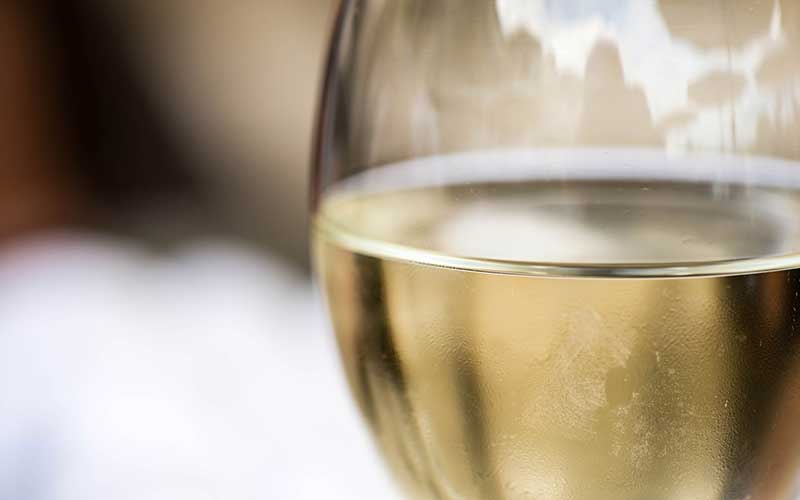 Here are some familiar whites to see out the summer. Two from Italy, two from France - they're crisp and refreshing and perfect for when the neighbours all pop in.
---

Bollini Pinot Grigio 2019
Bollini was established in 1979 by dynamic US wine couple Neil and Maria Empson. These two saw the potential of good Italian wine back in the early 70s, pioneering its importation and riding a wave of growth into both the US and international markets.
Pinot Grigio and Pinot Gris are actually the same grape variety, the difference being the style of the wine. In Italy, the variety is known as Pinot Grigio and the best examples are found in the northeast regions of Trentino-Alto Adige and Friuli, where it's picked early to produce a lighter-bodied, crisp, fresh white. In France where the variety originated, it's known as Pinot Gris, with the vast majority of plantings found in Alsace. Here you'll find Pinot Gris used as both a single varietal and in blends to produce mainly dry whites. These whites are slightly rounder, more textured and spicy. They also have the ability to age. No matter which incarnation, it seems Australia's love affair with this variety is flourishing, being a fresh, aromatic option for white wine drinkers.
Bollini has wineries in Friuli and Trentino (a separate appellation to Alto Adige), both of which are in Italy's northeast. Winemaker Franco Bernabei has served as consultant to many of the most prestigious estates in Italy, including Folonari, Fontodi, Sartori, Guicciardini Strozzi and a favourite of mine, Felsina. With a family history of winemaking, and degrees in viticulture and enology, Franco's interest lies in traditional Italian wines and local grape varieties including Pinot Grigio. Over the years he's collected a swag of awards, including an 'Oscar del Vino' in 2000, presented by the Associazione Italiana Sommelier. On two occasions his wines have also placed in Wine Spectator's 'Top 100 Wines of the World'. Suffice to say he knows his stuff.
This wine comes from Trentino DOC, a cool, mountainous area up on the border with Austria, perfect for producing crisp, aromatic Pinot Grigio. The fruit was handpicked and fermented in temperature controlled stainless steel tanks to ensure the wine retained its freshness. The wine sees a short time on lees (dead yeast cells) which involves a little bâtonnage (stirring), adding a little extra complexity and depth.
"Straw yellow in colour, clear-cut and delicate on the nose, with scents of acacia flowers, minerals and pear. The fresh natural acidity supports the wine," Winemaker's notes.
In the glass, this is a light yellow gold. On the nose, fresh honeydew, pear and gooseberry notes mingle with slightly richer hints of baked pineapple and nuttiness. On the palate you'll find citrus, honey and floral notes with a hint of fresh hay. Good crisp acid with a touch of richness in the mid-palate. Finishes nicely dry - a great match for barbequed seafood.
Enjoy it at Aqua Dining, overlooking the iconic North Sydney pool, for $60 a bottle. Or even more enjoyably, at home - at this price it's simply great value drinking.
I can offer it for $20 a bottle.

---

Scala Ciro Bianco DOC 2019
Here's a white from the wonderfully underrated Scala winery in Calabria.
This delicious wine is 100% Greco, which you'll also see referred to as Greco di Tufo, a variety described by Ian D'Agata in his book 'Native Wine Grapes of Italy' as "one of Italy's most famous wine grapes." D'Agata observes "typical aromas and flavours include yellow flowers, honey, peach, pear and ripe tropical fruits." Greco is mainly found in Campania, a region inland from Naples, but you'll also find it in Tuscany, Lazio, Puglia and of course Calabria, the 'toe' of the Italian peninsula.
Like Sicily, Calabria, traditionally trended to produce bulk wine, the demand for which has declined in recent decades. Add to this an ageing workforce working hilly vineyards and a vine-pull scheme in 2008, it's hardly surprising that the region has seen a 30% decrease in vineyard plantings since 2000. These days Calabria has 9 DOCs (2nd top Italian appellation) the best known of which is Ciro, which sits on the slopes above the town of the same name, halfway up the east coast of Calabria.
Azienda Agricola Scala has 18ha of vineyards in Ciro, focusing on native grapes such a Greco, as well as Gaglioppo (red), Magliocco (red), Narello (red) and Mantonico (white). While the land here has been cultivated since the 17th century, the Scala family acquired the site in the 1940s. Originally cultivating olives and citrus groves, they moved into wine in the 60s. More recently they've converted the vineyards to certified organic cultivation.
The fruit was handpicked and fermented using indigenous yeasts in temperature controlled stainless steel tanks in an effort to capture as much freshness as possible.
On both the nose and palate there's an abundance of white blossom, musk, and tropical fruit. But it's also beautifully dry and crisp - a nice balance found with its refreshing lemon acidity. Add a groovy retro label and it's perfect warm weather drinking.
I can offer it for $27 a bottle. SOLD OUT

---

Domaine Du Salvard Val del Loire Sauvignon Blanc 2018
For those of you who enjoy sauvignon blanc without the Marlborough pungency, this is for you.
France's beautiful Loire Valley is a region known for sauvignon blanc. In the middle of the valley is an area known as Touraine, home to the famous appellations of Chinon, Bourgueil and Vouvray. Also here, near the town of Blois, you'll find the small and relatively obscure appellation of Cheverny (pronounced sher-vair-nee). The appellation covers around 550ha and while it does produce some light reds and rosés, most Cheverny is a white blend comprising 60-80% sauvignon blanc.
Aside from its status as a quiet achiever, Cheverny is best known for the Château de Cheverny. Tintin fans like me know the building was Hergé's inspiration for Marlinspike Hall, home of Captain Haddock.
One of the best producers in Cheverny is Domaine du Salvard. This 42ha estate is currently run by the fifth generation of the Delaille family and they've made significant improvements to the estate including the introduction of sustainable farming practices and temperature-controlling equipment in the winery. The Delaille brothers make several highly regarded classic Cheverny wines, but it's the one not labelled as a Cheverny that caught my attention.
Recent changes to appellation laws require chardonnay to be included if 'Cheverny' is used on the label. Zut alors! The wine is sourced from estate grown 20+ year old vines, but it's 100% sauvignon blanc, so it's simply labelled Vin de Pays Du Val de Loire.
The wine used to be called 'Unique' and had a uniquely terrible label. The new label was designed by talented French-based artist Loise Sheeran.
In the glass this is a light yellow gold. On the nose you'll find aromatic tropical fruit notes - lychees, ripe pineapple and passionfruit. On the palate, pineapple, lychee and zingy lemon sherbet meld with grapefruit marmalade and citrus pith notes. No sign of asparagus here - this is just fresh, clean, bright and refreshing.
You'll find it on the list for $55 a bottle at the highly awarded and very groovy 'The Barber Shop' in York Street, Sydney.
I can offer it for $25 a bottle.

---
Maison Verget Mâcon-Villages Terre de Pierres 2018
Jean-Marie Guffens founded Maison Verget in 1990. In his watershed book, The New France, Andrew Jefford describes the Verget style like this; "Don't buy Verget wines looking for the kind of cheese paste, farm straw richness of traditional 'funky' white Burgundy; these are white wines made with the kind of ravishing purity, compelling sensual austerity, more familiar among the greatest winemakers of the Saar, the Ruwer, or Alsace." Guffens himself sums up his approach as "I am Flemish, I love purity."
The fruit for 2018 Terre de Pierres, or 'field of stones', is mainly sourced from the villages of Charnay-lès-Mâcon and Viré. 30% of the fruit is from Pierreclos. Viré is within the highly regarded appellation of Viré-Clessé and the other 2 villages are from the 26 'named' Mâcon villages.
This wine is crafted entirely from free-run juice. When the grapes are initially brought into the winery and placed in the press, juice runs out into the tray below, simply from the weight of the grapes themselves. This initial flow of juice does not experience any actual pressing and is totally free of any bitter phenolics (tea bagginess) that can come from excessive pressing.
This wine is fermented using natural yeasts and then matured on its fine lees (dead yeast cells) in horizontal stainless steel tanks. While the wine is aged on lees, Guffens is not into lees stirring and prefers minimal sulphur - both techniques designed to showcase fruit purity. Guffens thinks the leesy, cheesy characters in white Burgundy are too often used to disguise shortcomings in the wine. The wine sees no oak which I'm told is because the fruit comes from vineyards with chalkier soils, which tends to not only remove the need for oak, it makes the wine much more minerally than other Mâcon. It's also nice (and unusual) to see a French wine of this quality with a screw cap, which helps maintain freshness. The finished wine is 13% alcohol.
There is a perception that Mâcon is a richer, broader, warmer style of Chardonnay that benefits from oak. But the reality is that most Mâconnais whites are made without oak, some of them quite Chablis-like, which is definitely the case with this wine.
In the glass this is a clear light gold. On the nose, melon, honeysuckle and butterscotch aromatics make your mouth water. And on the palate: ripe melon, burnt sugar and musk notes contrast with zingy lime and firm mineral notes on the finish. This delicious balancing act is beautifully long, with a lovely weight and viscosity. Yum.
"The 2018 is packed with fleshy yellow plum and nectarine fruit and loads of brown, kernel-like complexity. The palate is layered yet linear with more texture than the 2017 but with the same cool, powdery freshness and an appealing phenolic twist on the finish. Viré nicé!" Bibendum Wine Co.
As one of our customers (GS) said of the previous vintage "I do think it's possibly the best value Burgundy that you can buy." Couldn't agree more.
Simply an amazing wine for the price - you really should try Mâcon like this.
I can offer it for $49 a bottle.