Crisp and refreshing - I like to have summer quaffers on hand for entertaining or impromptu visits (or even a quiet evening in). Here are three I'm enjoying at the moment, one from the Loire, one from southern Italy and one from north eastern Italy.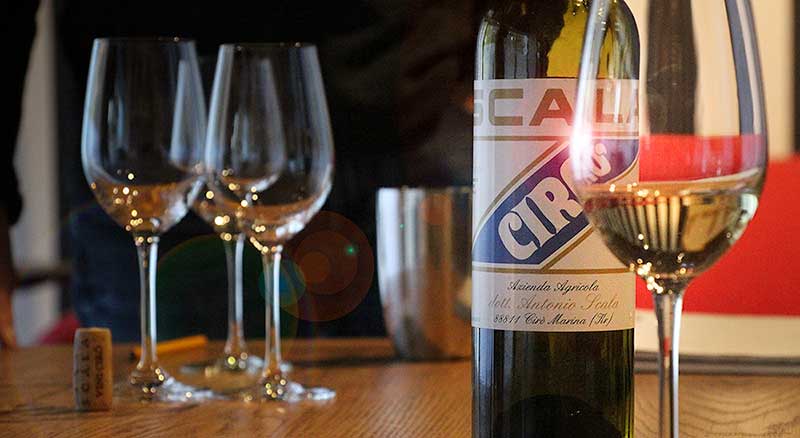 ---
A go-to place for me for good quaffers has always been France's Loire Valley. As a wine region the Loire is divided into 3 areas:
Upper Loire - produces some of the greatest Sauvignon Blanc in the world in the appellations of Sancerre and Pouilly-Fumé.
Lower Loire - best known for the appellation of Muscadet, an aromatic white wine made from Melon de Bourgogne.
Middle Loire - several varieties are found here but it's really all about Chenin Blanc (white) and Cabernet Franc (red). Known for its stunning landscape - this area's well-known appellations include Anjou, Savennières, Touraine, Vouvray, Chinon, Bourgueil and Saumur.
The historic town of Saumur sits astride the Loire River, surrounded by the appellation of the same name. The geography is a bit complicated here, but Saumur is upstream from Savennières and surrounded by bits of Anjou. The town is home to France's national equestrian school and its famous elite riding squad, the Cadre Noir. It was also the birth place of Coco Chanel in 1883 and presiding over the town sits the magnificent Château Saumur.
The appellation is a significant producer of and best known for sparkling wine, made using the same technique as Champagne. Saumur also produces white wine predominantly from Chenin Blanc and red wine from Cabernet Franc, one of the best examples of which is from the obscure Clos Rougeard, which if ever you get the chance to try, will change your perception of Cabernet Franc forever.
I've written about Chenin Blanc a few times when offering Vouvray, and Savennières. The variety is not well known in Australia but in the Loire it's used to make dry, sweet and sparkling white wines. Jancis Robinson MW describes it as "probably the world's most versatile grape" and in her book Vines, Grapes and Wines (she classifies grapes of the world as classic, major or other), Chenin achieves classic status.
"Chenin Blanc is the Loire's most fascinating and diverse grape variety…" Decanter Magazine, 18th Jan 2017.
Within Saumur there are several sub-appellations, one of which is Saumur Blanc, a white wine made from at least 80% Chenin Blanc, with the balance usually Chardonnay or sometimes Sauvignon Blanc. When made well Saumur Blanc offers fresh, dry wines that are great value - one producer making such wines is Maison Langlois-Chateau.
The House of Langlois-Chateau was created in 1912 by Edouard Langlois and his wife Jeanne Chateau, with the house specialising in sparkling wines. Edouard was tragically killed in 1915 during WWI and subsequently awarded the Military Cross. Jeanne took over the running of the estate, aided later by her son and son-in-law.
In the 1970s, the estate's well positioned vineyards and quality wines caught the eye of Champagne heavyweight Bollinger, who at the time was wisely looking to expand it's empire beyond Champagne. In 1973 Bollinger acquired majority ownership of Langlois-Chateau and since then has invested heavily to improve the estate. These days the winery boasts all the bells and whistles, with state of the art pneumatic presses, temperature controlled tanks and high quality oak. There have also been significant changes and improvements made to the vineyards, with Langlois-Chateau one of the first estates to obtain the Terra Vitis label, a French benchmark for sustainable vineyard practices. The estate has 71 ha of its own vineyards, located in Saumur and Sancerre, and sources fruit from vineyards in several other surrounding appellations.

The house's reputation still rests predominantly on sparkling wine, but it also produces an excellent range of red and white still wines from several Loire appellations. In the Oxford Companion to Wine, Langlois-Chateau is one of only three estates referred to by name in Saumur.

Maison Langlois-Chateau Saumur Blanc 2018
The wine is 100% Chenin Blanc, sourced from the estate's own Terra Vitis certified vineyards in Bron and St-Florent. The fruit was handpicked and pressed - the juice then fermented in temperature controlled stainless steel tanks with cool ferments to protect delicate aromas/flavours. After ferment, the wine spent around 4 months on fine lees (the dead yeast cells that sink to the bottom of the tank). They're stirred every now and again to add a little bit of extra weight, texture and complexity.
"Light yellow colour. Intense nose, with aromas of white flowers and exotic fruit. Sharp at first, fruity and full-bodied on the palate. A citrus fruit finish." Winemaker's notes.
The wine is a clear, light greeny-gold. On the nose and palate you'll find fresh melon, green apples, citrus and tropical fruit. A subtle hay/grassy character makes it just a touch like a Hunter Semillon. Medium-to-light-bodied with crisp tart green apples on the finish and a hint of Euro savouriness and minerality.
This is why many regard the Loire as the home of great value drinking. Perfect mid-week French tipple.
I can offer it for $26 a bottle. SOLD OUT

---

Scala Ciro Bianco DOC 2018
After offering their red for a few years, I'm excited to be able to offer you for the first time, a white from the wonderfully underrated Scala winery in Calabria.
This delicious wine is 100% Greco, which you'll also see referred to as Greco di Tufo, a variety described by Ian D'Agata in his book 'Native Wine Grapes of Italy' as "one of Italy's most famous wine grapes." D'Agata observes "typical aromas and flavours include yellow flowers, honey, peach, pear and ripe tropical fruits." Greco is mainly found in Campania, a region inland from Naples, but you'll also find it in Tuscany, Lazio, Puglia and of course Calabria, the 'toe' of the Italian peninsula.
Like Sicily, Calabria, traditionally trended to produce bulk wine, the demand for which has declined in recent decades. Add to this an ageing workforce working hilly vineyards and a vine-pull scheme in 2008, it's hardly surprising that the region has seen a 30% decrease in vineyard plantings since 2000. These days Calabria has 9 DOCs (2nd top Italian appellation) the best known of which is Ciro, which sits on the slopes above the town of the same name, half way up the east coast of Calabria.
Azienda Agricola Scala has 18ha of vineyards in Ciro, focusing on native grapes such a Greco, as well as Gaglioppo (red), Magliocco (red), Narello (red) and Mantonico (white). While the land here has been cultivated since the 17th century, the Scala family acquired the site in the 1940s. Originally cultivating olives and citrus groves, they moved into wine in the 60s. More recently they've converted the vineyards to certified organic cultivation.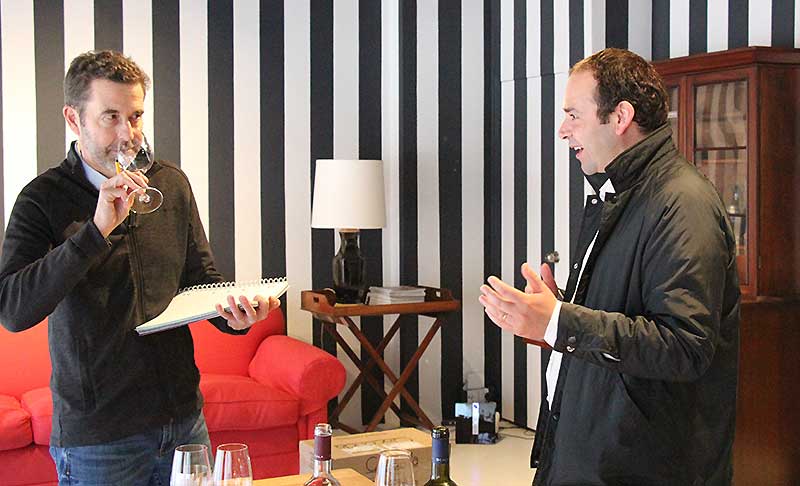 Catching up for a tasting with Luigi Scala.
The fruit was handpicked and fermented using indigenous yeasts in temperature controlled stainless steel tanks in an effort to capture as much freshness as possible.
On both the nose and palate there's an abundance of white blossom, musk, and tropical fruit. But it's also beautifully dry and crisp - a nice balance found with its refreshing lemon acidity. Add a groovy retro label and 12% alcohol, it's perfect warm weather drinking.
I can offer it for $25 a bottle.

---
I recently tried a terrific Italian Pinot Grigio from Bollini, which was established in 1979 by dynamic US wine couple Neil and Maria Empson. These two saw the potential of quality Italian wine back in the early 70s, pioneering its importation and riding a wave of growth into both the US and international markets.
Pinot Grigio and Pinot Gris are actually the same grape variety, the difference being the style of the resulting wine. In Italy, the variety is known as Pinot Grigio and the best examples are found in the northeast regions of Trentino-Alto Adige and Friuli, where it's picked early to produce a lighter-bodied, crisp, fresh white. In France where the variety originated, it's known as Pinot Gris, with the vast majority of plantings found in Alsace. Here you'll find Pinot Gris used as both a single varietal and in blends to produce mainly dry whites. These whites are slightly rounder, more textured and spicy. They also have the ability to age.
No matter which incarnation though, it seems Australia's love affair with this variety is flourishing, with it offering a fresh, aromatic option for white wine drinkers.
Bollini has wineries in Friuli and Trentino (a separate appellation to Alto Adige) both of which are in Italy's northeast. Winemaker Franco Bernabei has served as consultant to many of the most prestigious estates in Italy, including Folonari, Fontodi, Sartori, Guicciardini Strozzi and a favourite of mine, Felsina. With a family history of winemaking, and degrees in viticulture and enology, Franco's interest lies in traditional Italian wines and local grape varieties including Pinot Grigio. Over the years he's collected a swag of awards, including an 'Oscar del Vino' in 2000, presented by the Associazione Italiana Sommelier. On two occasions his wines have also placed in Wine Spectator's 'Top 100 Wines of the World'. Suffice to say he knows his stuff.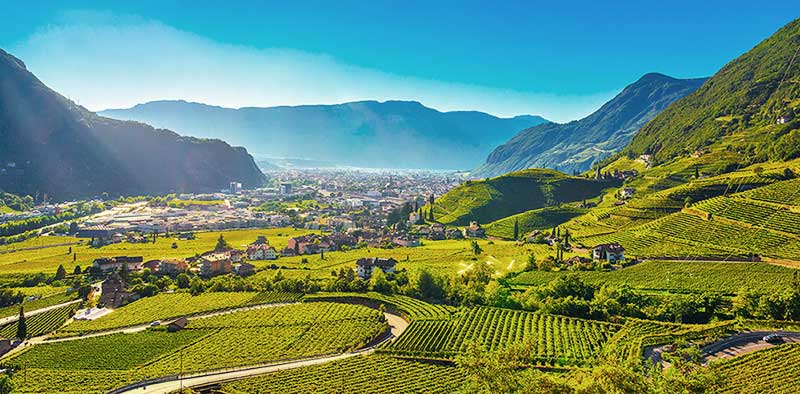 Landscape of the Trentino wine region.
This wine comes from Trentino DOC, a cool, mountainous area right up on the border with Austria, that's perfect for producing crisp, aromatic Pinot Grigio. The fruit was handpicked and fermented in temperature controlled stainless steel tanks to ensure the wine retained its freshness. The wine sees a short time on lees (dead yeast cells) which involves a little bâtonnage (stirring), adding a little extra complexity and depth.
"Straw yellow in colour, clear-cut and delicate on the nose, with scents of acacia flowers, minerals and pear. The fresh natural acidity supports the wine" Winemaker's notes.
In the glass, this is a light yellow gold. On the nose fresh honeydew, pear and gooseberry notes mingle with slightly richer hints of baked pineapple and nuttiness. On the palate you'll find citrus, honey and floral notes with a hint of fresh hay. Good crisp acid with a touch of richness in the mid-palate. Finishes nicely dry - a great match for fish tacos, seared scallops or even juicy fried spring rolls.
Enjoy it at Aqua Dining, overlooking the iconic North Sydney pool, for $60 a bottle. Or even more enjoyably, at home - at this price it's simply great value drinking.
I can offer it for $20 a bottle. SOLD OUT