You'd be forgiven for thinking Tasmania is a much bigger player in the wine world than it is, from its healthy representation on restaurant wine lists. But of the close to 2,500 wine producers in Australia, only about 180 are in Tasmania, and the majority of these are tiny, crushing less than 20 tonnes. To put this in perspective, someone like Brown Brothers in Victoria crushes over 15,000 tonnes.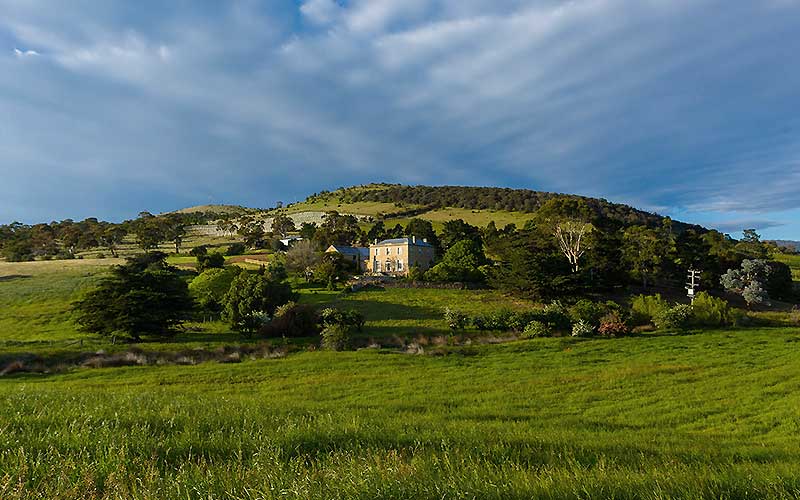 Pooley Wine's Butcher's Hill and cellar door are heritage listed, as the sandstone which built Richmond village and its famous bridge in Tasmania was quarried from the property.
Tassie has just over 2,000 ha under vine and produces about 1% of Australia's grapes. Despite this, it pulls more than its weight when it comes to quality. Wine Tasmania notes that 100% of Tassie wines sell for over $15 a bottle compared to a national figure of just 7%. Wow!

This isn't the only way Tasmania does things a little differently. While the most common variety nationally is shiraz, accounting for 27% of the 2021 vintage (by tonnes), in Tassie it accounted for 0.7 of a percent. The 2021 vintage report from Wine Tasmania gave the following figures for Tassie - by tonnes crushed, not by area grown.
pinot noir - 48.2% (nationally 2.7%)
chardonnay - 25.3% (nationally 19.0%)
pinot gris – 8.7% (nationally 4.26
sauvignon blanc – 7.8% (nationally 5.0%)
riesling – 6.0% (nationally 1.1%)
The reason for this varietal makeup is of course climate. Being the most southerly wine region in Australia, Tasmania is cool and suited to some of the best pinot noir and chardonnay in the country, as well as pinot gris and riesling.
The pinot noir here is very much in the leaner style and as Huon Hooke noted in SMH Good Food, February 2015: "Pinot Noir in Tassie has arguably the best potential of anywhere in Australia."
James Halliday notes in his introduction to Tony Walker's Vintage Tasmania: The Complete Book of Tasmanian Wine, "the Tasmanian wine industry of today is the most vibrant in Australia, pulsating with success, and with virtually unlimited potential."
But it wasn't always this way. Despite having some of the earliest plantings in Australia in the 1820s, the Tasmanian industry collapsed as labour rushed to the mainland for gold in the 1860s. By the 1950s the official view from the Tasmanian Department of Agriculture was "the island is unsuited to the commercial production of wine" (The Australian Wine Encyclopedia p304). It was only in the 1980s that commercial plantings once again re-emerged.
These days Tasmania is legally considered a single wine region or GI (Geographical Indication), but in reality, it's far more diverse than that. Wine Tasmania identifies seven wine growing areas with the breakdown by tonnage for the 2021 vintage as follows:
Tamar Valley 34.8%
Coal River Valley 25.0%
East Coast 15.7%
Pipers River 15.0%
Derwent Valley 7.0%
Cradle Coast 1.6%
Huon Valley / d'Entrecasteaux Channel 0.6%
Other 0.2%
I'm pleased to be able to offer two top-tier Tasmanian producers - I love these wines.
Haddow and Dineen is a recent-ish collaboration between cheese maker Nick Haddow and winemaker Jeremy Dineen. With only two vintages under their belt, Nick Ryan of The Australian has already proclaimed "The top tier of Tasmanian pinot noir has just increased its number by one."
Nick Haddow and I go back to the heady days of the dotcom boom in 2000 when we both worked at Wine Planet. In typical fashion, Wine Planet had done a back-door listing on the ASX via a resource minnow, after which Fosters punted in around $40M for a 25% stake in the business. With a pocket full of cash and dotcom euphoria in full swing, the expansion was extraordinary. So what does an online wine company with all that money and exuberance do? Open an online cheese room of course. And that's when Nick was brought from Melbourne, where he'd been running cheese guru Will Studd's Richmond Hill Café and Larder. But no sooner had Nick arrived, than the whole bubble started to burst and the cheese room was shelved. Fosters bought the remaining 75% of Wine Planet, shut it down and lost an estimated $100m. Ouch.
Nick moved to Tasmania to become cheesemaker at Pyengana for a few years before striking out on his own, founding the Bruny Island Cheese Co in 2003. And like so many 'overnight' success stories, a decade later he won the Telstra Australian Business of the Year and the Telstra Australian Small Business the Year in 2013. Since then Nick's empire has expanded to include a brewery and a dairy.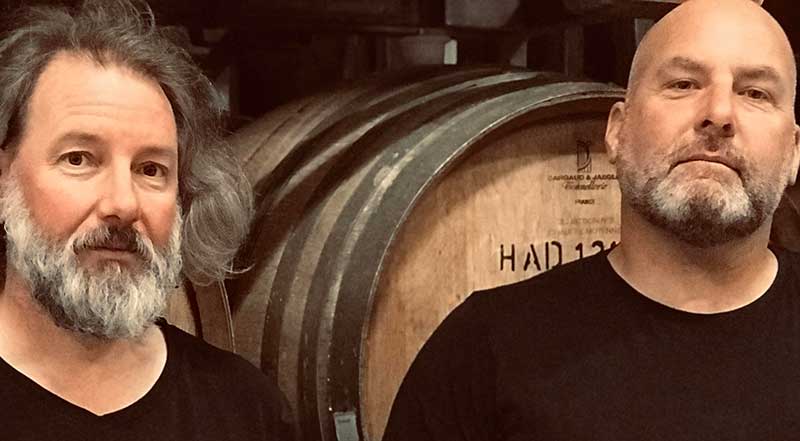 Nick Haddow (right) and Jeremy Dineen's (left) winemaking philosophy - 'Maximum consideration over minimal intervention.'
All through his success, Nick has first and foremost been the most wonderful advocate for Tasmania. He's been a board member of Brand Tasmania since 2012 and last year was made its inaugural Chairperson. Nick is also director of Wine Tasmania, which is not as strange as it might sound. In addition to being a world class cheesemaker, Nick's always been around wine. Growing up in SA, he spent time at Ashton Hills and Wendouree and I remember him being into Domaine Tempier years before everyone else started swooning over the wines of Bandol. In the last few years he's made a few wines on the side, but he's finally decided to throw his hat in the ring and wisely teamed up with someone who knows a lot more about it than him, namely Jeremy Dineen.
Nick's the first to admit the real star of the show is Jeremy. Born and bred in Tassie, you'd be hard pressed to find a more qualified person there to make wine. Here are a few of Jeremy's achievements:
Director Wine Tasmania
Chairman, Wine industry Tasmania Technical Committee 2006-2010
Finalist, Australian Society of Viticulture & Oenology, Winemaker of the Year 2017
Accomplished Wine Show Judge
Tasmanian Award 2018 - for exceptional contribution to the state's wine industry
You get the picture - talent and experience.
Jeremy was winemaker and general manager at Joseph Chromy since its inception in 2004 until last year, and under his stewardship the winery won a staggering number of trophies and medals. With impeccable timing Jeremy left a well-paid, full-time job in December 2020, mid Covid, to focus on fledgling Haddow and Dineen, as well as consulting work.
The fruit for the Haddow & Dineen wines is sourced from a vineyard in York Town, which is a small village at the mouth of the Tamar. The 3ha vineyard only produces pinot noir and pinot gris and is quite unique. Jeremy told me it's the only vineyard he's seen with a predominance of white silica. This unusual soil makeup is difficult for vines to thrive in and takes several years for the vines to establish. But when they finally do, adversity leads to grapes of incredible intensity. This is true cool-climate viticulture, producing wines of great freshness, vibrance and delicacy.
---

Haddow and Dineen Pinot Gris 2019
The fruit was handpicked and quickly transported to a mate, Peter Dredge's winery. Whole bunches were pressed and the juice run off into old barriques (225L) where it was fermented using indigenous yeasts. The wine spent time on lees (the dead yeast cells and sediment) and underwent battonage (lees stirring). After ferment it was bottled without fining or filtration. The finished wine is 14.5% alcohol and sealed with screwcap, heavy bottle and snazzy labelling.
"Strong pear scents, almost like poached pears, touches of cinnamon spice, marzipan, lemon blossom. Really nice whiffs. Slick and rich in the palate, a generous, full-flavoured gris though there's plenty of nice cut, spice and tang to keep the palate fresh and perky after each sip. I like the vibe here, it's unashamedly lush though the balance is all in check too. One for enthusiasts of the style, which you'll likely have to be when opting into a $48 price tag for opulent gris."
92 points, Mike Bennie, The Wine Front.
"The attractive pear tart aromas grab the attention and the vibrant, rich, complex palate is delightfully textural. A knockout pinot gris." 5 stars. Top rated Tassie pinot gris. Lester Jesberg, Wine Wise.
"Small crops of intensely flavoured fruit, indigenous yeast and barrel fermentation impart genuine richness and texture to this multifaceted and textural Pinot Gris. Aromas of ripe peach, subtle nuts and wild honey give hints of the lusciousness and complexity of the palate. Powerful and balanced with lingering flavours." Winemaker's notes.
Only made in tiny quantities. You won't see this in retail land but you can find it at a handful of good restaurants like Catalina, where it's $105 a bottle.
If you like that textured style, which I do, then this is one of the best Australian pinot gris on the market.
I can offer it for $48 a bottle.

---

Haddow and Dineen 'Private Universe' Pinot Noir 2019
Like the pinot gris, the pinot noir was also picked by hand and quickly transported to Peter Dredge's winery. Half of the fruit was left as whole bunches and the other half was crushed. The ferment was carried out using indigenous yeasts and, post-ferment, the wine only saw old oak. It was bottled unfiltered and unfined. The finished wine is 13.5% alcohol and sealed with screwcap. Also has a heavy bottle and nice labelling.
I like its delicious plum and cherry flavours, tempered by wonderful savoury notes. Be sure to let it breath, it takes a while to show its true colours.
"All the flamboyant exoticism, potpourri fragrance and deep anise of whole-bunch fermentation melds intricately with the red berry fruits of the Tamar. Intricately engineered by Jeremy Dineen, the quartz structure of this austere site defines crystalline tannins that carry a long finish. Potential." 93 points, Tyson Stelzer, James Halliday Wine Companion.
"The wine has a full ruby colour with a tint of purple, the aroma invitingly spicy with dark cherry, plum and vanilla notes. It's medium bodied, fleshy and supple in texture, the tannins gentle and fluffy. It's a harmonious pinot that already drinks very well." 92 points, Huon Hooke, The Real Review - a good score from Huon.
"Low crops from silica quartz soil produce intense dark cherry and wild red fruit aromas, with spice and herb characters coming from the whole bunch fermentation. Intricate red fruit and spice flavours flourish in a rich palate with savoury finish and fine, grainy tannins. Powerful yet subtle, evocative, generous, layered and structured." Winemaker's notes.
You won't find this one around much either, but you can enjoy it at Bennelong where it's $125 a bottle.
I can offer it for $48 a bottle.

---
Pooley Wines
Pooley Wines was established in 1985 by Denis and Margaret Pooley, when they planted a few rows of pinot noir and riesling on their 16ha property Cooinda Vale, which sits near Campania, on the picturesque banks of the Coal River, about 35km north of Hobart. It's hard to imagine now, but back then planting vines was a questionable move, such was the infancy of the Tasmanian wine industry. But it actually showed great foresight, with the ensuing decades seeing what started as a retirement project, flourish and prosper, eventually becoming a highly regarded estate, producing premium cool-climate wines.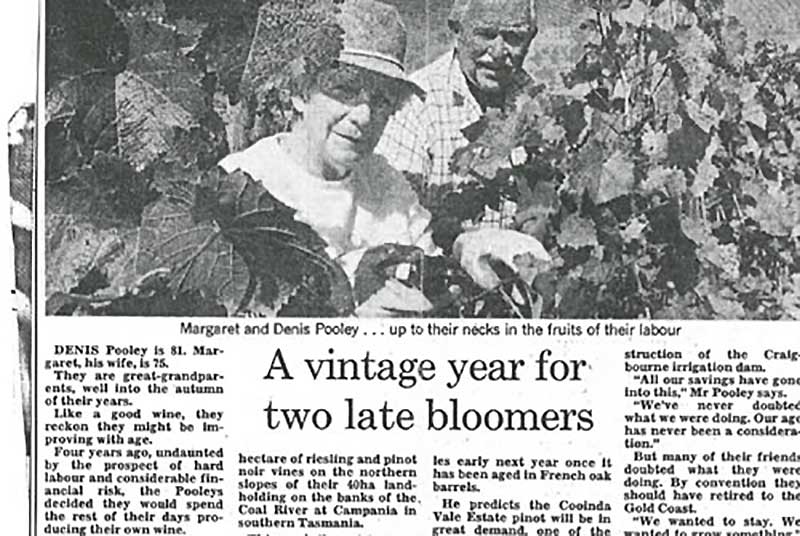 In 2003 Denis and Margaret's son John and his wife Libby purchased Belmont, an historic Georgian heritage-listed home on the outskirts of the charming, picture-perfect town of Richmond. Belmont was built in the mid 1830s by a Hobart wine and spirit merchant, Benjamin Guy, so its return to a wine family was serendipitous. The slope on which Belmont sits, is also heritage listed, as it was the site from which all the sandstone that built Richmond village and its famous bridge, was quarried. Here John and Libby set about planting what became known as Butcher's Hill vineyard.
John and Libby's son Matthew Pooley has worked as viticulturalist with the family since the 1990s. Their daughter Anna Pooley is a qualified winemaker, with experience at some of the big names of Australian wine, as well as time in Tuscany and Austria, where she worked at Salomon Undof (a favourite of mine) where she learnt about making great riesling. In 2013 Anna returned to the family business, and with winemaker husband Justin Bubb, has since been making all the wines at Pooley.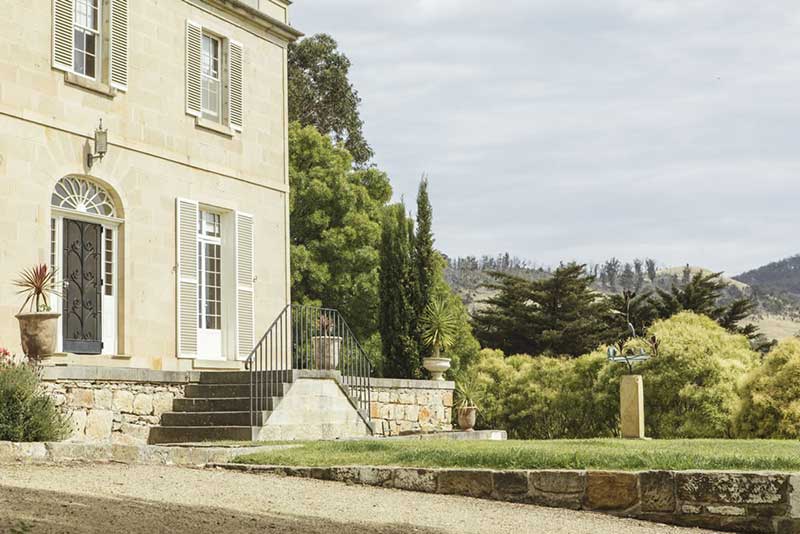 In 2003, John and Libby Pooley purchased Belmont for their family. With its proximity to Hobart, dynamic soil profile, and looming hillside, Belmont was the perfect opportunity for John and Libby to establish a second vineyard in the Coal River Valley to help support the growing demand for their family's wines.
Back to Denis and Margaret… while Denis sadly died in 1994, Margaret continued tending the vines. In 2005, on her 90thbirthday, the Margaret Pooley Tribute Riesling was created, to celebrate Margaret's legacy, and in 2008, Margaret retired (again) at the age of 93. According to the Pooleys, she was the oldest female vigneron in Australia's history at the time of her retirement. Incredible.
The winery is rated 5 red stars by Halliday, which means it's held a 5-star rating continuously for 10 years "truly the best of the best." And earlier this year when Huon Hooke's Real Review released its Top 52 Wineries of Australia 2021,Pooley came in at No. 9, putting it ahead of such gems as Clonakilla (15), Vasse Felix (18), Henschke (24) and Mosswood (52). Impressive!
These days Pooley makes a range of wines; pinot noir, chardonnay, pinot grigio, gewurtz and even a syrah. They also make 3 rieslings:
Pooley - Margaret Pooley Tribute Riesling (» $75) - best fruit from the Cooinda Vineyard
Pooley - Butcher's Hill Riesling (» $65) - best fruit from the Butcher's Hill Vineyard
Pooley - Riesling ($36) - a blend from both blocks
The big news is that Pooley was recognised at the best riesling producer in Australia when the Margaret Pooley Tribute Riesling 2020 was recently awarded Best Riesling at the 2022 Halliday Wine Companion Awards. Quantities were limited, but even at $75 a bottle, it sold out in a flash.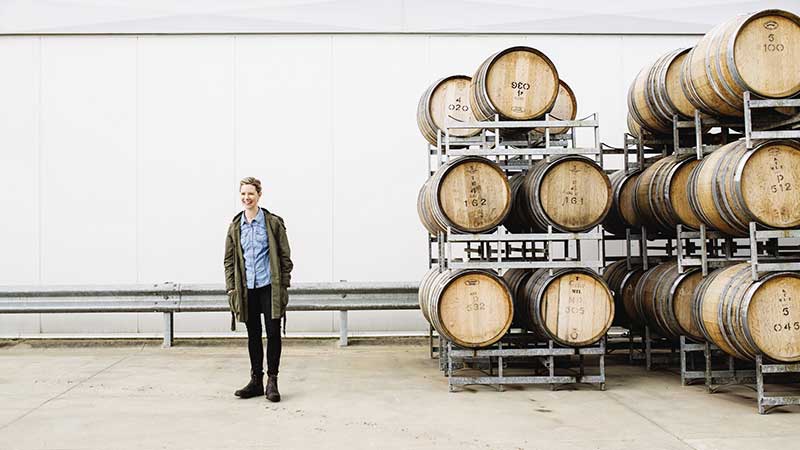 Winemaker Anna Pooley has won a series of awards including being named as one of the Wine Business Magazine Top 50 Most Influential Wine People of 2009 and Australian Young Winemaker of the Year by the Wine Society in 2010. In 2012, Anna completed the exclusive Len Evans Tutorial.
But…. in 2020 with Covid looming, and uncertainty hanging in the air, the decision was made to blend half of the Margaret Pooley Tribute Riesling (the best fruit from Cooinda) into the standard Riesling. This explains both the reduced quantities of the Tribute and the excellent quality of the standard Riesling in 2020.
This meant that the (standard) Pooley Riesling ended up being made of 40% from the Cooinda Vineyard, a fair portion of which was Tribute fruit, and 60% from the Butcher's Hill Vineyard. As a colleague in the trade said "all 3 rieslings from Pooley in 2020 are CRAZY good..!!, but what you should be focussed on is the 2020 Pooley." I couldn't agree more.

Pooley Riesling 2020
The fruit was handpicked, whole bunch pressed (ie. not destemmed) and fermented in stainless steel. It spent 4 months on fine lees (dead yeast cells that sink to the bottom of the tank) to give a little more texture and complexity. The finished wine is 11.8% and sealed with a screwcap.
"Colour is pale white with green hue. Initially the nose is a little shy (more reminiscent of Cooinda Vale) with notes of jasmine and orange blossom. The palate is more flamboyant (reminiscent of Butcher's Hill) with notes of lime zest, red apples and green melon. The palate has great drive and intensity. Very Germanic." Winemaker's notes.
"From the estate Butcher's Hill and Cooinda Vale Vineyards, whole-bunch pressed and fermented with a specialised (riesling) yeast. A lovely wine, that delicately paints the mouth with its kaffir-lime-juice flavours, cosseted with layered, harmonious acidity. Great length too." 96 points, James Halliday, Jan 2021. No surprise he also gives it a Special Value rating.
"Fragrant aromas of lemon juice and baked lemon pudding, with a suggestion of lime-pith and a hint of cashew nut. The wine is soft and rounded, fleshy and smooth, supple and lovely. Good intensity and concentration; long lasting finish." 94 points, Huon Hooke, The Real Review (a big score from him).
You'll find this delicious wine matching perfectly with the food at Public Dining Room down at Balmoral for $95 a bottle, or by the glass for $21 a glass at Chiswick in Woollahra.
Why not enjoy it with friends for $36 a bottle?