It's hardly surprising that Montepulciano (mon-ta-pull-chyano) is a wine term that confuses drinkers. It's the name of the town in Tuscany, around which the famous red wine 'Vino Nobile de Montepulciano' is made from Sangiovese. It's also the name of the second most planted red variety in Italy (after Sangiovese), with the best-known plantings on the east coast area of Abruzzo, where the wine it produces is known as Montepulciano d'Abruzzo.
Abruzzo lies on the east coast of Italy, more or less directly east of Rome. Even though the region is geographically central Italy, it tends to be considered more a part of southern Italy. It's a wild and rugged place, stretching from the central Apennine mountain range down to the Adriatic coast. The official Italia Turismo website refers to Abruzzo as the "greenest region" in Italy, which is hardly surprising given that around half of the area is made up of national parks and protected nature reserves. Around 65% of the land is also mountainous, including Corno Grande (Great Horn), the highest point on mainland Italy. The capital, and most important town in term of artistic heritage is L'Aquila, which sits in the centre and north of the region. Where Abruzzo meets the east coast, long sandy beaches skirt the beautiful Adriatic Sea.
"The rugged Adriatic region of Abruzzo has become synonymous with Montepulciano, a splendid and long-underrated grape variety that delivers rich and often complex red wines," Decanter, Sep 2014.
Around 33,000ha of grapes are grown all over the region, however the majority of it is made around the village of Chieti with the best sites being around the villages of Pescara and Teramo. All three are located where the hills descend towards the Adriatic and benefit from solar radiation from the sea. There are several DOCs and even one DOCG, but the most recognised appellation is Montepulciano d'Abruzzo DOC which was created in 1968 and is for red and rosé only.
Montepulciano has a lot of anthocyanin (colour) in the skins so it's no surprise that "At its best, it produces wines that are deep in colour with ripe, robust tannins," Oxford Companion to Wine. As a generalisation you'll find Montepulciano tends to produces wines that are black-fruit driven and sometimes chocolatey. The variety has a reputation for well-priced, juicy, 'pizza-friendly' red wines. Perfect.
"Montepulciano is thought to be "generally a workhorse grape," as Ian D'Agata put it in his excellent 'Native Wine Grapes of Italy,' though he also suggested it had "thoroughbred potential." Eric Asimov, The New York Times, July 2017.
A friend of mine who's very knowledgable about wine, travels to Abruzzo regularly as his family originates from the region, and he's always telling me what incredible value for money these wines are. When you try this wine from Abruzzo, you'll have to agree!
---

Umani Ronchi Montepulciano d'Abruzzo DOC Podere 2018
The Bianchi-Bernetti family have owned Umani Ronchi since 1957. The estate has vineyards in Marche (just north of Abruzzo) where they grow the white grape Verdicchio, and in Abruzzo where they have Montepulciano. Their total holdings exceed 200ha and they make a range of wines including sparkling, white, rosé and red.
Since the 70s the family's been on a drive to improve the estate, having doubled its size and replanted about 85% of its old vines. More recently they've shifted to organic farming practices, a decision which they interestingly see as technical rather than ideological. Their top wine, a Verdicchio, is regularly lauded, including being named the 2012 Gambero Rosso (Italian wine bible) 2009 white wine of the year. This is as big a gong as you can get in Italy and clearly illustrates the quality of both the vineyards and winemaking at Umani Ronchi.
The fruit for this wine comes from vineyards in the provinces of Chieti (central) and Teramo (north) both of which are significant areas for Montepulciano in Abruzzo.
The fruit was hand harvested and spent 10 days soaking (ie. fruit and juice) in stainless steel tanks prior to ferment to maximise flavour and colour extraction. Fermentation was carried out in stainless steel tanks after which the wine saw no oak to retain maximum fruit. The finished wine is 13% alcohol and sealed with a screwcap.
This is a deep rosey red. On the nose you'll find juicy red berry fruit with plums and floral rosey notes. On the palate juicy red fruit and ripe plums mingle with liquorice and pepper. Upfront fruit is tempered by well balanced acid, and silky mouthfeel courtesy of soft, smooth tannins. A beautiful quaffer.
I'm told lamb is a local speciality and this would pair exceptionally well with it. You'll find it at top Notch Pizzeria's like Maybe Frank and Da Mario.
I can offer it for $17.50 a bottle. Order here
---

Head Wines Head Red Montepulciano 2018
A few weeks back I wrote about the suitability of several Mediterranean varieties to the warm Australian climate and Montepulciano is a great example.
Alex Head is a winemaker I admire a great deal. He makes a terrific range of wines out of the Barossa, many of which have received trophies and rave reviews. I've offered his wines and written about him many times over the years. Read more here.
Taking his inspiration from the Rhône, Alex has traditionally focused on Shiraz and Grenache, but for the first time he's released a Montepulciano. He dropped by a few months ago to show it to me and it's a cracker. The wine is part of his newly relabelled 'H series', - his entry level wines which include a Shiraz, GSM and a rosé.
I asked Alex why Montepulciano, and like so many winemakers in Australia, growing Mediterranean varieties, his answer was that the variety performs so well in his region - in this case the Barossa. Alex cheekily referred to it as the honey badger variety, saying it takes whatever's thrown at it. In the vineyard it shines no matter how bad conditions are, be it heat or rain, and in the winery, it's not fussed about what fermentation or ageing vessel it's put in.
Alex has been able to source Montepulciano from a single vineyard in the Marananga subregion of the Barossa, which was planted in 2011 and is certified organic. The fruit was handpicked, and fermented in stainless steel with a small amount of whole bunches left intact. Natural yeasts were used and there were no additions. Post ferment the wine was put in a 25 year old 2,250L old oak foudre for one year. Not many winemakers in the Barossa use this size or age oak, 2 or 3 out of 100, as they're difficult to work with. The wine was bottled unfined and with minimal sulphur. The finished wine is 13.2% alcohol and sealed under screwcap.
This is a dark purpley red. Plummy fruit and cigar box on the nose. On the palate juicy plums and sarsparilla meld with baking spices and a light vanilla touch. Midweight to generous with super smooth tannins and a lean clean finish.
And just a few weeks ago it bagged Double Gold at the Six Nations Wine Challenge.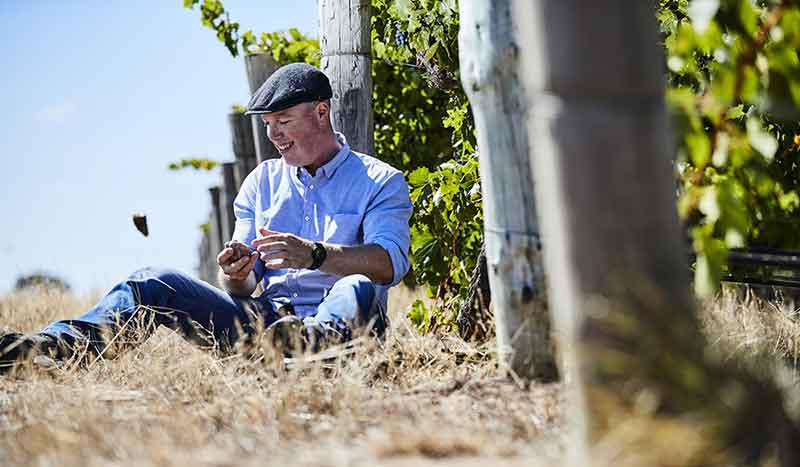 Winemaker Alex Head.
"Very purple, hazelnut, touch of meat and spice, boysenberry, blueberry. Medium-bodied, dry dusty firm tannin, savoury but with a core of jubey fruit. Some of the grape character, but tastes regional too. Good drinking here, though I feel it will be better again with a little more time to settle into bottle." 91 points, Gary Walsh, The Wine Front.
"The colour is deep, bright purple; the aroma is of pepper, spice and dark cherry with undergrowth notes. Medium-bodied and softly-textured: a modern drink-young red" 91 points ★★★★ Huon Hooke, The Real Review (good review from Huon).
NEWSFLASH: this wine was included in James Halliday's Top 100 Wines for 2019.
"Manages to provide all the fruit one could wish for without any hint of over-extraction. Balance and length are both impeccable in a vintage that wasn't always easy." 95 points and a Special Value Award, James Halliday.
These are great reviews for a wine of this price.
I can offer it for $23 a bottle. Order here
---
Feeling like more Italian reds? Here are some favourites we've offered before:
A Mano Primitivo 2017 - $20
Fiorini Chianti Superiore DOCG 2016 - $23
Scala Ciro DOC Rosso Classico Superiore 2016 - $25
Marcarini Barbera Ciabot Camerano 2016 - $29
Morgante Nero d'Avola 2015 - $29
Marina Coppi Sant' Andrea Barbera 2017 - $35
Pietradolce Etna Rosso 2017 - $36
Massolino Langhe Nebbiolo 2015 - $45
Rocca di Montegrossi Chianti Classico 2015 - $45
Massolino Barolo 2014 - $85