I can't tell you how frustrating I find it when critics review wines so long after release, that the wines have since sold out. Incredibly, it happens pretty regularly and only serves to rub salt into the wounds if you missed out.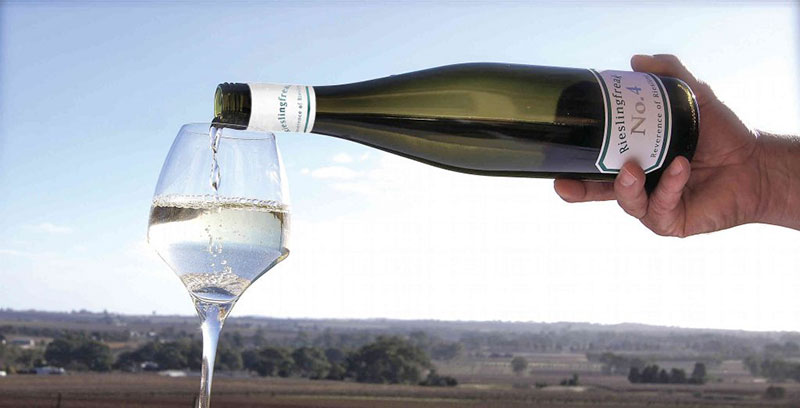 A case in point are John Hughes' wonderful Rieslingfreak wines from the 2021 vintage, which I offered back in August last year. You can read the newsletter here and learn more about John's incredible achievements.
Back then I noted how I'd been eagerly awaiting John's 2021 release as there'd been a lot of chatter about what an incredible vintage 2021 had been, especially in South Australia. I've tasted John's wines on release every year and the ones from 2021 I found without doubt (even at that early stage), to be the most aromatic and intense I could remember.
Well it's several months later, the rave reviews are finally all out, and as predicted stocks are dwindling. I gave John a buzz a few days ago and he confirmed he has no more.
But I was confident enough in the wines to stock up last year and am pleased to be able to give you first dibs on them. This is an astounding collection of reviews for a single vintage from one producer, especially given the prices. Don't miss out!
---

Rieslingfreak No.3 Clare Valley Riesling 2021
The fruit for this dry style of riesling comes from John's family vineyard in the north of the Clare; a sub-region known locally as White Hut. John gives credit to the heavy red clay soil here for the generous, fruit driven style - typical of Clare riesling. 11% alcohol.
"Fruit from the family vineyard in White Hutt, Clare Valley. The vines are planted into heavy red clay soils. Saffron and turmeric lace the aromatics, straying into the pink peppercorn and aniseed space. On the palate the wine is rich and intense, a very different shape to its peers, and all the better for it – its identity is clear and pronounced. Salted lemon, lime, crunchy green apple and white peach, too. Super-pleasurable and multi-dimensional. Astounding price." 94 points, Erin Larkin, James Halliday Wine Companion.
"Light, bright yellow colour with glints of green, aromas of dried flowers and lime blossoms, a faint yeasty high-note, while the palate is fruity and full, soft and rounded, with very gentle acidity and a slight impression of sweetness before a clean finish. Generous flavour; lime and lemon blossoms galore on the tongue. Lovely texture, purity and seamless flow. A more up-front style."93 points, Huon Hooke, The Real Review.
I can offer it for $24 a bottle.

---

Rieslingfreak No.4 Eden Valley Riesling 2021
This is also a dry style, with the fruit coming from two vineyards in another Australian riesling hotspot, the Eden Valley. Eden generally produces lighter and more delicate floral rieslings than the Clare. 11% alcohol.
"Quite aromatic with jasmine and fresh sliced lemon as well as bath salts and crushed stones and an exotic, spicy thread, too. Super fine and detailed palate, piercing lemon and pink grapefruit flavours, quite exotic, long and fine finish." 97 points, Nick Stock, James Suckling.
"Fruit sourced from a selection of vineyards in the Eden Valley, predominantly Flaxman's Valley (High Eden). Citrus pith and lime flesh dominate the very fine aromatics. On the palate, I am carried away on a sea of flavour, only just resurfacing through the finish to appreciate what has just occurred. Generous fruit ebbs and flows across the tongue, the acidity is threaded in and out in a fine, saliva-inducing web. On closer inspection there is white pepper, aniseed and fennel flower too. Another masterful release, at once voluminous and restrained, certainly enduringly long. The price is mind-blowing. This is the fine, delicate, spicy wine in the lineup. Drink to: 2036." 95 Points & Special Value Star, Erin Larkin, James Halliday Wine Companion.
I can offer it for $24 a bottle.

---

Rieslingfreak No.5 Clare Valley 'Off Dry' Riesling 2021
Firstly let's clarify what's meant by 'off-dry' because many think it's winespeak for sweet. It's not. Wines with more than about 45g/l residual sugar are considered sweet. Coke has about 110g/l and Château d'Yquem usually has around 120-150g/l. At the extreme end is the free run juice of the botrytised berries for the rare Tokaji Eszencia (Essencia) in Hungary which is between 500-700g/l, sometimes even higher! Now that we have some context - this wine has 14g/l sugar, so it really is 'off-dry' rather than sweet.
Even when there is residual sugar in wine it isn't obvious if it's well countered with acid. Getting the sugar/acid balance just right makes riesling sing and is something John obsesses over.
The fruit for the No. 5 comes from the same vineyard as the No.3, although from a different block, with lighter soil (grey loam over limestone). It's picked earlier than No.3, resulting in more acid. Then the ferment is stopped early, leaving residual sugar in the wine. John's talent for finding the perfect balance is obvious here.
This wine's a lovely combination of ripe citrus notes, caramelised pineapple and tart apricot, with a whiff of musk and has more weight in the mouth from that bit of extra sugar. But don't expect overt sweetness - the robust acid counterbalance gives a crisp, clean finish. So easy to enjoy - especially at only 10% alcohol. Yum. And it pairs well with so many foods.
"Apple, lime and fresh, sweetly fragrant florals on the nose here, this really sings of Clare Valley region. The soft palate has gently sweet fruit (13g / liter of residual sugar) and well-balanced acidity. Drink over the next four years. Screw cap."94 points, Nick Stock, James Suckling.
I can offer it for $24 a bottle.

---
Rieslingfreak No.2 Polish Hill River Riesling 2021
This wine is all about refinement - typical of wines from the Polish Hill River sub-region of the Clare. The area used to be known simply as Polish Hill but Jeffrey Grosset trademarked that term. The fruit is sourced from a vineyard known locally as the 'Hill River Vineyard', which sits about 5km southeast of the town of Clare. Elevation here is around 460m. Max Schubert, creator of Penfolds Grange, planted the vineyard in 1981 and it stayed with Penfolds until its sale in 2010 to current owners, Rob and Lyn Jaeschke.
The fruit for the No.2 was fermented to dryness and is a moderate 10.5% alcohol, which I like. The wine really showcases the Polish Hill River with its minerally profile, crisp acid and underlying fresh citrus characters. Delicate blossom aromas interlaced with flavours of apple, lemon and grapefruit.
"Bright, pale yellow colour, with a very attractive flowery bouquet: gardenia, dried flowers, perhaps boronia. The palate is intense and refined, crisp and linear, with lovely flowing harmony and length. Clean, soft but dry finish. A beautiful young riesling." 96 points, Huon Hooke, The Real Review.
"Fruit from the Polish Hill River vineyard, 5kms south of the Clare township. Crushed rock minerals are peppered into the fine, saline fruit. This is elegant and restrained, with layers of subtle flavour that reveal themselves over the course of drinking. What a wonderful wine - minerally and taut, with chalky phenolic structure that binds the fruit in place. While this is not the most complex wine in the lineup, it has so many different facets of flavour. Just wait for the length of flavour to recede: you'll be waiting a while." 96 points, Erin Larkin, James Halliday Wine Companion.
"Has some generous fruit with strident mineral notes, as well as pure lime. There's flesh and weight to the palate. Quite fleshy and concentrated with zesty acidity. So drinkable now and will age well. Screw cap." 95 points, Nick Stock, James Suckling.
I can offer it for $35 a bottle.

---
Rieslingfreak No.10 Zenit Riesling 2021
No.10 is our ultimate multi-regional blend that captures the very essence of the vintage and is the definitive expression of Riesling. The 2021 is a blend of 55% Eden Valley and 45% Clare Valley, and is the perfect balance of luxurious richness and pure, refined elegance. The bouquet is deceptively restrained, a broodingly complex miasma of sweet spice, lemon zest, rose petals and finger lime that entice you in and draw you close." Winemaker's notes.
"This best-of-vintage, cross-regional blend has aromas of dried meadow flowers with some waxy notes and plenty of ripe citrus fruit, flint and spice. The elegant palate holds peach, pear and lemon flavor and delivers impressive drive and richness through the finish. Complex. Drink or hold. Screw cap." 97 points, Nick Stock, James Suckling.
"Pale, almost watery colour. The aroma is very elusive, shy, dusty, peppery but restrained, while the palate is very delicate also, restrained, with pared-back fruit flavour and a clean, dry finish that drops a little short. A steely style of riesling, evidently built to age. Give it a bit more time. It's too young to properly assess at this stage. (Four days later: the wine had finally opened up: ultra-fine and super-reserved, also tremendously intense and vibrant. Long finish; great purity of fruit. A terrific wine, evidently built for ageing."
96 points, Huon Hooke, The real Review.
I can offer it for $40 a bottle.