It's safe to say rosé has moved on from being the next big thing. It is a big thing, with a segment on every wine list and a must-have at every function - with good reason. Australian tastes have evolved and we've realised just how suited rosé is to our climate, lifestyle and the way we entertain.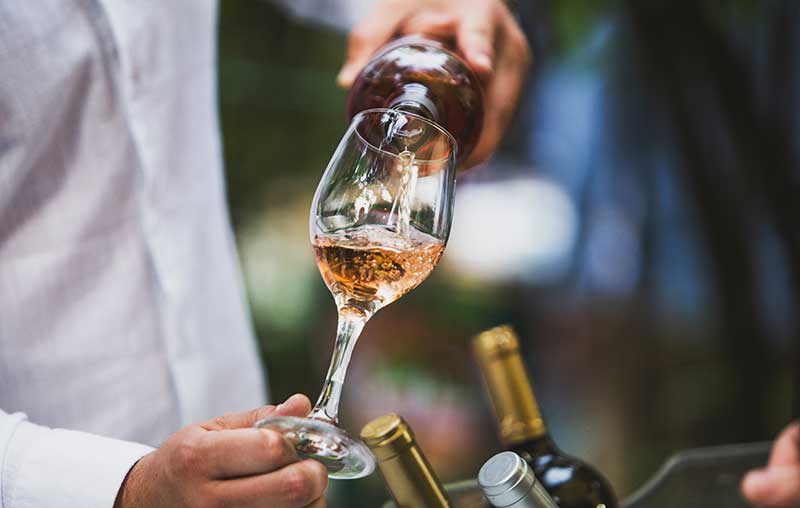 Wine Australia published figures earlier this year showing that domestic rosé consumption grew by an astounding 59% in value in 2017. In France rosé has outsold white wine since 2008 and I wouldn't be surprised if we follow suit.
The juice of nearly all grapes is white, so how is rosé made? Well, the colour comes from the skin of the grapes and winemakers do this in a number of ways:
1. Red grapes are fermented in contact with the skins. After 6-48 hours the partially fermented juice is squeezed out. Because contact with the skins is limited, the partially fermented juice is pink rather than red. Ferment is completed without the skins.
2. Some winemakers bleed off (saignée) some of the juice from their red ferments at an early stage, when the juice is just pink, and use this to make rosé. This increases the skin to juice ratio in the remaining red ferment - the aim being greater depth of colour and tannins. In this case rosé is a by-product rather than the primary aim.
3. Red grapes are crushed and pressed before fermentation takes place. The juice has just the lightest touch of pink and is then fermented like a white wine (ie. not on skins). This technique is sometimes referred to as 'Vin Gris'.
4. Finally, but not often done, a winemaker may simply blend red and white wine.
Enough technical stuff, here are a few drops I'll be enjoying this summer - two from Australia and three from the home of rosé - Provence.
---

1. Chateau Riotor Rose 2016
Riotor is textbook Provençal rosé. It's an old favourite of mine and here's why: "Had a blind tasting last year with over 40 rosés at all price points. And not only was this (Riotor) the best in show, it was also the least expensive." Michael Madrigale, Head Sommelier, Bar Boulud and Boulud Sud (acclaimed New York restaurant group).
Riotor is one of the best Provençal rosés for the price.
Château Riotor is located in the magnificent mountains west of Saint-Tropez, within the Côtes de Provence appellation. This beautiful estate has been owned for four generations by the Abeille family, who also own the famed Château Mont-Redon in Châteauneuf-du-Pape (southern Rhône). Since 1988 they've worked to extensively renovate the vineyard, winery and chateau, which has paid off handsomely in the quality of their wines.
The blend is pretty much the same every year: 40% Grenache, 50% Cinsault, 7% Syrah and 3% Vermentino (white). I'm told there's always been a bit of Vermentino in the blend but they've only started declaring it in the last few years.
The wine is a pale rose gold. Crisp, dry and aromatic, you'll find white peach and cranberries, mingling with melon and musk. On the finish it's clean and slightly savoury with hints of white pepper and plenty of fresh sherbety acidity. Elegant and delicious.
"Sometimes the rosé from Provence can be so dry it borders on bland but the good ones like Riotor have good texture with lots of crunchy red fruit plus crisp acidity, which keeps them interesting and refreshing." Sebastian Crowther, sommelier Rockpool. SMH Good Food, 20th October 2015.
"Pale pink. Strawberry, orange zest and white pepper aromas and flavors, joined by a subtle floral nuance in the glass. Minerally and taut in the mouth, loosening up with air and showing good energy. Finishes with good, stony lift and vivacity, leaving a red berry note behind." Josh Raynolds, 89 points, Vinous Media June 2016.
Hard to beat for the money. You'll find it at all the best places around town, but I reckon you can't go past a bottle for $60 at the summery Coogee Pavilion.
Everywhere cool this summer….
I can offer it for $25 a bottle. Click here to order new vintage
---
2. Medhurst Rosé 2017
I've been a big fan of Medhurst Wines for several years now, so it was nice to see that since I last offered this wine it's picked up 95 points from James Halliday. In an article he wrote on rosé, Halliday referred to the "producers of real rosé in Australia." Only 6 made the grade, one of which was Medhurst.
Medhurst Estate was founded by Ross Wilson, who made his fortune as the former CEO of Southcorp and Tabcorp. Ross has a long association with the wine industry, in particular the Yarra Valley, and it was here he acquired a wonderfully positioned property in the mid-1990s. With astute planning and admirable patience, the ensuing two decades saw Ross plant vineyards, build an amazing winery and most recently hire talented young winemaker Simon Steele (ex Brokenwood). Ross's strategy of putting pieces into place for long-term success is paying off, with the winery receiving some serious recognition.
Ross is a major fan of rosé. So much so that he had a dedicated rosé vineyard with Shiraz and Cabernet planted in 2000. This is extraordinary given that most estates treat rosé as an afterthought.
The 2017 is a blend of 60% Cabernet and 40% Shiraz. Vines are low-yielding and fruit was handpicked and left overnight in a coolroom to ensure it was cold when pressed the next morning. This minimises both oxidation and colour development. Only 500L of juice was obtained per tonne, usual rates are around 700L/tonne, indicating just how softly the fruit is squeezed. The gentle pressing not only explains the pale colour, but also means this wine is more expensive to make - even though it's still sold at such a good price.
As the two varieties ripen about 2 weeks apart, they were fermented separately, both using cultured champagne yeasts to ensure a clean ferment. Five percent of the ferment took place in old French oak, the rest in stainless steel.
Unlike many rosé winemakers, Simon didn't add acid to the wine. This usually requires tweaking sugar levels to balance it, which he reckons leaves you feeling not so good the next day. He's proud that this wine has none of that. It was fermented to dryness and the wine has high ph (ie. low acid) which tends to make it "slippery" (winemaker speak for smooth). After light filtering and minimal sulphur, the wine was bottled.
"Delicacy with length" is how Simon describes this wine. It's clear, bright and a very pale copper. On the palate it's clean and bone dry, with subtle notes of strawberry, musk, honeydew and coconut, finishing long with delicate savoury notes. Its depth, weight and smooth mouthfeel belie its pale colour. Simon has balanced the acid in this wine so well it gives it freshness and vitality without being tart or linear. Its beautiful structure and integration set this wine apart to make it so generous and drinkable.
"Salmon tinged with copper hue. This is a rosé built from the ground up with a burst of creamy fruit flavours ricocheting around the mouth before acidity and savoury notes enter the fray on the back-palate and super-long finish. A really serious rosé." James Halliday's Wine Companion, 95 points, Jan 2018.
"Pale and savoury in the style a la mode, although this particular fashion never goes out of style, much like music and passion. Dry, fleshy, fat and textual, subdued red fruits, chalky, refreshing and long finish that has a flavour of white cherries and a subtle dried herb perfume. Home run here, I feel." 93 points, Gary Walsh, The Wine Front.
This really is such a nice wine. Everyone I show it to absolutely loves it and it's a great wine for the price.
I can offer it for $25 a bottle. Click here to order
---

3. Spinifex Luxe 2017
Since I last offered this wine it has picked up the equal highest score for an Australian rosé by James Halliday, with 96 points. It was varietal winner in the rosé category.
This wine is only made when conditions are deemed good enough. None was made in 2016 and it was recently announced that none will be made in 2018.
Established in 2001 by NZ-born Peter Schell and his French-born wife Magali Gely, Spinifex is one of the most highly regarded and exciting wineries in the Barossa. Peter is a trained oenologist (winemaker) and has made wine in Burgundy, Bordeaux, Provence, Languedoc, Switzerland and NZ, and Magali's family has been growing wine near Montpellier for over 10 generations. The couple source their fruit from a small group of dedicated growers in both the Barossa and Eden Valleys, concentrating on varieties from the south of France.
5 stars - James Halliday
Winery of the Year - 2009 Penguin Australian Wine Guide.
"… what I think is the best new-wave of small-scale Barossa wine companies to emerge at the beginning of the 21st century." Max Allen.
"Peter Schell, a New Zealander transplanted to the Barossa, is one of the stars of the region, producing composed, elegant wines from vineyards across the region." James Suckling 2015.
The couple makes a wide range of excellent wines, including several interesting white blends and some serious reds. But they also make a couple of super rosés. Not surprisingly both are made in a southern French style. They do a very popular entry level rosé, which is a Grenache dominant affair, much in the style of a Cotes du Provence. But it's their top, or Luxe rosé that grabbed my attention.
The Luxe is an unashamed homage to Bandol, a tiny appellation that sits within the vast Cotes du Provence appellation, and which for many is the pinnacle of global rosé production. Given the inspiration, it's no surprise that like Bandol, the Luxe is a Mataro (Mourvèdre) dominant blend. The 2017 blend is 51% Mataro (Mourvèdre), 38% Grenache and 11% Cinsault.
I had a chat with Peter and he told me the fruit for the wine comes from several dry-grown (ie. no irrigation) vineyards at the southern end of the Barossa, which boast an average vine age of an astounding 60 years. He emphasised the importance of fruit quality: "if you get the fruit right, the flavour right, the maturity right, it all pretty much looks after itself." Don't you love the way experts make it all sound so easy? The fruit was handpicked and cooled down prior to pressing. Time on skins was short, about a day, with the fruit from each vineyard kept separate throughout the entire process.
The real difference with this wine though is that the juice was fully fermented in old French oak barrels. Not only that, when the ferment was complete, the wine stayed in barrel on lees (the dead yeasts cells), seeing a total time in oak of around 6 months. It's important to emphasise that the age of the oak meant no flavour was imparted to the wine, instead, Peter is looking to give a textural element to the wine.
Peter says with the Luxe he's looking for succulence, fleshiness and savoury complexity - it's important to remember to place such descriptors in the context of rosé.
"Luxe is selected from only those parcels that have particular aromatic and textural complexity. We are drawn to sections that display what we call secondary fruit - fresh and dried flowers, herbs, spice, minerality, white and green tea-like aromatics - rather than primary fruit - fresh berry fruits etc." Winemaker Peter Schell.
"Perfumed and perfectly pitched in the mouth, it is really hard to nail the descriptors, which range from grenadine and blackberry jube, to all kinds of crushed and roasted herbs. The finish is fine, fine, fine and super fresh. A wine of impressive finesse, and Schell's finest rosé to date." Bibendum Wine Co.
"The heady aromas of a field of wild and cultivated flowers in spring on a cloudless spring day, lead into red berries skipping along the palate before a bone dry finish. Rose of the highest quality." 96 points, James Halliday's Wine Companion, June 2018.
Try some serious Aussie rosé - a little bit of Barossa Bandol!
I can offer it for $32 a bottle. Click here to order
---
And finally, two wines from Bandol, a tiny appellation that Decanter Magazine's Andrew Jefford, describes as the 'one true Grand Cru' of Provence. While it's name is taken from the small chic seaside town of Bandol, the appellation's vineyards lie just inland. Nestled in the hills you'll find beautiful villages surrounded by vines, the deep blue waters of the Mediterranean in the distance. Here, a collection of elevated, south-facing amphitheatres capture the sun to create a unique microclimate. Bandol gets an average of 3,000 hours of sunshine a year compared to Burgundy, which gets around 2,000 hours in a good year and only 1,600 in a dim one. Despite all this southern French sun, Bandol's proximity to the Mediterranean and the persistent Mistral wind, means this warmth is tempered, ensuring coolish nights and making it ideal for ripening grapes
---

4. Domaine du Gros 'Noré Rose 2017
This wine was just rated Top Rosé, with 96 points, in the latest Gourmet Traveller Wine magazine rosé special. It came in above the likes of Domaine Tempier, one of Bandol's most iconic estates and which sells for considerably more. Huon Hooke was on the tasting panel and declared it "a benchmark" rosé.
This 16ha estate lies in the hills around the small medieval village of La Cadier d'Azur, with sweeping views of the gleaming Mediterranean. The Pascal family have been growing grapes here for generations and like many growers, Honoré Pascal sold his fruit to others. After Honoré's death in the mid 90s, his son Alain Pascal took over the estate, renaming it Gros 'Noré (groh-nor-ray) in honour of his father. This is a cheeky reference to his father's ample girth, gros is large in French and Noré is the abbreviated version of Honoré.
Alain is a former boxer and a bear of a man. He built the estate's cellar and house by hand and released the first Gros 'Noré wine in 1997. Legendary US wine merchant Kermit Lynch then discovered it, putting Gros 'Noré on the map and introducing the wines to the likes of Alice Waters of Chez Panisse fame. Alain is pure salt of the earth and is blessed with a gentle and generous disposition. More recently he's shifted to organic practices and has established Gros 'Noré as one of the leading estates in Bandol.
The rosé is a blend of 50% Mourvedre, 25% Cinsault and 25% Grenache, with the fruit coming from vines with an average age of 30 years.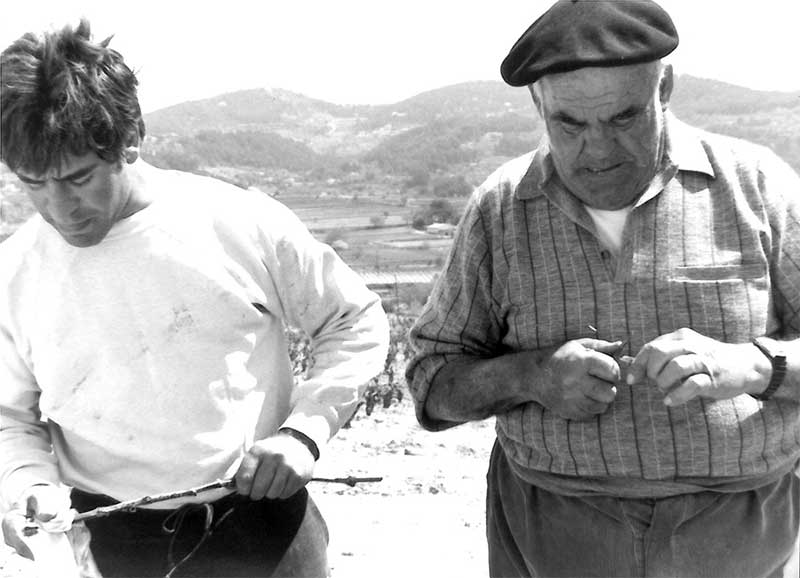 Alain built the winery with the help of his brother Guy and his cousin Christian from 1994-1995. He named it Gros Noré in homage to his father.
"Light, brilliant orange. Displays mineral-laced redcurrant, blood orange and peach scents, along with a suave floral quality that builds in the glass. Silky and penetrating on the palate, offering juicy raspberry and nectarine flavors that are lifted and sharpened by a hint of bitter orange pith. Finishes very long and smooth, with lingering lavender and pit fruit notes." 92/100, Josh Raynolds, vinous.com, Aug 2018.
"Light rose-pink colour. A touch of potpourri on the nose, subtle quince paste. The palate fruity, soft and near-dry. A more developed style, which delivers flavour and complexity, and finishes dry with richness and some textural density. It's subtly complex and multi-faceted, with no single aromas dominating. Very good indeed." Huon Hooke, Gourmet Traveller Wine Magazine.
You can enjoy it harbourside with the pelicans at Catalina Restaurant for $120 a bottle.
I can offer it for $47 a bottle. Click here to order
---

5. Domaine de Terrebrune Rosé 2017
A lastly an estate that's been around for many years, but is a new find for me - Domaine de Terrebrune. These are serious wines no doubt, structured and complex, but what makes them different is their refinement and finesse. In contrast to many of the big names of Bandol, the wines of Terrebrune are defined by their elegance, and this is what I love about them.
"There is a more ethereal quality to them, a real freshness." US wine guru Kermit Lynch.
"Terrebrune makes some seriously great wines, and without a fancier French wine region price tag." Mike Bennie, The Wine Front 2015.
This low-profile estate was founded by Georges Delille, a Parisian sommelier, who acquired what would become Domaine de Terrebrune in 1963. The estate sits to the east of the town of Bandol, near the town of Ollioules. It's in a beautiful position in the hills, with a view of the Mediterranean in the distance and cooled by the sea breeze which funnels up the valley, protecting the grapes from the summer heat.
Georges spent 10 years improving the property before he even sold a bottle of wine! Taking advice from Lucien Peyraud (of Domaine Tempier fame), Georges set about replanting vines, terracing the slopes, building a new winery and most importantly regenerating the rich, limestone laden, brown soil, after which the estate is named. In the meantime George's son Reynald had completed winemaking studies and together they released their first wine in 1980.
The 30ha estate is certified organic. In the vineyards manual labour is preferred to machine, and gravity rather than pumps are used in the winery. Wines are bottled unfiltered and unfined.
This wine is made from 50% Mourvedre, 25% Grenache and 25% Cinsault. The grape are handpicked, destemmed and gently pressed in a pneumatic press. Natural yeasts are used in fermentation. Incredibly this wine can age for 20 years - if stored correctly of course.
Incredibly aromatic and intense - this is serious rosé. Red berry and strawberry meld with savoury and mineral notes. Beautifully structured and incredibly long on the finish. This is all about intensity.
"Limpid orange. Mineral-accented red berries and tangerine on the incisive nose, backed by a suave floral nuance. Densely packed yet lively on the palate, offering refreshingly bitter redcurrant and blood orange flavors that spread out slowly on the back half. Finishes with bright minerally cut and excellent persistence, leaving a suggestion of honeysuckle behind." 92 points, Josh Reynolds, Vinous.
"While the nose alone is worth the price of admission, few rosés are as persistent and tongue-staining. It is just an awesome display of concentrated, ripe fruit brimming with nuances of wild strawberry, cherry, tangerine, peach juice and apricot. There is a savory and mineral side to the wine as well, and you can add nuances of salinity, herbs, and crushed roses to this extensive flavor spectrum. This is another transporting Bandol that will take you to the coast of the Mediterranean, craving shellfish and the company of good friends." Zachys (top US wine merchant).
You'll find it at lots of cool places around town including Sixpenny in Stanmore, which was awarded 2018 Restaurant of the Year SMH Good Food Guide.
This is Bandol at its best.
I can offer it for $65 a bottle. Click here to order
---
We also have these rosés: