I'm super excited about a new winery from Tassie, Haddow and Dineen, a collaboration between cheese maker Nick Haddow and winemaker Jeremy Dineen, which Nick Ryan of The Australian has already proclaimed as a "small project, big impact."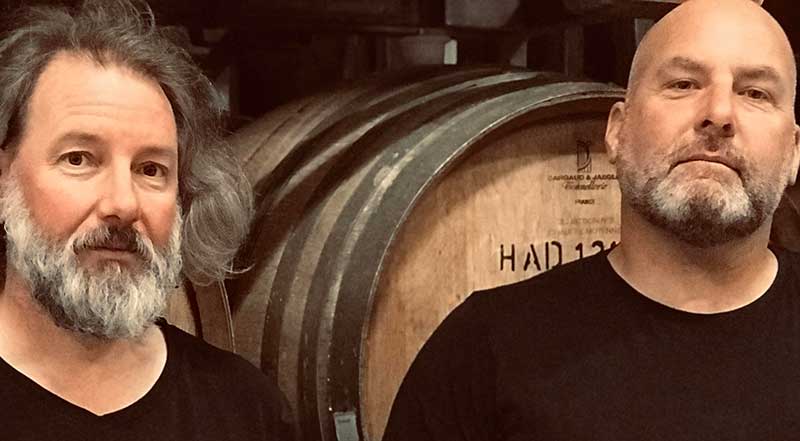 Jeremy Dineen (L) and Nick Haddow (R).
Nick Haddow and I go back to the heady days of the dotcom boom in 2000 when we both worked at Wine Planet. In typical fashion, Wine Planet had done a back-door listing on the ASX via a resource minnow, after which Fosters punted in around $40M for a 25% stake in the business. With a pocket full of cash and dotcom euphoria in full swing, the expansion was extraordinary. So what does an online wine company with all that money and exuberance do? Open an online cheese room of course. And that's when Nick was brought from Melbourne, where he'd been running cheese guru Will Studd's Richmond Hill Café and Larder. But no sooner had Nick arrived, than the whole dotcom bubble started to burst and the cheese room was shelved. Fosters bought the remaining 75% of Wine Planet, shut it down and lost an estimated $100m. Ouch.
Nick moved to Tasmania to become cheesemaker at Pyengana for a few years before striking out on his own, founding the Bruny Island Cheese Co in 2003. And like so many 'overnight' success stories, a decade later he won the Telstra Australian Business of the Year and the Telstra Australian Small Business the Year in 2013. Since then Nick's empire has expanded to include a brewery and a dairy.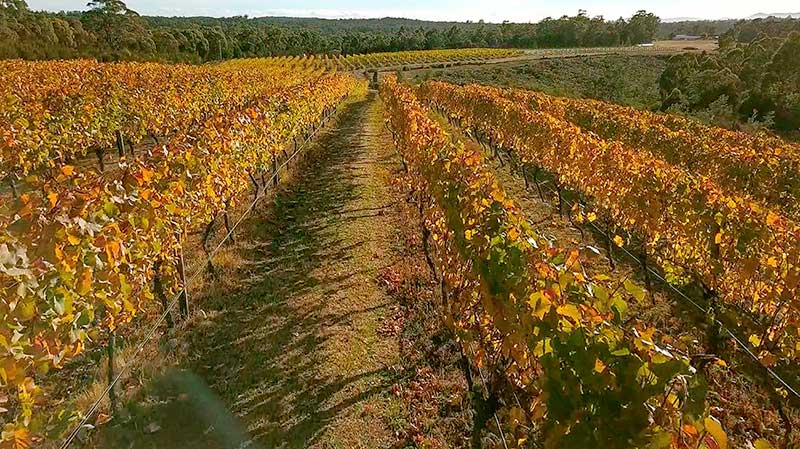 The 3ha vineyard only produces Pinot Noir and Pinot Gris.
All through his success, Nick has first and foremost been the most wonderful advocate for Tasmania and its produce, whether it be through his own business, on TV (SBS Gourmet Farmer) or through his several books. He's been a board member of Brand Tasmania since 2012 and earlier this year was made its inaugural chairman.
Nick was also recently made a director of Wine Tasmania, which is not as strange as it might sound. In addition to being a world class cheesemaker, Nick's always been around wine. Growing up in South Australia, he spent time at Ashton Hills and Wendouree and I remember him being into Domaine Tempier years before everyone else started swooning over the wines of Bandol. In the last few years he's made a few wines on the side, but he's finally decided to throw his hat in the ring and so he's wisely teamed up with someone who knows a lot more about it than him, namely Jeremy Dineen.
Nick's the first to admit the real star of the show is Jeremy. Born and bred in Tassie, you'd be hard pressed to find a more qualified person there to make wine. Here are a few of Jeremy's achievements:
Director Wine Tasmania

Chairman, Wine industry Tasmania Technical Committee 2006-2010

Finalist, Australian Society of Viticulture & Oenology, Winemaker of the Year 2017

Committee Member, VAT Technical Committee Tasmania, 2002-2006

Accomplished Wine Show Judge

Tasmanian Award 2018 - for exceptional contribution to the state's wine industry
You get the picture… talent and experience.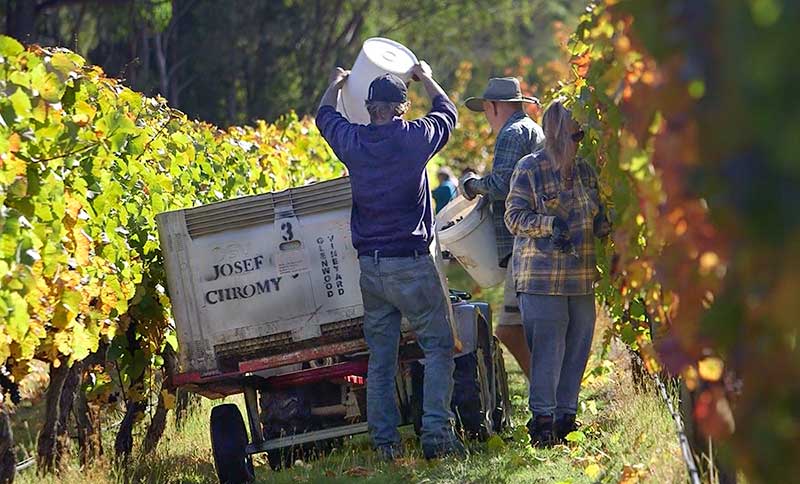 Fruit is handpicked and quickly transported to the Joseph Chromy winery.
Jeremy's been winemaker and general manager at Joseph Chromy since its inception in 2004/5 and under his stewardship the winery's won a staggering number of trophies and medals.
You'd be forgiven for thinking Tasmania is a much bigger player in the wine world than it is, looking at its healthy representation on restaurant wine lists. But of the close to 2500 (2018) wine producers in Australia, only about 160 are in Tasmania, and the majority of these are tiny, with almost 60% crushing less than 20 tonnes. To put this in perspective, someone like Brown Brothers in Victoria crushes over 15,000 tonnes.
Tassie has about 1,500 ha under vine and produces less than 0.8% (yes, that's less than one percent) of Australia's grapes. Despite this, Tasmania pulls more than its weight when it comes to quality. Wine Tasmania notes that 100% of Tassie wines sell for over $15 a bottle compared to a national figure of just 7%. Wow!

This isn't the only way Tasmania does things a little differently. While the most common variety nationally is Shiraz accounting for 24% of the 2018 vintage (by tonnes), in Tassie it accounted for less than half a percent. The 2018 vintage report from Wine Australia gave the following figures for Tassie - by tonnes crushed, not by area grown (which will be different).
Pinot Noir - 44.3% (nationally 3%)

Chardonnay - 26.8% (nationally 22.7%)

Sauvignon Blanc - 10% (nationally 5.2%)

Pinot Gris - 8.7% (nationally 4.2%)

Riesling - 6% (nationally 14.3%)
The reason for this varietal make-up is of course climate. Being the most southerly wine region in Australia, Tasmania is cool making it well suited to producing some of the best Pinot Noir and Chardonnay in the country, as well as newcomer Pinot Gris.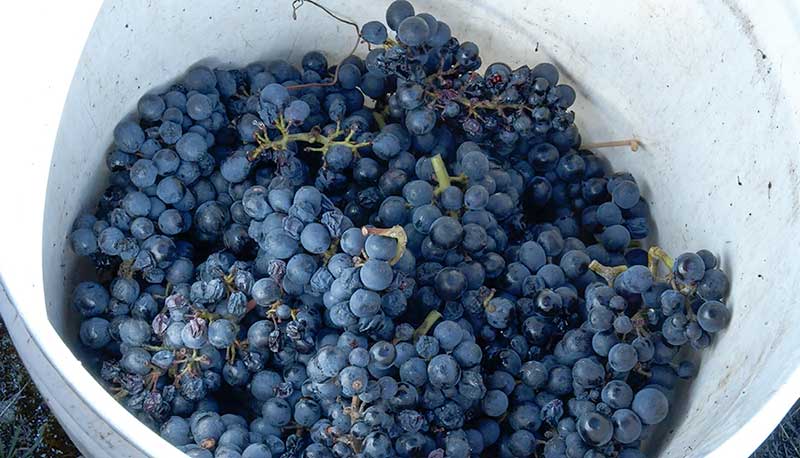 The Pinot Noir here is very much in the leaner style and as Huon Hooke noted in SMH Good Food, February 2015: "Pinot Noir in Tassie has arguably the best potential of anywhere in Australia."
James Halliday notes in his introduction to Tony Walker's Vintage Tasmania: The Complete Book of Tasmanian Wine, "the Tasmanian wine industry of today is the most vibrant in Australia, pulsating with success, and with virtually unlimited potential."
But it wasn't always this way. Despite having some of the earliest plantings in Australia in the 1820s, the Tasmanian industry collapsed as labour rushed to the mainland for gold in the 1860s. By the 1950s the official view from the Tasmanian Department of Agriculture was "the island is unsuited to the commercial production of wine" (The Australian Wine Encyclopedia p304). It was only in the 1980s that commercial plantings once again re-emerged.
I headed to Launceston a few years back and visited the Tamar Valley, which grows about 30% of Tasmania's grapes. This beautiful region stretches north of the city, along the Tamar River, with most vineyards on the western bank.
The catalyst for the Haddow Dineen partnership was the opportunity to source fruit from a vineyard in York Town, which is a small village at the mouth of the Tamar. It was the site of the first attempt at white settlement in the north of Tasmania and for a short time after 1804 it prospered, before being largely abandoned by 1808.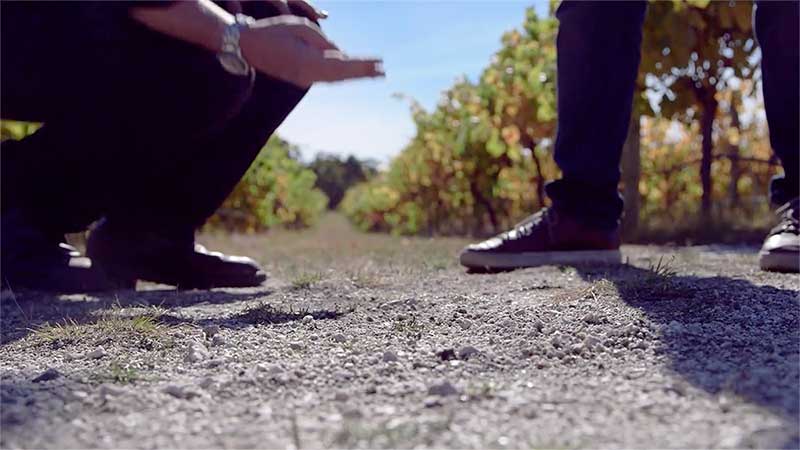 The York Town vineyard is mainly white silica.
The 3ha vineyard only produces Pinot Noir and Pinot Gris and is quite unique. Jeremy told me it's the only vineyard he's seen with a predominance of white silica. This unusual soil makeup is difficult for vines to thrive in and takes several year for the vines to establish, but when they finally do, the adversity leads to grapes of incredible intensity. This is true cool-climate viticulture, producing wines of great freshness, vibrance and delicacy.
Jeremy makes the Haddow and Dineen wines in the Joseph Chromy winery, about 10 minutes south of Launceston, in the Southern Tamar Valley (Northern Tasmania).
"There's a deftness of touch to the wines that comes from the clear thinking and strong intent of Haddow and Dineen, and while this is a small project for two blokes with a whole lot more on their plates, it's strikingly evident that these wines are so much more than just a bit in the side." Nick Ryan, The Australian.
I'm really excited to be able to offer you these two wonderful new wines.
---

Haddow and Dineen 'Grain of Truth' Pinot Gris 2018
Jeremy told me he thought this is one of the best Pinot Gris sites he's seen in Australia… and he'd know. The fruit was handpicked and quickly transported to the Joseph Chromy winery. Whole bunches were pressed and the juice run off into large old oak barrels where it was fermented using indigenous yeasts. The wine spent time on lees (the dead yeast cells and sediment) and underwent battonage (lees stirring). After ferment it was bottled without fining or filtration. The finished wine is 13.5% alcohol and sealed with screwcap.
"This looks a little like a bit of Tyrol in Tasmania, its fragrance and texture reminiscent of the layered and luscious whites made in the shadow of the Dolomites. The nose that nears a glass is greeted with dry floral aromas, some poached pear and roast pineapple, wild honey, river stones and, appropriately enough, a faint whiff of cheesecloth. It has richness and drive without the oiliness and heat that can come when pursuing flavour in Pinot Gris, and it is as good an example of what the variety can actually do as I've seen for some time." Nick Ryan, The Australian.
"There is texture and richness to burn here, more akin to wine from Europe in that respect but with fine Tassie acidity drawing it into line. Pear and peach fruit, white floral hints, grilled nuts, dried honey and evanescent flashes of marzipan and crushed stone. It's a lovely wine with great inherent drinkability and flow across the palate." Dave Brookes, The Adelaide Review.
"Very attractive, pale yellow colour in the glass. A tease of oak leads the bouquet, cashews and caramel, subdued grapefruit - serious. Built to unfurl over the next few years, tightly wound, pristine fruit currently held to account by a fumé sensibility. Pedigree." 93 points, Nick Butler, The Real Review.
"Small crops of intensely flavoured fruit, indigenous yeast and barrel fermentation impart genuine richness and texture to this multifaceted and textural Pinot Gris. Aromas of ripe peach, subtle nuts and wild honey give hints of the lusciousness and complexity of the palate. Powerful and balanced with lingering flavours." Winemaker's notes.
You won't find this around town at all.
I can offer it for $48 a bottle (limited) SOLD OUT

---

Haddow and Dineen 'Private Universe' Pinot Noir 2018
Like the Pinot Gris, the Pinot Noir was also picked by hand and quickly transported to the Joseph Chromy winery at the southern end of valley. Half of the fruit was left as whole bunches and the other half was crushed. The ferment was carried out using indigenous yeasts and post ferment the wine only saw old oak. The wine was bottled unfiltered and unfined. The finished wine is 13.5% alcohol and sealed with screwcap.
"Dark berries, a mix of red and black, a sour cherry edge, too. There's a dusting of souk spices and some dried herb characters, cherry pie and a soft suggestion of smoke. There's a gorgeous suppleness to the palate, a fleshiness that's never fat. It's vibrant and fresh, layered and deeply detailed, with a fanning tail of superfine, softly grainy tannins driving a long finish. The top tier of Tasmanian pinot noir has just increased its number by one." Nick Ryan, The Australian.
"Attractive nose of umami, mushroom, dark cherries and chinotto. It's cored and serious, loads of spice, dark cherries and wild strawberries - all in check. This is young and needs time to integrate. Will be sensational." 93 points, Nick Butler, The Real Review.
"Low crops from silica quartz soil produce intense dark cherry and wild red fruit aromas, with spice and herb characters coming from the whole bunch fermentation. Intricate red fruit and spice flavours flourish in a rich palate with savoury finish and fine, grainy tannins. Powerful yet subtle, evocative, generous, layered and structured." Winemaker's notes.
You won't find this one around either.
I can offer it for $48 a bottle (limited). SOLD OUT

---
More Pinot Gris:
---
More Pinot Noir: