I was recently reading some statistics on Australia's consumption of bottled wine by variety, which showed our love affair with sauvignon blanc continues. It's still our most consumed variety, much of it coming from across the 'dutch' (NZ), most notably from Marlborough.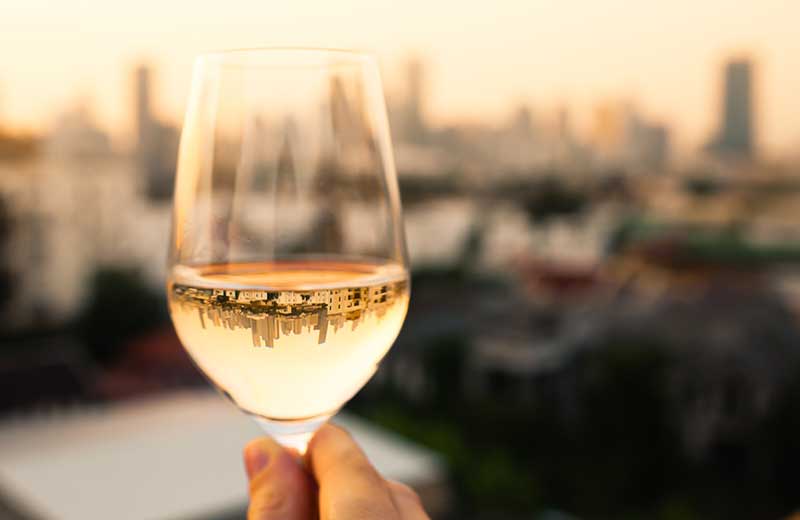 The popularity of sauvignon blanc surprises me, given the variety's very distinctive nature. It wasn't so long ago that sauv blanc was a hard sell, barely rating a mention on many wine lists. While there are obviously many people who like the variety and drink plenty of it, there are also many who loathe it. It really polarises opinions.
Sauvignon blanc is an aromatic white variety widely planted in Bordeaux, as well as the Loire Valley and the New World, especially New Zealand. It was recently determined that, along with cabernet franc, sauvignon blanc is a parent of cabernet sauvignon. It's also related to chenin blanc and semillon.
The variety tends to make wines that are fresh and zesty, with a highly distinctive aroma, particularly in new world examples. Descriptors include: herbaceous, grassy, tinned asparagus, passionfruit and even 'tomcats' (a polite way of saying cats' pee). The flavour compounds responsible for these distinctive 'green' characters are called methoxypyrazines, and those of you familiar with unripe cabernet will recognise them. Methoxypyrazines usually diminish as grapes ripen and tend to be higher in grapes grown in cooler climates.
I've found a few sauv blancs that are nothing like those from Marlborough. They're for lovers and loathers alike. These wines are elegant and fresh - perfect for a few drinks with friends and delicious with dinner.
---

Terre a Terre Down to Earth Sauvignon Blanc 2019
Down to Earth is the entry level label of Xavier Bizot and Lucy Croser's Terre à Terre. I'm a big fan of Xavier's winemaking and have offered many of his wines over the years, but this is the first time I've offered a wine from his Down to Earth range.
Xavier's father was Bollinger patriarch and chairman Christian Bizot and Lucy's father is Brian Croser of Petaluma fame. The couple married in 2003 and returned from Paris in 2005 to establish Terre à Terre, a small domaine in Wrattonbully, just north of Coonawarra. They also own a magnificent elevated site in the Adelaide Hills, from which they produce a top sparkling wine named Daosa. Critics have lauded their efforts, with Halliday having given the winery 5 Stars every year since its first entry in his Wine Companion in 2011. Quite an effort! You can read more about Xavier and Terre a Terre here.
While the Down to Earth sauv blanc is described by Xavier as the 'little brother' of the more expensive Terre a Terrre, don't be fooled - it's no massed produced new-world fruit bomb. I don't know many, if any, sauv blancs at this price that get this sort of treatment. It's single vineyard sourced and handpicked, with 45% of the fruit whole-bunch pressed and fermented in large oak foudres and demi-muids. The rest (55%) is crushed, destemmed and cool-fermented in stainless steel. Both portions were left on lees for 7 months to add a little extra complexity and texture, before being blended back together, lightly filtered and bottled. The finished wine is sealed with stelvin and is 13.5% alcohol.
The accolades for a wine of this price have been extraordinary:
It was included in the Varietal Winners, Best of the Best, sauvignon blancs in the 2021 Wine Companion. This is an amazing achievement.
"The bouquet and palate hunt together as one, stone fruit and citrus neatly trimmed by fresh acidity. Distinctive style." 96 points, James Halliday, Wine Companion 2021.
"Not your average Aussie sauvignon blanc, this wine has some serious character and personality that lifts it up above much of the local competition. It is bright and pale in colour, and is more Loire Valley than Marlborough with guava and honeydew melon plus a pretty touch of dried thyme flowers and some lanolin barrel ferment complexity. It's dry, mid-weight, crisp, and more savoury rather than the fruitier Adelaide Hills style. The wine is also powerful, delicious and a touch creamy on the palate with a long drying finish. Delicious and it will beautifully match delicately flavoured spicy Asian dishes." 92 points, Angus Hughson, winepilot.com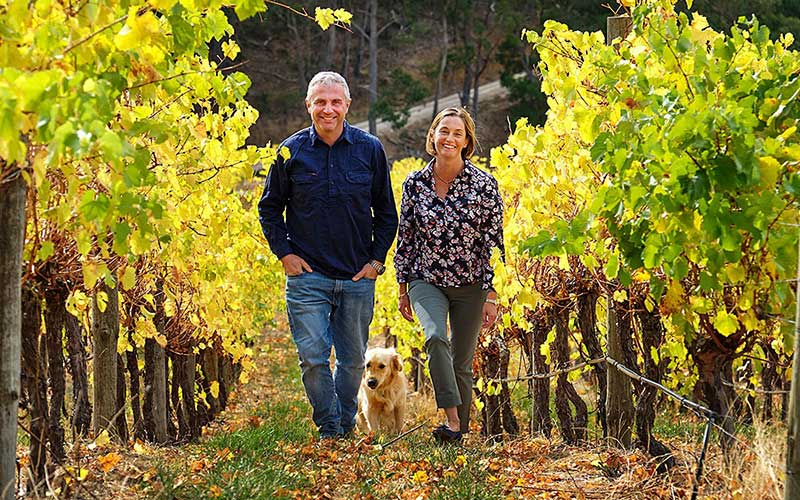 Xavier Bizot and Lucy Crozer.
"Subtle Gooseberry, underlying passionfruit with a creamy mien - seems to be firming up as the favoured and terroir driven style. Gentle rounded and textural feel on entry - that's not to say it's without the sharp acidity for which the variety can be known. There's a touch of cut herb and fennel top about it too. Straddles a fine balance between creamy texture and acidic drive." 91 Stuart Robinson, vinsomniac.com April 2020.
"There is a creaminess to citrus fruits and feigned tropical notes on the nose, the palate builds in texture and depth of fruit with an undercurrent of citrus and fennel with some dried herbs. The finish has great weight and length that belies the $26 price tag." 92 points, Patrick Eckel, winereviewer.com.au
You'll find it being consumed with the sublime food at Mr Wong for $56 a bottle. Simply extraordinary value.
I can offer it for $19 a bottle. SOLD OUT
Terre a Terre Crayeres Vineyard Sauvignon Blanc 2019 now available - click here
---

Domaine Du Salvard Val del Loire Sauvignon Blanc 2018
France's beautiful Loire Valley is a region known for sauvignon blanc. In the middle of the valley is an area known as Touraine, home to the famous appellations of Chinon, Bourgueil and Vouvray. Also here, near the town of Blois, you'll find the small and relatively obscure appellation of Cheverny (pronounced sher-vair-nee). The appellation covers around 550ha and while it does produce some light reds and rosés, most Cheverny is a white blend comprising 60-80% sauvignon blanc.
Aside from its status as a quiet achiever, Cheverny is best known for the Château de Cheverny. Tintin fans like me know the building was Hergé's inspiration for Marlinspike Hall, home of Captain Haddock.
One of the best producers in Cheverny is Domaine du Salvard. This 42ha estate is currently run by the fifth generation of the Delaille family and they've made significant improvements to the estate including the introduction of sustainable farming practices and temperature-controlling equipment in the winery. The Delaille brothers make several highly regarded classic Cheverny wines, but it's the one not labelled as a Cheverny that caught my attention.
Recent changes to appellation laws require chardonnay to be included if 'Cheverny' is used on the label. Zut alors! The wine is sourced from estate grown 20+ year old vines, but it's 100% sauvignon blanc, so it's simply labelled Vin de Pays Du Val de Loire.
The wine used to be called 'Unique' and had what I can only call a uniquely terrible label. The new label was designed by talented French-based artist Loise Sheeran.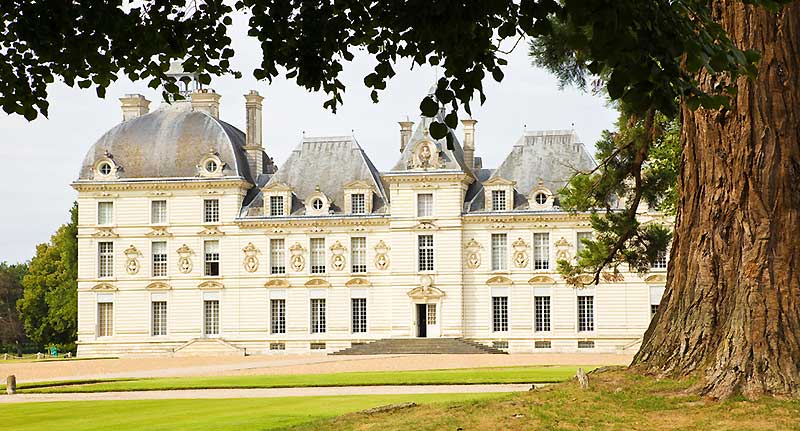 Any excuse for a Tin Tin reference... Château de Cheverny in the Loire Valley.
In the glass this is a clear light yellow gold. On the nose you'll find aromatic tropical fruit notes - lychees, ripe pineapple and passionfruit. On the palate pineapple, lychee and zingy lemon sherbet meld with grapefruit marmalade and citrus pith notes. No sign of asparagus here - this is just fresh, clean, bright and refreshing.
You'll find it on the list for $55 a bottle at the highly awarded and very groovy 'The Barber Shop' in York Street in Sydney.
I can offer it for $25 a bottle. SOLD OUT

---

Alphonse Mellot 'Domaine de la Moussiere' Sancerre 2018
In the upper reaches of the Loire, lies the famed appellation of Sancerre. Along with Pouilly Fumé, which sits on the opposite bank of the river, Sancerre is considered the finest area for sauvignon blanc in the world.
Sancerre produces sauvignon very different to that found in NZ, as Eric Asimov, wine Critic for The New York Times, observes; "In contrast to sauvignon blancs from elsewhere, and particularly from New Zealand, good Sancerres are characteristically restrained rather than exuberant, perfumed with citrus and chalk rather than bold fruit. The aromas and flavors are of lime, grapefruit and lemon, of flowers and sometimes of herbs, and of minerality, a kind of catchall impressionistic description of a quality found in many great wines. They also have a texture and depth to them that belies the widespread notion that sauvignon blanc can produce only simple wines".
Unfortunately, years of acclaim and popularity have led to laziness and opportunism in Sancerre, and the last few decades have seen falling standards. Nowdays over 95% of fruit is picked by machine and it's all too easy to find mediocre wine. But blessed with remarkable talent and terroir, Alphonse Mellot is one producer capable of realising the potential of sauvignon blanc in Sancerre.
"True artists with sauvignon… [the Mellot family's] worthy aspirations have gradually raised them to the peaks of the great sauvignons of the world. Alphonse Mellot's white Sancerres are amongst the most brilliant and pure illustrations of the genius of the sauvignon grape." The World's Greatest Wines, Michel Bettane and Thierry Desseauve.
Two Stars - producteur de très grande qualityé, Le Classment 2009. The only Sancerre producer with the rating!
"Each Sancerre [from Mellot] is at its most elegant: discreetly herbaceous, a beautiful weave of citrus, oak and minerals." Jacqueline Friedrich, (respected US wine critic based in the Loire).
Alphonse Mellot is the 18th generation of Mellots in Sancerre, the estate having celebrated its 500th anniversary in 2013. But don't think this continuity has bred complacency or conformity. Their 47 ha of vineyards are farmed meticulously by hand, adhering to biodynamic principles and they're one of very few estates in Sancerre to still pick by hand. No expense has been spared in the winery.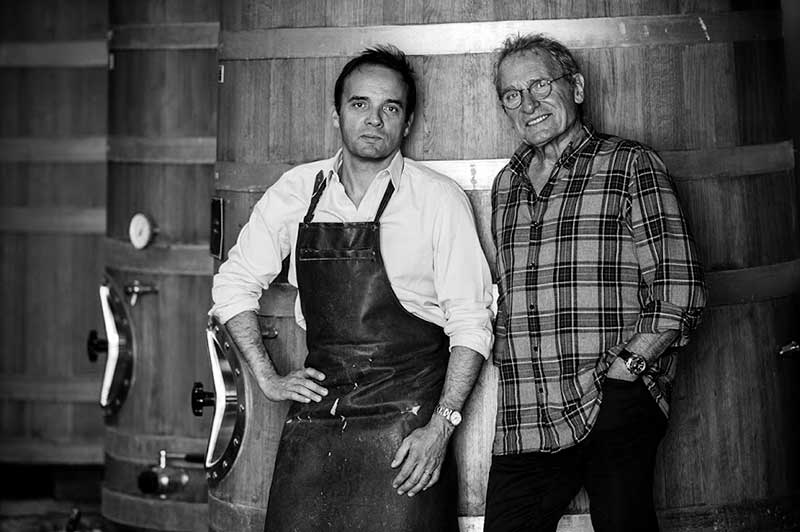 The two Alphonses -18th and 19th generation of the Mellot family.
'La Moussiere' is the estate's largest and most historically significant vineyard, described by some as one the most notable and best-kept vineyards in France. The beautiful, gently rolling vineyard with its gently cultivated, incredibly rocky, limestone-rich soils, known as Kimmeridgian, is the same as you find in the better parts of Chablis.
"La Moussière is the cornerstone of Alphonse Mellot, and in its energy and precision, it is not only an unmistakable Mellot but also a quality and stylistic level most producers don't reach rudimentarily." Stephan Reinhardt, The Wine Advocate #215.
Mellot's entry level wine is as far from Marlborough sauv blanc as you can get. As in previous years, 50% of the wine underwent fermentation in huge wooden fermenters and spent time post ferment in oak casks - but this in no way compromises its fabulous purity, elegance and energy. The balance of the wine was meanwhile fermented and raised in traditional concrete vats, before blending. All of the wine was aged on fine lees for a period of roughly 12 months, further enhancing the wine's famously deep and pulpy texture. Mineral driven and chalky, it will age to become more like a white Burgundy.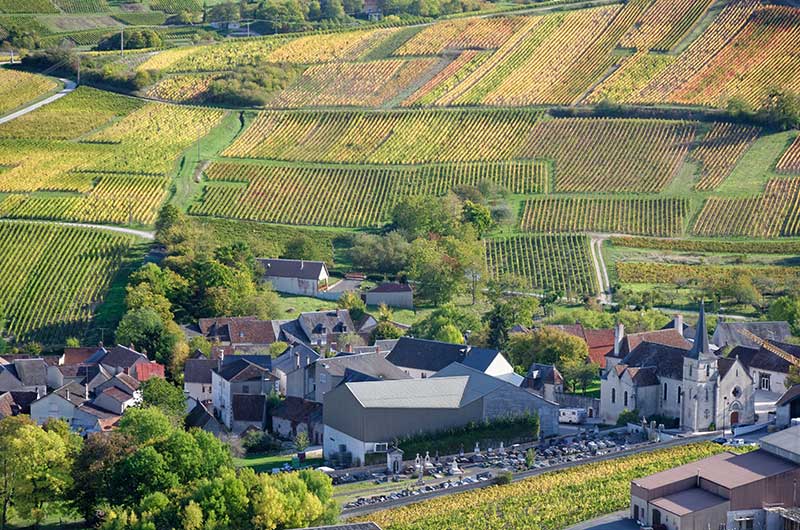 The french village of Chavignol in the Sancerre landscape.
The 2018 is simply a great La Moussière. It's a deep and mineral Sancerre without a hint of sauvignon grassiness. Rather you can expect waves of crushed lime, lemon pith and nectarine fruit along with refreshingly tangy and earthy mineral notes. It's bold and bracing Sancerre with (quality) Chablis-like tension and a long, harmonious finish. Simply magic.
See what sauvignon blanc is capable of.
I can offer it for $69 a bottle. SOLD OUT